I have a funny story to share!
Jing and I were changing in our respective rooms, and when she knocked on my door to borrow eyeliner/accessories/check herself out in my room's mirror, I opened the door to find ourselves clad in similar tulle skirts!
The funny part is that we just gave each other the 'pffft' look, and went back to getting ready-- without changing our outfits, haha. This has happened one too many times! One of the recent times was when I was wearing this
leopard print cardie
, and I opened the door to find her wearing a leopard print jumpsuit! We burst out laughing, and she went to change-- we didn't want to look like members of a Tarzan fan club.
Really, we have the eye for the same things! When we shopped in Bangkok recently, we shopped separately, and ended up buying the exact same things. The following scenario happened on a daily basis in our hotel room when we check out each other's buys:
"Omg omg, you have got to see this! It's damn nice!"
*holds up top*
"I have the same thing!"
or
"I bought this maxi dress with pleated skirt, with a ruffled front...
"Does it happened to be green, sleeveless..."
"Yes!"
*both holds up the same dress*
or
*grabs at a piece of clothing peeking out under a mountain of shopping conquests*
"FUCKKKKKKKKKKKKK I have the same thing!!!

"
and so on and so forth.
This even applies to the things we bought to stock to sell online! Haha.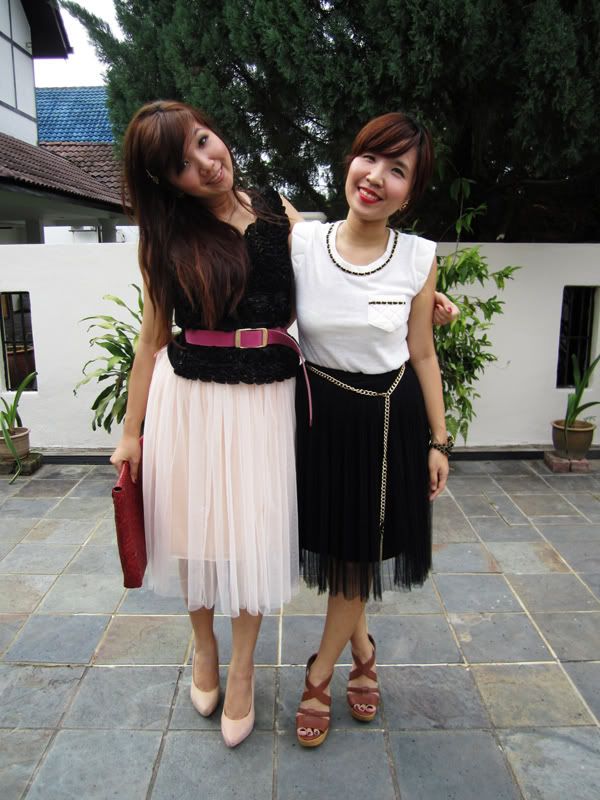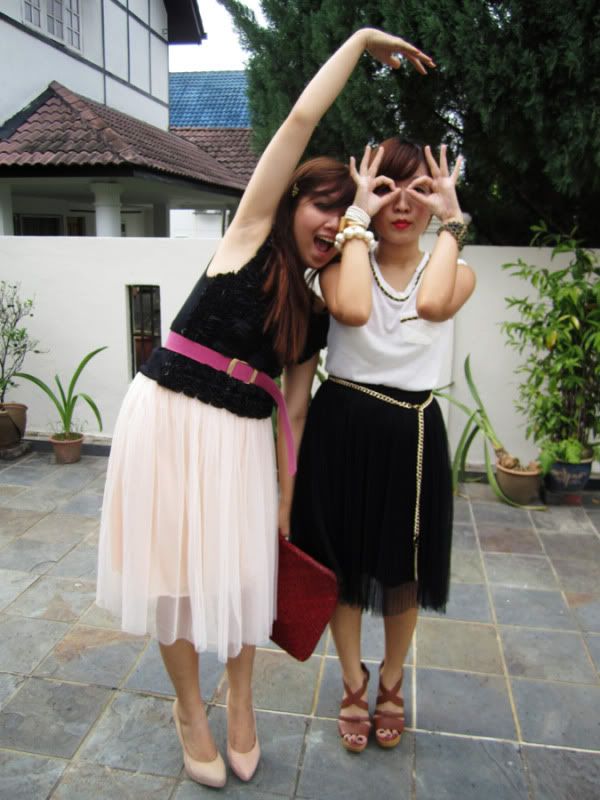 Tulle buddies.
The silver lining is that though we have an eye for the same pretty items, we do style our outfits differently. :)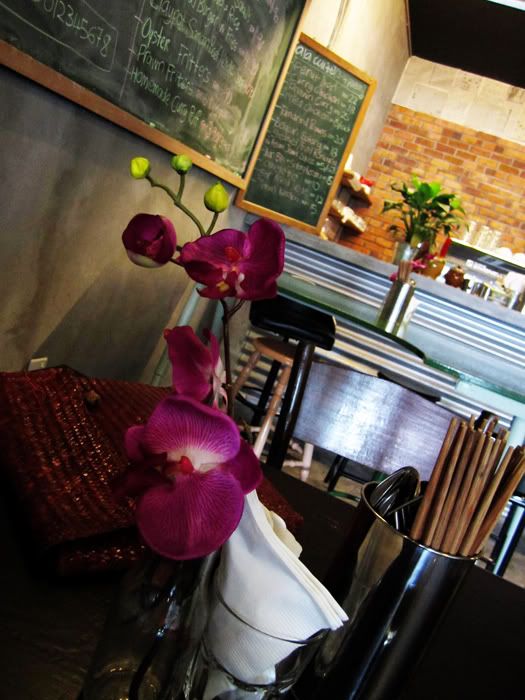 We had lunch at
Fat Spoon
.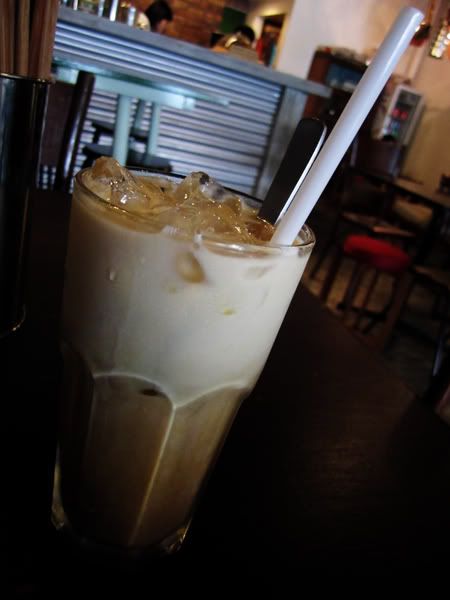 I enjoyed my iced coffee so much!
Love this picture of Jing! It has this old school charm... and it goes quite well with Jing's (fake) innocent schoolgirl look here, haha.
Our lunch orders:
Nasi goreng ulam.
Rice with perut ikan and ikan kembong.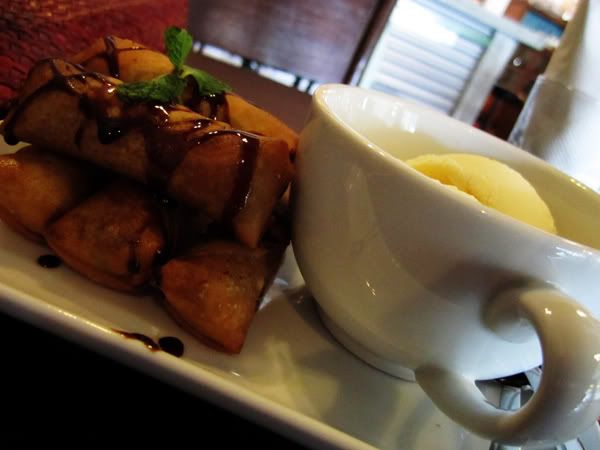 Banana spring rolls with vanilla ice cream.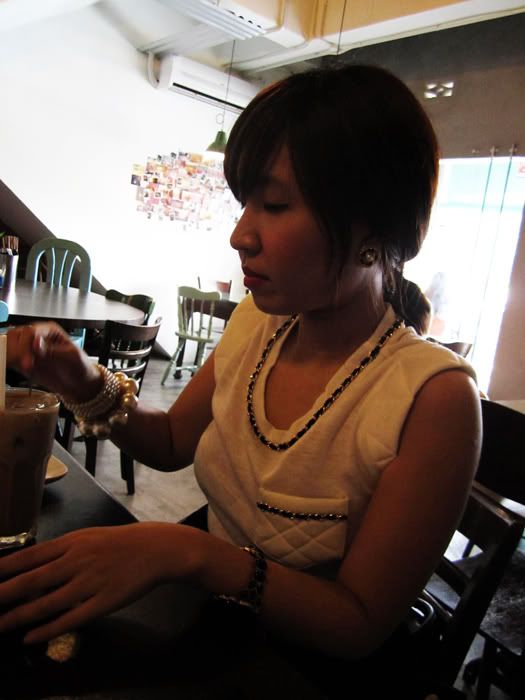 I am very serious (and passionate) when it comes to food, hence the no nonsense face, haha.
I love the quirky, rickety, unfinished old school charm of the place, with all the little details that make you go 'aaah!' when you do observe them:
Mismatched chairs only add onto its charm.
Sugar bowl.
Money/bill holder. How brilliant!
Enjoyed my coffee so much that I ordered another cappuccino while Jing crunched away on her banana spring roll dessert.
Outfit for the day: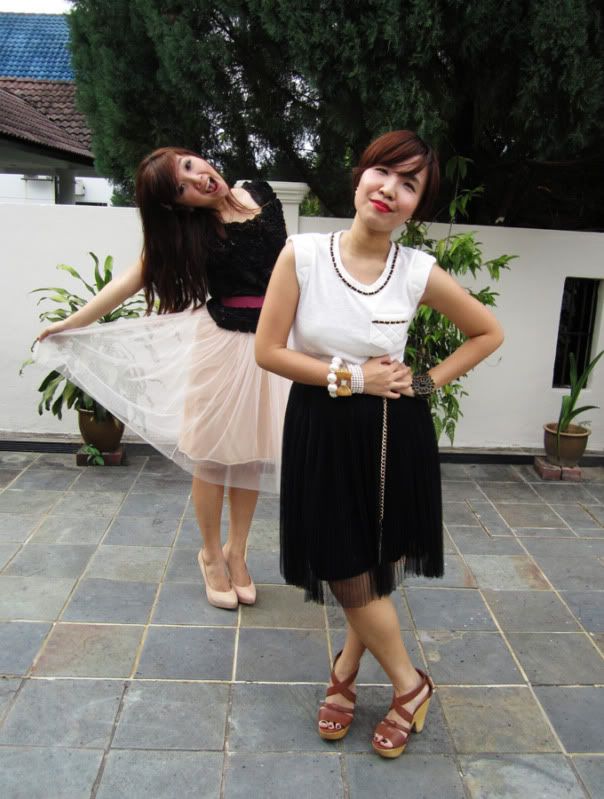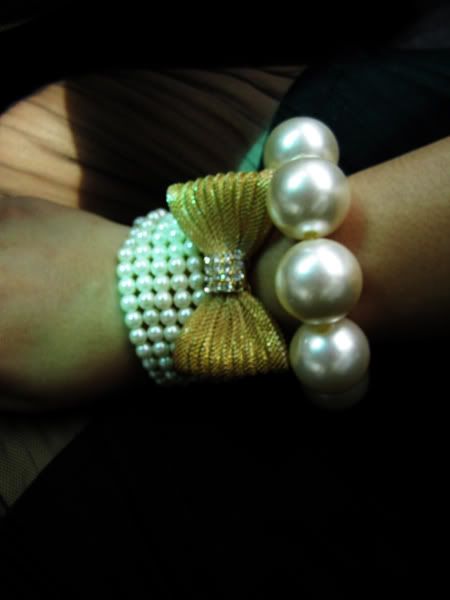 I love the top I had on! Just the twist I need on my basics. :)
My outfit that day was very inspired by a Korean drama that I am addicted to recently! Yes, I watched a Korean drama for the first time in my life, and now I am hopelessly addicted. The clothes, OMG, the clothes! It's like Sex and the City, Korean version.
*heart*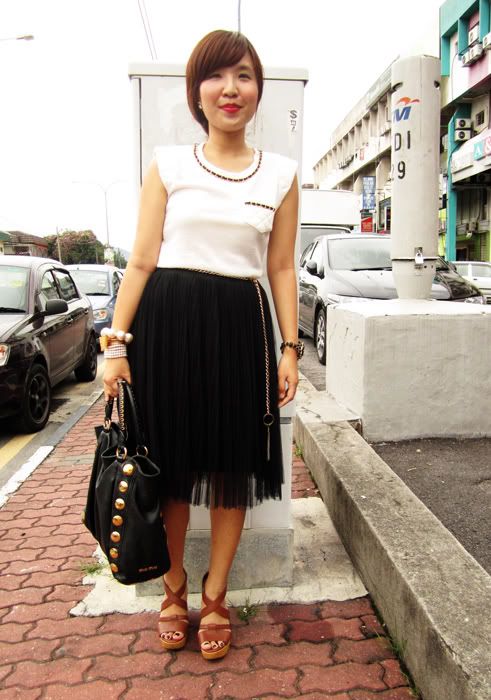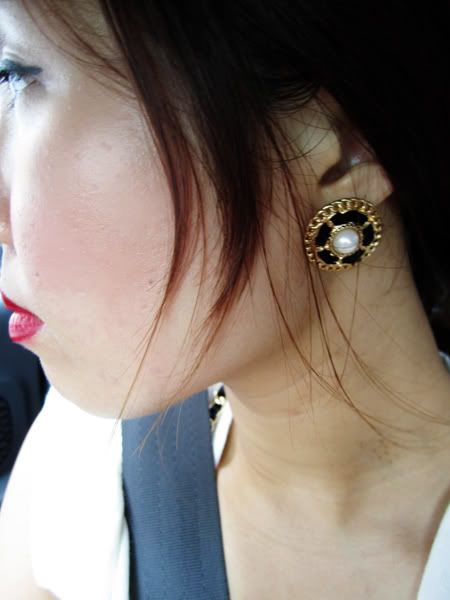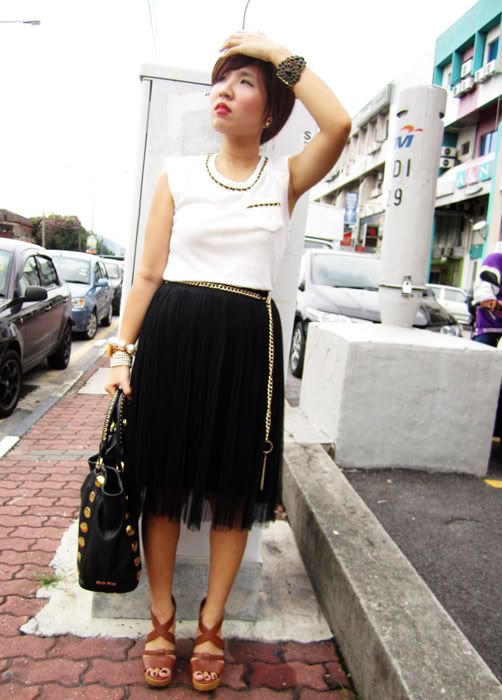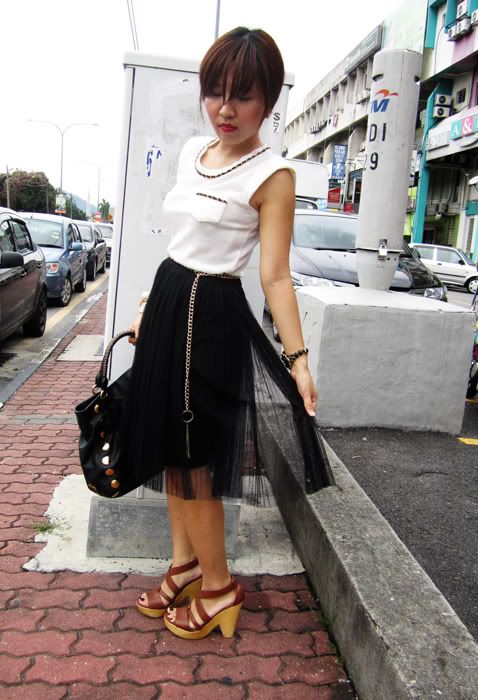 Chain-link white top with quilted shoulders/pocket: Bangkok
Black pleated tulle skirt: Korea
Gold chain belt with tassels: F21
Gold and black chain link earrings: Korea
Black bejeweled bangle/ Gold bow bracelet: Jing's
Pearl bracelets: Everywhere
Tan leather clogs: Steve Madden
Bag; Miu Miu
Tied my hair in a loose braided bun, partially influenced by my Korean drama as well, hehe. And I swear the gold chain-link earrings were the first pair of earrings that I pulled out of my accessory drawer, but they ended up to be the perfect finishing touch to my outfit. :)
Ending this entry with random happy pictures of us with our dog, BB: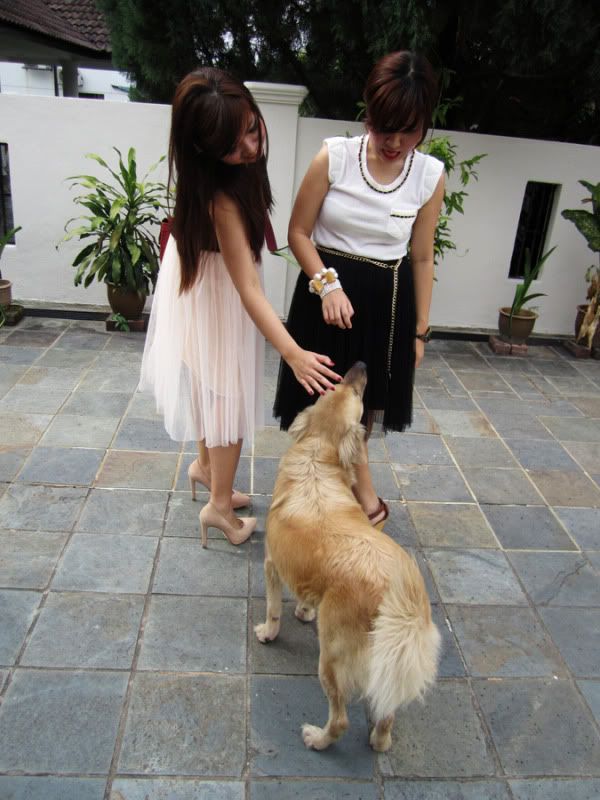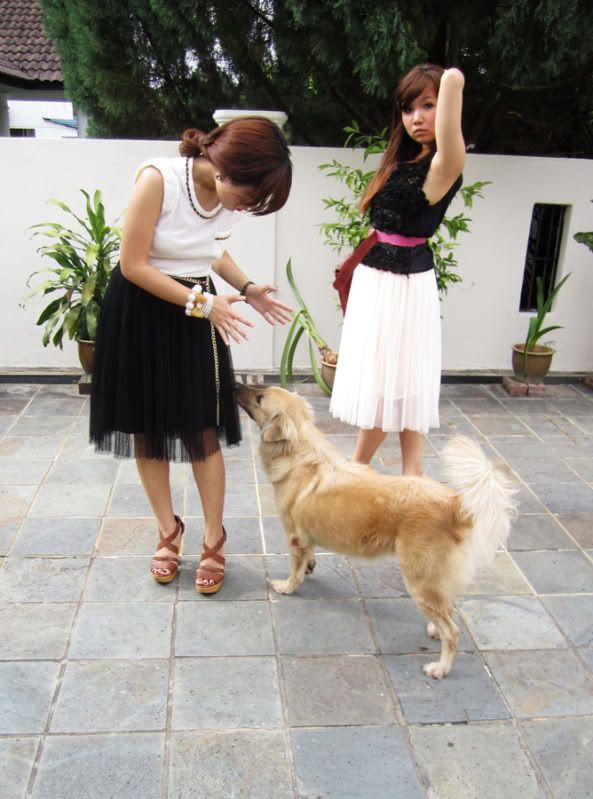 By the way, the
junkyard sale
that I will be participating as a vendor this coming Saturday (4 December, 12-5pm)will be held at Fat Spoon. Drop by and say hi! :D