I haven't done an outfit post in sometime, so here's one for you guys.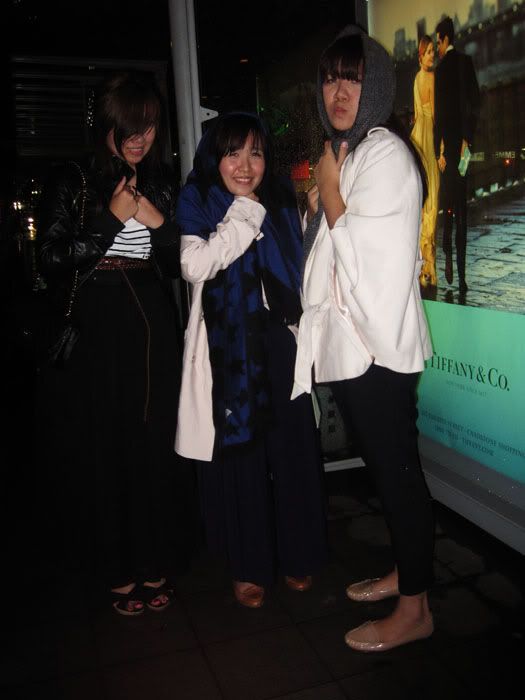 HAHAHAHA. The most unglam picture of us in Australia thus far.
Joshua, Jing's bestie, called us the "Siti in the City", hahahaha. Melbourne is so cold it isn't funny! It was about 10 degrees at night-- whatever happened to summer? At this time 3 years ago (when I was around for
my
graduation), people were half naked everywhere! Now everyone is bundled in wool coats, knit scarves and leather boots. -_-
Navy jumpsuit: Teeny's
White cardie with navy trimmings: Teeny's
Cream trench coat: Teeny's
Star print wool scarf: Teeny's
Tan loafers: Aldo
Burgundy messenger bag: Zara
Yep, everything on me belongs to Teeny.
Before we came over, I checked with Teeny the weather in Melbourne, and in her exact words she told me:"It's
chat
hot here! Everything you wear in M'sia will be inappropriate-- it'll still be too hot". With her words of wisdom, I only brought over bits of lace, chiffon, silk and satin. -___-
The only remotely warm outerwear I have is a Topshop denim jacket that I asked my mom to bring over as an afterthought. I have to borrow everything from Teeny here-- and as she is like 2 feet taller than me, I look like a bag lady in all her clothes FML.