This is about the most un-enjoyable day in my Aussie trip! Because it was one of the coldest days we experienced. :(
I was dressed in what I deemed to be my warmest outfit out of my suitcase (and was of course severely under-dressed), and spent the day shivering in the cold and
rain
. Big boo to you Melbourne weather!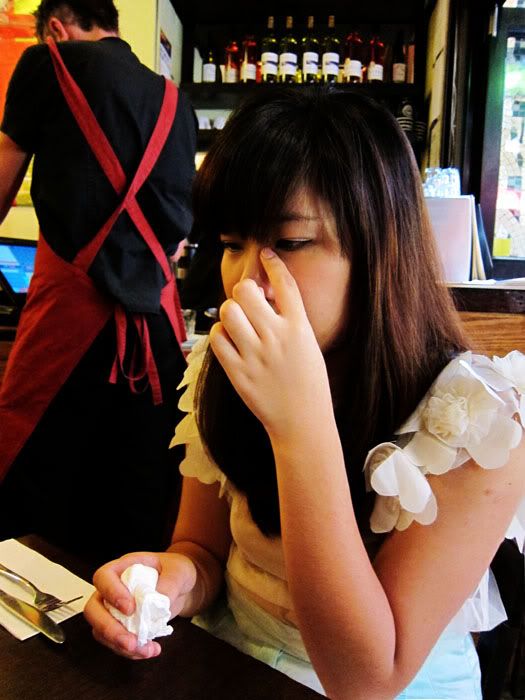 Teeny shedding a tear over Melbourne's unpredictable weather WTF.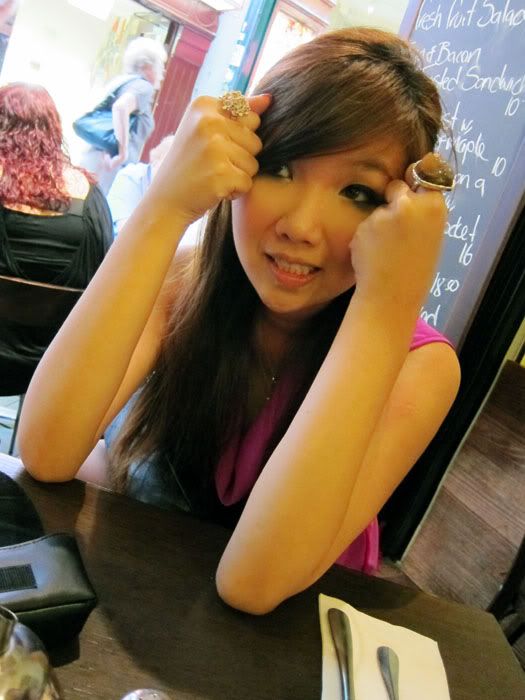 Jing was worse off than me 'cause she was wearing a backless romper, hahaha fhl.
Joshua,Jing's bestie was also there, but since he always complain about bad pictures, I shall not post up any photos of him, hahaha.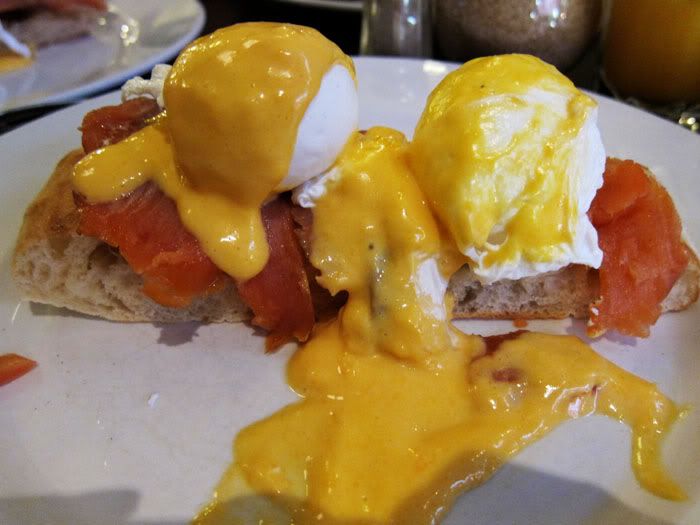 Jing and Joshua's poached eggs with salmon on toast.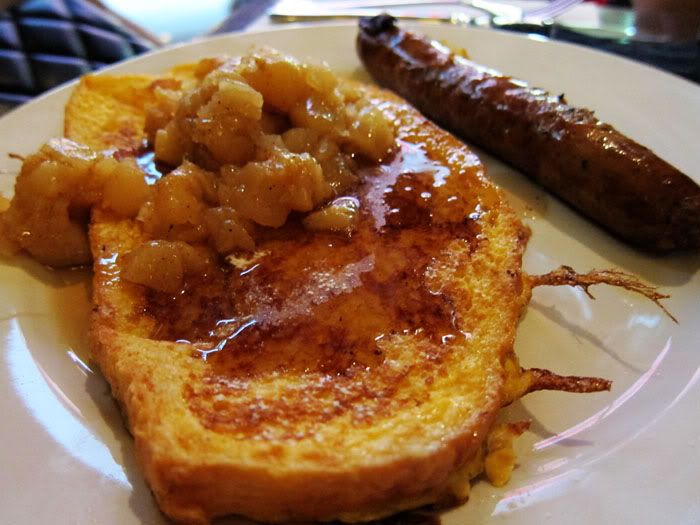 Teeny's french toast with a questionable side of a sausage. Savory and sweet do not go together!!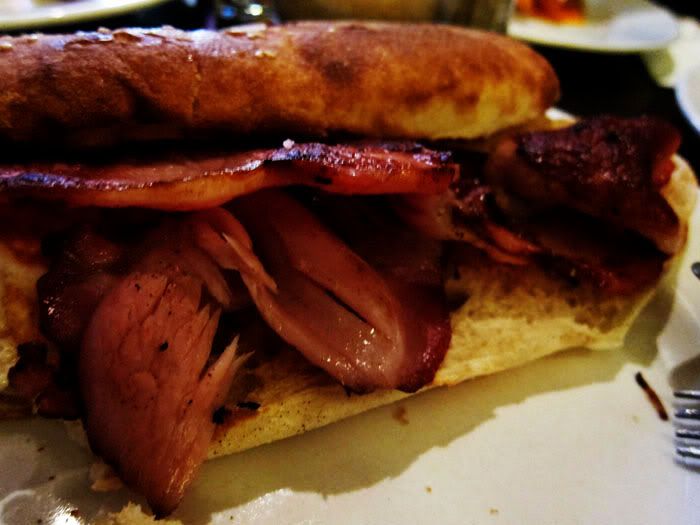 I was feeling very toxic from all the good food I had so I settled for a simple bacon sandwich with egg.
I was jealous of Jing's chai latte 'cause it was value for money-- you could refill it! I must stretch my dollar ok wtf.
I like Teeny's sleeves so here is one more picture of here.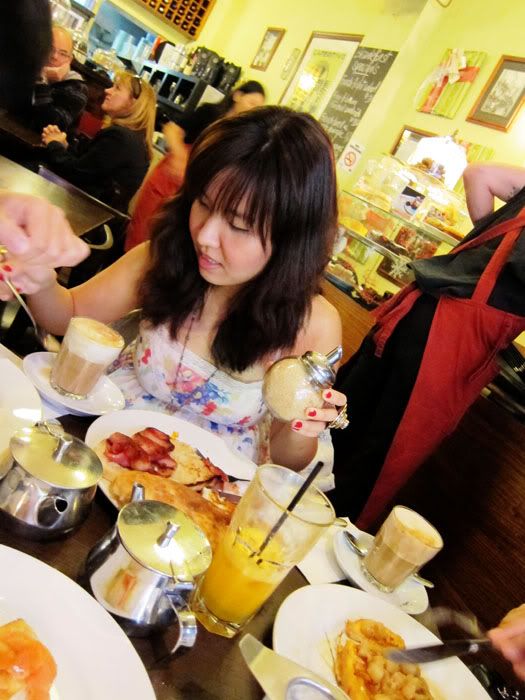 Our table was groaning under the weight of all our food! And here I am trying to salvage my latte 'cause I put too much sugar in it, haha.
Teeny and the perfect loafer.
She spent the entire trip looking for the perfect pair of loafers, and the only nice one she saw was this miniature one in a shoe shop on Collins Street, hahaha.
There is a happy ending to this story though! Think Ralph Lauren on Boxing Day. Hope my dad agrees when he receives the credit card bill though wtf.
Bambi goes shoe-shopping!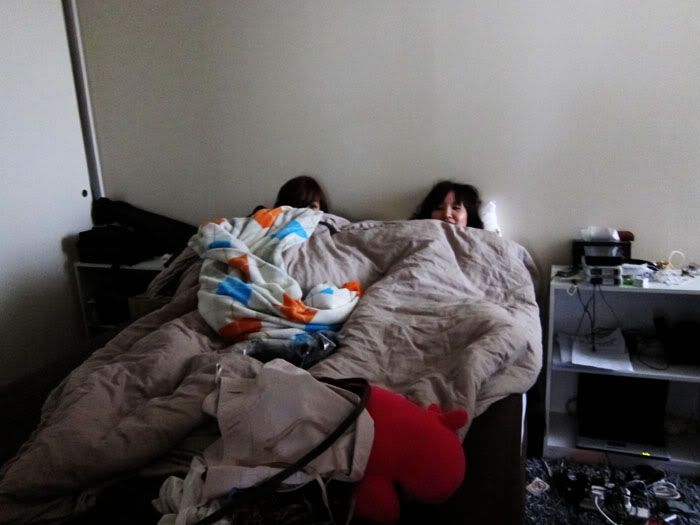 I wasn't kidding when I said it was a really cold day-- we jumped under the comforter the moment we stepped into the apartment, and it took me an hour before I thawed.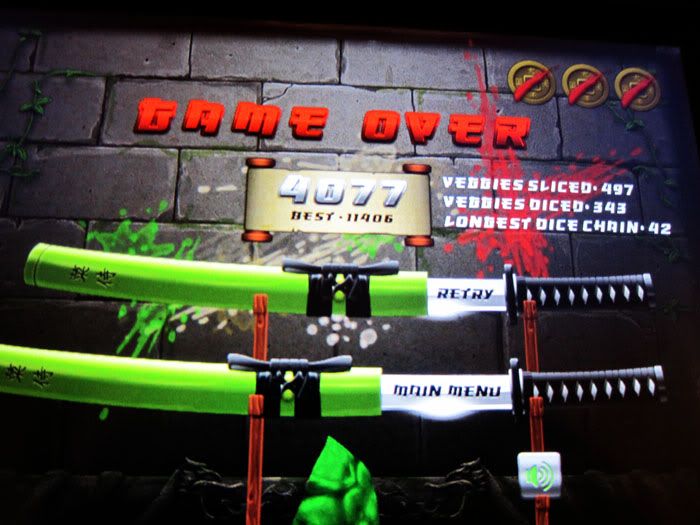 My (then) high score on Veggie Samurai! My current high score is 5k++...I have to try to beat Teeny's of 20k++. T_T
Very bad pictures of my outfit (it was too cold to snap pictures!):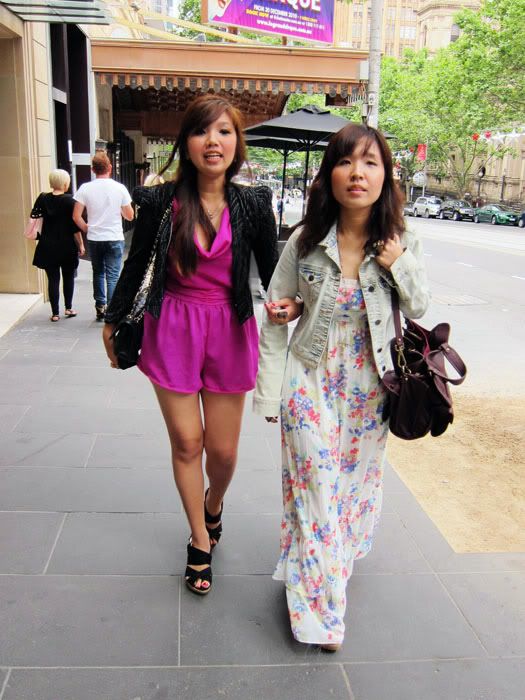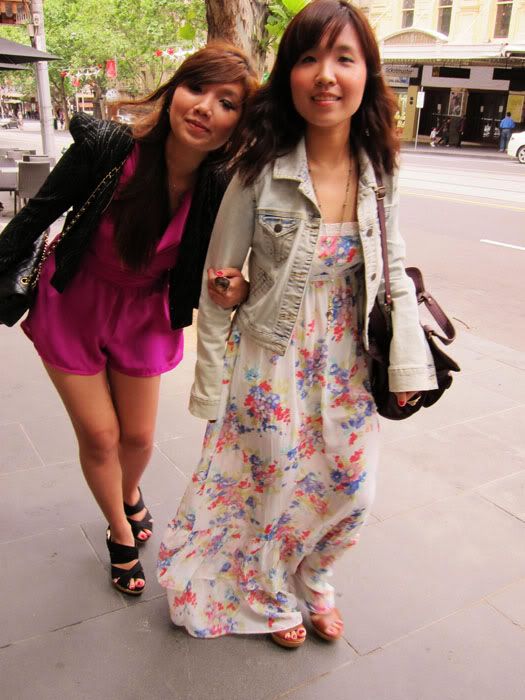 Floral chiffon maxi dress: Zara
Faded denim jacket: Topshop
Green rosary: F21
Rings: F21
Tan leather clogs: Steve Madden
Burgundy messenger bag: Zara
I got this dress from Zara in Hong Kong, which is surprisingly cheaper than KL! Just as well, 'cause I will be rummaging through Zaras in Hong Kong! :P
Yep, the whole point of this post is to tell you that by the time you read this post, I will be far away in Hong Kong munching away on egg tarts and dim sum, hehe. Hello, H&M and cheap make up/ skincare products!
I have scheduled a couple of posts for the duration while I am away 'cause I am saving karma points wtf. Shopping god, show me some love!!!!