One of the few things I wanted to achieve in this new year is to change a few things with my blog-- top on the list being a new layout, which I actually have been talking about for ages! I am absolutely hopeless with HTML and web design (despite holding an IT-related degree out of my double degree), so I am toying with the idea of getting someone to help me out with this. I want something simple, non-fussy, easy to navigate, so I think the layout should be quite easy to design/implement. Hence, if you guys are interested to help, or know anyone who is talented and is able to do the job, do drop me a comment or email k! :)
Other than that, I am also thinking of ways to be more interactive with my readers, so do expect some videos, giveaways etc. coming up in the future. And yes yes, I will tweet in the future as well. :P I don't currently, and a friend asked me recently why don't I tweet. I just don't think I have anything funny to say! And hell I don't want to be one of those people who go
"Good night, world!"
on Twitter and Facebook. -_- That warrants a full blog entry, by the way. But yes, I will tweet in the (near?) future. ('cause who am I kidding? I am quite funny. Right? Right? RIGHT????)
Which brings me to my next point...There is no better time than now wtf, so I am going to start my first giveaway right here right now: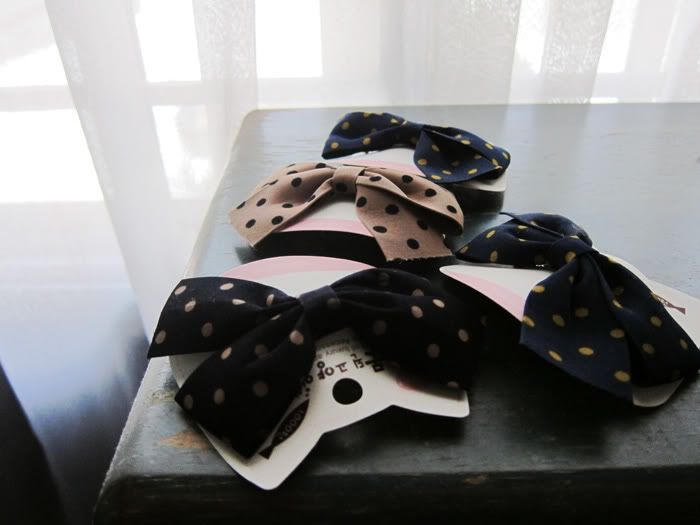 These are bows which I bought from Korea during my trip recently; they are made in Korea, and whilst they are intended to be hair clips, they can be pinned onto your bag, top, etc. I originally intended for them to go up on sale on
Azorias
, but heck, what with the new year and good spirit all, I am going to give them away as part of my first giveaway! :D
Since I only have four bows with me, I need you guys to do something to win one of the bows. I was racking my mind trying to think of something... Have you guys compliment me and the most flattering comment wins WTF. Send me stupid videos to make me laugh? Send me comments of your most embarrassing moment?
In the end, I decided on something much more simpler. :P
I was playing with my layout that day, and I realized that there is an option to allow people to
follow
my blog! Previously I didn't display this option, but now it's up on the left side of my blog. :) I've got about 50++ followers now, which doesn't quite tally with the number of readers, so do me a favor and
follow me
(you can do it if you have a Google, Yahoo, Twitter etc. account), leave a comment on my blog and by the
end of next Monday (12 am, 1 Feb 2010)
, comments will be closed, and I will randomly select 4 followers to be given these Korean bows! :) Fret not, people who have already followed me (big thank you!), just leave a comment as well, and you will be involved in the giveaway too!
I have the bows in beige+black polka dots, black+brown polka dots, and two in navy+mustard yellow polka dots, you may choose to leave your preference in your comment as well. :)