Update:
Go check out my goodies on Boudoir-Boudoir! I've got almost 40 items for sale, and bulk of them are new (and hence very appropriate for CNY)! :D
Don't forget to join my giveaway by following me. 3 more days till contest ends. Hurry!
And for those who have followed me, thank you for that and your lovely comments! *heart*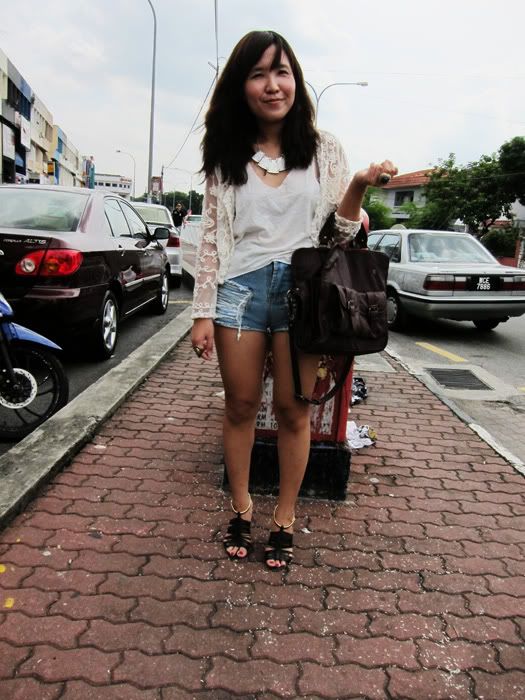 I am taking a break from posting my traveling pictures, because today, I want to show you my beautiful embellished white sheer jacket!
Isn't it beautiful? I love love love the intricate rope design, and the careful white gem placement around the edges...
I actually brought a few pieces of this baby back for sale, but they flew off the racks when I put them up during the Chicpop sale last Saturday! I only have one piece in white left now (I originally had some in dust pink as well), and since I can't be arsed to put it up on Azorias, I am going to let my readers have first dibs on it first! :P This baby will be going for RM75, which is a steal considering the amount of handwork that goes into it.
Email me at crescent_masquerade[at]hotmail.com for enquiries! :)
I like that the jacket can be dressed up or down... I can see the same jacket with a black maxi dress, killer heels and some red lippie, or a white chiffon bias hem dress... very apt for night. But this time around, I dressed it down, and wore it out for a c asual lunch.
White sheer embellished jacket: Bangkok
Loose white bias hem tank: Far East Plaza, Singapore
Frayed high waisted faded denim shorts with chain details: Bangkok
Silver disc necklace: Diva
Rings: H&M/ F21
Black string heels with gold anklet: ZOMP, Melbourne
Burgundy messenger bag: Zara
I love these shoes that I got from Melbourne recently! I got 7 pairs... -__- I was originally planning to wear them for night or formal events, since the gold chain details make them rather dressy. But surprise surprise, I wore them with tank top and shorts the first time I wear them out. That's me, I guess. I like unpredictability and rule-breaking, heh.
*************************************

Don't forget to check out
Boudoir-Boudoir
! I have got loads of things from Forever 21, Topshop, Supre, Miss Selfridge, and prices start as low as RM20! Not only that, I am giving free shipping for purchases more than RM70! Help me clear my things, and me (and my mom)will be ever grateful! :D
Some of my favorites in the sale this time:
... and so many more! Remember to checkout
Boudoir-Boudoir
! Have a lovely weekend, folks!