I was in Hong Kong and Taiwan for the past week, and needless to say, it was a week of happy shopping! I am posting up my Taiwan buys here 'cause they put a smile on my face whenever I think of them! :P
PS: My Hong Kong buys are quite boring, i.e. mostly from Zara, H&M, Monki + a few
interesting
buys
*ahem ahem*
so I don't think I'll be posting them up!
I found it quite amusing that most of my buys are made in Korea! It's no surprise that I love Korean clothes, but imagine my surprise that almost everything that I picked up or eyed in Taiwan were actually Korean products! :P
Taiwan is also very heavily Japanese-influenced, in fact, when I arrived at
Ximending
(where our hotel was at), my first thought was that it reminded me a lot of Shibuya during our trip to Tokyo a few years back. Hence, Taiwanese girls are all about
kawaii
, or as they call it,
chao ke ai
! Hehe.
Being a girl who dislikes stuffed toys, dangly keychains, pompoms, exaggerated nail art, I found myself salivating for the exact same things after my Taiwan trip! T_T Suddenly I found myself picking up pouches in animal shapes, fluffy balls of fur to hang from your mobile phones, keys and whatnots, checking out acrylic nails with crystals and candies...
Hui Wen: 0,
Kawaii
ness: 1.
#1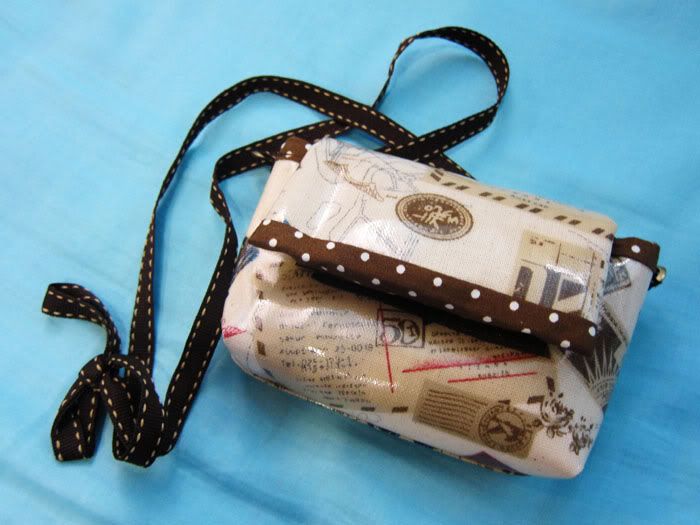 I have been looking for a lanyard for my new Canon S95 camera, and was toying with the idea of getting one from Gucci. But I found a perfect solution with this! ;)
#2
Colorful make-up pouch to keep me organized. Love the cheerful kiddy print!
#3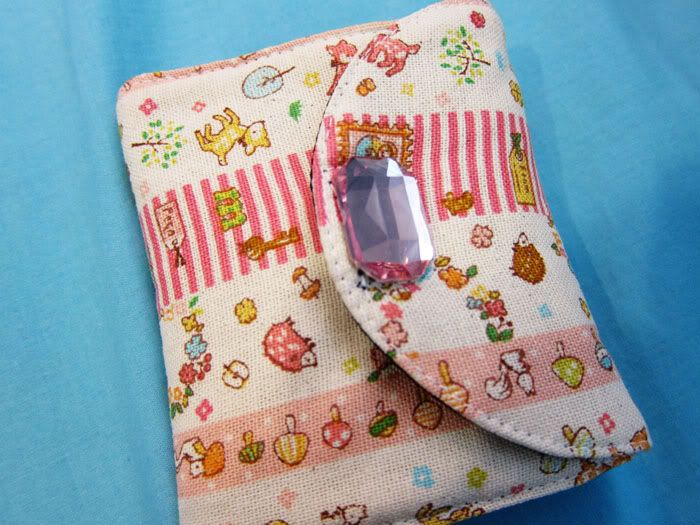 This is an extremely useful purchase; it is used to store....sanitary pads! Hehe.
I can't tell you how many times I suddenly got my period in the office, and had to shiftily hide the pad in my palms while I find my way to the washroom... With this pretty pouch, no one will know the better!
Of course, now that I have blogged about this, everyone who sees me carrying this pouch will know that I am having my period. -_-
#4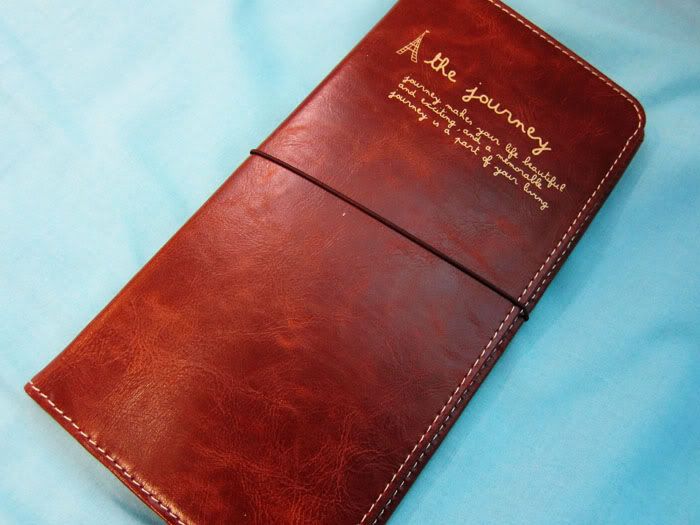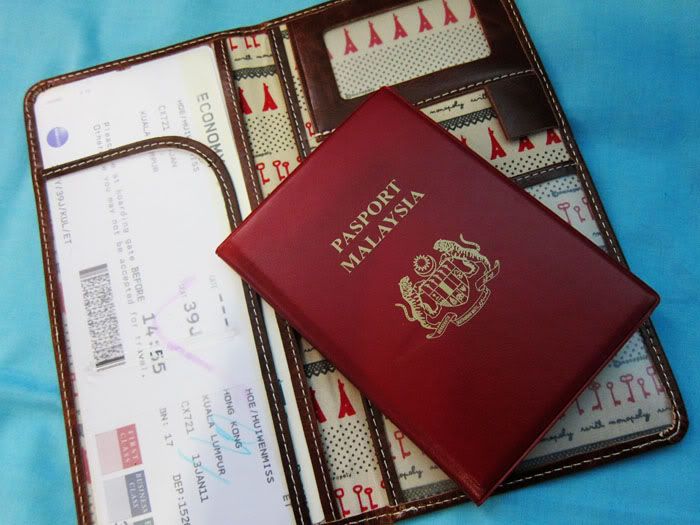 I've wanted a passport holder since I've started working in Singapore-- all the commuting to and fro from Singapore made me really want to have a proper holder to organise all my traveling documents. Now I can keep my passport, tickets, boarding pass, arrival/departure cards all in the same place-- no more furiously digging into my bag!
#5
Got a cute clear pencil case for my professional examinations. Yea, I know, I realised I have some traveling theme going on too, haha.
#6
Cute earphones for the laptop.
#7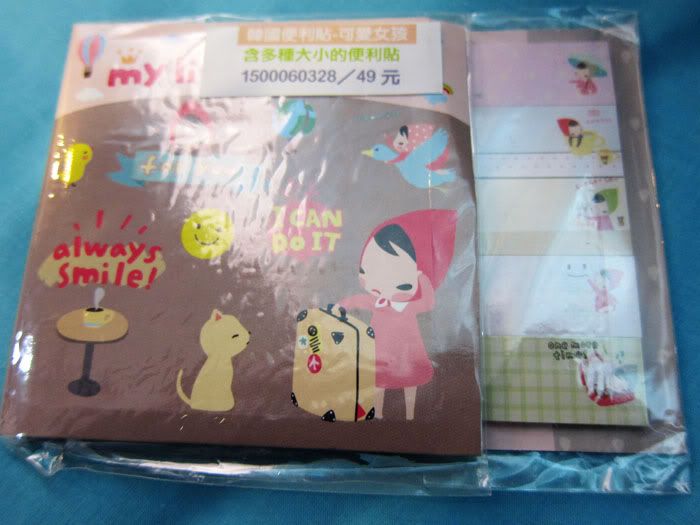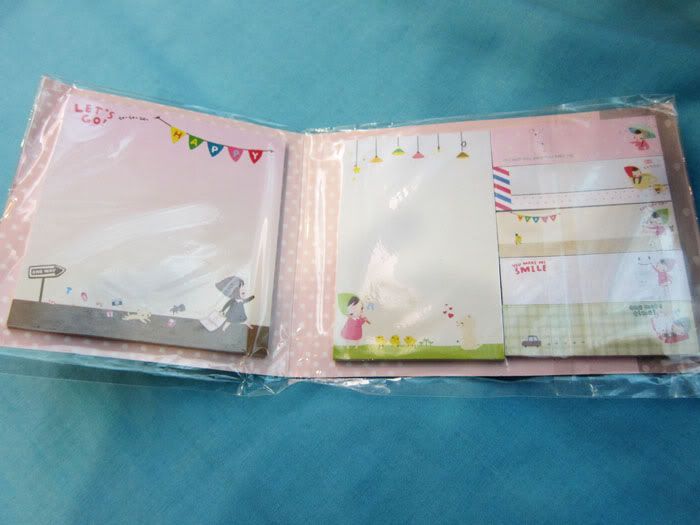 Got these sticky memo pads for work! At least,after I get my job, heh. They have cute quotes on it like "Go go go!", "One more time!", "I can do it!". I figured they will be good pick-me-ups during work. :P
#8
I finally succumbed!!!!!!
I got myself something from Hello Kitty.
*droops head*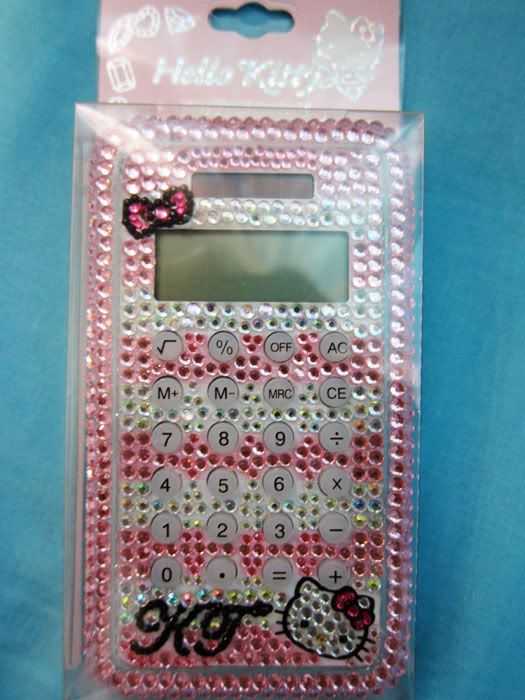 Crystal encrusted calculator! For work too, heh.
I was looking for something practical to buy in the Sanrio shop, and I came up with this.
Cari makan
tool for an accountant! :P
#9
The weather in Taiwan was so cold that I needed gloves desperately! Got myself this sweet pink pair with little reindeers. They have fur on the inside to keep me warm.
*heart*

#10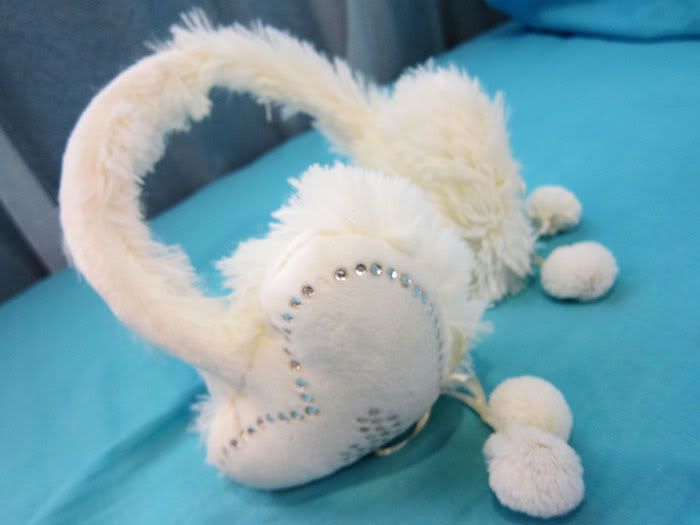 Furry earmuffs! They are for kids, by the way, haha. Got them at the same shop whereI got the gloves-- they had a buy 2 free 1 promotion going on. My mom got a pair of earmuffs with stuffed bunnies on them. -__-
Subsequently we saw many pretty (read: less childish wtf) earmuffs, but I didn't get them 'cause I figured I wouldn't get much use out of them in Malaysia! :(
#11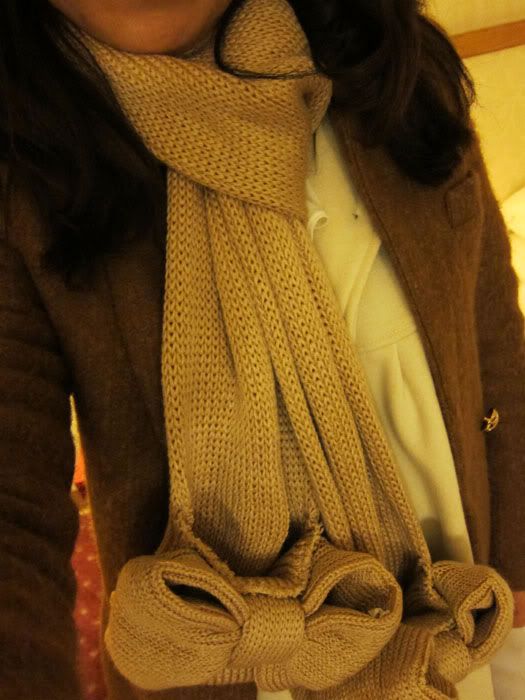 One of my favorite buys! I was looking for a warm scarf (it really was
that
cold in Taiwan), and I found this baby. It's beige knit (easy to match), terribly warm, and the deal-cincher was the bows at the bottom! That's not all... The bows are actually pockets!! So that you can keep your hands in the pockets to keep warm... Ingenious!
Moving on to clothes! :)
#12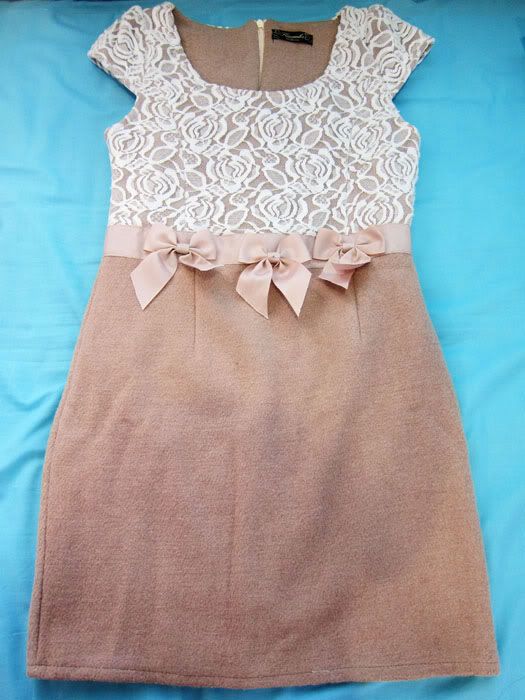 Got this shift dress for work. The dress is way more luxurious in real life with the lace bodice and the sturdy wool fabric.I am always on the lookout for pretty, well-tailored shift dresses 'cause they are the easiest things to put on for work!
#13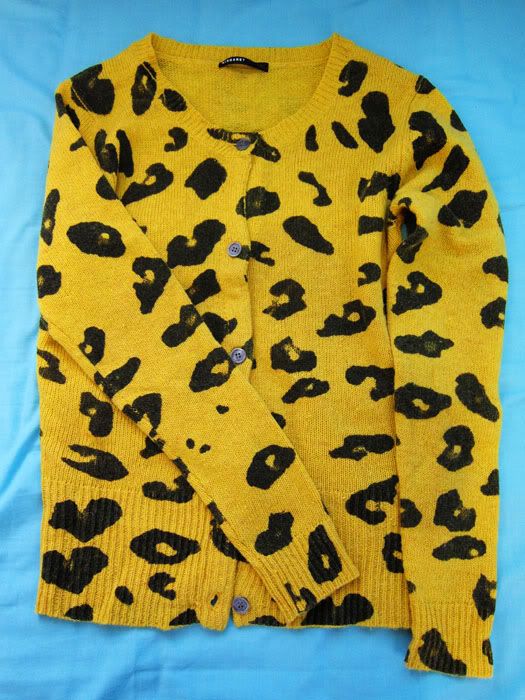 One of the things that I wanted to get in Taiwan for a leopard print fur coat! Alas, I couldn't find one that fit my budget. :( So I got this mustard yellow leopard print cardie to make it up to myself, haha.

Note: I love anything leopard print. ;)
#14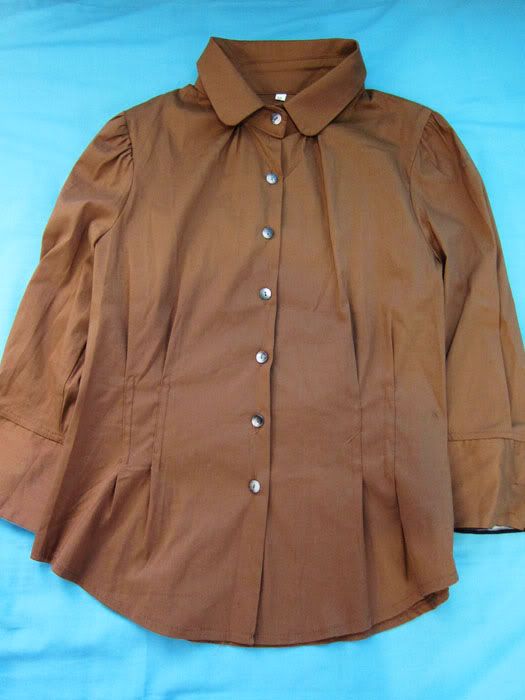 Just a simple peter pan collared shirt in a tobacco shade. Jing said no to it, but I got it anyway because I am very sure I will get many wears out of it. And for RM15, why not right? :P
#15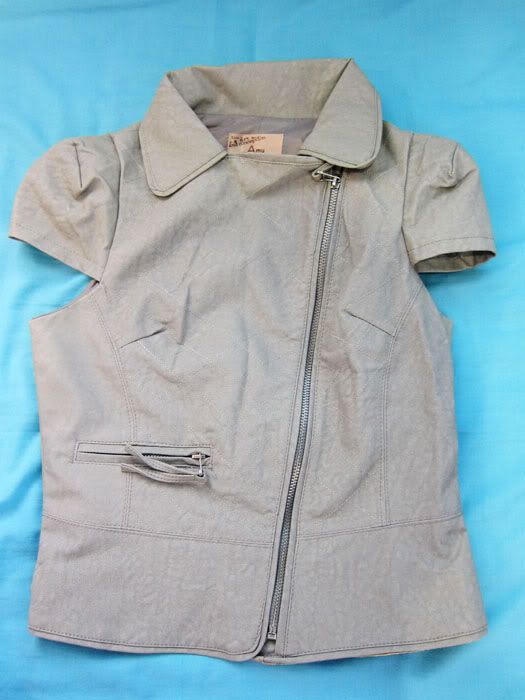 A faux leather short sleeved zipper jacket in a soothing pale gray. A steal because I got a >90% discount off it! :P
#16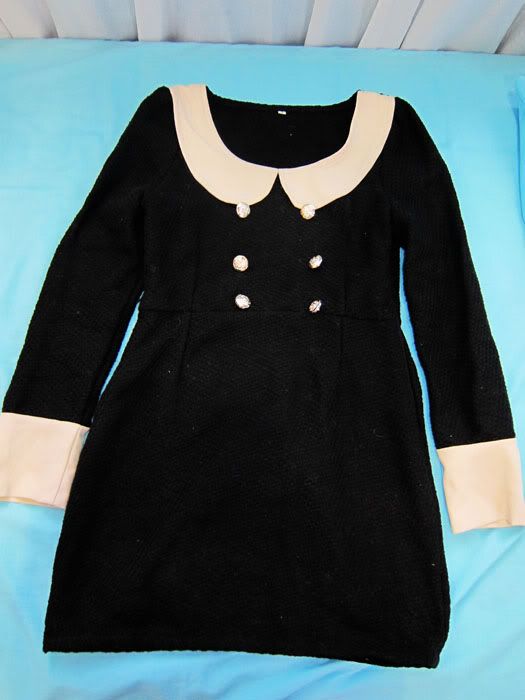 I've been on a lookout for a black peter pan collar dress since I saw Alexa Chung in hers.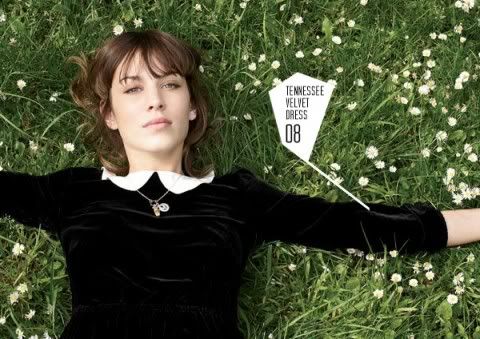 This dress is perfect in every sense, because of the cream chiffon peter pan collar and cuffs, and the black tweed material! Unfortunately it's a tad too small for me. :( I am blaming it on holiday weight, hopefully I can manage to fit into it after some dieting. Nonetheless, if any of you are interested, do drop me an email aight! :)
#17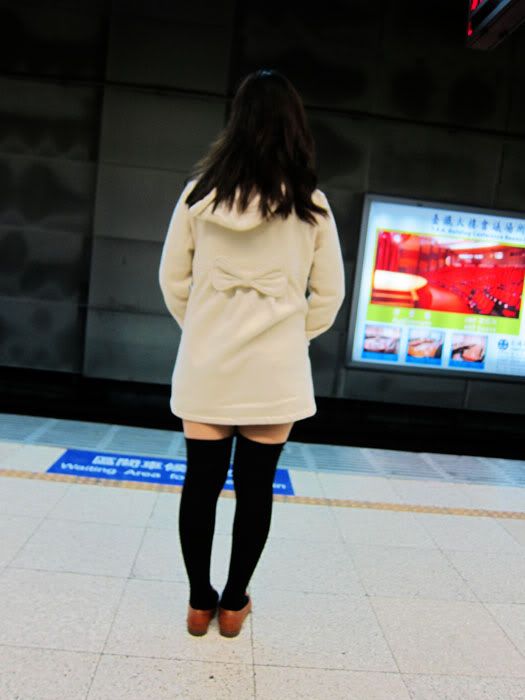 It was raining everyday in Taiwan, and it's the drizzling type of rain which is really annoying because it's not heavy enough to use an umbrella, but yet it's enough to make you wet (this sounds really wrong by the way). My solution was this thick cream colored coat with a hoodie! Very warm as well. :)
Remember I mentioned that I got a quite a bit of Korean clothes? Here they are...
#18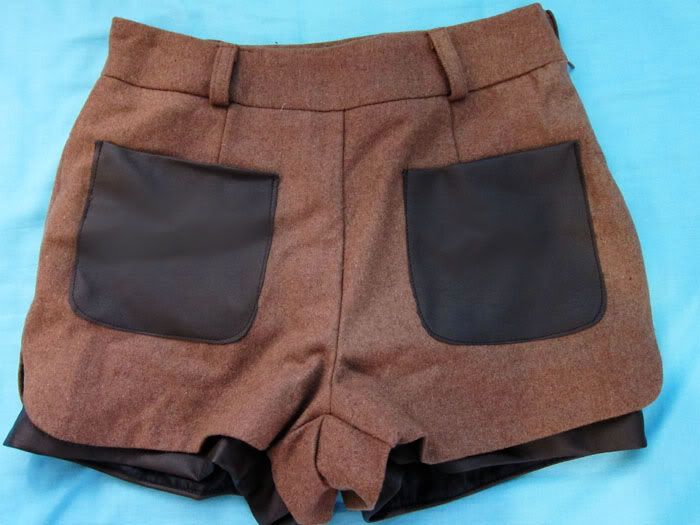 Tweed shorts with leather pockets. I am quite confident that I will get many wears out of this. :)
#19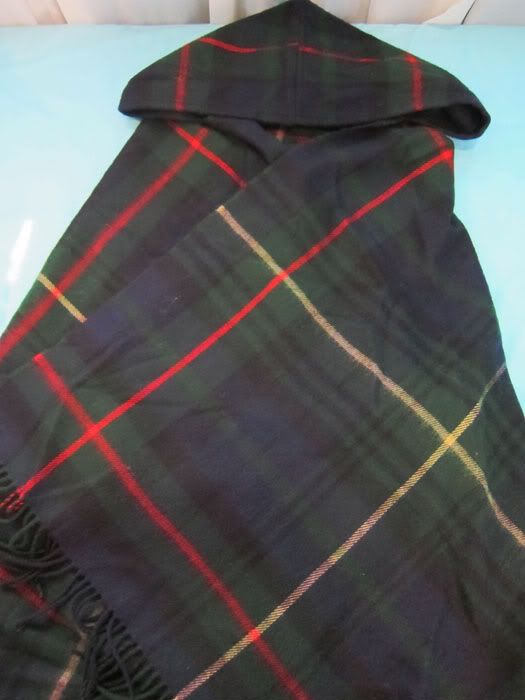 I have been looking for a cape for ages, though I did keep in mind that I probably won't get to wear it considering Malaysia's weather. Hence, this poncho/cape/hoodie thingy is perfect! It can also work as a pashmina when I tuck the hoodie in, score! Loving the preppy tartan print as well. :)

Note: Maybe it's the rain in Taiwan, but I was very partial to hoodies during my trip, hehe.
#20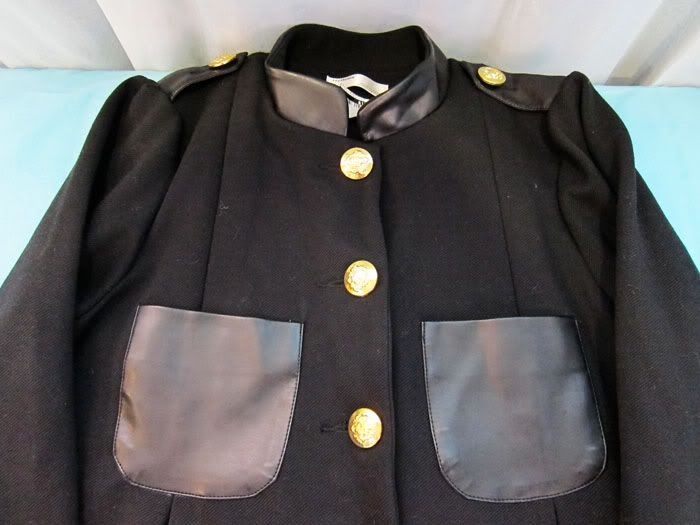 I am starting to notice a leather fetish here, by the way. -_- I love this long coat with a slightly flared hem, and all of its lovely leather details! I can definitely imagine seducing someone in this, ahem.
The leather details are a little more subdued in real life, so I am also thinking I can also wear it as a dress to work on Casual Fridays, with a belt cinched in.
Note: I do not plan to seduce anyone at work WTF.
#21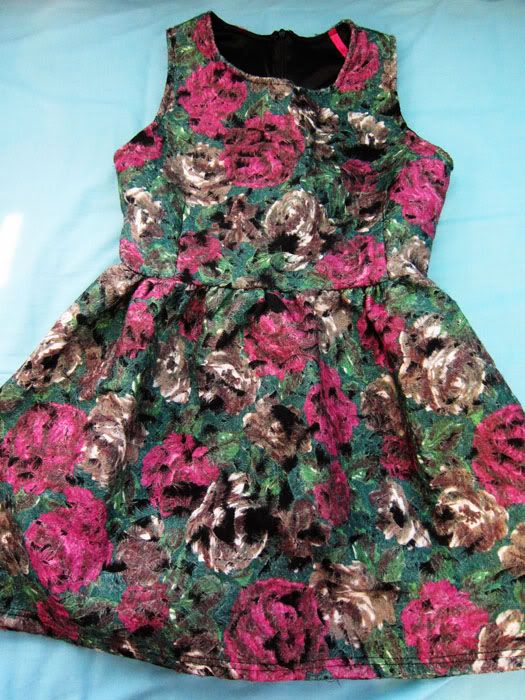 I adore adore adore this dress! It's made of some kind of woven wool material, and the floral print is way way more intricate in real life! Love the sturdiness of the fabric, because it makes it look more structural? I love it so much that I am considering wearing it for my birthday! And birthday dresses are
always
special and loved.
Can definitely imagine myself wearing the dress with black tights and item #22. ;)
#22 and #23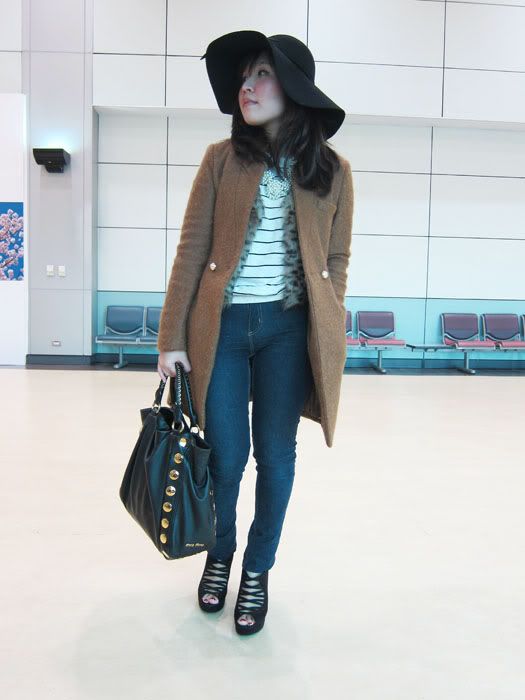 #22: I was on a lookout for a black floppy felt hat
forever
, and I found one that fits me perfectly! I can die happy.
#23: This is possibly my favorite purchase from my entire Taiwan trip, and also the most expensive. It's a camel colored wool coat that comes with a detachable cape that comes with a detachable fur collar (boy, was that a mouthful!). My trip in Australia and HK/Taiwan made me realised that I don't actually own a good heavy coat for cold weathers (I am talking about below 5 degrees, and NO I don't want a puffy windbreaker), so it was pretty much love at first sight when I saw this coat!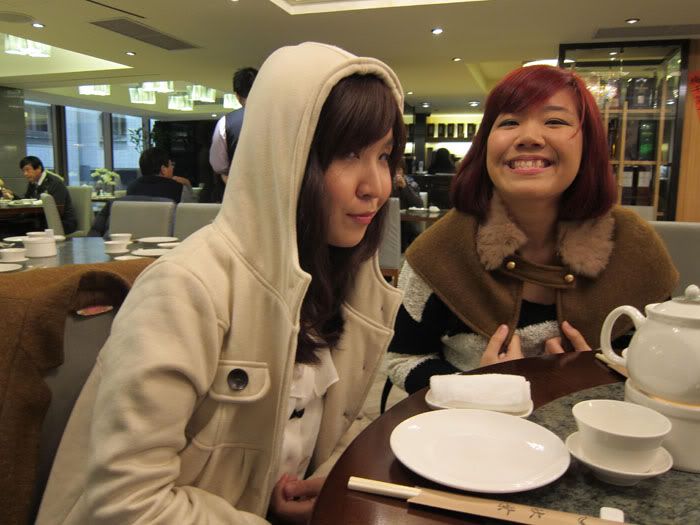 I lent Teeny the cape + fur collar during out trip. Isn't it gorgeous?
It's really elegant and cut very well, so I can imagine myself wearing it for many years to come.
And
it can encourage me to travel more! No regrets. :)
And oops, I forgot about one more buy! Click
*here*
for item 24. :D