... and hence there is a spring in my steps. Hehe.
Spring is without a doubt my favorite season! It was my favorite season back in the days when I studied in Australia because I love how there is a sense of lush liveliness after the cold,harsh winter. Spring is also my favorite season to travel to anywhere-- the weather is usually; for the lack of words
;
perfect
. I do try very hard to arrange my travel schedule to coincide with Spring seasons! Oh my,Tokyo in Spring.You'll DIE at the sight of the sakuras. Le sigh.
Immediately when I think of Spring/Summer, I think of bright colors. Ignoring the fact that I've a soft spot for colors, catwalks everywhere during Fashion Weeks also dictated,COLOR, COLOR,COLOR! Which is why out of the Reebonz bags shown
here
, I immediately gravitated towards the pop of colors. Unfortunately, I still had to make my choice by way of elimination!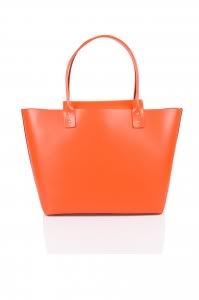 This Kate Spade tote is a winner, I would love to carry it to work! However, I have a red bag already, and I do not need another one. Eliminated!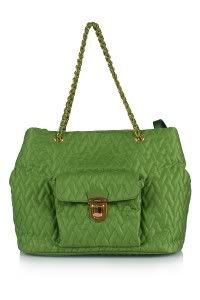 Aah, I would love a green bag in my closet! Currently lusting over a Green Balenciaga, but this Prada tote is surely a great substitute. However, it is made of fabric, and that's a catastrophe for a klutz like me. Eliminated!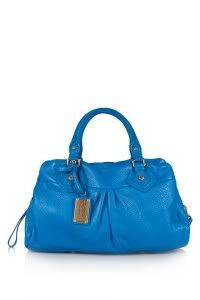 Hmm, cobalt blue-- one of the most coveted color on the SS11 fashion runways? Hell yea!
So with this bag in mind, I went ahead and created 3 Spring-worthy outfits. For the first time on this blog, I've created a slideshow lookbook, hope you guys like it! :D
By the way, the song in the lookbook is Love Comes by The Posies. Even the band is named after flowers! Spring much? :P
More stills (and a little story) of the 3 Spring outfits for those of you who were too lazy to view the video:
Outfit 1
Just wanted to show off my Spring-inspired minty green toenails! :P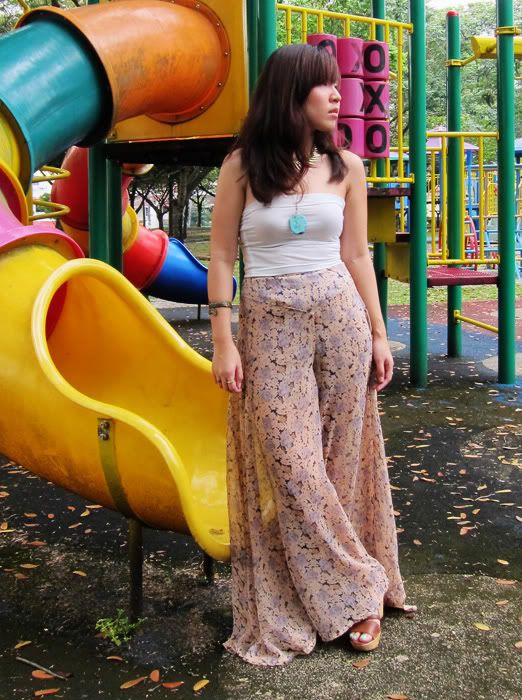 'Cause Spring weather can be rather chilly at times, I thought long pants would work very well to fight the chill factor. Hence I decided to wear the sheer flowy pants that you guys liked so much
here
(I still have people emailing me about them till today!) as part of my first outfit.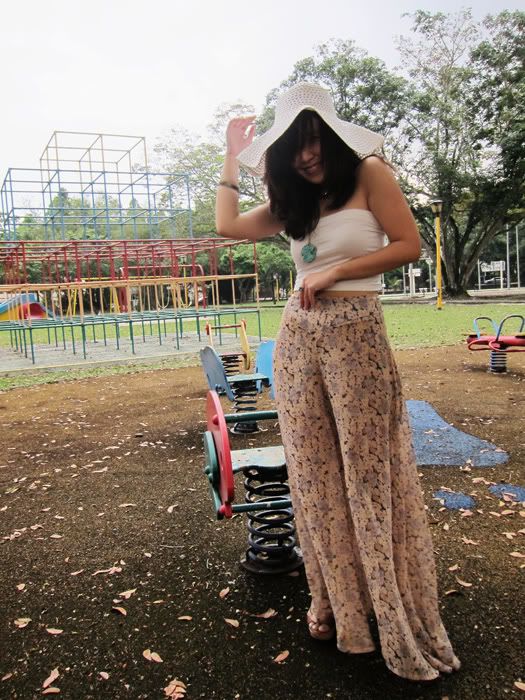 I would so wear this for a picnic on a perfect Spring day! I can do cartwheels, run amok on the grass, play a silly game of chasing in this perfect pants... And if it's cold, I will just throw on a blanket or pashmina, which would still go very well with this boho chic look. Can someone start packing the picnic basket already!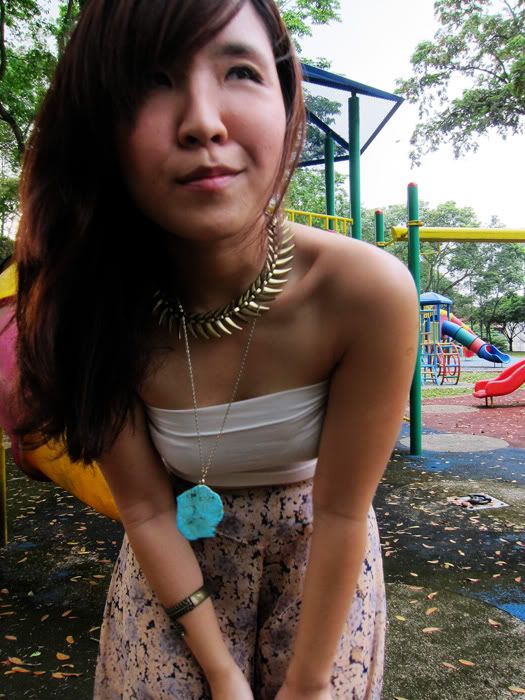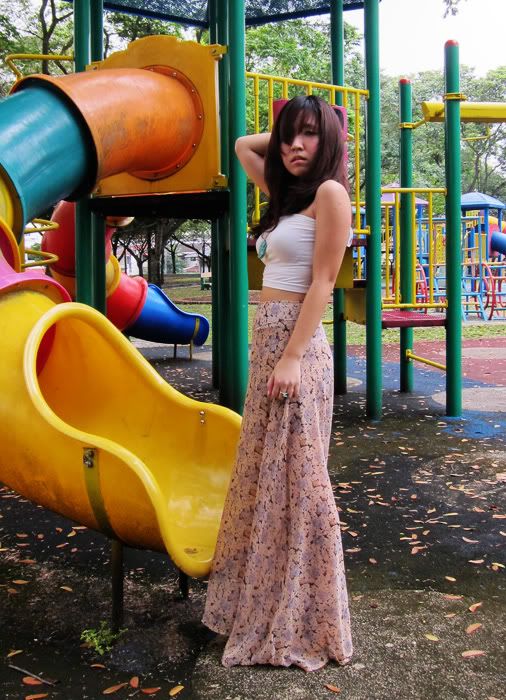 White bandeau top: Random
Floral sheer flowy wide-legged pants: Holiday in Bangkok
White straw wide-brim hat: Far East Plaza, Singapore
Gold 'fishbone' choker: Department store in Singapore
Turqoise stone chain: Forever 21
Rings: Korea/ H&M
Leaf bangle: Diva
Tan clogs: Steve Madden
Look 2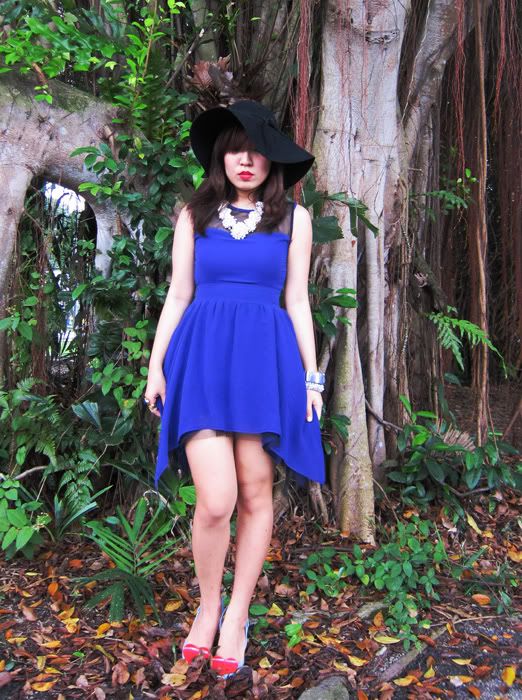 For the second look, I tried the color-blocking look which is everywhere in Fashion Week now. According to a few fashion articles that I read, electric blue, orange and purple are some of the hottest color-block colors, so I chose this supremely royal dress (almost purple!) with an adorable bias hem-- a weakness of mine, as many of you know. :D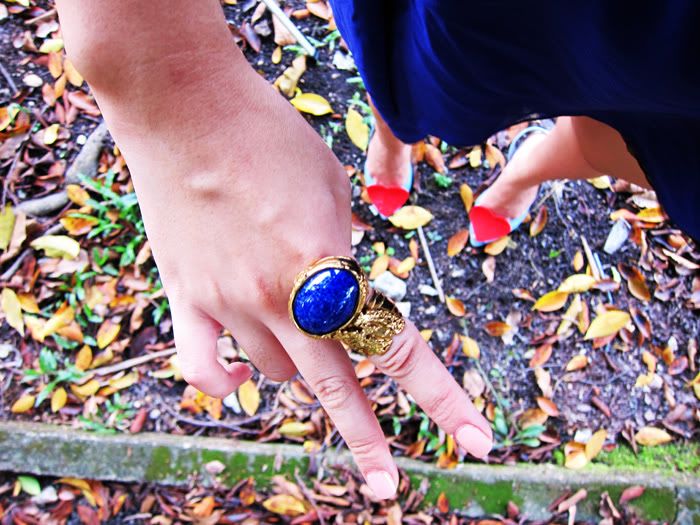 Worn with my YSL ring with the royal blue stone for the maximum color-blocking effect. :P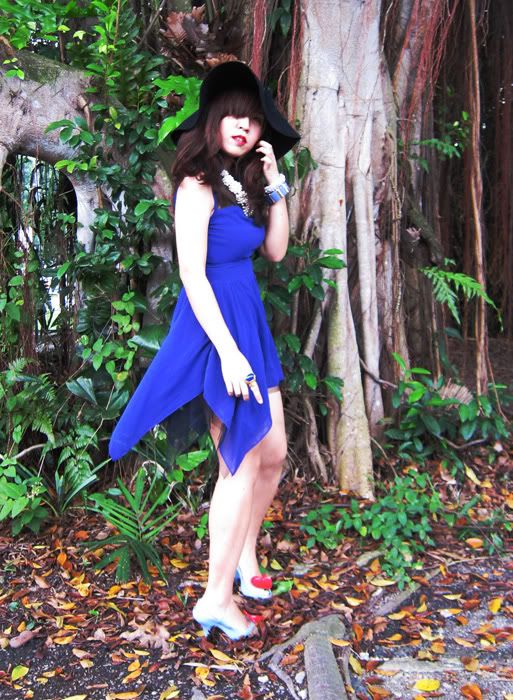 However, I couldn't help adding a touch of playfulness into the outfit! With my lovely Vivienne Westwood+ Melissa Anglomania shoes. Just to break up the monotony of the color. :) I would wear this to an art gallery! And a stroll through the park to take a peek at squirrels which are coming out to play again during Spring... Love that this outfit can be worn all the way into the night! A hot date, perhaps? ;)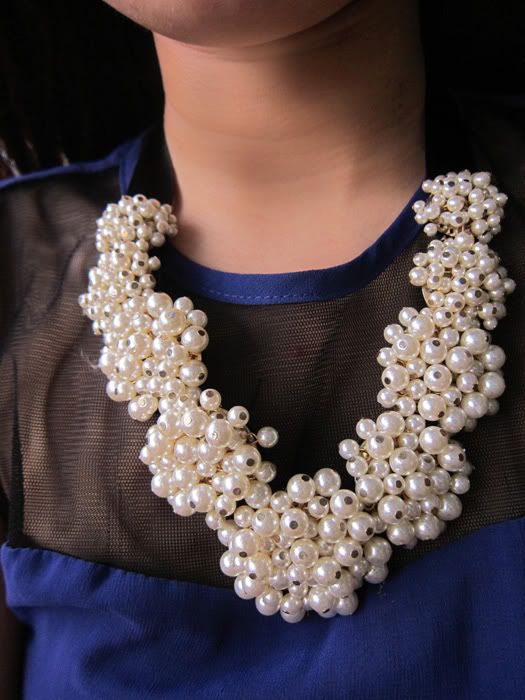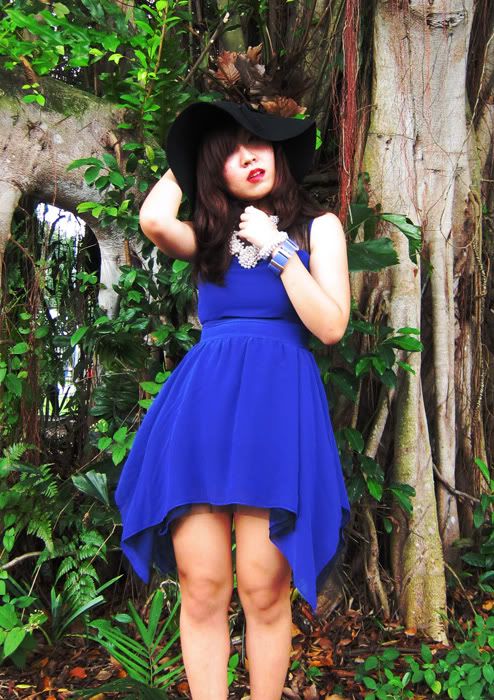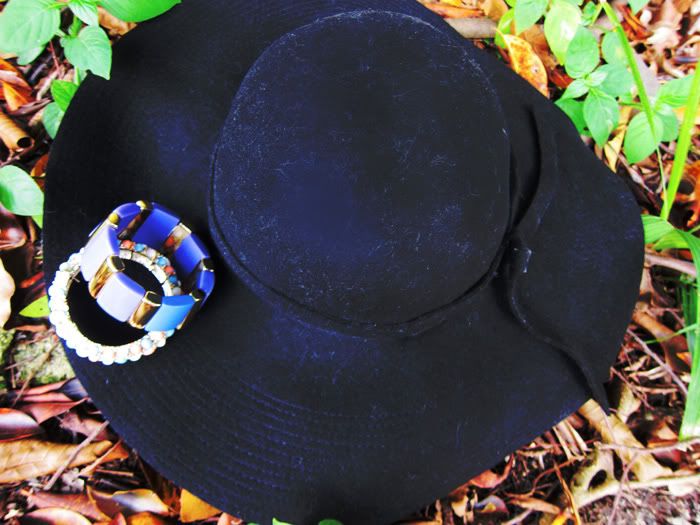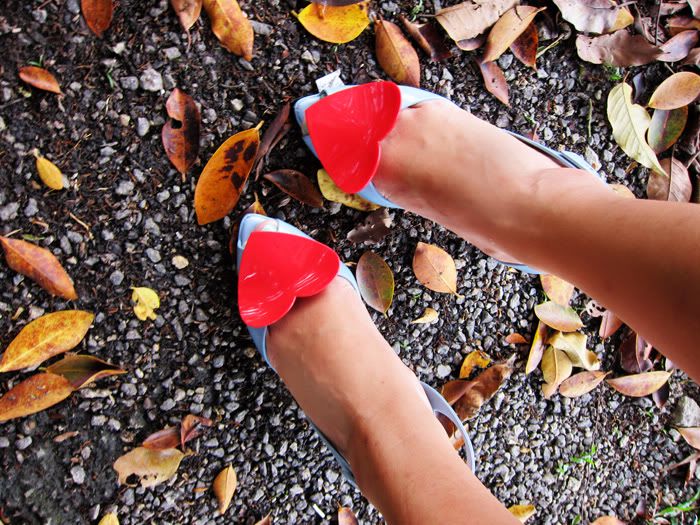 Royal blue bias hem dress with sheer neckline: Random shop in Midvalley
Pearl encrusted bib: Forever 21
Ring: YSL
Lilac/silver bangle: Topshop
Pastel multi-color bejeweled bangle: Holiday in Zhuhai
Black felt floppy hat: Imported from Korea
Lady Dragon Shoes: Vivienne Westwood+ Melissa Anglomania
Look 3
For my third look, I sort of adhered to one of my aesthetics, i.e. mixing hard and soft-- which I mentioned
here
. I wore a lightweight silk top (doesn't spring just make you want to dance around in silks and satin?) and black leather shorts, and I further softened the look with a beautiful multicolor floral necklace.
Navy blazer and my marine hat.
The navy blazer is my cover-up if the weather turns cooler-- the leather shorts can only keep me
that
warm!
I will wear this outfit in an heartbeat for a girls' day out. We will start off with brunch, and running on streets after that taking silly pictures of each other. Which is where my marine hat comes in. :P We will fill in our days with desserts sessions and some shopping at vintage shops, and we will find ourselves dancing the night away at a club, toasting to life. Once again,my hat will come into the picture, heh. Another outfit that can bring me from day to night! :)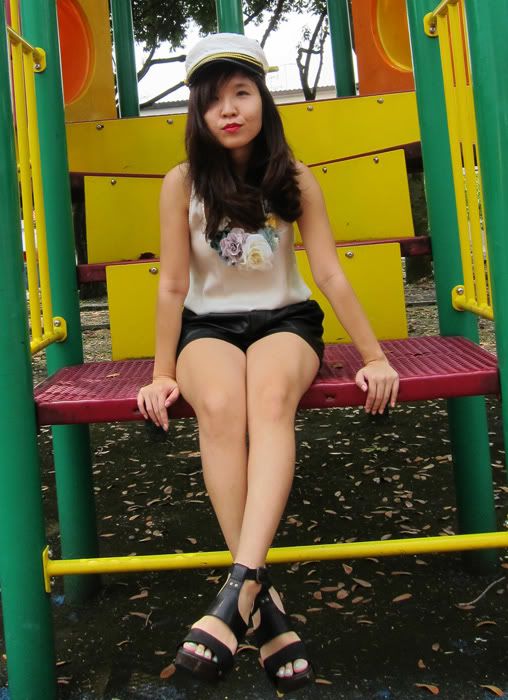 White silk top with cowl-back: Topshop
Black leather shorts: Zara
Navy blazer: Holiday in Korea
Multicolor floral bib necklace: Sister's
Marine hat: Holiday in Zhuhai
Black leather heels: Stuart Weitzman
Which outfit is your favorite? :P
**Don't forget to join
my giveaway
!