Some random pictures from our second day in Taiwan (but fifth day out of the entire trip, does that make sense? :P).
Silly sisters.
Anything that is made out of food + resembles an animal gets our vote, haha.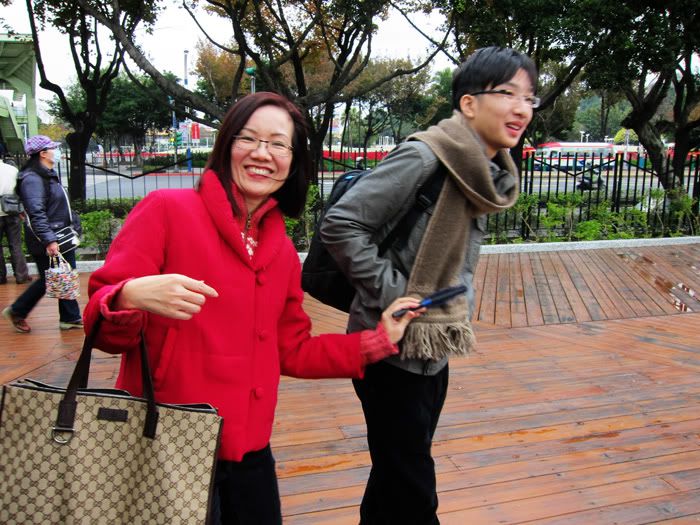 It was freezing at the flora expo (click
here
for previous entry), and my mom loaned her scarf to my brother. We were shocked to suddenly find her hairbrush entangled at the scarf's fringed hem, dangling from my brother's chest, HAHAHA.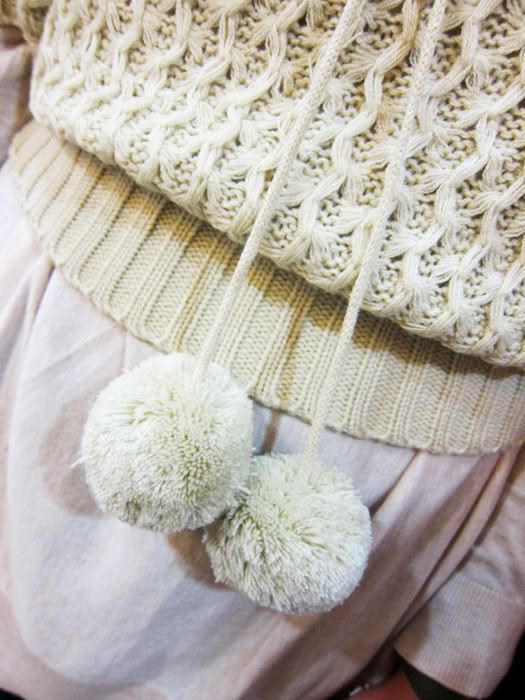 Pompoms on Teeny's caped sweater!There is a funny story attached to this (as usual, heh).
Teeny, being her usual violent self, was swinging the pompoms and using them to punch me. -_- Halfway through her S&M treatment, one of the pompoms detached and flew off the string, haha.
It doesn't pay to abuse your sister! ;)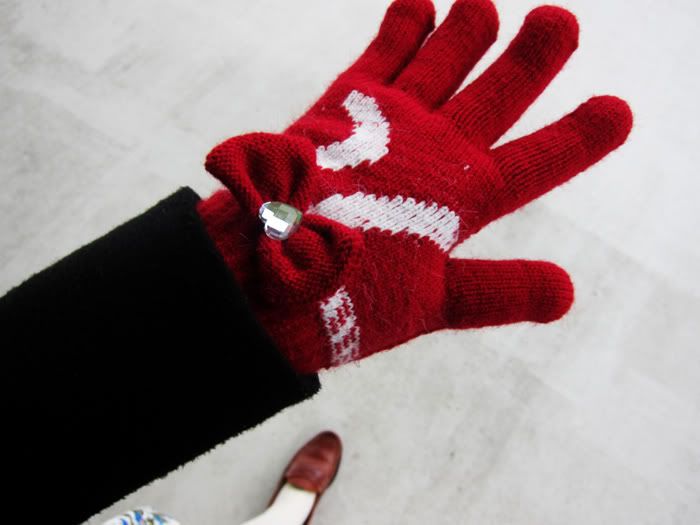 Jing's gloves. Gloves in Taiwan are really cute (and cheap)!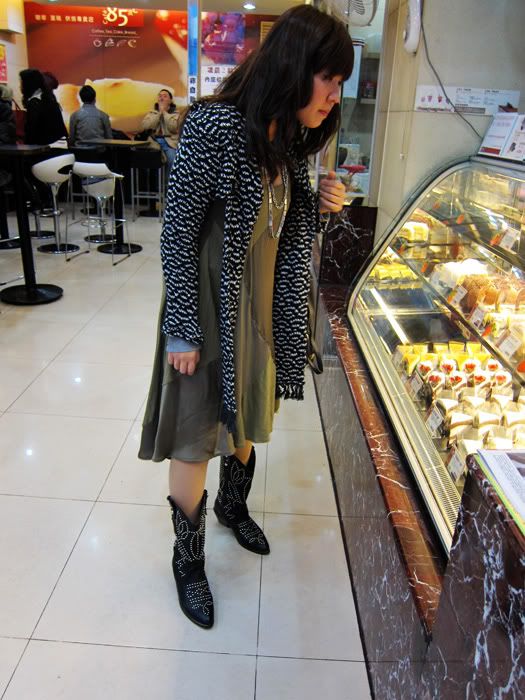 Eying cakes with my beady eyes.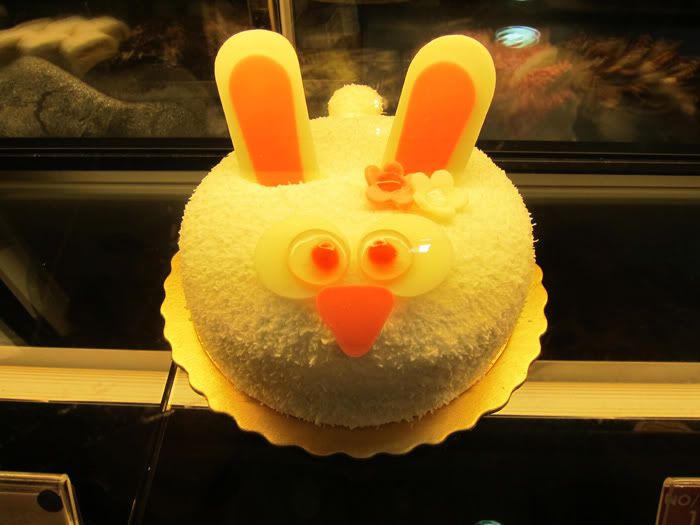 Our obsession with animal-shaped food continues...
I chose this ear muff for Jing, ain't it cute? :)
High tea, our first 'proper' meal, i.e. meal in a decent, air-conditioned place. Before that, all we have been having in Taiwan was street food.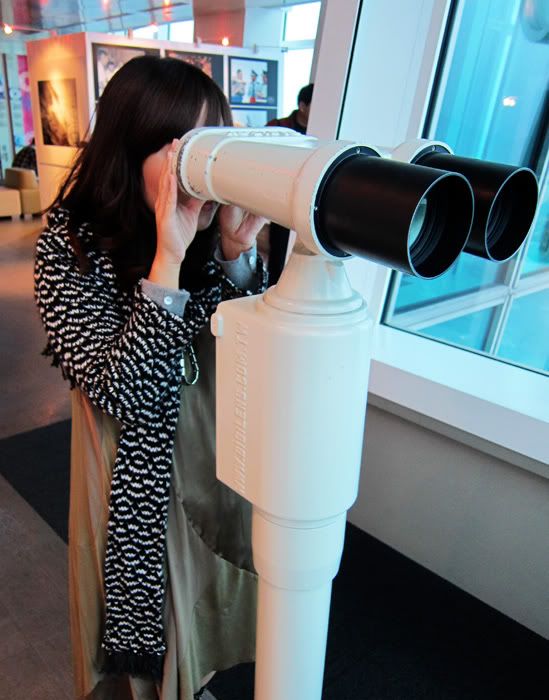 Checking out the view at
Taiwan 101
.

Not that there was much to see, it was raining the entire day so it was really misty!


One of the backgrounds at the top floors of Taiwan 101.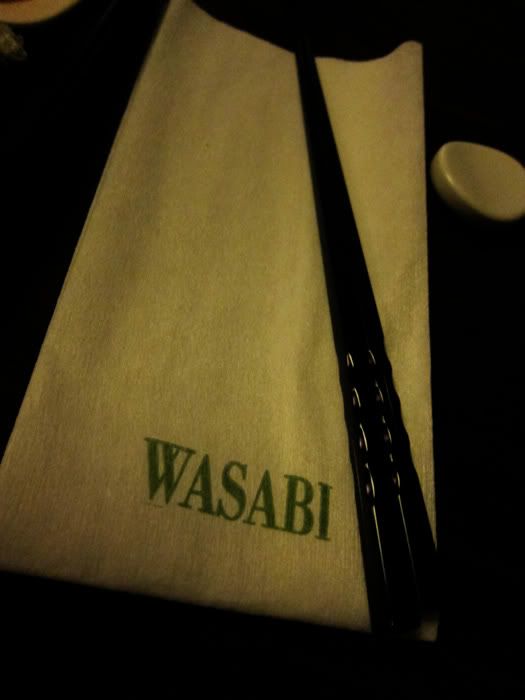 Our second 'proper' meal-- Japanese buffet (at where else, Taiwan 101 again! :P)
My mom insisted on going to Wasabi for its Japanese buffet because of this: red bean mochi. She tried it once on her last Taiwan trip, and she has been in love since!
I was no different. One bite, and I was hooked. :D
I love the back of my cropped sweater jacket! The longer front and this unique cross-over back was what got me in the first place. ;)
Other random pictures: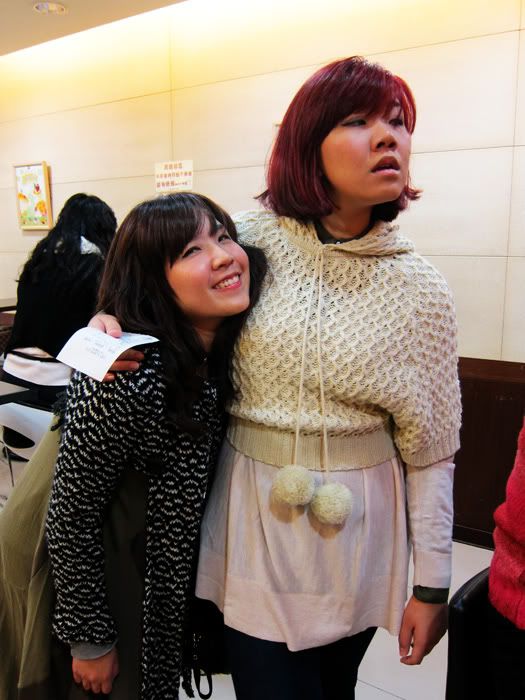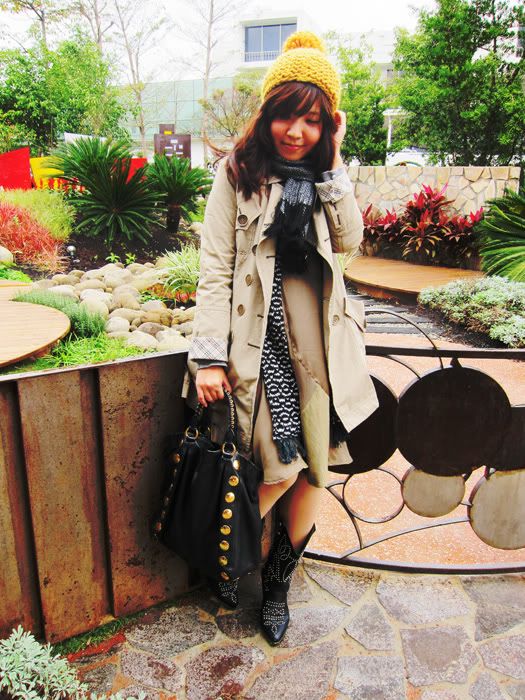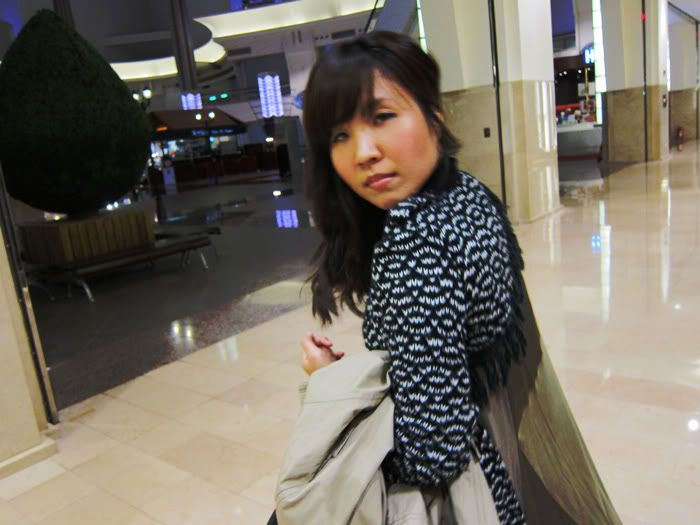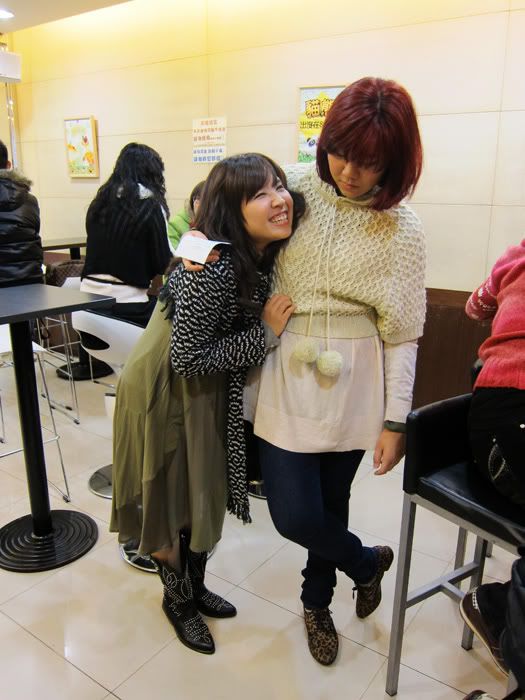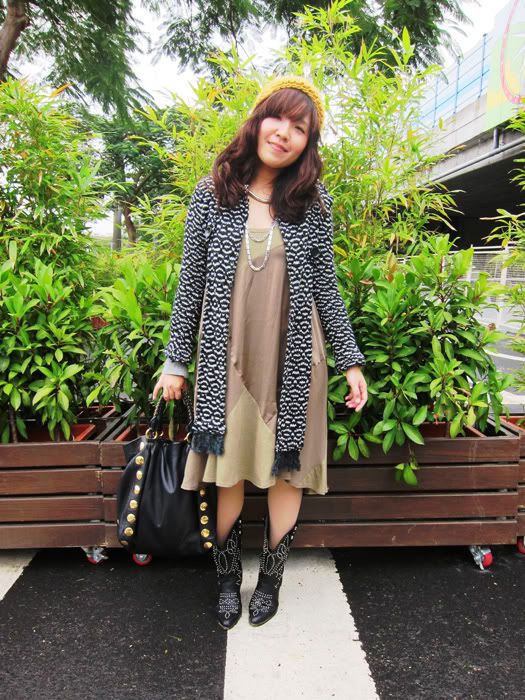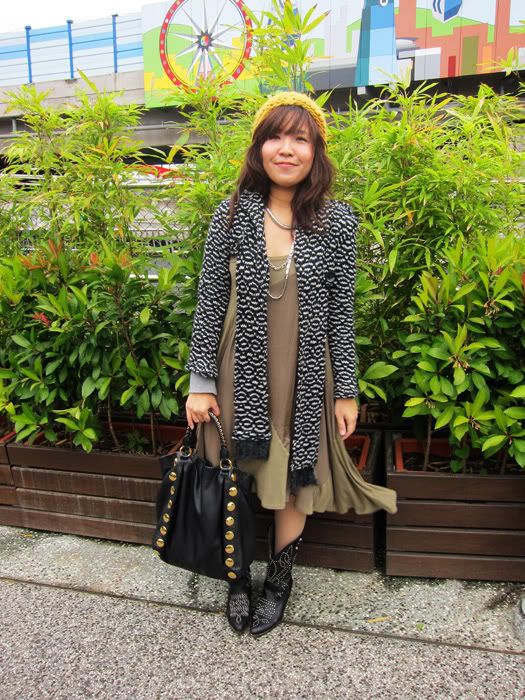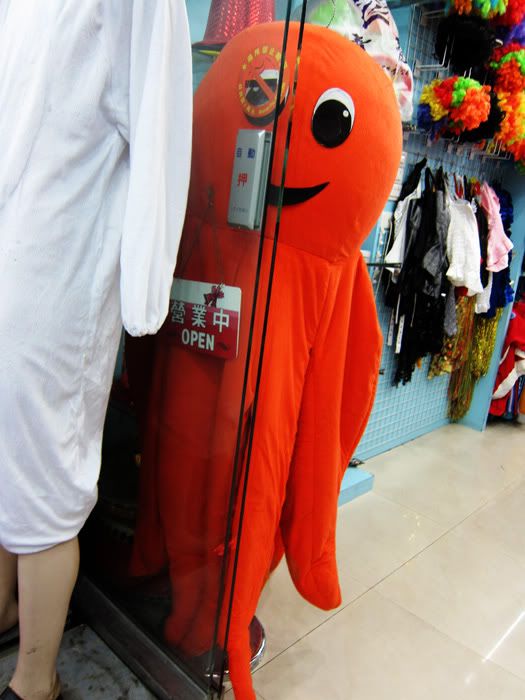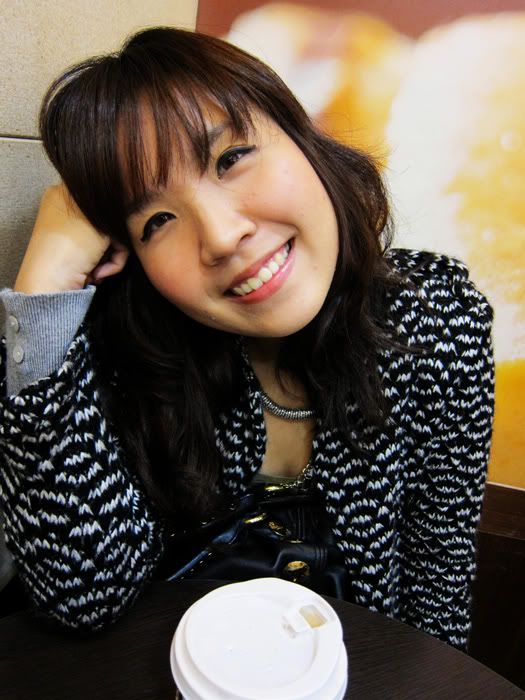 Outfit: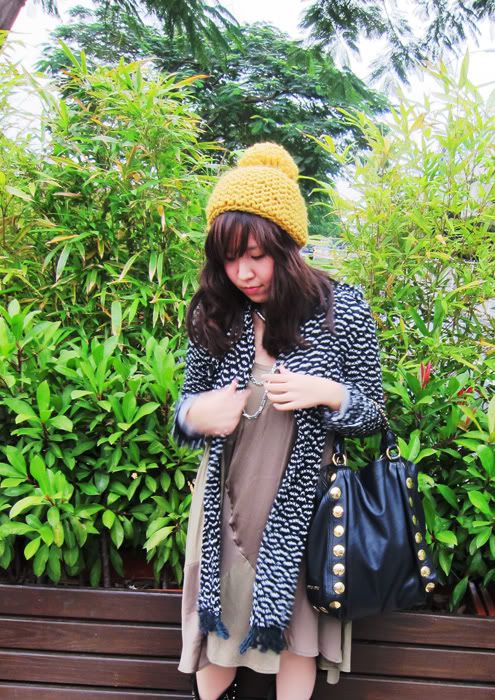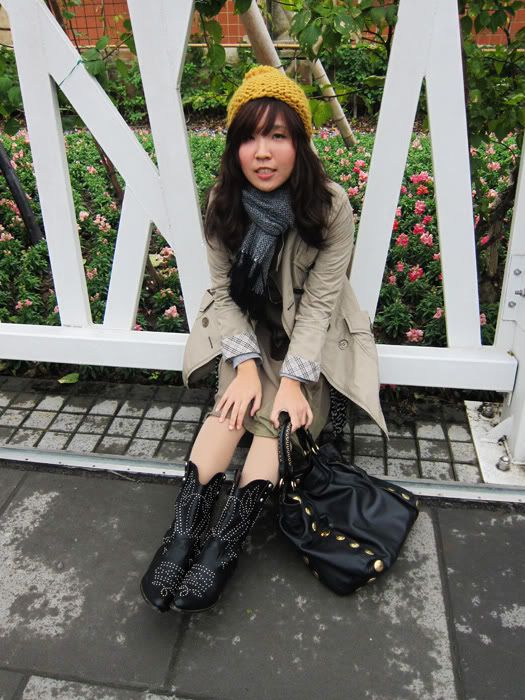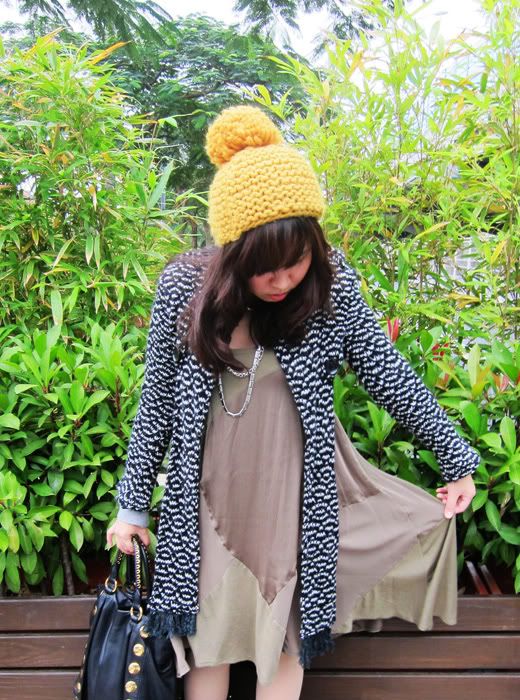 Khaki green silk patchwork bias hem tank dress: H&M

Knit asymmetrical sweater with fringed scarf details: Trip in Zhuhai

Beige trench coat: Burberry

Silver choker: Topshop

Silver layered necklace: Far East Plaza, Singapore

Yellow wool beanie: Teeny's

Studded boots: Trip in Zhuhai
Bag: Miu Miu


It was such a cold day!! I was originally planning to only wear the tank dress and my awesome asymmetrical knit jacket, but when we saw the weather forecast of 8 degrees (the original forecast was 15-16 degrees -_-), I quickly layered a cardigan underneath my jacket, and pulled on the trustworthy Burberry trench. Layering at its best. :D And if you are wondering why was I going around with bare legs-- I wasn't! I was wearing sheer tights (120 denier), a last minute buy in Taiwan!