Back to posting pictures from my Taiwan trip... I just found out that my mom has plans to go to Taiwan again in March, and it's taking all my willpower not to scream,"Take me! Take me!"
Day 6 was our second last day in Taiwan, and the only agenda for the day was SHOPPING!
Terrified of the cold-- we knew it meant trouble when the hotel bellboys were wearing thick long (like ankle-length) winter coats
indoors
(the first day we arrived they weren't wearing any coats, the 2nd day they had blazers on...).
Before we headed to
Wufenpu
, the supposed shopping paradise of Taipei, we went for a brunch of the famous Taiwanese porridge.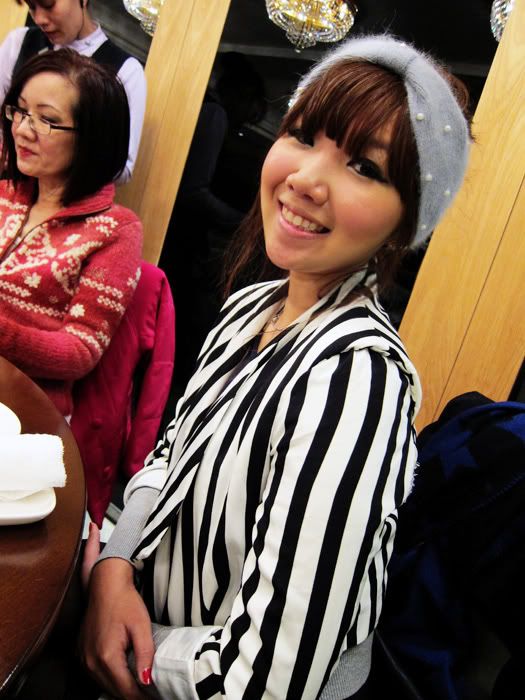 Getting indoors is always a bitch, 'cause we need remove x number layers.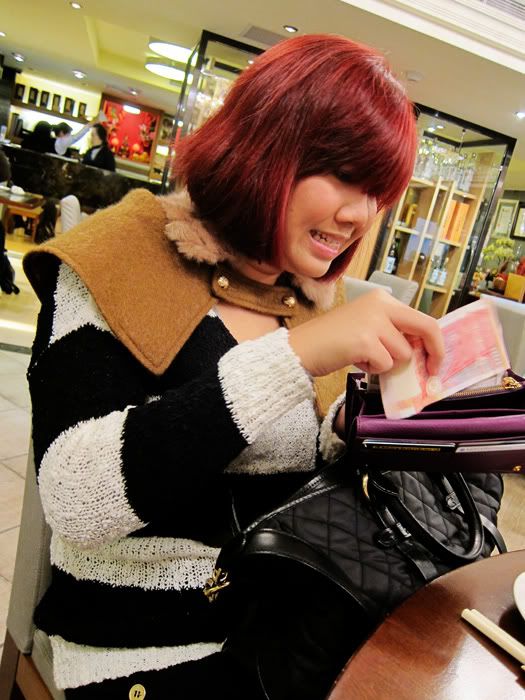 Counting moolah!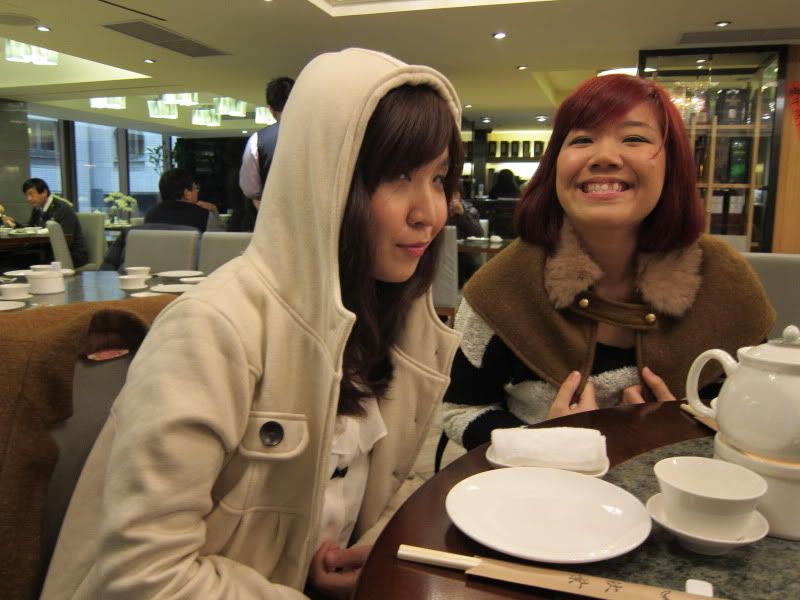 A hoodie is so important during our trip 'cause it was raining 24/7.
Bought this in Taiwan
the day before.
The food: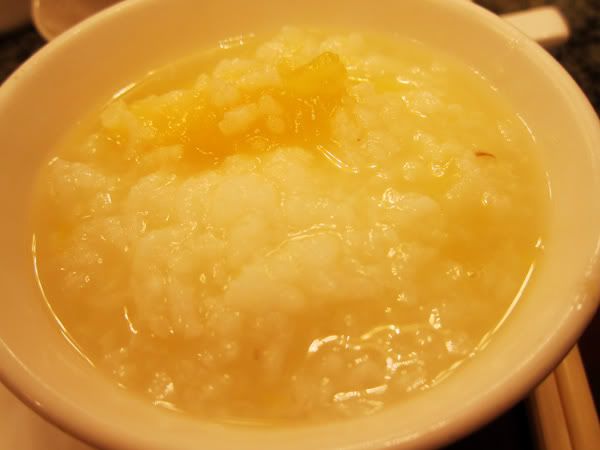 Taiwanese porridge is boiled with...some potato/melon thingy. I don't know what is it called, the Taiwanese call it
digua
("ground melon"). Anyone can help on this?
We ordered a lot of dishes to go with the porridge. As porridge is usually bland, most of the recommended dishes are very flavorful.
Namyu
minced pork. This dish,although on the salty side, went SO well with the porridge!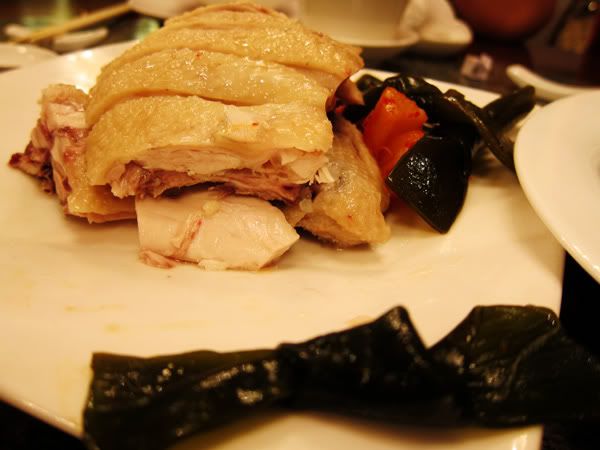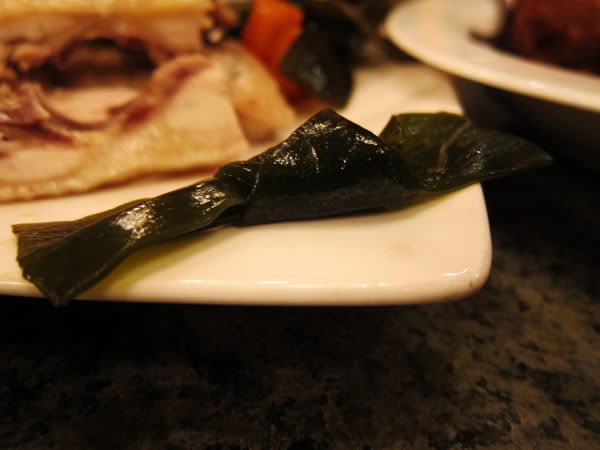 Steamed chicken. Not a great fan of this, but the veggies which are knotted in bows are commended.
One of my favorite dishes of all times: braised pork belly.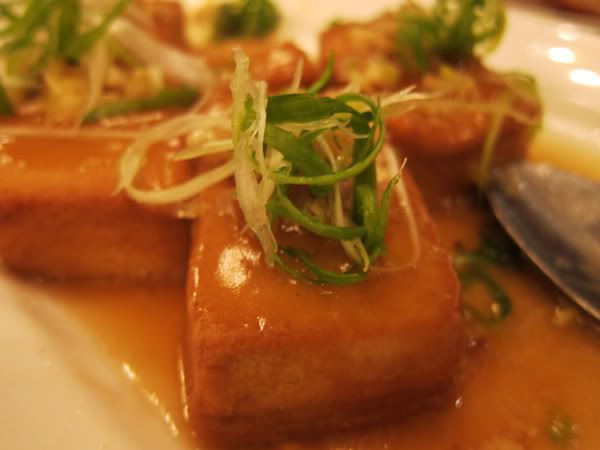 Braised tofu.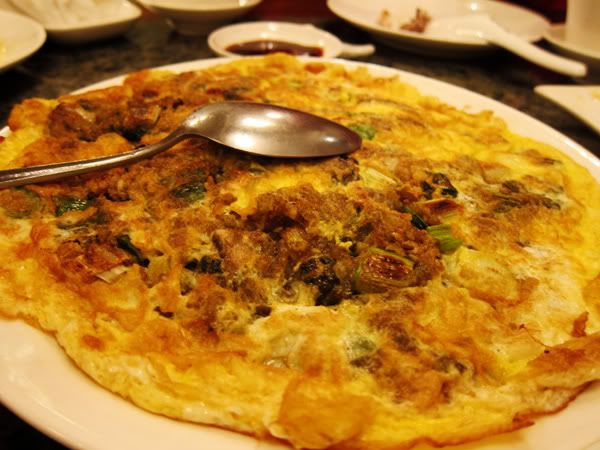 Fried
chaipu
egg, another Taiwanese specialty. I've tried it in Singapore before, but it doesn't even come close to this original Taiwanese version!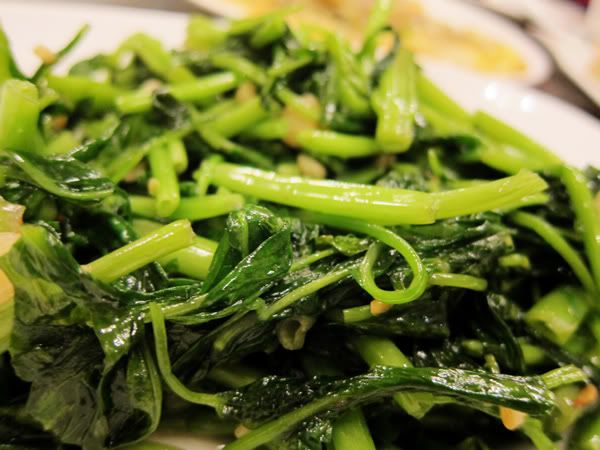 Fried vegetables, to meet the greens quota for the day.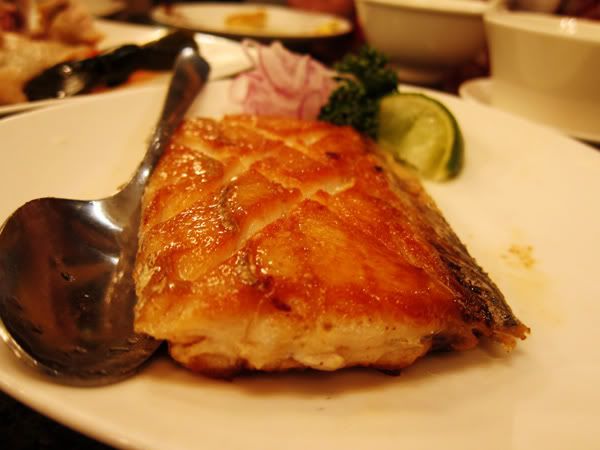 Pan fried fish.
I'm usually not a huge fan of porridge, not 'cause it isn't yummy, but because it isn't filling and I'll usually feel hungry after 1 hour or so. But everything was so good that I ended up gulping down 3 bowls of porridge! (That kept me full for 2 hours -_-)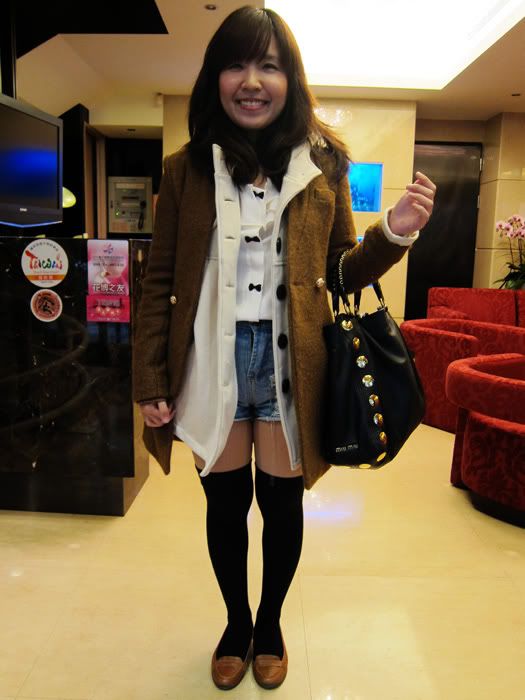 I was originally planning to wear heels, but the rain makes it a nuisance to walk around in heels, so flats it was.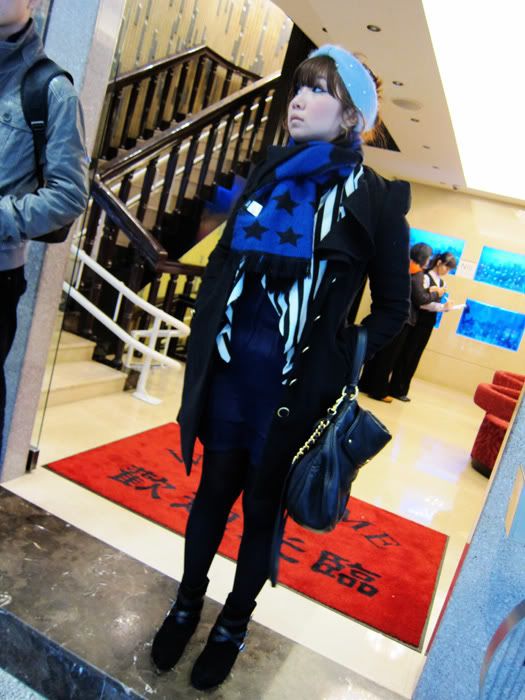 Bundled up.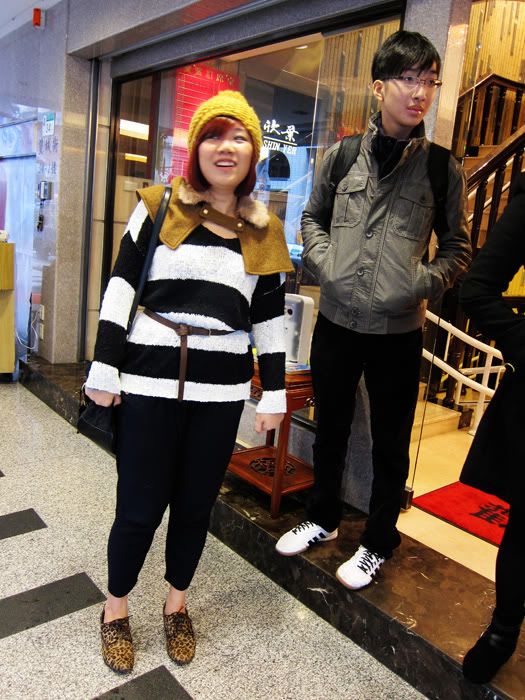 Do NOT refer to Teeny for a gauge of how cold it was. This girl is crazy, she can prance around in just a sweater (and check out the naked ankles!) in 8 degrees cold.
Walking around in a tunnel shopping mall-- we had no choice 'cause it was raining, and therefore there really wasn't anywhere we could go (
Wufenpu
is an open-air market).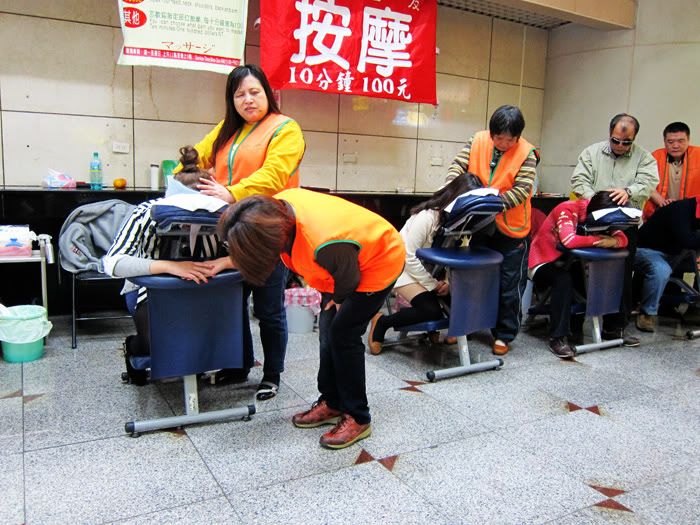 While randomly walking in a train station, we saw this corner advertising massages by the blind. Since we had time to kill, we decided to go for an impromptu 20minute massage (for NT$200). Best pick-me-up! We felt so light and rejuvenated after the massage. :D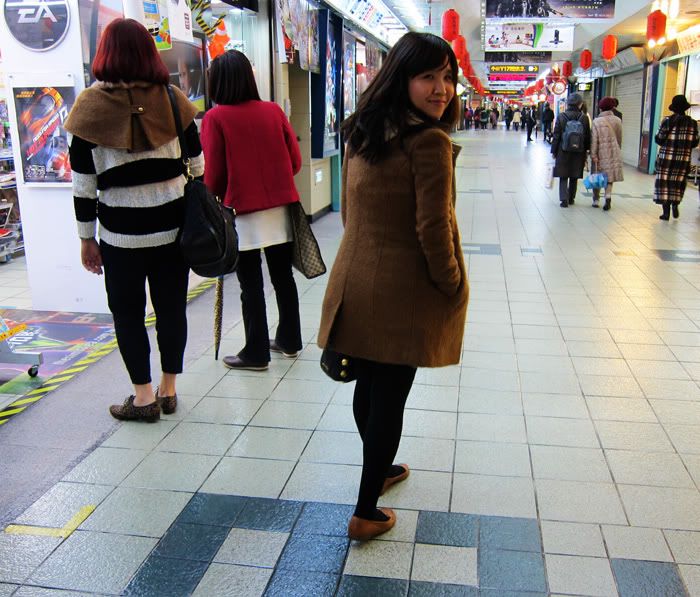 There's a hump on my back thanks to the bow on my hoodie jacket, which you'll see later in this post.
Loads of random pictures while waiting for the train: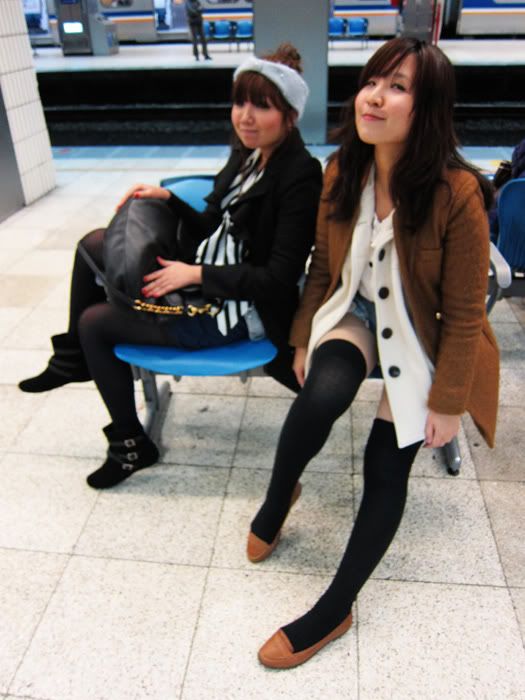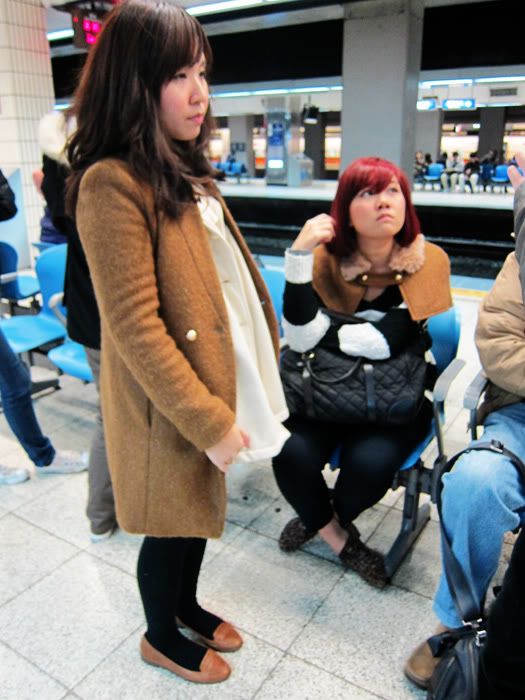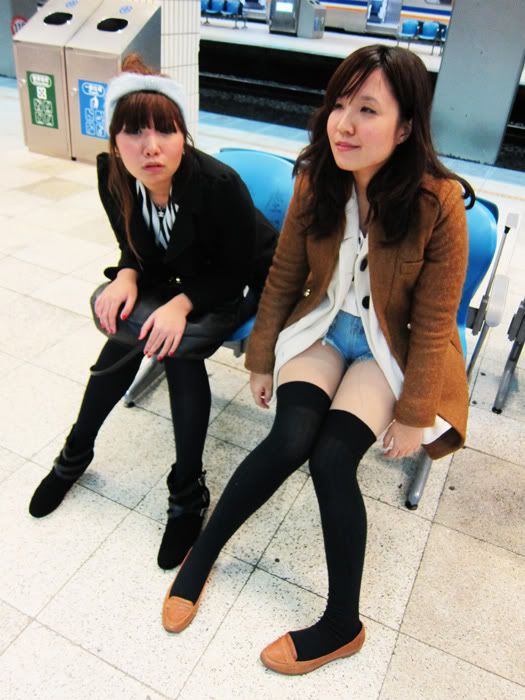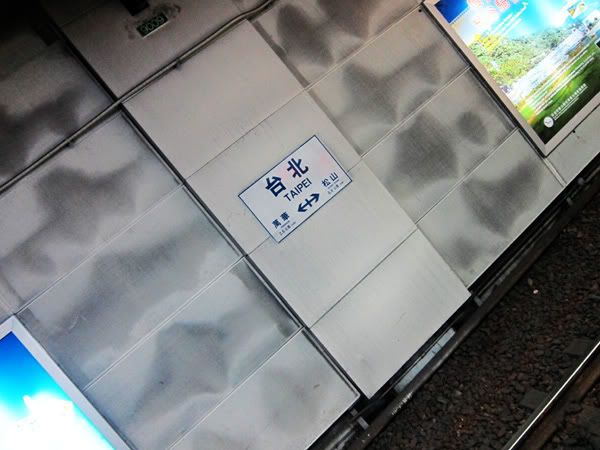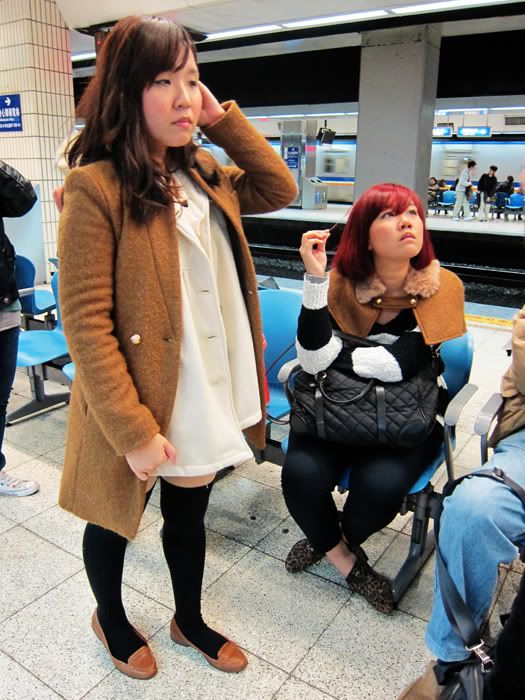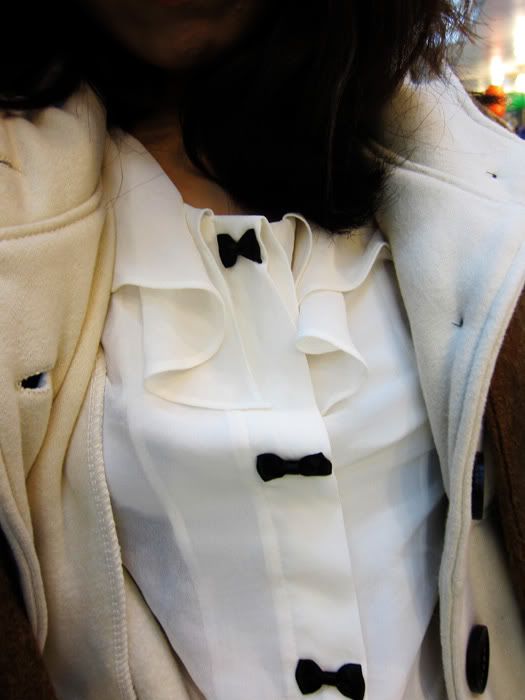 LOVE the bow details on my chiffon blouse!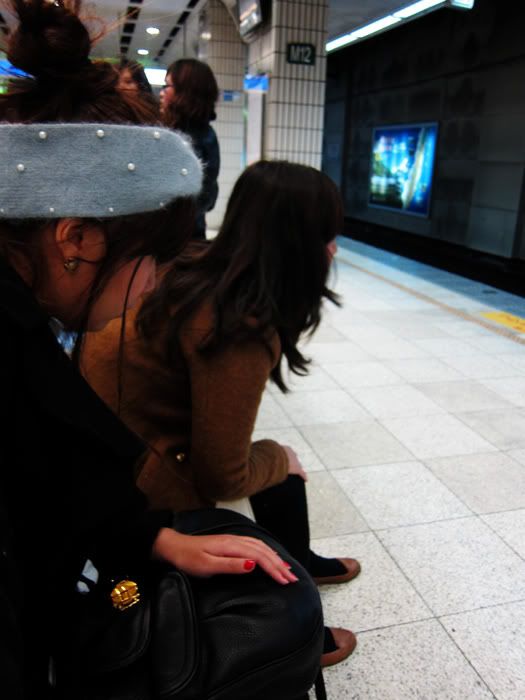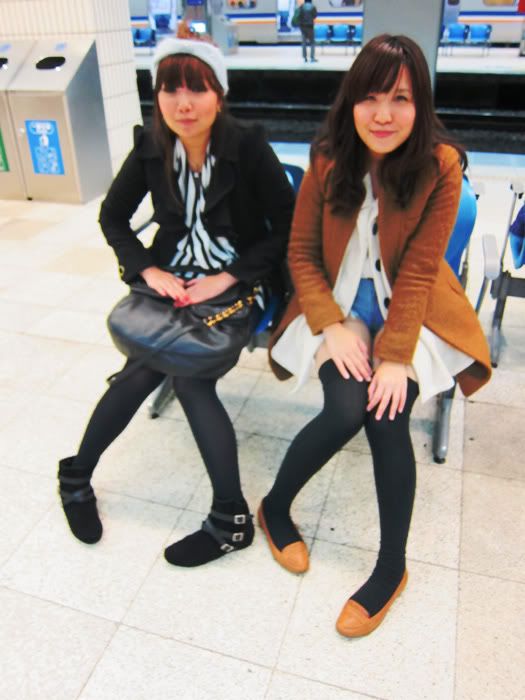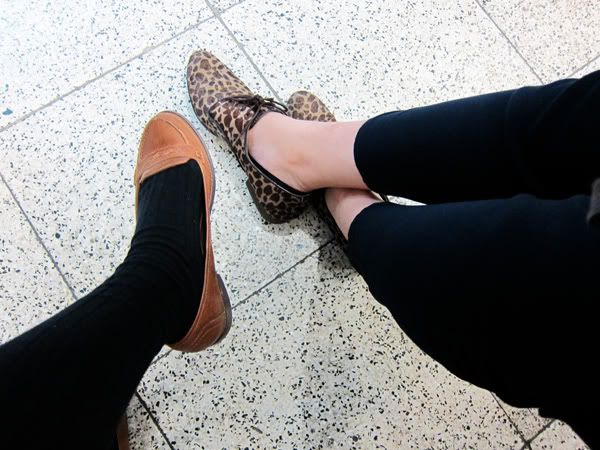 My trusty Aldo flats (so comfy!) and Teeny's Sam Edelman leopard laced up loafers. I love her shoes, wish I got them too.
The bow on the back of my hoodie jacket.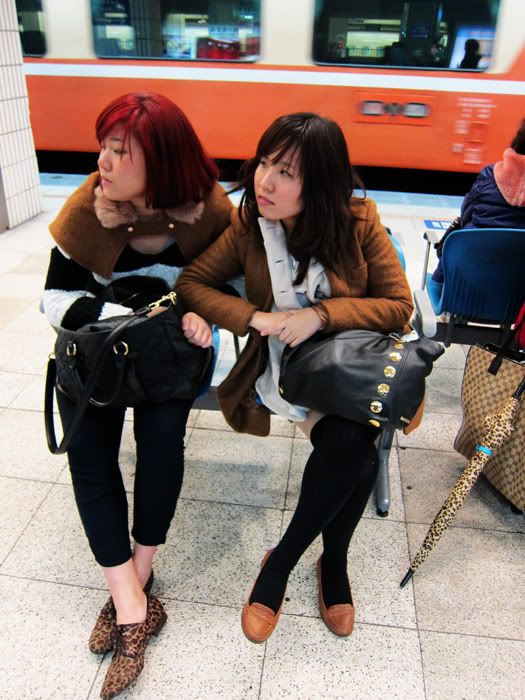 As mentioned
here
, the cape that Teeny was wearing comes from the jacket I bought the night before (I was wearing it throughout the post)!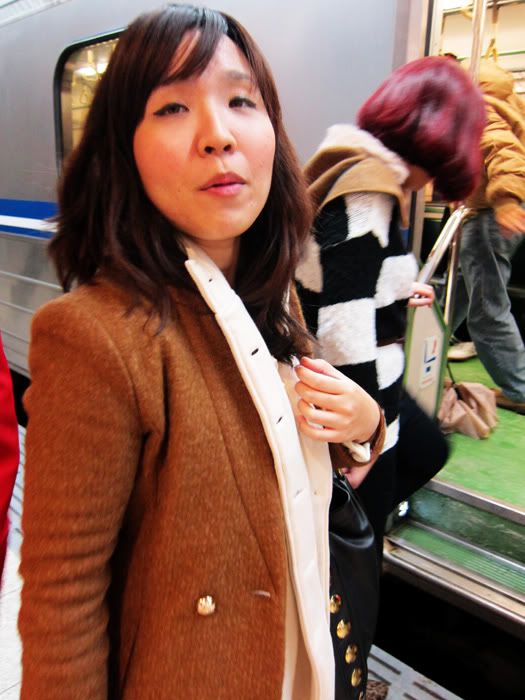 Boarding.
Wufenpu was absolutely MISERABLE. As mentioned earlier on, it's an open-air market, and since it was raining, it was dark, gloomy and wet. :(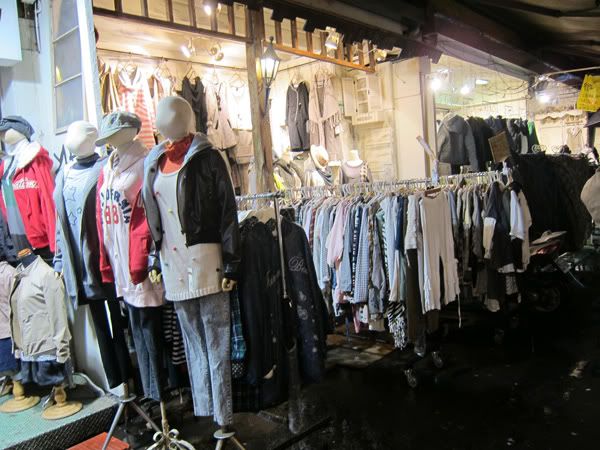 Look at how dark it was! The alleys aren't shaded, so you'll have to go through the rain to get from shop to shop.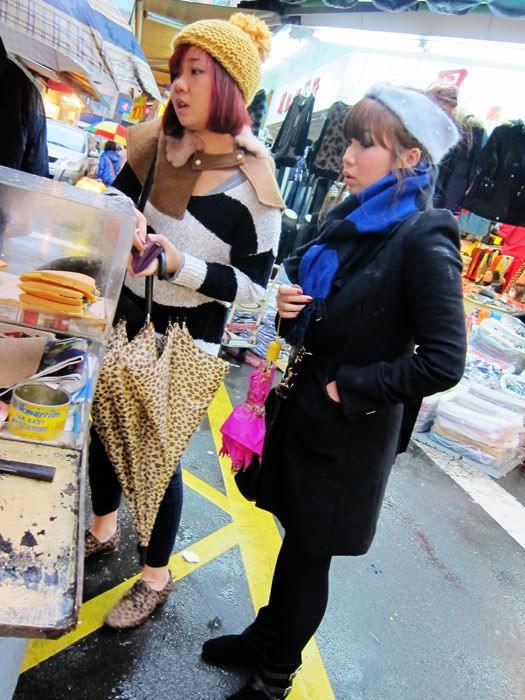 Buying street food 'cause all the porridge was digested already. :P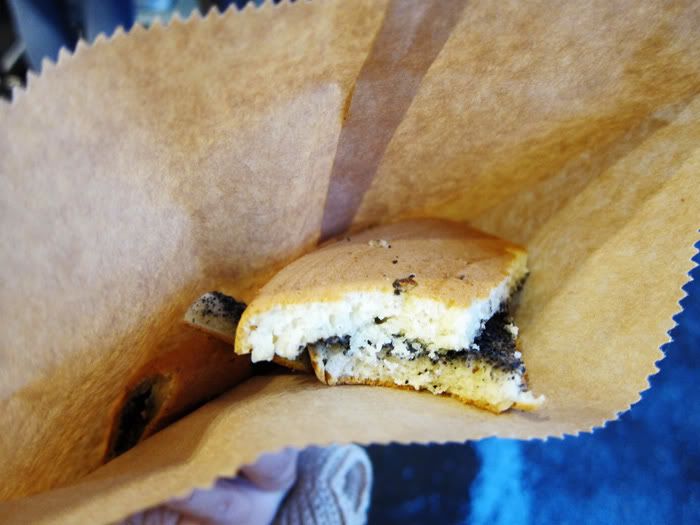 Some kuih with black sesame filling. It smelled So good, unfortunately the taste was kind of
meh.
Gloves are a savior in the cold.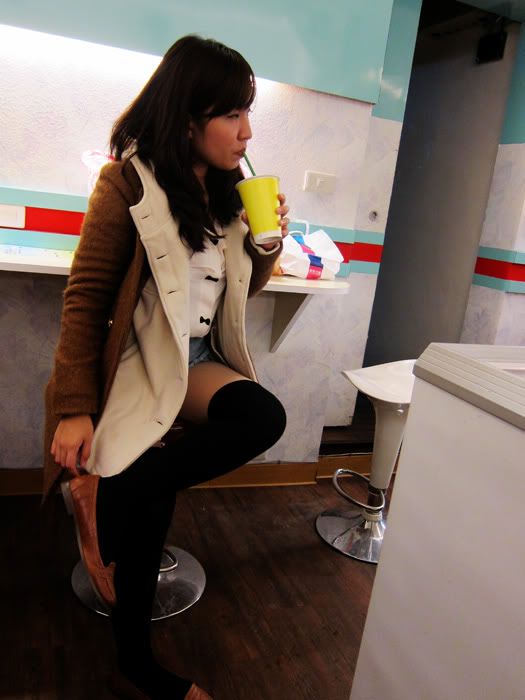 Sipping on my nth cup of bubble tea.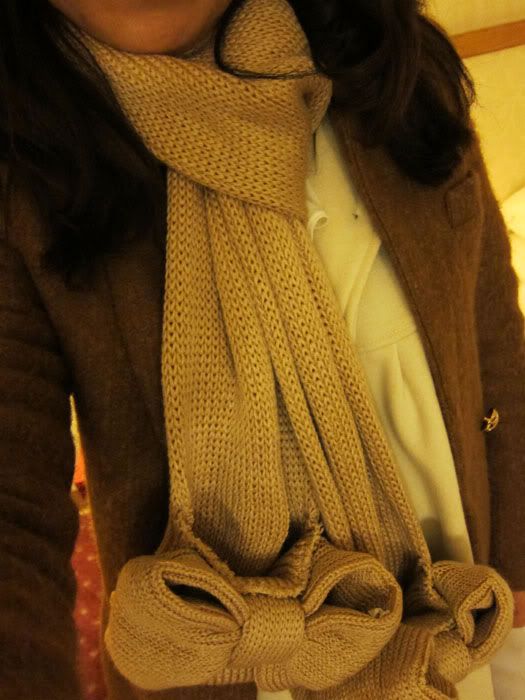 Scarf with bow pockets to keep my hands warm!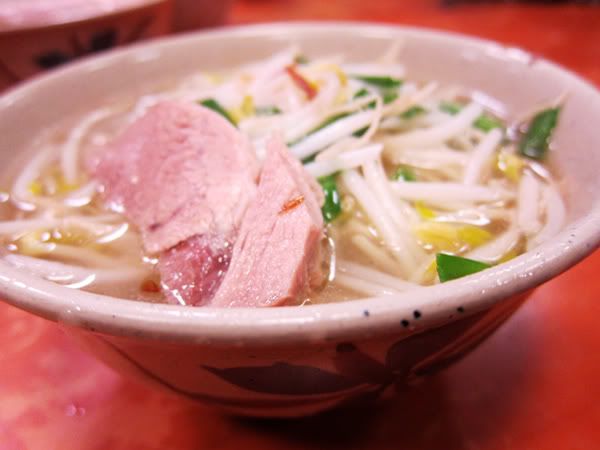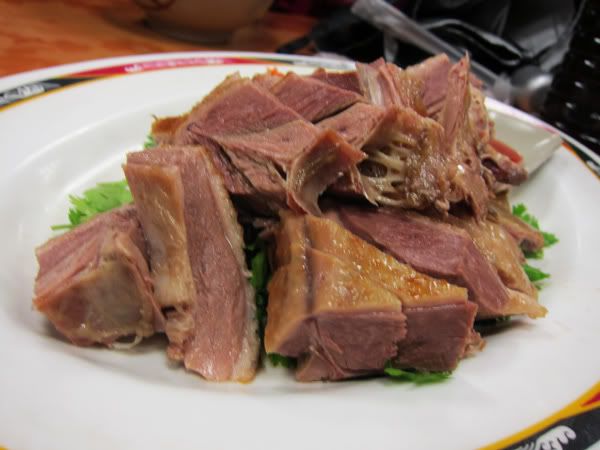 Dinner was duck soup noodles.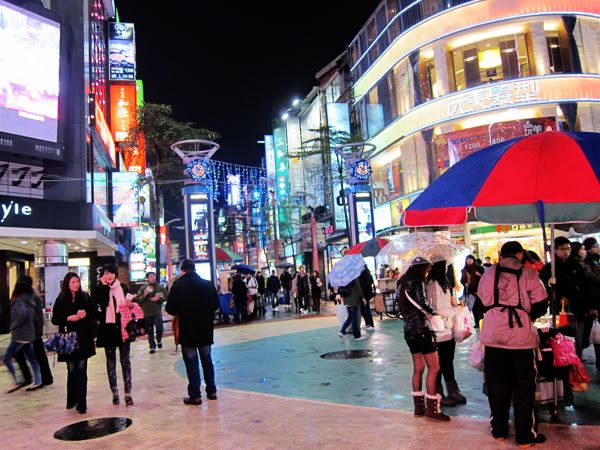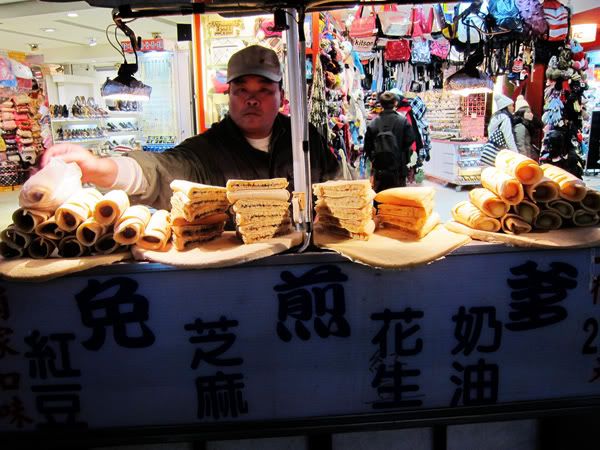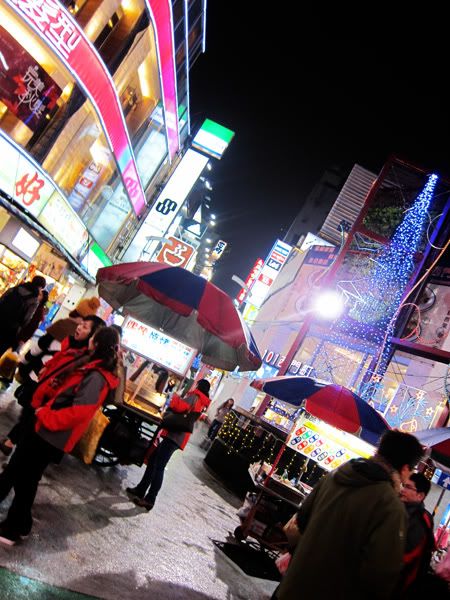 The toilet restaurant that I mentioned
here
. Spot the toilet bowl!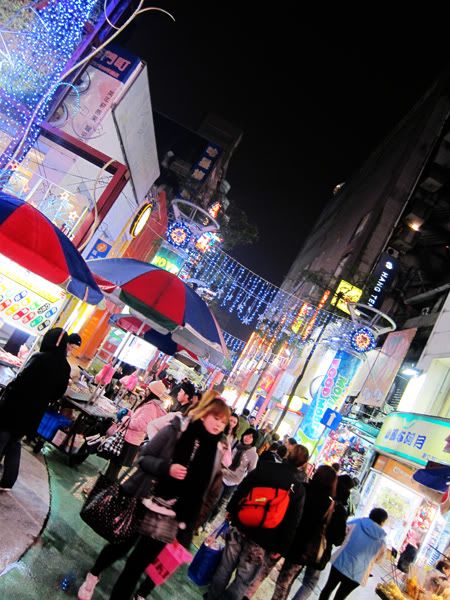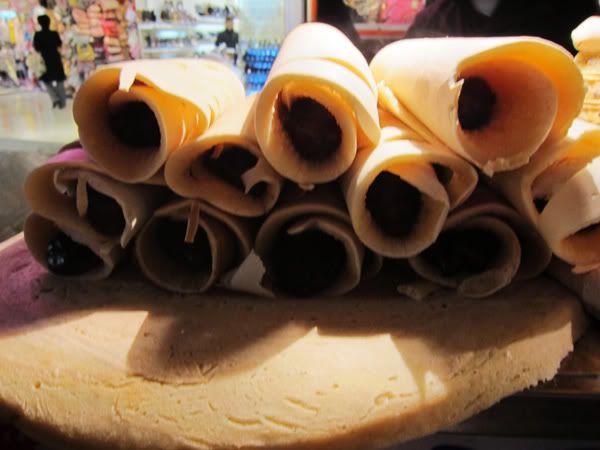 Doggy is fashionable by knotting its shirt at the midriff. :P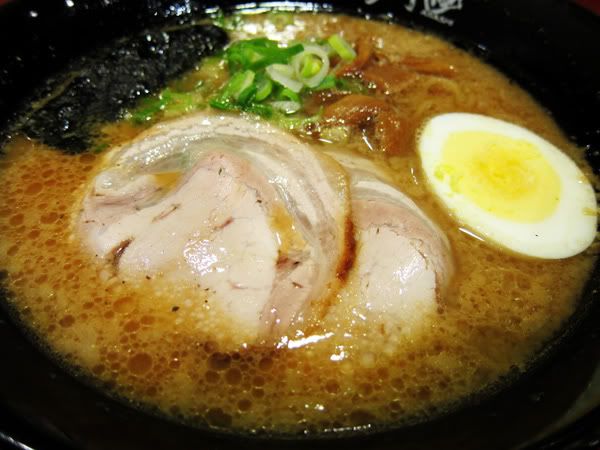 Supper.
Outfit: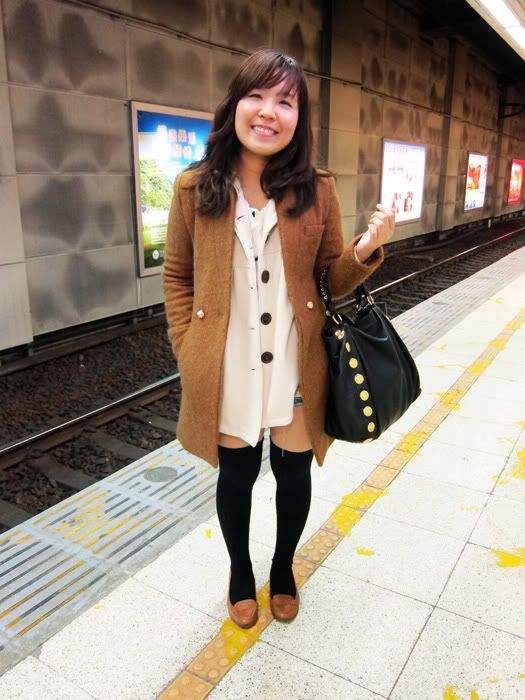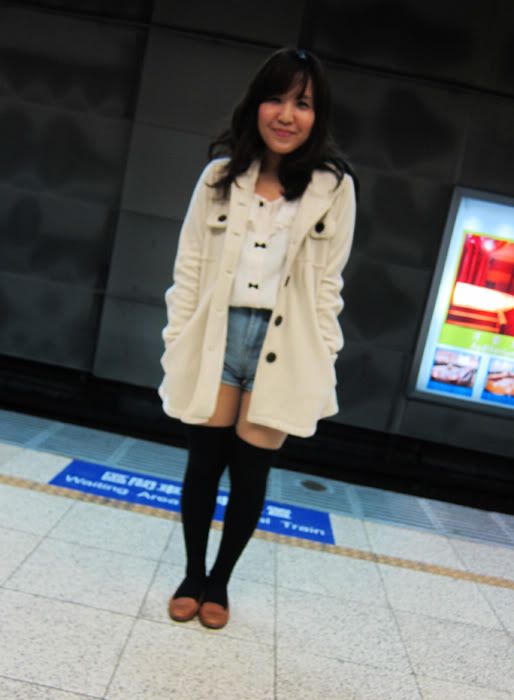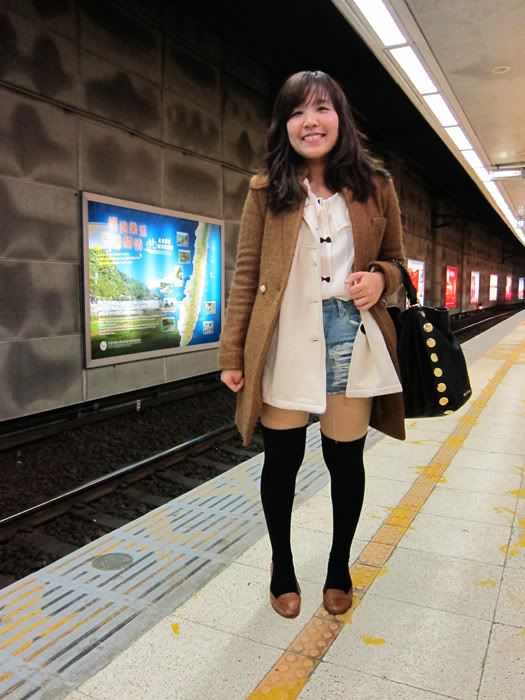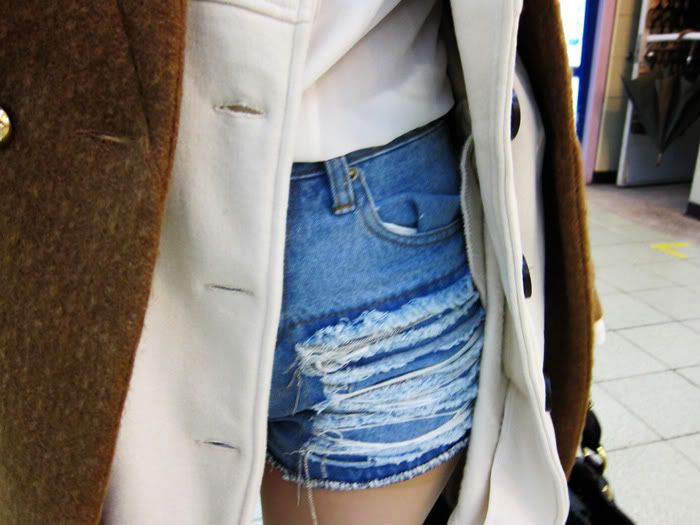 Cream chiffon blouse with bow details: Holiday in Korea

Ripped faded denim shorts with chain details: Holiday in Bangkok
Cream hoodie jacket with bow: Taiwan
Camel wool coat: Bought in Taiwan, imported from Korea

Black thigh-highs: Topshop

Tan loafers: Aldo

Bag: Miu Miu



Follow me on Twitter
here
.