Super backdated post of
Chicpop
2 months back..
*guilty face*

I am starting to notice the trend, I will participate in a junkyard sale, conveniently forgets to blog about it, until the
next
junkyard sale pops up, and I'll be like, "
omg I totally forgot about the last sale
', and proceeds to do a backdated post.
Sorry guys. :(
Some behind-the-scene shots...
Hanging out the goodies...
We wanted to dress Manny (that's the name of our Mannequin btw) in this gorgeous vintage buttoned-up corset top. The downside is that the corset has like a million buttons. Teeny, being Ms.Smarty Pants, told Jing to buttoned up the corset fully before slipping it onto Manny.
After buttoning till her fingers were numb, Jing tried to fit the top onto Manny...but it was too tight, HAHAHA.
So Teeny had to unbutton the whole thing, and slip it onto Manny AND re-button it, HAHAHAHA.
And tada, our booth of the day!
When we showed these pictures to my mom, she exclaimed, "It looks so professional!"
That was before she interrogated us on whether we obtained any licensing for opening a stall in public, and whether she would need to bail us out on illegal vending in the future. -_-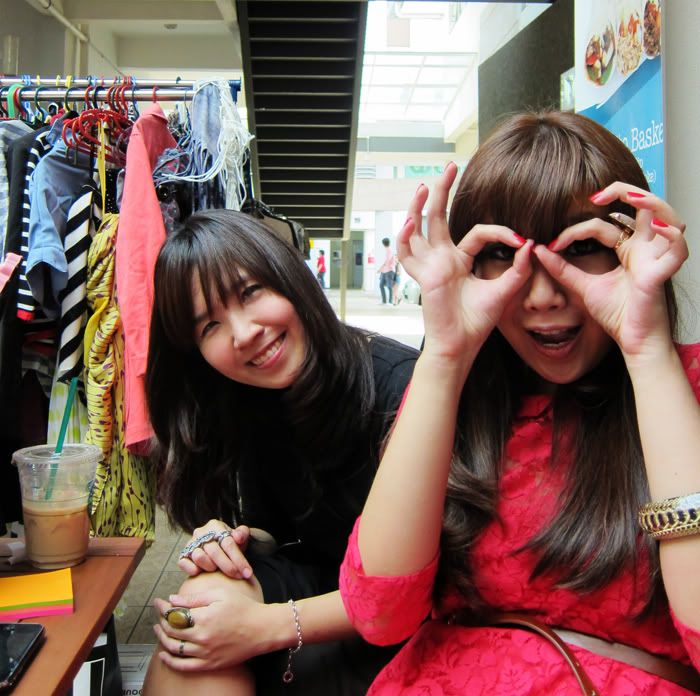 I got a lot of flak from Jing that day 'cause according to her, I am super good at buttering-up the aunties, haha. I just know what women want! ;)
Absolute necessity for the day.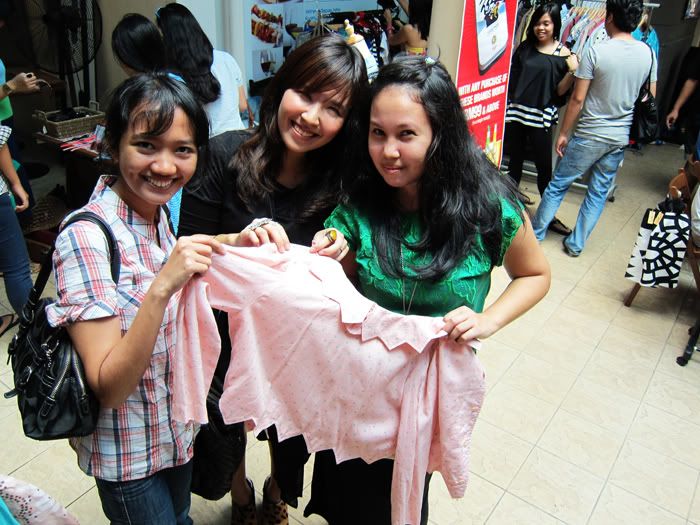 Hahaha, love this picture! One of my readers have been trying to purchase this vintage top, but somehow it has never worked out, so she was really happy when she finally scored it! Hence the victorious holding-it-like-a-football-jersey moment. :P
Creepy sister.
Beautiful Manny!
Email me at crescent_masquerade[at]hotmail.com if you are interested to purchase this skirt (made in Korea). SOLD!
I saw these funky round sunglasses at a nearby vintage shop, and thought of a private joke between my retard partner and I that I look like John Lennon after my haircut last year...
How's the resemblance yo? Haha.
Hello Kitty pouch to store all the moolah!
And Sushi King, it's true, my sister stole an oyster shell from your restaurant.
Ehehe, I love my new kicks! My first pair of Alexander Wangs. :))))
Towards the end of the day...
We were all pretty knocked out. Check out Teeny's expression!
And we all took turns at the one and only chair at our booth. T_T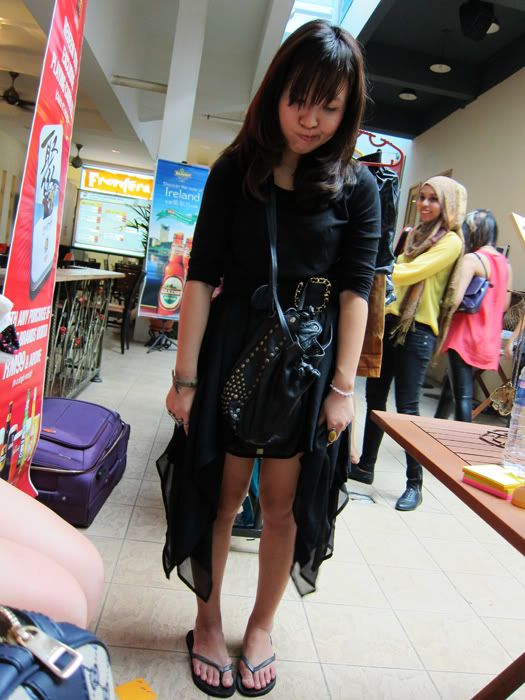 I had to give up on my A. Wangs, and switch to slippers as well.
Note that even my belt is
senget
. -_-
But all in all, it was GREAT fun! As usual, I insist that the best part of bazaars and junkyard sales is meeting like-minded people, and also meeting my readers! Thank you to all of you who came up and say hi! :D
Outfit (sorry for the lousy shots, we were too busy to snap proper outfit shots):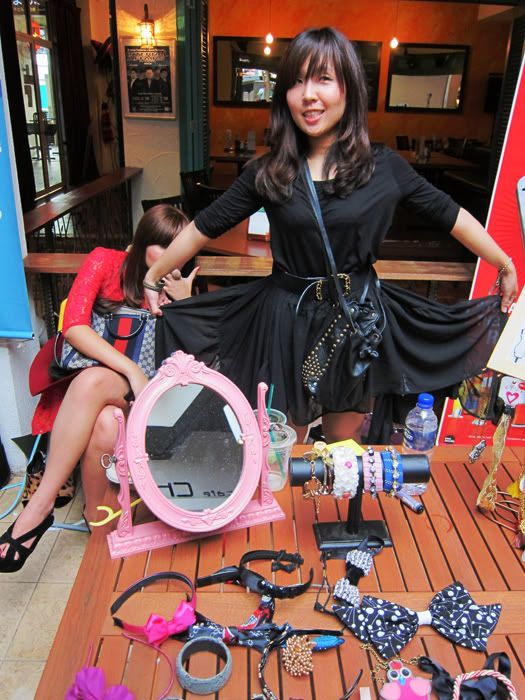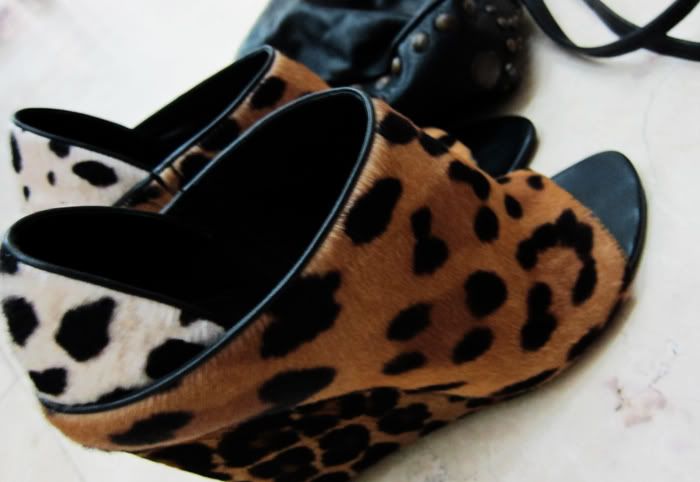 Black dress with sheer asymmetrical skirt: Monki
Black suede belt with gold buckle: Topshop
Brass leaf bangle: Diva
Leaf knuckle ring/ Stone ring: F21
Dainty leaf motive ring: Holiday in Korea
Silver bracelet: Thomas Sabo
Leopard print pony hair wedges: Alexander Wang
Studded slouchy bag: Kate Moss for Topshop
Please come to
Old Blossom Box
tomorrow (26 March), from 12pm-7pm for another session of treasure-hunting! More details
here
. Looking forward to seeing you! :)