Yummy new bag in our family!
I was wearing another top that my mom bought for me from Zhuhai (
*click*
for another top worn in earlier post). I can't help but feel that I've seen this top somewhere in Bangkok before,but this top whoops Bangkok's ass!
Actually most clothing whoops Bangkok's clothing in terms of quality. -_-
The fabric is way softer and lighter, I love the frothy bubble sleeves, how the ruffles move, how the top is also cut beautifully at the hem-- basically how the entire top flows and moves!! The neutral shade makes this a great basic to have this season to complement with all the crazy bright colors. Mummy, thumbs-up for you again!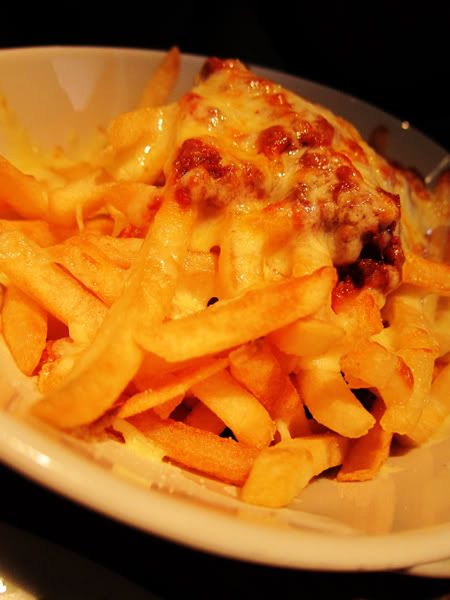 I am feeling kind of under the weather now due to this culprit-- Delicious's chili cheese fries. I was so greedy that I finished my own pesto spaghetti AND walloped Teeny's fries as well. Am feeling very heaty now. :(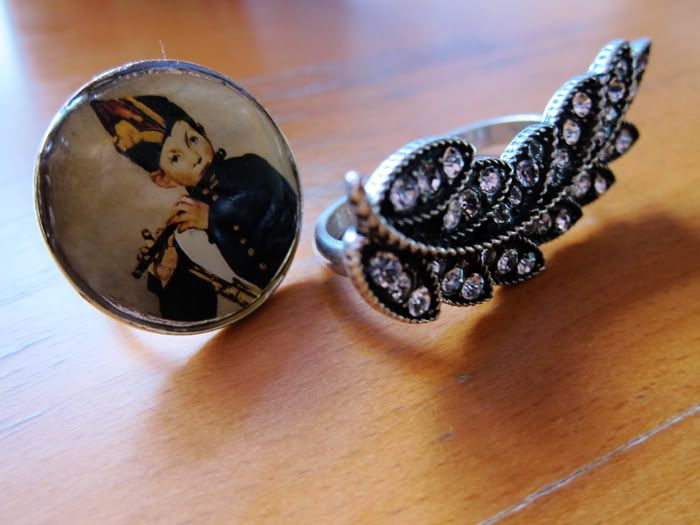 Accessories for the day.
I kept my palette for the day very very neutral, except for the pop of pink on my lips (I WANT HOT PINK LIPSTICK) and dash of red on my mom's Gucci bag.
Outfit details: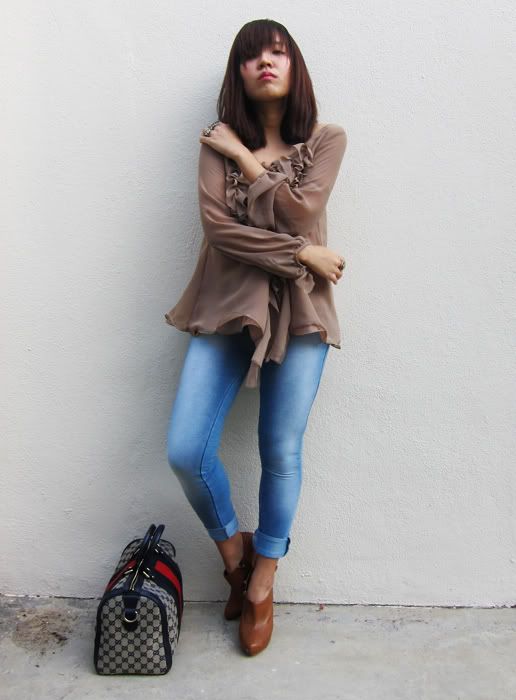 I was actually wearing jeggings (
jeans+leggings
) that day, hahaha! It was too hot for jeans.
*shifty eyes*
Can you tell it was jeggings though? :P
Nude chiffon top with ruffled front: Gift from mom
Faded jeggings: Topshop
Leaf knuckle ring: F21
Little Band Boy ring: Holiday in Bangkok
Tan leather wedge booties: Zara
Bag: Gucci
I was telling my mom about some invitations to fashion events I've received lately, and my mom threw me a super suspicious look and asked me:


"Why are they inviting you? Have you been shopping a lot, that's why???"
-__________-
No faith from my mom!
To my defense, I haven't even been shopping!
Then I tried to explain to her that it's 'cause I blog. She started interrogating me on why must I blog, where do I blog (my mom doesn't understand the concept of the electronic medium), what do I blog about etc. -_-
No faith from my mom, I repeat!
That being said, I am now fine with my parents knowing that I blog because I don't really have anything to hide from them. When I was a student, I needed to hide my blog because I didn't want them to know how much I spent, my party life etc. But now that I make my own money, and am old (and hopefully wise) enough to do things as I wish, I hardly see the need to keep it a secret from them anymore.
What about you guys? Do your parents know that you blog? And for what reason do you hide your blog away from them? :)