It seems silly, it has only been a few days since I last did an outfit post (
the yoga outfit
doesn't count, hehe), but I miss doing a proper outfit post!
What I wore to dinner just a few hours ago.
I was originally planning on wearing a white blazer, keeping the outfit very monotonous, but adding on a brightly colored clutch.
Alas, I couldn't find my white blazer! So at the 11th hour (by this I mean my parents were screaming at me from downstairs to get my butt in the car
right now
), I threw on another blazer, changed my accessories, and went for a more romantic, softer look.
This is the highest pair of heels I have
ever
owned! At 5.5 inches high, I took every step with trepidation. I kept on having mental images of me falling to my death. -_-
Loving Teeny's outfit! I am currently obsessed with white collared shirts + a pop of color at the bottom.
And yes, Teeny is back! It feels wonderful to have my sister back with me. *possessive*
I was salivating for plastic transparent bags, one of the huge trends for Spring/Summer '11:
Hermes Spring'11 (
The Purse Blog
)
Jil Sander market acetate bag (
Fashion Squad
)
Furla candy bags for SS11 (
The Purse Blog
)
...when I suddenly remembered a plastic transparent clutch of mine that I have never used before!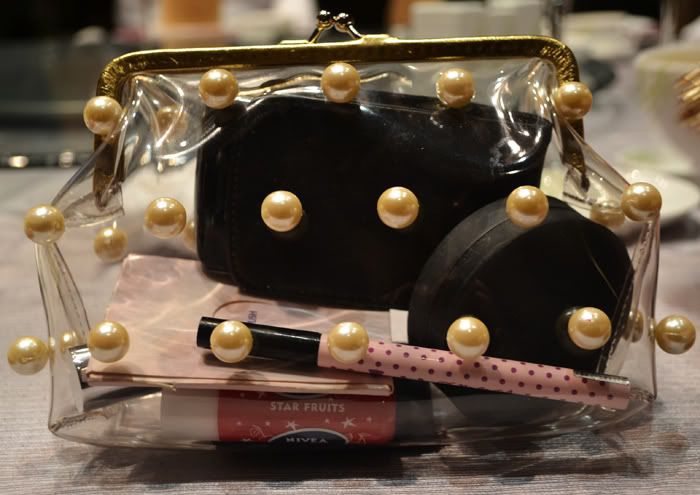 Isn't it cute? The pearls are more towards off-white in real life. I LOVE it to bits, but my gripe with it is that it's really too tiny for practical use. As you can see, I didn't even bring my wallet or camera out!
By the way, since some of you have been asking me to do a 'What's in my bag' post, this bag is perfect for it eh. A picture paints a thousand words, literally, haha.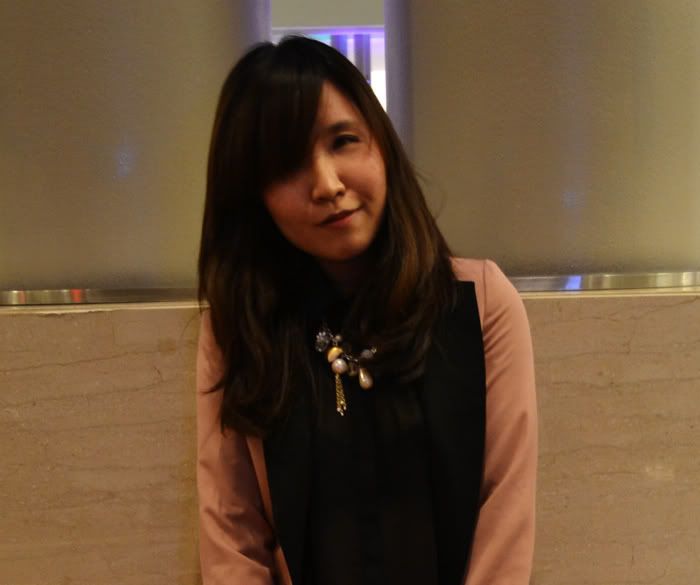 I pretty much kept my outfit strictly black and dust pink, with a touch of cream here and there. Color-blocking is really fun to experiment with!
Sheer black buttoned-up shirt: Holiday in Korea
Dust pink blazer with black lapels: Holiday in Korea
Black shorts: Cotton On
Black lace bra: If you need to know this you are a pervert
Matte gold charm necklace: Miss Selfridge, like a million years ago
Candy pink striped bangle with black diamante bow: Tea & Sympathy
Patent cream and black pumps: Zoe Wittner, Australia
Plastic transparent clutch with pearl embellishments: Bazaar in Singapore
By the way, I am working on a really exciting post for you guys! Stay tuned for it! :)