Pictures from one of the most beautiful nights in Sydney...
Every Saturday, Darling Harbor has a fireworks show, and Jing, knowing what a fireworks fanatic I am, planned a dinner facing the harbor + fireworks for us!!! I am a sucker for fireworks... It literally overwhelms me and brings such an unspeakable joy to me!
I was in Disneyland a few years ago, and I teared when I witnessed the magnificent fireworks show with the Disney castle as a background. Touched because I got to lay eyes on such a beautiful sight. No kidding!
Black and white.
Happy shiny Christmas tree!
Let me tell you the story behind my outfit, 'cause I am very proud of it! Haha.
Although I brought over quite a comprehensive wardrobe to Melbourne (since we were there for almost a month), I packed in rush for Sydney, and didn't have enough 'night' outfits for all the nice dinners that Jing planned.
However, I realized that with a stroke of brilliance, I grabbed to Sydney one of my recent favorite dresses-- a white Topshop ruched chiffon tubedress with an asymmetrical hem. It's quite a formal dress, and my sisters told me that they will kill me if I wear it out with them ('cause it's really more of a cocktail dress), haha. But the funny thing is, when I bought the dress, I actually had picnics in mind! Heh. I just think it's so fun to run barefoot in this dress! And pick flowers and eat cupcakes.
Anyway, I digress. So yea, in a moment of recklessness, I packed the dress to Sydney. It was the second last day of our Sydney trip, and I really had nothing to wear-- except for this dress. However, the dinner place was a chilled-out place, so I thought of ways to dress it down a little...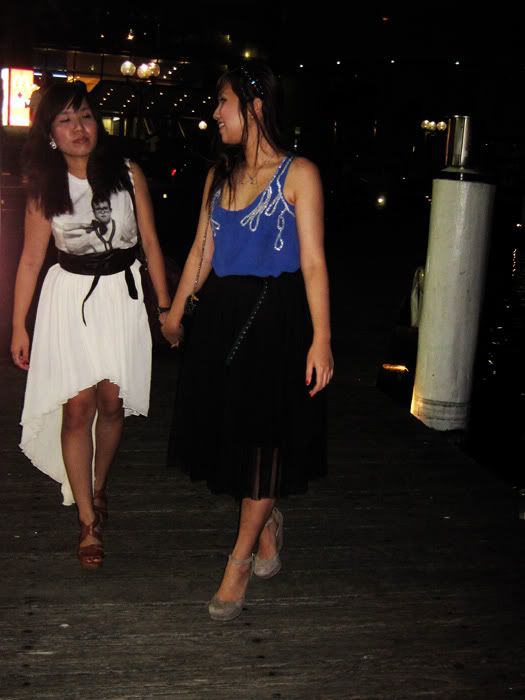 I wore one of my favorite graphic tees over it, and cinched it in with a black leather kimono belt so it looked like a skirt! I really liked the relaxed yet party vibe of it... very suited considering we were so near to the sea! :P
My favorite graphic tee has a cute little boy with geeky glasses printed on it.
By the way, this shirt goes by the name 'Geek Baby'. :P Whenever I am looking for the tee, I ask my sisters, 'have you seen Geek Baby??' and they will know what I'm talking about, hahaha.
Our view for the night! So gorgeous even without the fireworks.
Though the view was slightly spoiled by the fire heater (the giant yellow thing you see in the picture), meh. The fireworks show started late,and at one point we were fretting that they canceled the show! Then the only fire show we watched would be the fire in the heater. -__-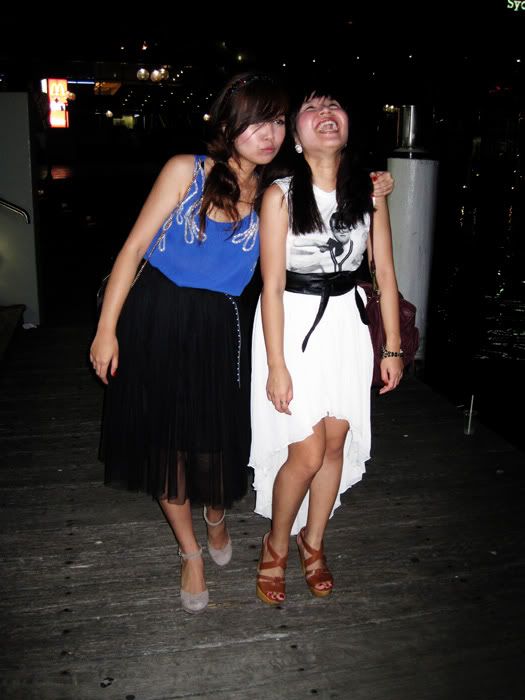 Cream ruched chiffon tube dress with bias hem: Topshop
'Geek baby' printed tee: Singapore
Black leather kimono belt: Bridge Road, Melbourne
Pearl-sheen button earrings: Jing's
Black bejewelled bracelet: Diva
Rings: Assorted
Tan leather clogs: Steve Madden
Burgundy messenger bag: Zara
One of my best friends made this quote drawing, and I think it's really meaningful! Reminds me to take hold of opportunities and take charge of my life; 'cause, really, what have we got to lose. :) Go check out Zahra's blog,
www.dangerouscake.wordpress.com
, she takes the most amazing pictures! And she is even more
rainbows sunshine unicorns wheee
than me, so that's saying something! :D
And... back to the first line of this blog post.
I think, tonight might be the most beautiful night of my life. :))))