So I chickened out of
donning a purple shade
for my hair because according to someone somewhat influential in my life, I am supposed to look 'professional' now. Boo.
Yen (my hairstylist) gave me a lighter brown instead, somewhat like dark honey?
I LOVE IT!
I fell in love with this green pants in the
Zara lookbook
that I posted recently, but I decided to get the shorts version because it's way more practical in our climate:
My favorite (and only) purchase in March! Yep, I am actually limiting my shopping to once (and ideally one item) a month. T__T So far, this pair of shorts is proving itself to be a great buy-- I've worn it twice in less than a week!
Please do not ask me questions like whether I washed it, it will be an awkward moment.
I've gotten quite a few compliments for it considering I've just gotten it!
Matched it with an embellished floral top for an easy, breezy feel.
Am quite crazy over green this season. I even got myself apple green nails, whee!
Outfit: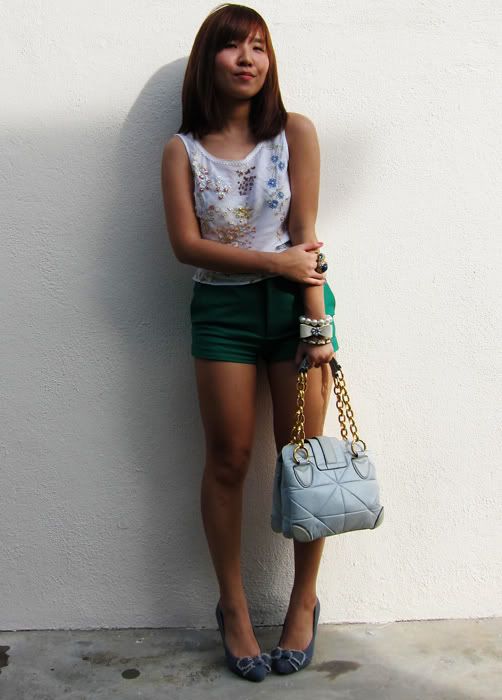 Linen floral embellished top: Inspire by Khoon Hooi

Green shorts: Zara

Cream leather leather bangle/ pearl bracelet: Topshop
Gold chainlink bangle: Random

Rings: H&M

Denim bow pumps: Zara

Bag: Marc Jacobs