Another backdated post sincerely brought you by me wtf.
Old Blossom Box pre-love sale
about 1 month ago!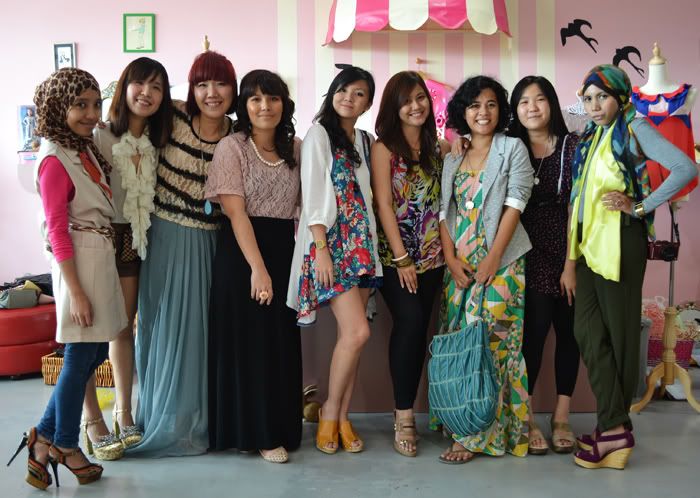 With all the girls from the sale: Jezmine, me, Teeny, Edi, Cynthia, Lyana, Aisha from That Last Slice , Shakira from Cuppycakes and Ami.
What I was wearing: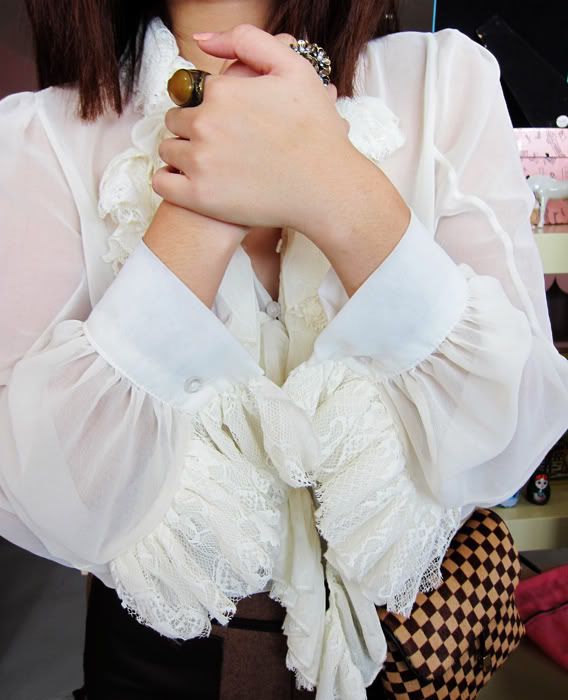 Easily one of my favorite white shirts of all times. Surprisingly it's actually a new addition to my wardrobe-- my mom brought it back from her recent Macau/ Zhuhai trip.
I love the ruffled details on the frothy full sleeves! They are so gorgeous that I want to hyperventilate everytime I look at them, haha.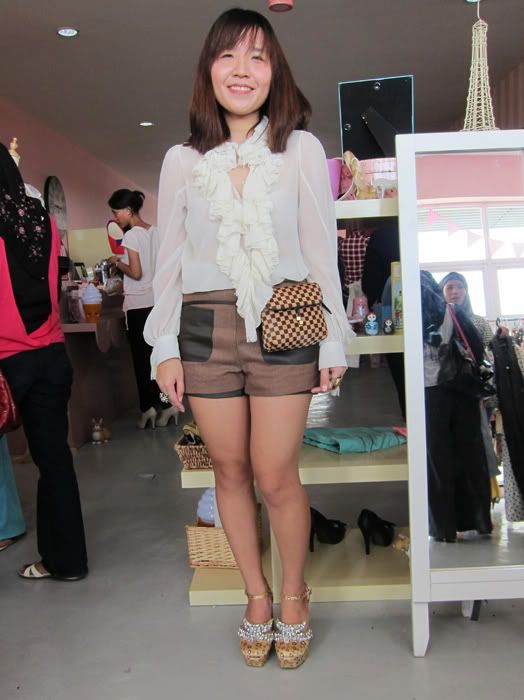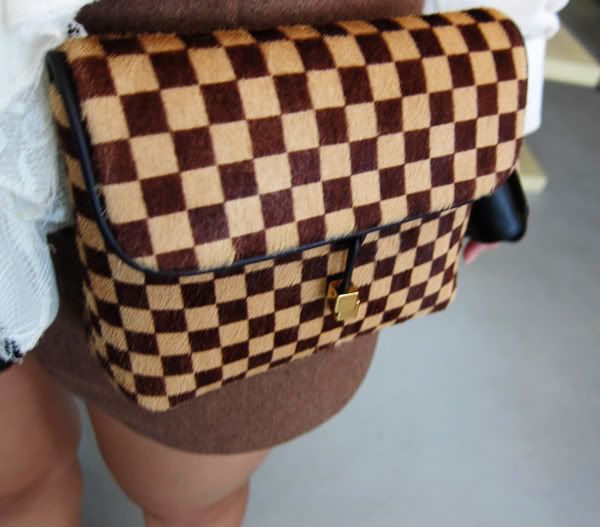 Fanny pack for practicality reasons! I kept on stroking the ponyhair fanny-pack absent-mindedly. Furry stuff FTW.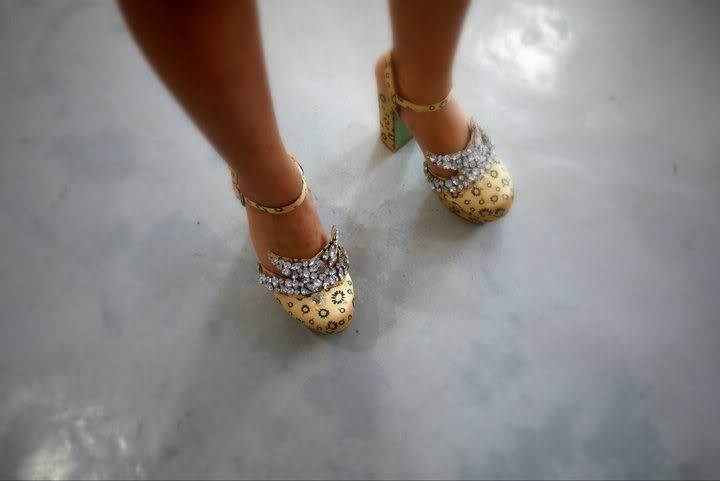 I was in a shoe dilemma, and found this pair of Miu Miu-inspired shoes of Teeny's! Also found out that she was planning to sell it at the pre-love sale since she couldn't fit into it. -_- I am usually quite against knock-offs, but since the shoes go rather well with my outfit, I did what any rational minded person would do-- I bought the shoes from her, haha!
Unfortunately it's a huge regret. T__T By the end of the day of the sale, I had a couple of missing stones from the shoes-- and I didn't even do anything aggressive! I was just sitting around. -_- Which reminded me why I swore off cheap shoes. I can't even recount the number of shoes from Nose/ Vincci/ random blogshops which disintegrate within 3 wears! -_____-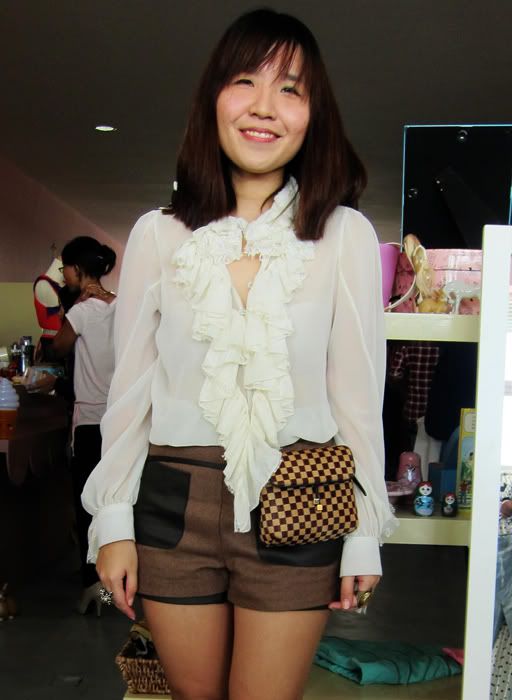 White chiffon blouse with ruffled lace details: Gift from Mom
Brown shorts with leather pockets: Made in Korea
Rings: F21
Miu Miu-inspired sparrow shoes: Teeny's (bought online)
Ponyhair/leather fanny pack: Louis Vuitton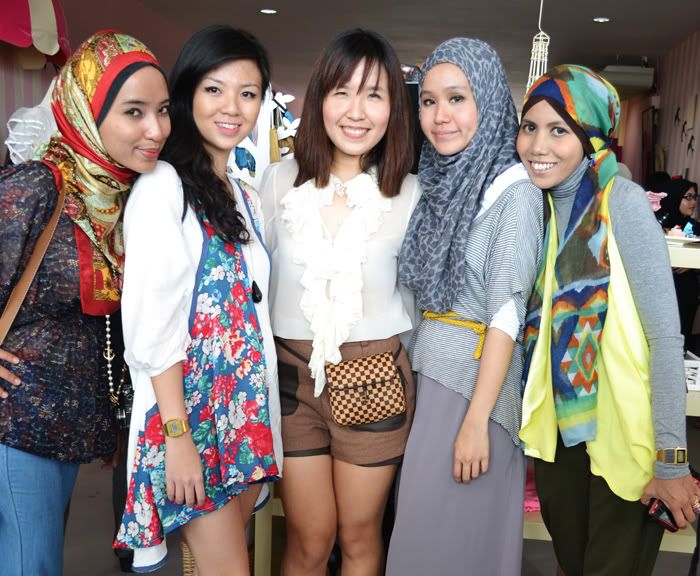 Lyna
, Cynthia, me,
Yani
and Ami.
Yani is also one of the sellers in the OBB sale! She used to study in Japan, and being fascinated by the country from my holiday a few years back, I wanted to hold her hostage and ask her all sorts of questions about Japan, hehe.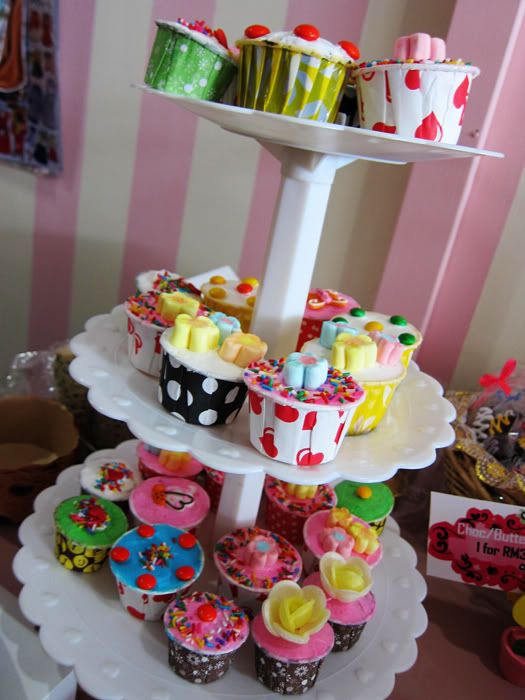 Colorful cupcakes! We got a free cupcake and banofee pie each. Sugar rushhhhhh.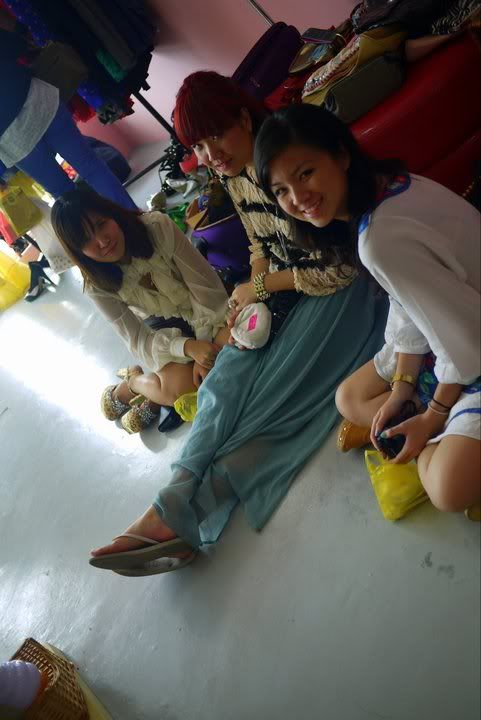 Sitting on the floor 'cause we were seriously exhausted (culprit: heels-- stupid but necessary for vanity's sake, haha).
Some lovely readers who came: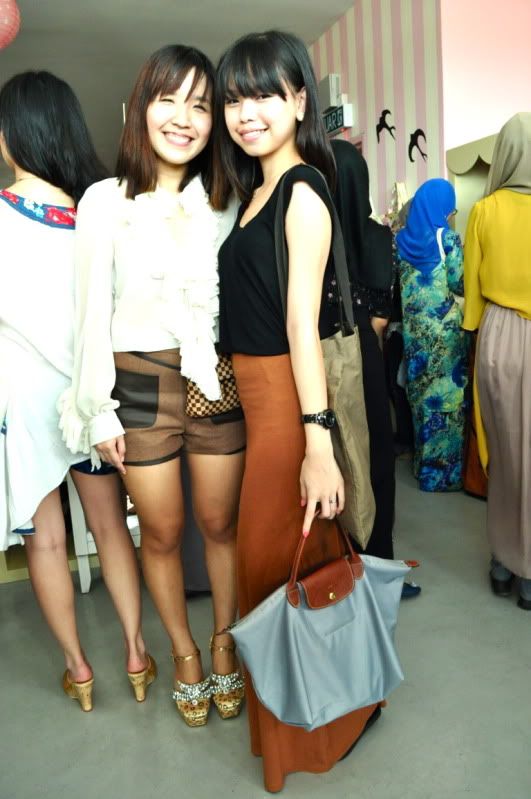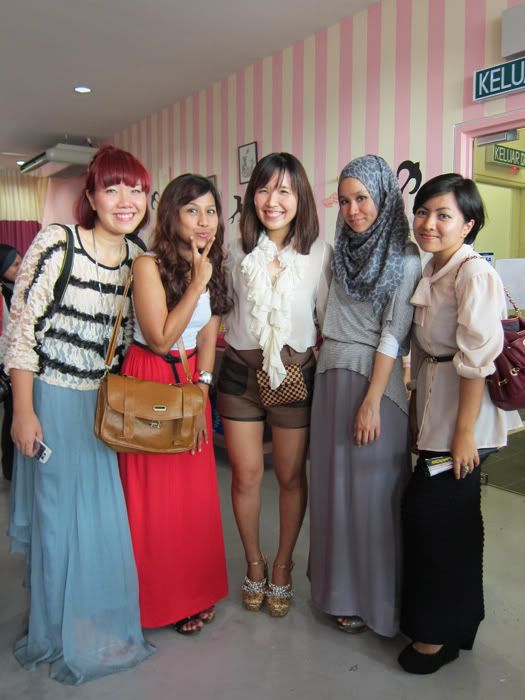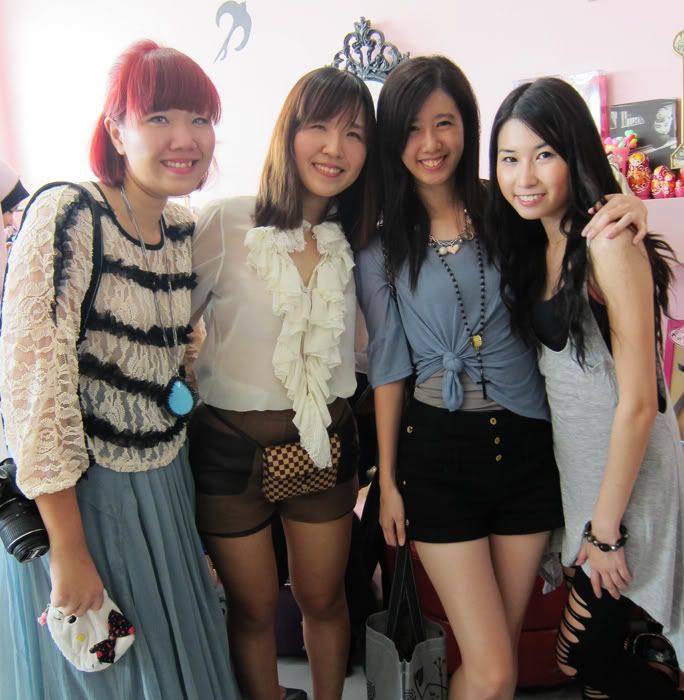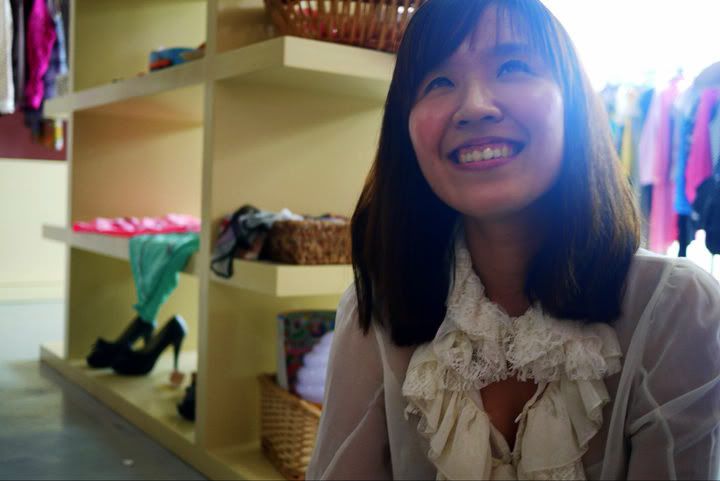 Happy smiley me!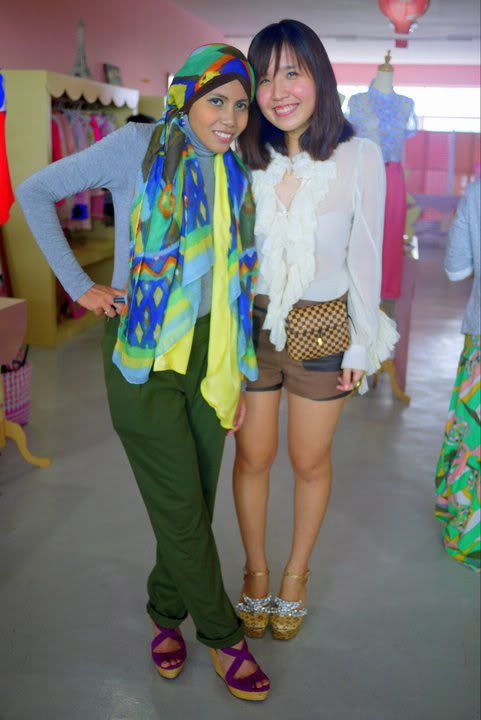 With the lovely Ami, whom I stole some of the pictures from, heh. Love her purple heels.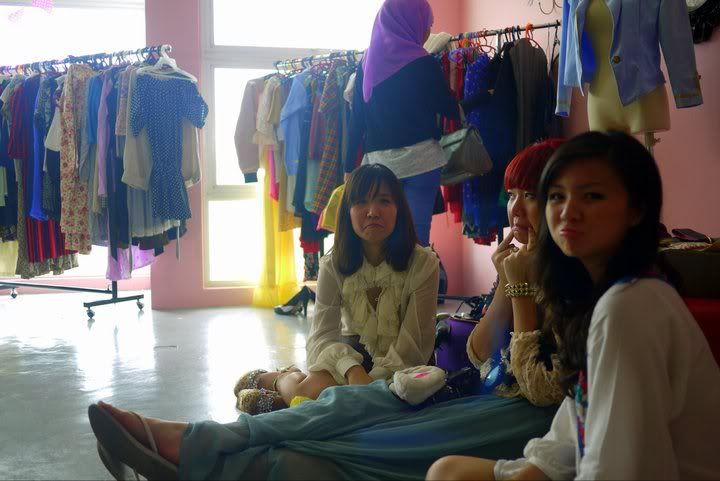 Really, really tired.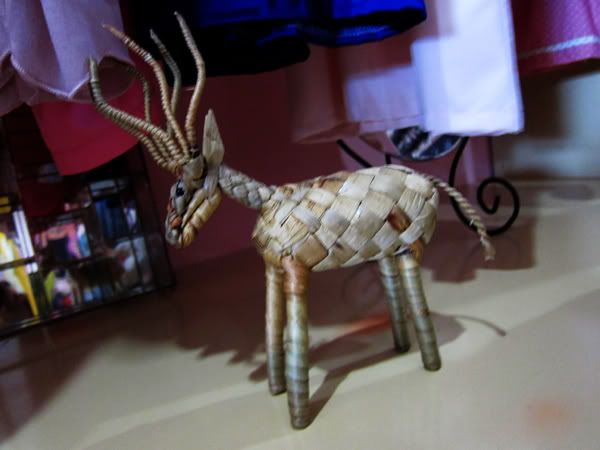 I spotted something which I want to matchmake with
Bambi
, haha.
****************************************

Sponsored post
My Blackberry is always within reach for me, even when other things are out of reach WTF.
Hence I am seldom seen without my BB in hand...
Extremely unglam pose: lazing after high tea in Shangrila.
No surprises that I listed it as my
best purchase last year
!
Quoting myself:
With my Blackberry, I am never bored again.
I am serious! There is never a bored moment, with my BB in my hand. In the train travelling to/fro from the office, waiting in queues, standing in the lift, waiting for a friend, stuck in a jam... All I need is my BB, and I am connected to the world.
Arguing with my retard partner about some trivia/ vocabulary? Google it on BB. Not sure how to get to a place? Google it on BB. Got lost? Google it on BB. Need reservations for dinner tonight but don't have the restaurant's number? Google it on BB. Brother hogging the computer, but you desperately need to check your mail? Log on via BB.
I LOVE IT!
I even went as far as to say:
Truth to be told, I can't imagine life before a smartphone. I am not saying that a BB is supreme over other phones (though I do like to argue with Iphone users, haha),

but if you don't have a smartphone, go get yourself one now, ok? :P
That's why Celcom has come up with many smartphone packages that cater to various lifestyles and needs! Not only does Celcom has the widest network coverage anywhere in Malaysia (indoors, outdoors and on-the-move), it also offers the best network quality, be it messaging, voice calls, video calling, surfing, email, etc. And with a stable connection, Celcom gives you the richest web and video streaming experience!
Whether you are a workaholic, gadget freak, realist or tech whiz, Celcom has different smartphone platforms with the perfect smartphone package for you:
• Android :
For the gadget freak. That's the gizmo geek in you who enjoys the open platform with the ability to control their smartphone to their liking!
- Samsung Galaxy SL (from 468)
- Samsung Galaxy Tab (from RM668)
- LG Optimus 2X (from RM978)
- LG Optimus One (from RM48)
- LG Optimus Me (from RM0)
- Sony Ericsson Xperia X8 (from RM0)
• BlackBerry :
For the workaholic. This is for you on-the-go whose mind is always about business and work, but not neglecting social life.
- BlackBerry Bold 9780 (from RM888)
- BlackBerry Torch 9800 (from RM1,188)
- BlackBerry Curve 9300 (from RM488)
• Windows Phone 7 :
For the tech whiz. I.e. those who appreciates the Windows platform on the mobile with the best of everything.
- LG Optimus 7 (from RM1,068)
• Symbian :
For the realist. That's you who puts simplicity and practicality first with the efficiency of getting something done easily!
- Nokia E7 (from RM958)
- Nokia C7 (from 468)
- Nokia C3 (from RM18)
- Nokia C2-01 (from RM0)
And finally,
• iPhone 4 :
COMING SOON!!
I'm really excited to find out more, for Teeny's sake, because she is going to get the Iphone 4!! But she has been waiting ages for Celcom to launch the phone. -_-
But fret not, little sister, because Celcom iPhone 4 packages will soon be revealed! Stay tuned to be the first in the know and to own the iPhone 4, and visit
www.celcom.com.my/smartphones
for more information.