So, while packing for my recent trip to Bangkok, I went into this wardrobe crisis frenzy-- I realised I don't have any nice flat sandals!
I will be frank here, I don't have many flat shoes. Due to my lack of height, I almost always opt for heeled shoes. So when I shop the option is always clear to me: between a yummy pair of heels or a gorgeous pair of flats-- I go for the heels. I do have some quintessential pairs of flats, like ballet flats, brogues etc., but I just don't have any on-trend sandals!!!
So yea, the sandals I wore
here
and
here
in Bangkok-- they aren't mine; they are my mom's and Teeny's respectively.
And then HALLELUJAHHHHH my mom bought the prettiest sandals when we were in Bangkok!!!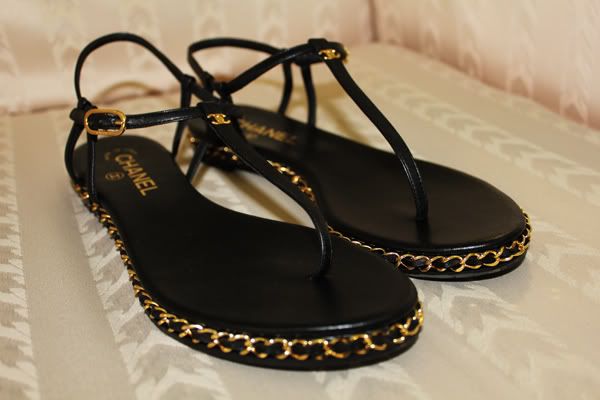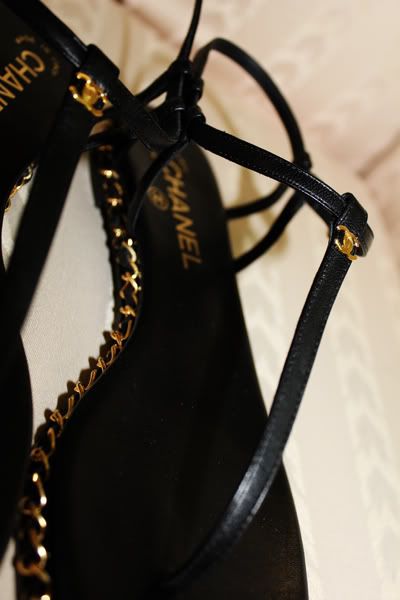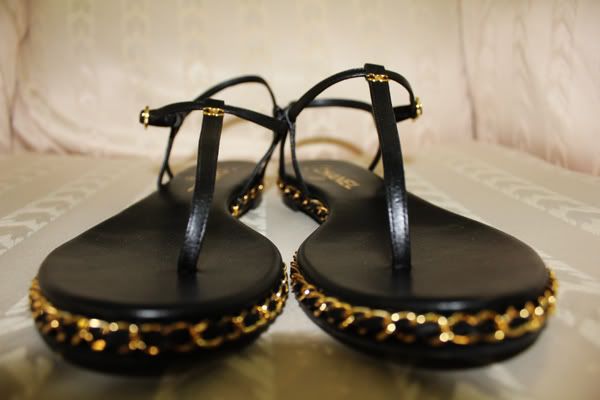 I actually advised my mom
against
buying these shoes, 'cause I think they are so pretty (and expensive), that they'll just end up being a white elephant. But the woman insisted, so who am I to argue!
Best part is, I share the same size as my mom, so guess who gets to wear pretty sandals!! :D
********************************************

By the way, I am kind of emo now. I am leaving for Korea this Friday!! T_________________T
Whilst I miss Korea very very much, I am not entirely keen on because it's super duper rushed and sudden! But our stocks in
AZORIAS
are running low (
thank you everyone for your immense support!
), and we need to do some serious replenishing! But don't worry, we will have a steady stream of new arrivals to last till I am back. ;)
The worst thing is, it's raining everyday in Korea! In fact, rain is an understatement, due to reliable sources in Korea, there's a typhoon there. -___- But nothing is going to going to stop me from lovingly nurturing AZORIAS!
Speaking of AZORIAS, can you believe come Friday, it's going to be 1 month since it has launched! :O :O :O
I am so thrilled and excited, and well, proud. :) In fact, to celebrate our 1-month anniversary, we are throwing
a fun contest
whereby you just need to comment on our wall telling us what goddess you would like to be (or what powers you would have)! Comment with the most 'likes' will walk away with a RM500 AZORIAS voucher. This is a really meaningful contest, because AZORIAS came from the word 'zoria', which is a goddess of beauty (and also means dawn) in Slavic mythology! For the story behind our brand name, click
here
.
Anyway, back to battling the rain in Korea...
It sure is quite a task to plan rainy-days-appropriate outfits! I need...wellies!
*perks up*
I probably will be wearing lots of covered toe shoes like sneakers (*gasp*) and brogues. Maybe I should bring my boots? So I don't get wet feet. I hate it when my feet are soaked.
He offered his Puma waterproof windbreaker to me....
How do I tell him that I don't wear windbreakers. :P
What I need is a raincoat. Anyone has any nice ones to recommend? Or a stylish waterproof hoodie. :(