Whilst I pretty much wear whatever I want, considering the nature of my job now; I do need to tailor my outfits according to the occasion.
This is what I wore for a business meeting:
You may recognize part of this outfit from my Samsung Galaxy Tab post here. Which, by the way, I am totally loving!
I am kind of emo-ing about the pants-- I got it one size too big, and it looks like a tent on me. Woe is me.
And it's kind of nice to be using my Louis Vuitton Alma recently again! It's actually my graduation present from my parents, but has been shelved for quite awhile because it didn't really go with my daily outfits. But I recently realized that it's such a classic bag that it actually
does
pull together a lot of outfits! Plus, it's a great bag to bring for business events.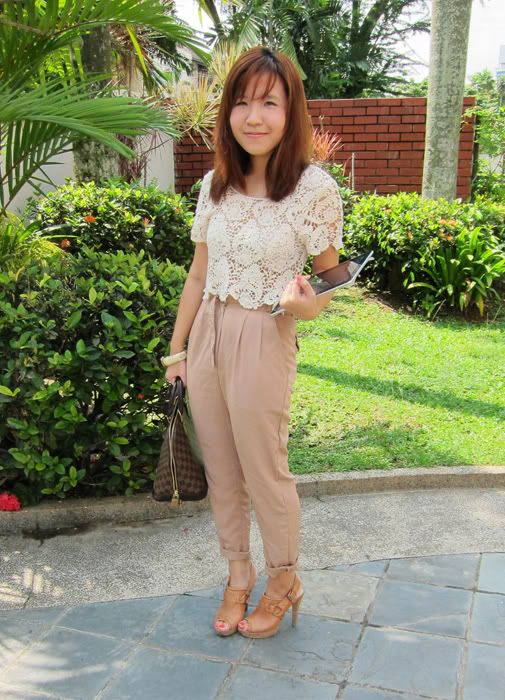 Crotchet lace cropped top: Holiday in Bangkok
Belted tapered pants: Korea
Stone enamel bangle: Gifted
Sand-colored leather heels: Wittner, Australia
Bag: Louis Vuitton Alma
One more sleep till I am home! Oh, I can't wait. First thing I am gonna do is to arrange for a manicure appointment. My nails are chipped, cracked and broken. No, fashion is not glamorous. I would like a massage too, but I got my period, dang. Thirdly, a hair revamp! I caught myself in the mirror yesterday and decided that I hate my hair.