One day, I woke up and felt like being a gothic ballerina. So into the office I went like this: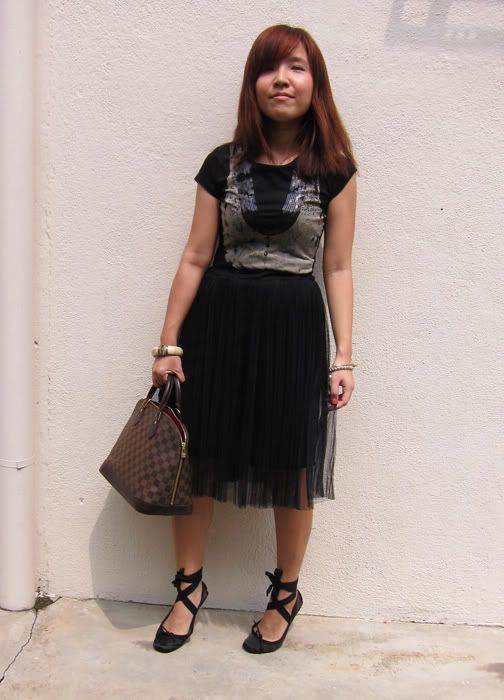 You may notice a sudden incorporation of flats into my outfits-- I've this paranoia of my knees giving away. T_T I blame it on incorrect posture during Bodypump classes, but I seriously feel like I've 'weak knees' now, so I am trying to lay off heels for the moment.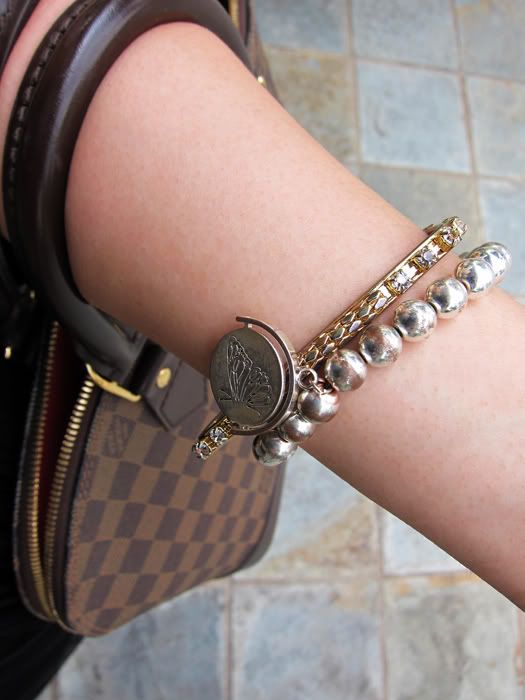 Am into arm accessories recently! Or arm party, as coined by the hilarious
Man Repeller
. One lonely night, I made an impulsive decision-- and spent a fortune on ASOS wtf on accessories ONLY. But there's extra 10% off on sale stuff!
*defensive*
Scored myself the likes of House of Harlow, Juicy Couture, Disney Couture, CC Skye, to name a few. In fact, my package should reach M'sia the same day as I do!
*blissful smile*
Can't wait to have new jewelry to play with!

Yes, I noticed the collar of my tee is quite stretched; sue me, I've a big head.
Wait a minute, on second thought, this is the first time I wore this tee; whereas Jing has borrowed it before.
This means
my sister
has a big head.
I look really short in this picture. But I am not tall to begin with, so I don't know what was I expecting wtf.
Outfit details:
Printed tux sequined tee: Valleygirl, Australia
Black pleated tulle skirt:
AZORIAS
Silver beaded bracelet: Teeny's
Diamante bangle: Bangkok
Bejeweled enamel bangle: Gifted
Black ballet flats (literally): Topshop
Bag: Louis Vuitton Alma
And I realized my bag was opened in all the pictures. But it's so much easier to take out/ put in things!