Was in the mood for a simple and comfy outfit...
Found this necklace in a bag of accessories Teeny want to sell at bazaars-- why does she want to sell this! It's gorgeous. I sneaked it to my room (along with the entire bag, haha), and decided I want to wear it on the day itself.
The entire outfit was concocted based on the necklace.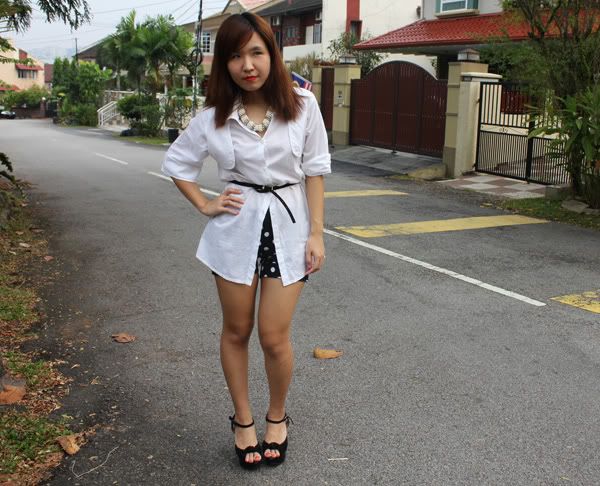 I found the charger for my DSLR! So happy to have quality pictures again-- there's really a difference between DSLR pictures and normal compact camera images, do you agree?
I was wearing this velvet bow belt, which buckles to the back. I decided to turn things round a bit, and buckled it to the front, and left a little surprise at the back-- the pretty velvet bow!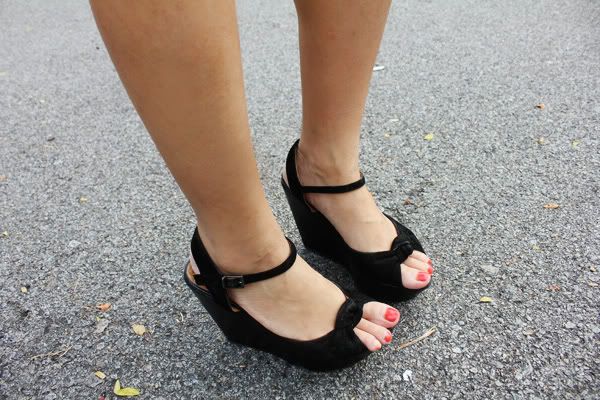 White flapped oversize shirt: Some department store
Navy polka dot shorts: Zara
Chunky pearl roped necklace: Teeny's
Black velvet bow belt: Korea
Black suede knotted platforms: Topshop
Am really proud of myself-- I went to the gym consecutively for 2 days, and I've been sleeping early for the past 4 days (by 1am). I am making small changes to my lifestyle, and got to keep on reminding myself that it only takes 21 days to form a habit. Will update you guys soon on what changes I am trying to adopt! :)