On the day of my return flight (which was yesterday), it was snowing quite heavily, so much so that our Korean friend (who fetched us to the airport, at 4am, bless his kind soul) commented that the flight may be cancelled. And I was thinking inwardly, nooooooo I wanna go home! I don't want to be stuck with snow and a -5 degrees weather. T___T
But all my worries were for nothing, because I AM HOME! :D
I had a pretty glorious first-day-back-home after being away for 2 weeks. Had a much-needed 12-hour-long sleep-- although I did wake up every 2 hours. This is because I rarely slept during my last week in Korea, and my body just doesn't know when and how to rest anymore. -_- And a yummy seafood lunch that is really too sinful for lunch. And birthday cake after that! Cake is always good, mmm. Shopped around a bit, and found a dress that I may want to wear for the Nuffnang awards this Friday-- even the boy approved of the dress. But I forlornly put it back on the racks because it was out of my budget. And came home to find that my mom is a member of the boutique and she has a 25% discount voucher for her birthday this month! :D :D :D
Went to Bubba Gump for the first time, and OD-ed on prawns for the second time today, and had the boyfriend laughed at me as I watched a little too intently at the sex scene in the Forrest Gump movie that was playing in the background. I haven't watched Forrest Gump before, can you believe it? But my friend has enlightened me with his version of the popular Forrest Gump quote: "Life is like a box of chocolates, you never know when you will get a piece of shit" WTFFFF
I also received my first Christmas present today! Something small from Teeny, just a souvenier from her trip to Singapore recently, but yayyy! Went to 2 different malls and got more blasts of Christmas cheer. I LOVE Christmas decorations, and always look forward to seeing what the different X'mas deco in different malls. I can tick KLCC and the Curve off my list at the moment, and am most looking forward to seeing Midvalley's and Pavilion's! Which mall's X'mas display is your favorite this year? :P
I also made a pact to post more outfit pictures so here goes: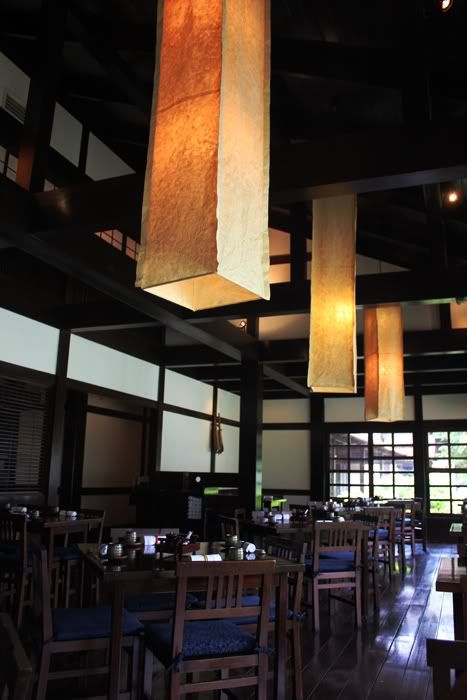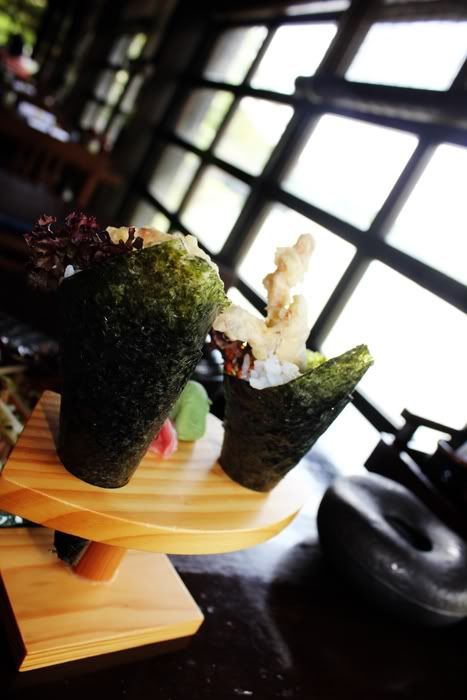 Japanese lunch at Saujana resort one fine Saturday.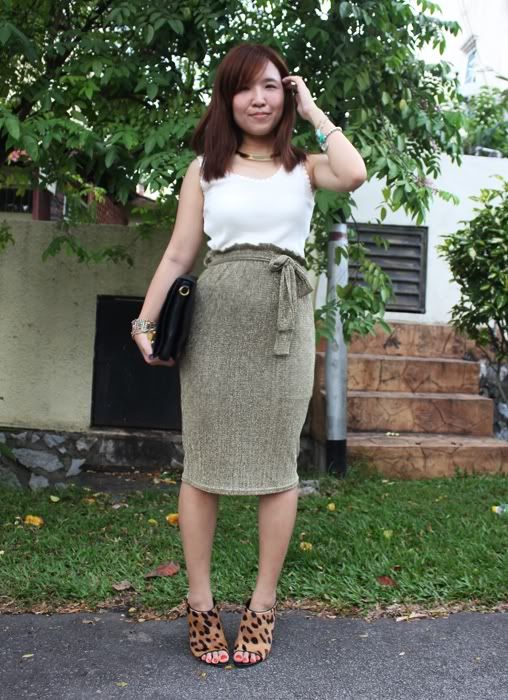 Looking at this picture makes me sad, because I lost my House of Harlow bangle on this day. :(((( It's the one I was wearing
here
. :'(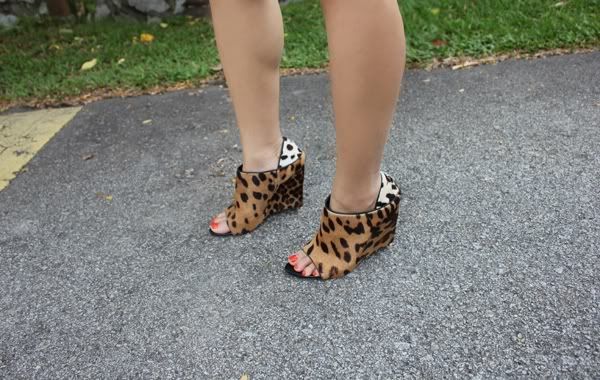 Gold glitter skirt from
AZORIAS
! I am in the mood for anything sparkly and glittery nowadays. :D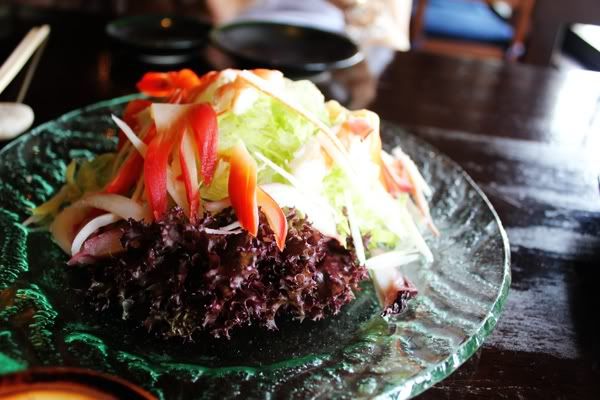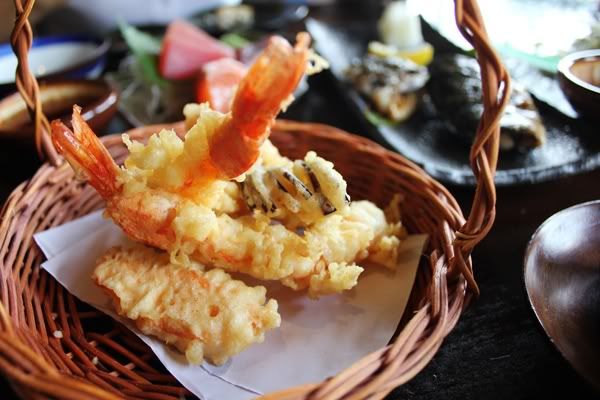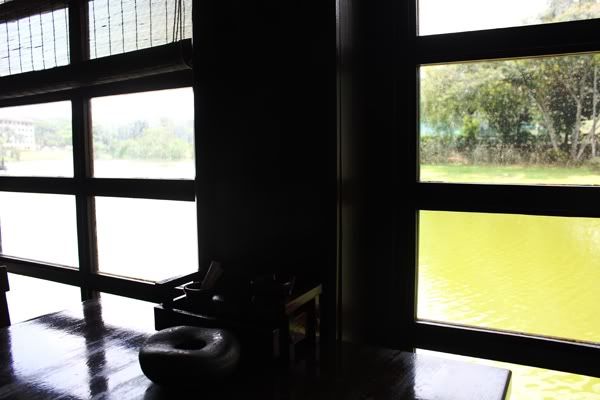 Chilling by the river (although it'a little murky wtf) is really awesome.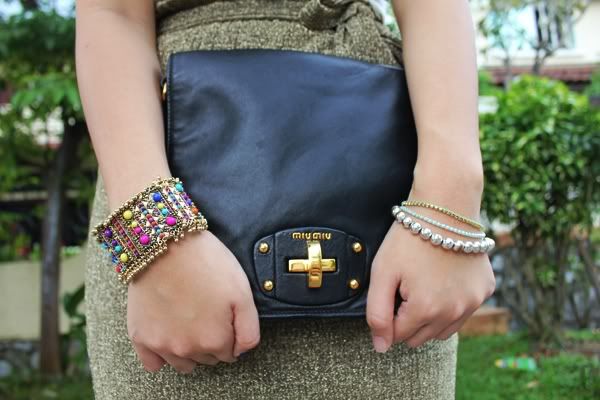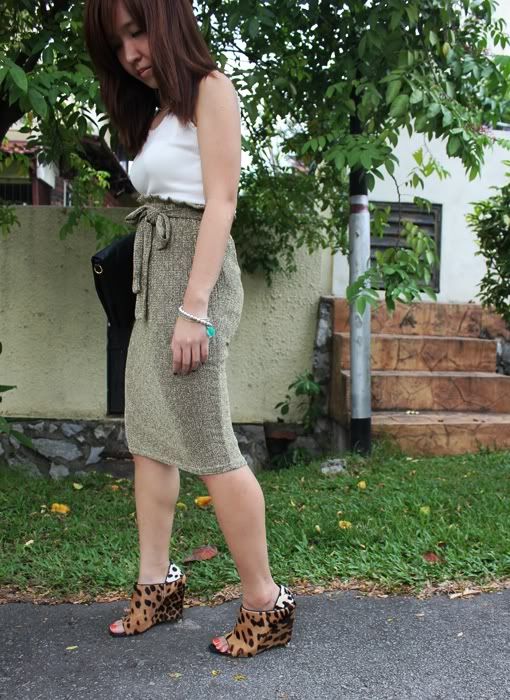 Knitted tank with scalloped trimmings: Vintage
Gold paperbag skirt:
AZORIAS
Gold plated necklace: H&M
Multicolor beaded tassel bangle: Korea
Diamante chains with tassels: Korea
Silver bead bracelet: Sportsgirl, Australia
Leopard print ponyhair wedges: Alexander Wang
Clutch: Miu Miu
Also found out today that tomorrow is a public holiday! Oh, life is truly wonderful. Another day to sleep in, and oh, maybe slot in a massage! Mmm. :)
Off to indulge in my Christmas mood.. Santa Baby, so hurry down the chimney tonight~~