Am in a really cheery mood now, after sipping on a mug of hot mocha whilst listening to Christmas songs. Ultimate bliss. There isn't anything that coffee cannot make better! Or cupcakes. Or ice cream. Or chocolate chip cookies. I am getting carried away here, but you get my drift.
Am feeling very inspired from this trip, which is a major 'yay' moment from me. For some reason, lately I just seemed to have lost the zest for dressing up, and have also started hating everything in my wardrobe. -_- I tend to always rewear the same things because it just seems easier to reach for the first thing on my shelf, and on most days I feel like a pale version of the old me (dressing-wise). Dressing myself seems more like a chore than an enjoyment like it used to be.
I guess we all go through phases like that.. Right? What about you girls? :)
The good thing is, that phase has came to end for me, I *think*! My brain is constant filled to the brim with styling ideas, and every Tumblr image that I come across ignites a little ball of excitement in the pit of my tummy... Next post I will blog about the stuff I bought during this trip, okay? :P
Since I am talking about personal style and clothes, it only seems apt to make this an outfit post! Wearing one of my favorite blouses ever, with a stunning digital print that is part underwater mystic, part reptilian magic.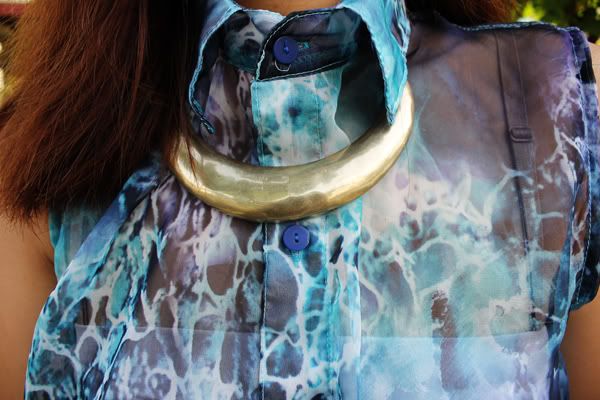 I am not usually a pants person, but I couldn't resist this utilitarian chic skinny pants-- at a mind-boggling price (less than RM30)! I am a bargain hunter through and through. :D
Everything went really well with my royal blue glittery nails! I am thinking yellow next.
Sheer digital print buttoned-up: Singapore
Khaki skinny pants with zipper details: Korea
Gold choker: Korea
Rings: YSL/ H&M
Silver bead bracelet with turquoise stones: ASOS
Electric blue velvet pumps: Holiday in Zhuhai