Finally got off my butt to blog about the Nuffnang Asia Pacific Blog Awards (NAPBAS)!
It kind of felt like going to prom, discussing with fellow bloggers beforehand about what to wear, making make-up/ hair appointments, going for last-minute manicures... Even the venue of the awards was the same as my university ball a couple of years back-- Putrajaya Marriot!
*pangs of melancholy*
With Bobo, whom I clicked with before we even officially met! We started with chatting on Twitter, then Whatsapp, then we started going out.. Just like the process of dating WTF.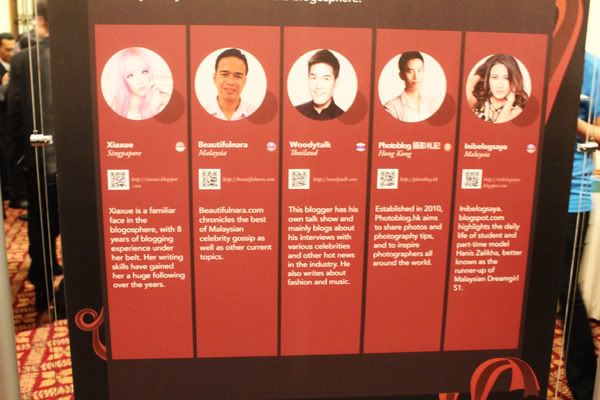 There are boards with all the nominees' profiles. This one is for the Most Influential Blogger award, I think.
With Joyce, my dinner partner for the night!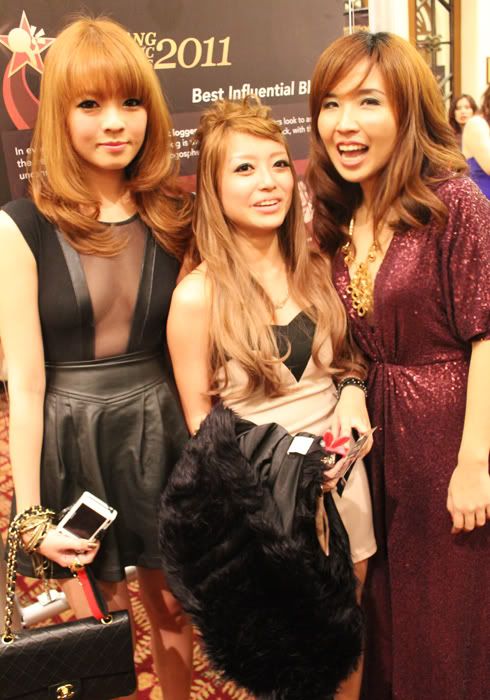 This time with Audrey. I have this other prettier picture of us which turned out a little blurry, so I settled for this one instead-- anyway, it depicts our
sohai
-ness better wtf.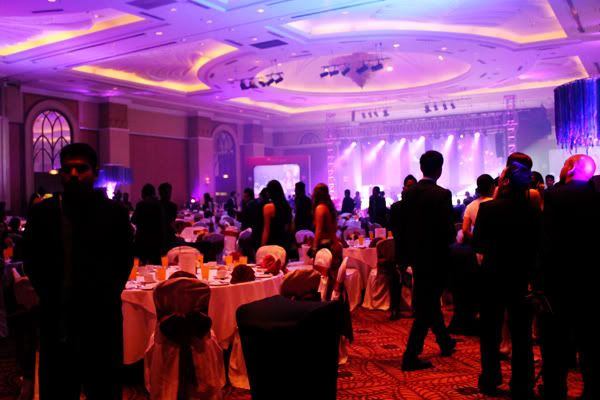 The Grand Ballroom! Very overwhelming indeed, there were bloggers from Singapore, Hong Kong, Philippines, Thailand, Australia, China, Brunei, and obviously from Malaysia as well!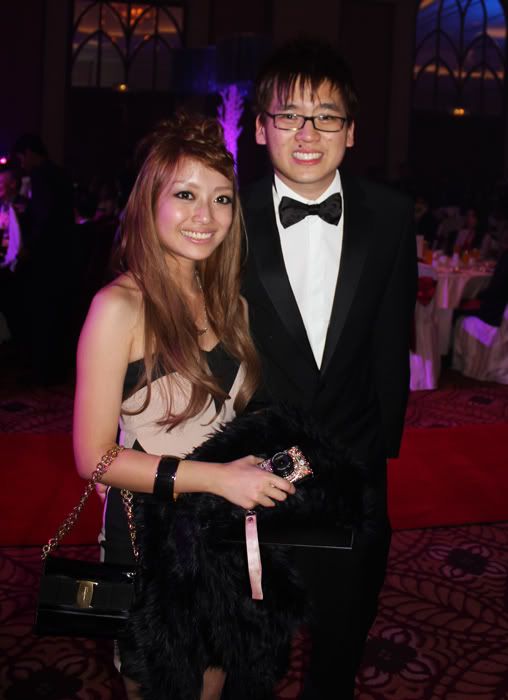 Soon-to-be Mr. and Mrs Tiah! :) Watch their viral proposal video
here
if you haven't already (which planet are you from then!!)!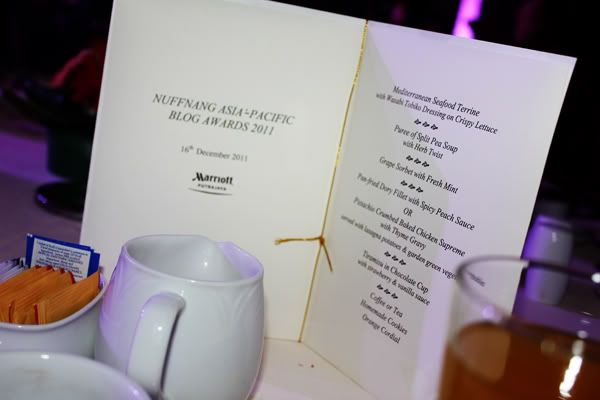 My favorite part of any event-- food!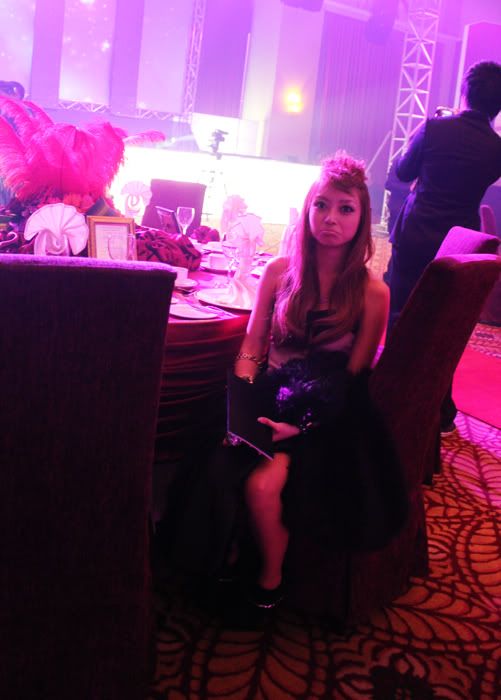 HAHAHAHA Audrey had to sit at the VIP table with Tim (Nuffnang co-founder) and could not sit with the rest of the bloggers.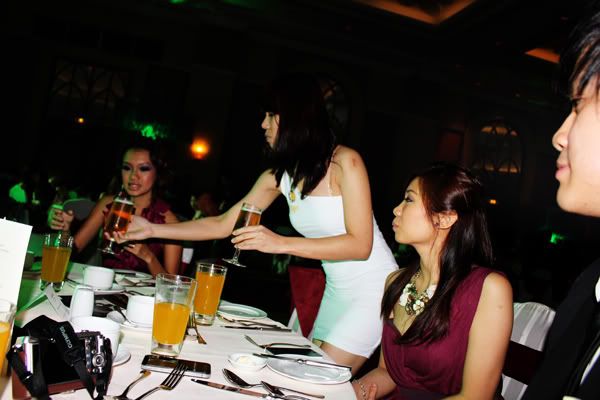 Everyone at my table perked up immediately once the beer arrived! That's
Haze Long
and
Jin
(from Hitz.fm) + partner.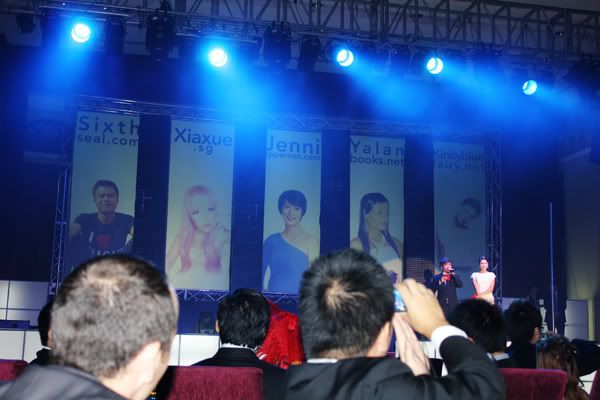 Love how the nominees' details were displayed right before the winner was announced! This is for Best Lifestyle Blog. Btw the guy in the picture is
Kenny Sia
!
I was seated with some of the crème de la crème of M'sia blogsphere-- there's
Kenny Sia
,
Joyce
,
KY
(KY Speaks),
Huai Bin
(Sixth Seal),
Jin
and
Suanie
!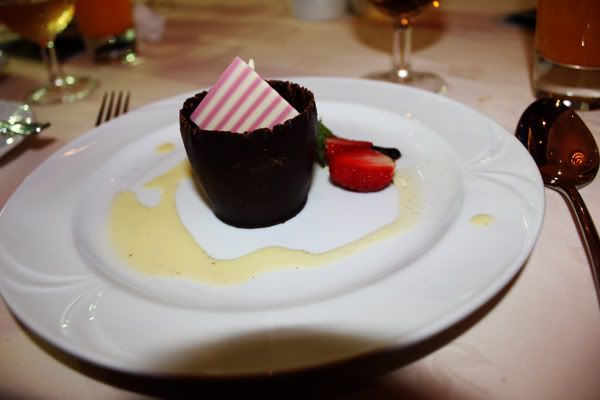 Dessert. Actually after this there was a platter of cookies, but by then everyone was scrambling to take pictures (bloggers will be bloggers), and I could only look at the cookies forlornly. T_T
All the nominees were invited onstage for a group shot!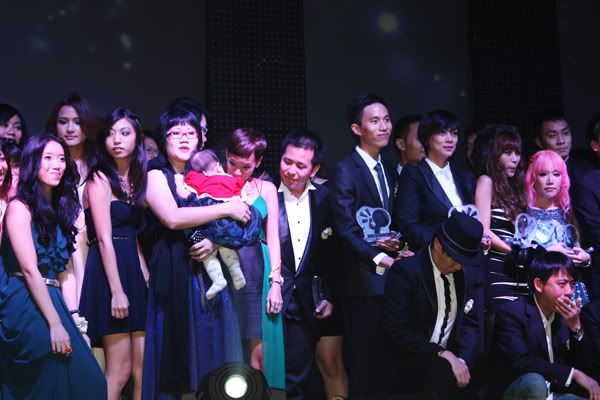 Like this picture 'cause Joyce is so fascinated with the baby. :P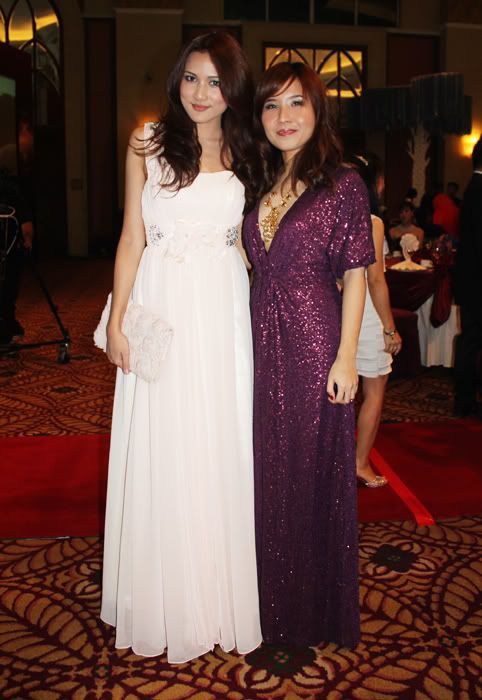 With
Hanis
, whom I had the honor to dress for the event! She loved her dress, and everyone loved it too! She literally stopped people in their tracks/ mid-conversation, and I heard people asking "Omg, I love her dress! Where is it from!"
*beams*
If only I can dress people for a living!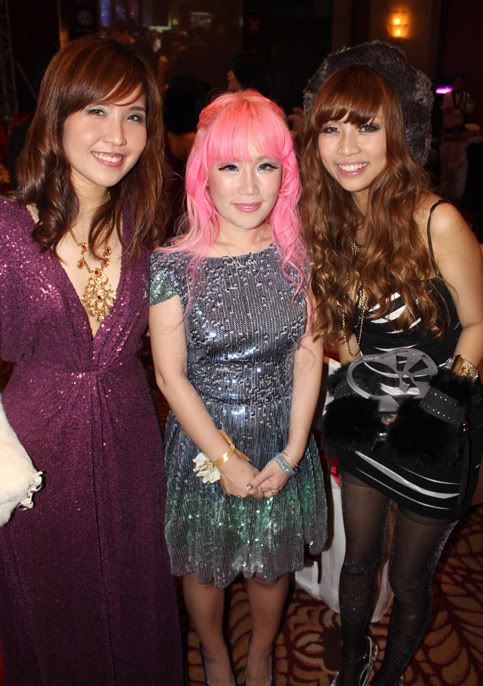 With
Xia Xue
, the winner of the night (Most Influential Blog/ Best Regional Blog), and
Ringo
, winne of Best Fashion Blog.
AZORIAS
sponsors Ringo, so you can imagine how proud I felt! :)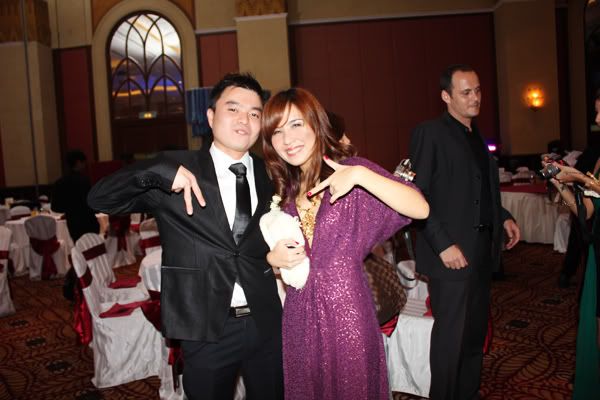 Yo whassup,
Huai Bin
!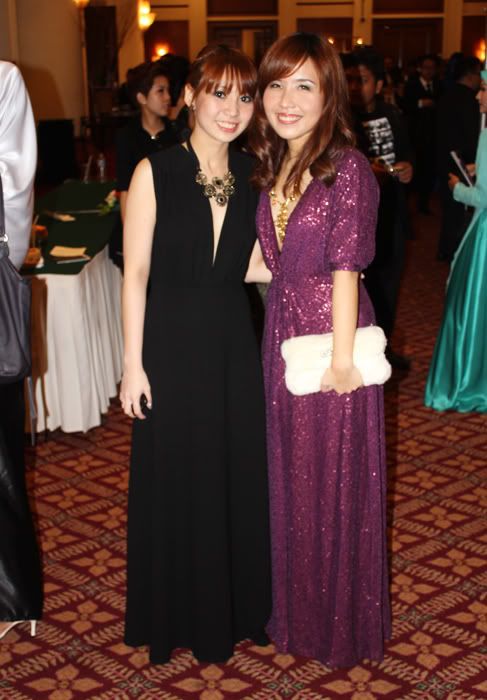 Pinky, part of the deep-V clan. :P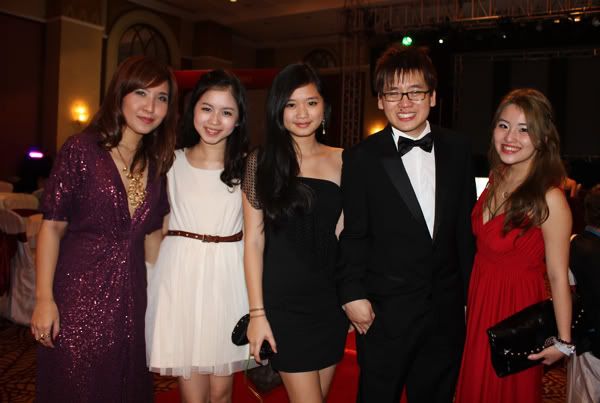 With the
big boss
himself!
Outfit details: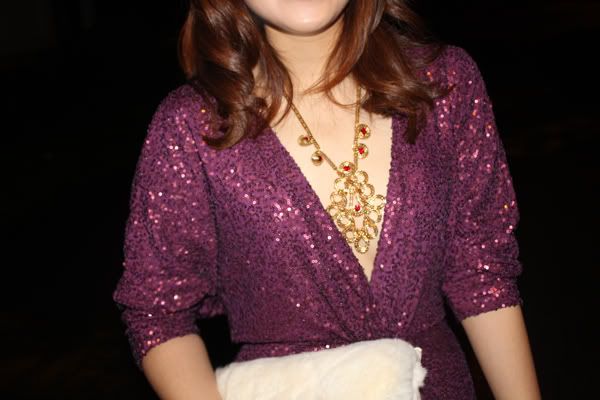 I actually bought a (short) dress for the event during my Korea trip recently; however as luck had it, I got a scar on my leg a few days before the event, and I decided I want to wear a long dress to hide the scar. And thus my quest for a perfect long dress started.
When I first laid eyes on this plum sequined dress, I was with with my boyfriend. Surprisingly enough, when he saw me try it on, he actually have his thumbs-up! Potentially, this dress is everything he will hate-- Full on sequins? Check. Plunging deep-V neckline? Check. Long maxi skirt? Check. But yet I had his approval? I knew then I have something special on my hands. ;)
Nonetheless I didn't want to spend so much on a dress, especially when I have already bought another dress intended for the occasion. But aah, I guess Lady Luck was smiling at me, 'cause on the same day that I was lamenting to my mom about the dress, she found a birthday voucher in the mail!
I guess you can guess the ending to this story. ;)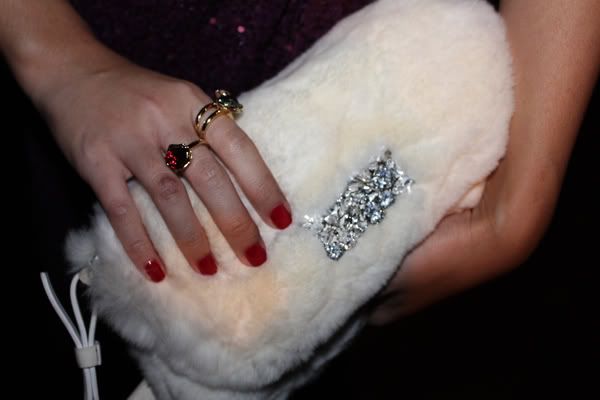 Wore it with a rabbit fur clutch to break the 'harshness' and monotony of all the sequined glory.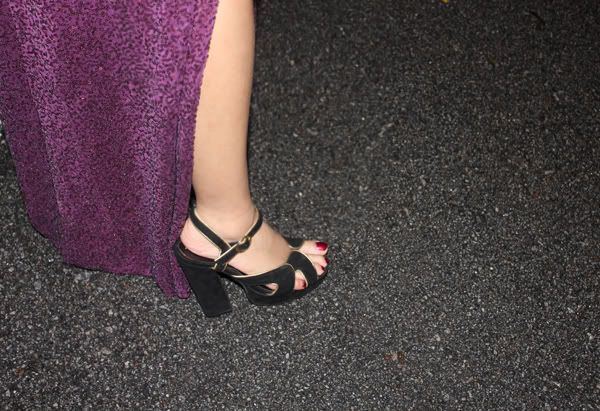 Black velvet block heels (needed super high heels as my dress was really long!) with gold trimmings to tie in nicely with the gold touches of my outfit.
Like this beautiful neckpiece with rub-red stones, for example.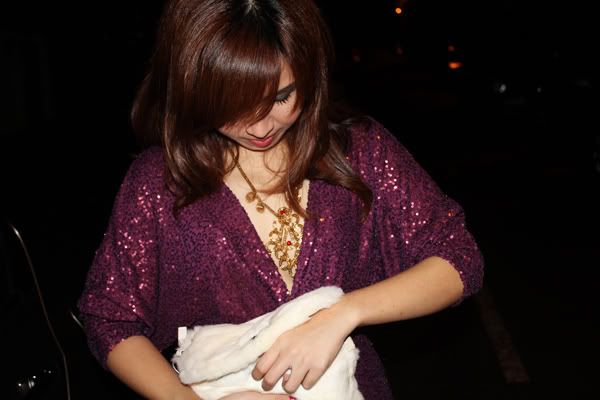 Plum sequined plunge-neck dress: Eclipse
Gold pendant necklace with red stones: Korea
Crystal stacked rings: Swarovski
Velvet block heels with gold trimmings: Topshop
Rabbit fur clutch with bejeweled clasp: Calvin Klein