My favorite part of any travel escapade-- sharing my shopping loot. I am usually too lazy to get a proper shopping haul post up, but I am so happy with my buys in Tokyo that I MUST!
Click *here* to read a similar shopping haul post from my Taiwan trip,

exactly

1 year ago.
#1
I was hopelessly in love with this pair of Miu Miu nude pumps a few seasons back (shown below), and was waiting for it to go on sale (as I do with everything that I buy wtf)-- I even told our resident SA in Miu Miu KLCC to call us the moment it goes on sale. But it was sold out everywhere before I could even spell out the word S-A-L-E fml.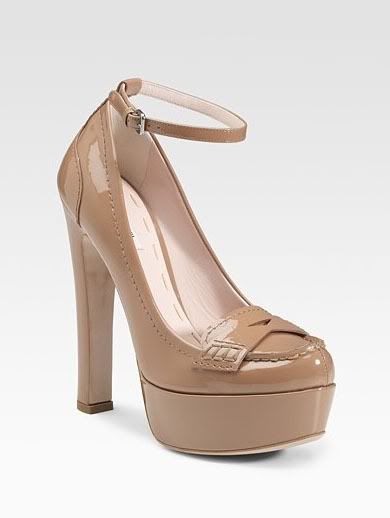 I couldn't really get the image of a perfect pair of elegant ankle-strapped nude pumps out of my head... So my heart literally jumped out of my ribcage when I saw these babies: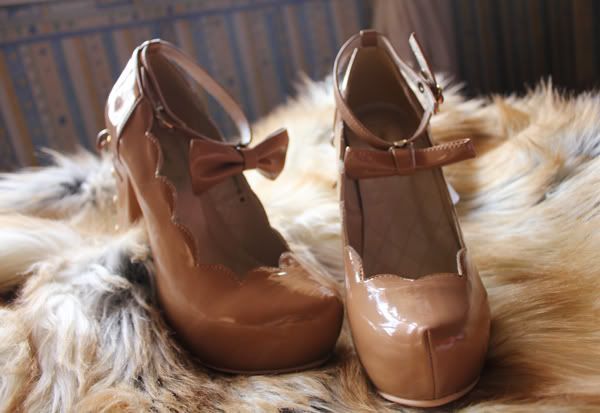 Scalloped edges, ankle straps, chunky heel (I prefer chunkier heels as they are more stable/ comfortable), with removable bow shoe-clips...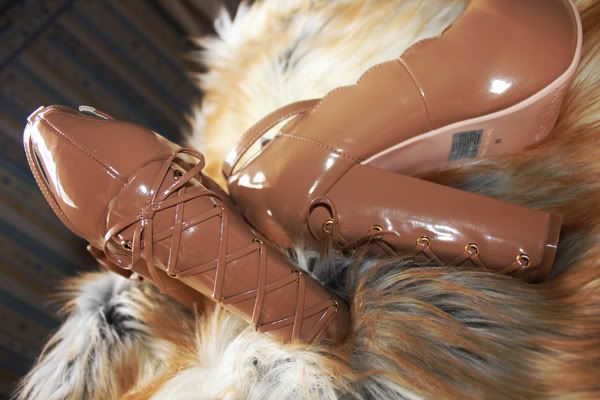 And check out the exquisite laced-up heels! Love love love love love I cannot even begin to describe....
Most likely I will be wearing these shoes without the bow clips as they are a little too girlie for my taste. But LOVE LOVE LOVE I repeat! :P
Btw, most of Japanese shoes come with shoe clips-- ingenious!
#2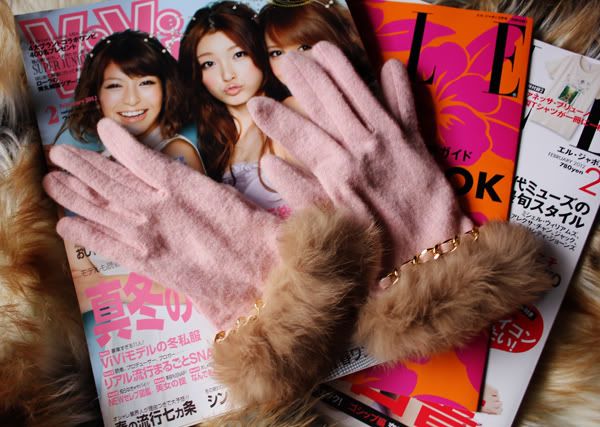 Gloves are one of the most important tools to keeping warm (especially if you don't have pockets on your coat). Love this pair of pale pink gloves with its velvet and gold chainlinks and soft fur lining!
#3
I didn't buy much clothes in Japan because clothes are really pricey (a dress going for RM500++ easily), and god knows I don't need more clothes in my bursting wardrobe wtf. But I could not resist this pair of delicate beaded lace shorts!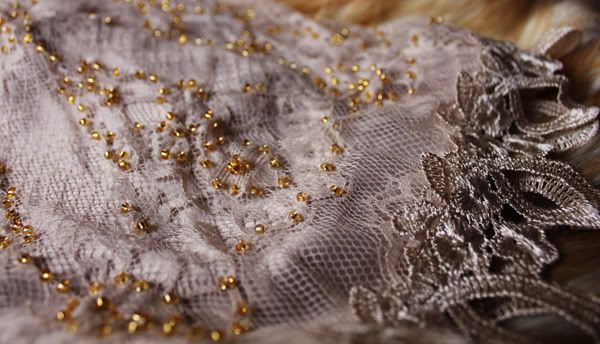 At a 60% discount muahahahaha. Another love-it-to-bits piece!
#4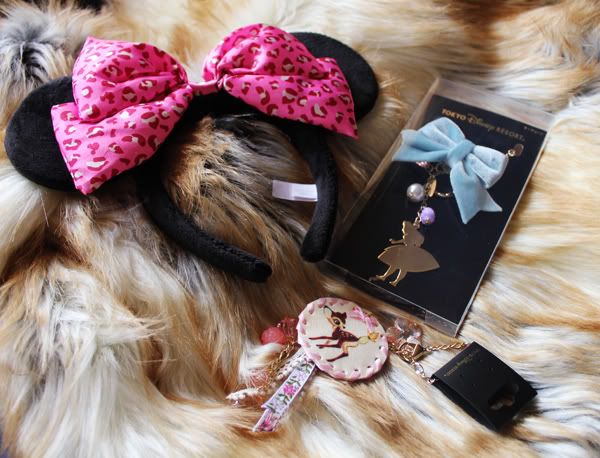 My Disneyland buys. Got Alice in Wonderland and Bambi keychains respectively-- one for my car keys, and one for my office keys.
As for the Minnie Mouse ears, they were a vital component of my Disneyland outfit wtf: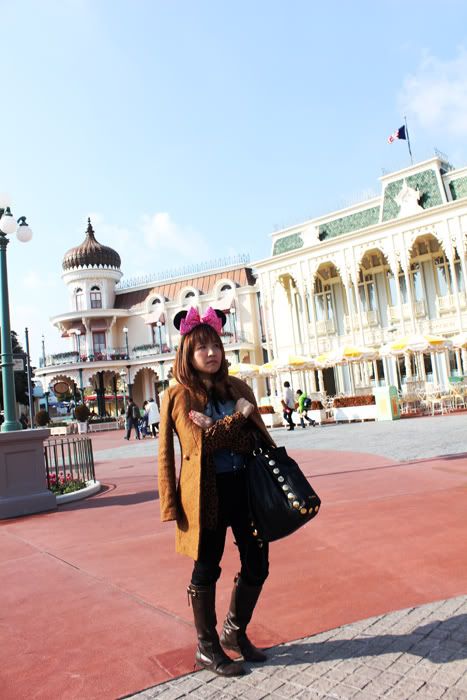 #5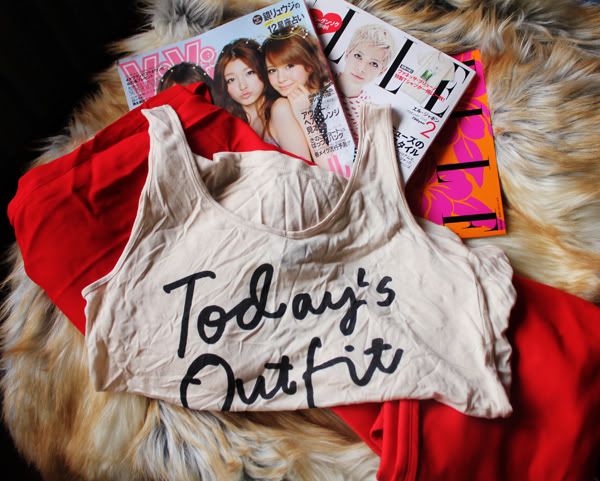 Some cheap H&M buys: a graffiti tank, red cigarette pants, and a red cocoon dress with some sexy-back going on. The 3 items cost me about RM200!
#6
Damn happy that I finally got my Instax mini polaroid camera. T______T I've been wanting one for sometime, but no one got my hints wtf. It was going for about 30% cheaper in Japan (got it in duty-free at the airport), so I decided to take the matters into my own hands, heh.
Also got a pair of bright red skinny jeans from a Zara outlet store (we found 2 great outlet malls during this trip!). And yes, I've a red fetish. -_- But I think my penchant for red is justified because CNY is coming up wtf.
#7
Helmut Lang (really) skinny jeans in a black faded wash, and a Commes des Garcon belt.
#8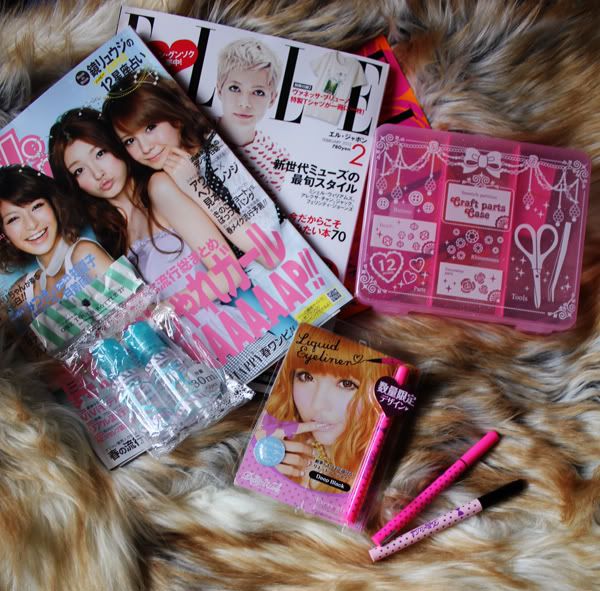 Dollywink eyeliners-- the best liquid eyeliner (to me)! My mom got me one from Hokaido 2 years ago, and I've been hooked ever since! I stocked up when I went to Hong Kong last year, but as I've finally ran out of them, my sole shopping target in Tokyo was actually Dollywink eyeliners. Managed to score the limited edition (in hot pink) one too! I bought 4, hopefully they will last me awhile. And hopefully they don't dry up.
*dark*
Also showing things I got from a 100yen shop: a craft box that I am intending to use to stow away my jewelry when I travel (currently I just dump them in a plastic bag, which equals to a major tangled nightmare)-- it comes with partitions so you can customize the size of each compartment; and some cute travel-sized toiletry bottles for traveling as well.
#9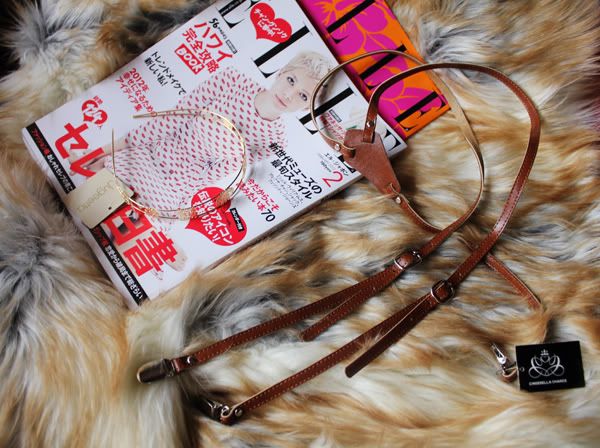 A really pretty gold headband, and leather suspenders (also something I've been looking for sometime already!).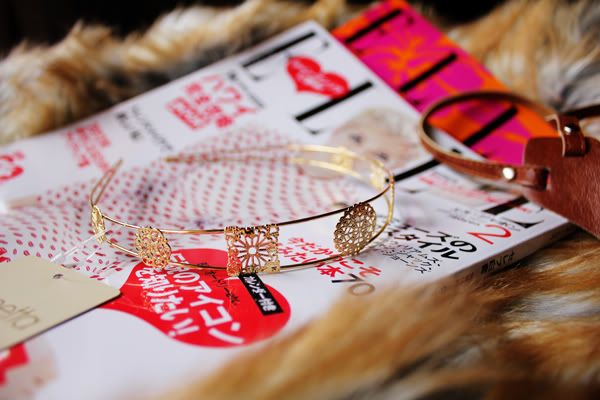 Such a pretty headband!
But I found out it is made in Korea. -____-
Now on to my juicy buys! :D
#10
What could it be..?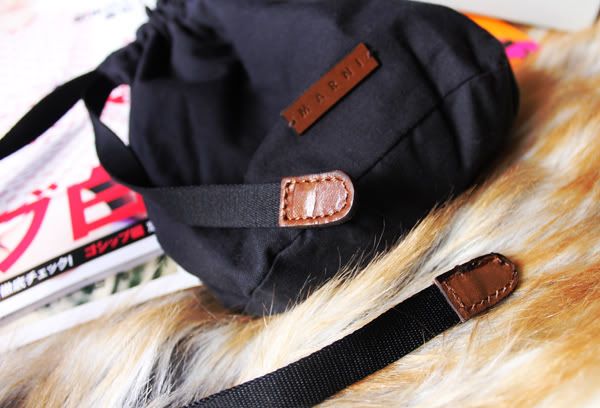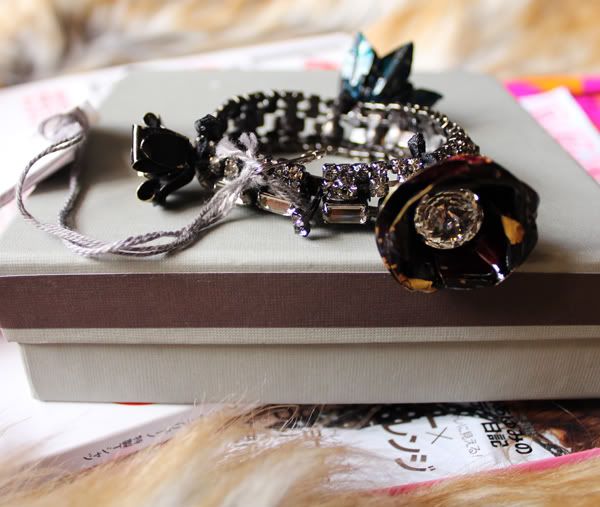 Tada!
I've coveted a piece of Marni jewelry for ages, so this is a majoy 'YAY' moment for me!
#11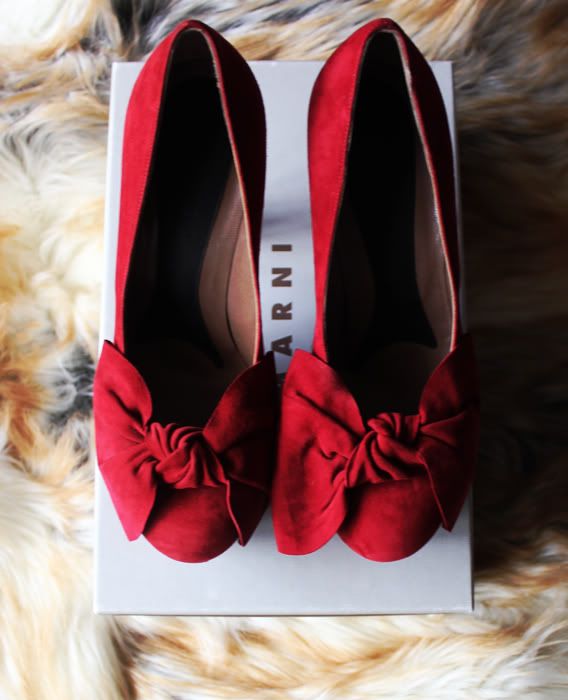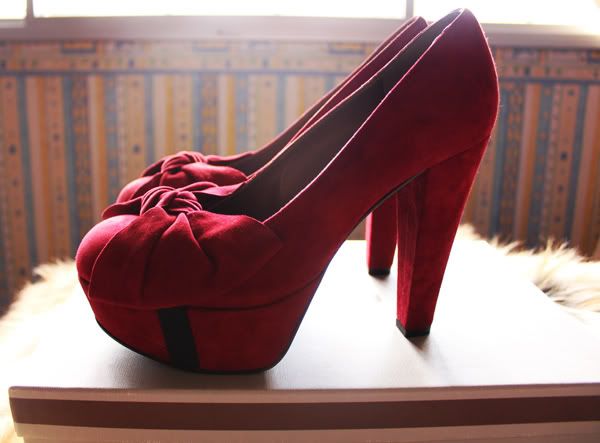 Marni suede pumps in ruby red... 80% off, and in my size! :D
And finally.....
#12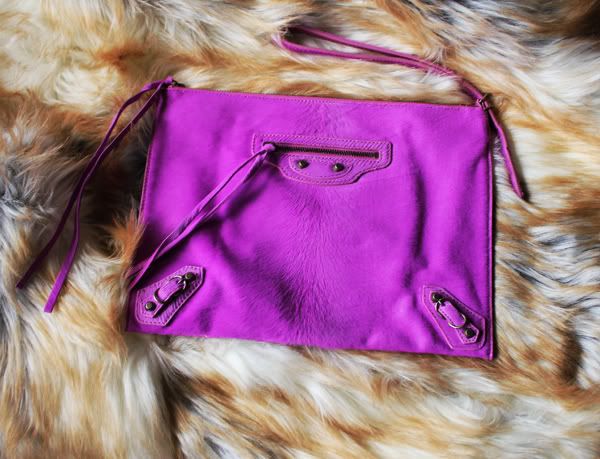 Meet the new member to my bag family! I'm not really a huge fan of Balenciaga Motorcycle bags, so I never really thought I would own anything from Balenciaga. But this clutch is in such a perfect shade of bubblegum pink (I can't seem to capture its real color in picture, it looks purplish here?) and in a yummy ponyhair leather. Le sigh. LE SIGH.
That about wraps up all my buys from Tokyo! I went to Japan not expecting to buy anything at all (except for my Dollywink eyeliners), because I knew that everything in Japan is really expensive. But I guess finding two mega premium outlet malls helped! :P Not to mention we were there during the sales season so everything was super discounted. I honestly think that January is the best time to go to Tokyo/ Japan if you want to shop!
So, which is your favorite buy? :D
Also, suggestions needed! I want to blog about my Tokyo trip, but which would you prefer-- for me to blog in chronological order, or to post random pictures, or gasp, just post outfit pictures? TALK TO ME PEOPLE wtf!