Guys, I've really exciting news to announce today!
(and no it's not an engagement -___-)
One of the things that I really want to get done this year is a new blog layout (as declared in
this post
). Like, I totally get it if you guys think I am the girl who cries wolf wtf 'cause I've been talking about it for
years
(at least 3 years -_-). But despite numerous announcements that I'll get a new one up, I never did get anything done.
*droops head down*
But this year, this year is all about doing things, executing things, making things happen! (
Ya ya, I know at this point you are thinking, what is this girl rambling on about, I am still on the SAME OLD BLOG LAYOUT
wtf)
So I present to you the super awesome work of my web designer! T____T
She gave me a couple of layouts to choose from, and I think these two are my favorites:
Option 1.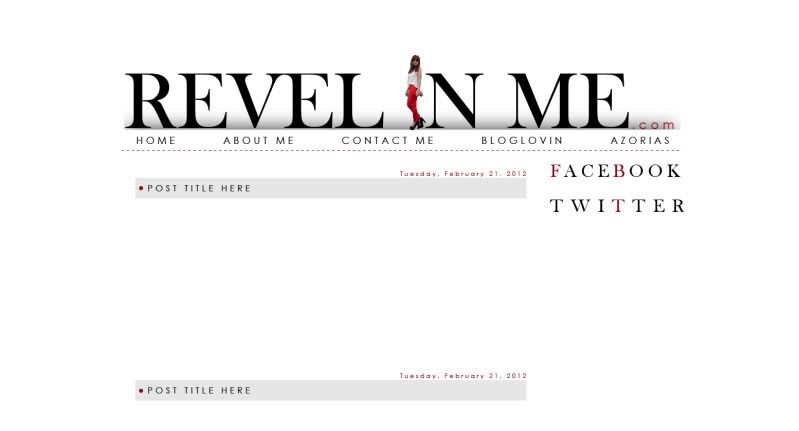 Option 2.
What do you think? I love them both and I can't decide! I think I kind of like the second one better... But Teeny doesn't like it 'cause she said what if my style changes (then the pictures on the header will not be relevant anymore)-- to which I told her I can then update the pictures! My web designer is awesome like that. :P
But then again, when I think about it, I really like the first option too.
#typical woman
T_T I like how there is a 3rd minor color (i.e. red) amidst the black and white layout (the only request I listed to the web designer), so there's an interesting dimension. And of course, the 'i' is really pretty WTF.
*narcissistic*
But the boyfriend also told me that if I use the first layout, I cannot ever grow fat. If not my header will read 'Revel
ON
Me' WTFFF. -___________________-
**************************************************

My colleague and Teeny have given their votes to the first layout, and the 2nd layout has 2 votes as well (me and the boyfriend)-- Deadlock. T__T
And then I thought, you know what, who better to decide then YOU! You are the ones who will be facing the same layout
for goodness knows how many years before I get off my butt to change it again wtf
.
And this blog wouldn't be anything without you guys anyway. :')
So here it is, guys. Which blog layout do you like better? My web designer suggested merging the 2 layouts since there are different elements that I liked about both of them, so that's something consider as well. Any recommendations/ suggestions would be much appreciated too! Together we can make an awesome blog layout. :D
Get set, go! Cast your vote now. :)