Slightly late for this, but I am back from Tim and Aud's wedding in Penang over the weekend! I was one of the bridesmaids, and it was really the experience of a lifetime. :')
That being said, it was seriously tiring! I still haven't recovered from my weekend, to be honest. -_- I can't even imagine how Aud feels!
Anyway, just thought I will post up some pictures from the weekend! I forgot to bring my camera to Penang, so all pictures are from my iPhone and Facebook.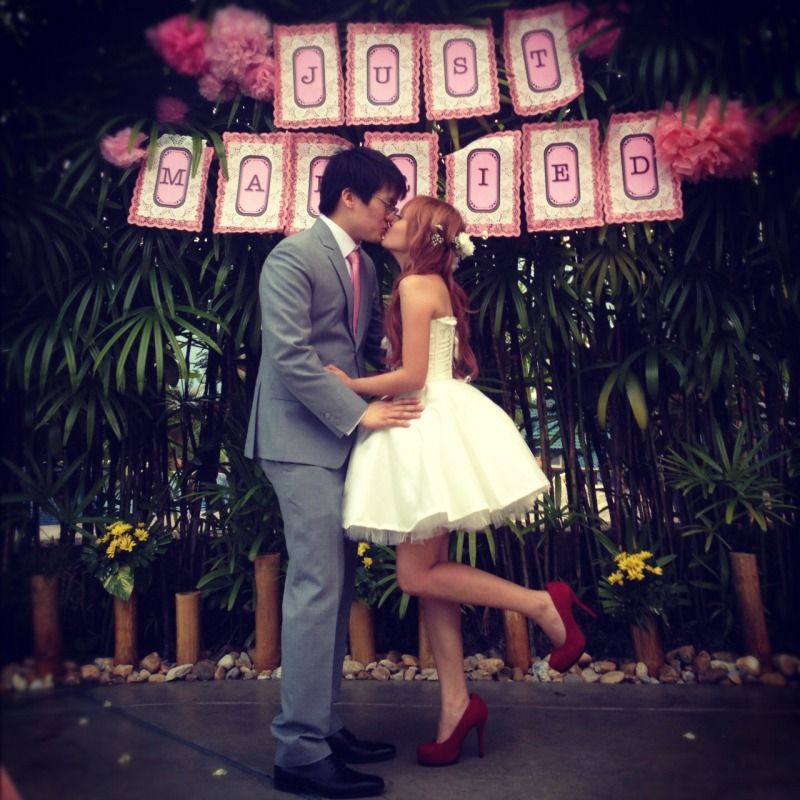 Love love love this shot! This was taken during the ROM-- officially man and wife. :)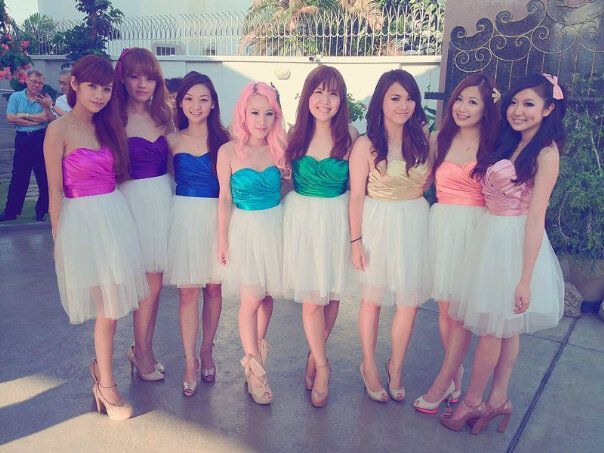 A proper group shot of all the bridesmaids, there are 8 of us!
L-R: Ringo, Bobo, Jiameei, Wendy, me, Suet, Tze, Angela.
We are dressed in the colors of rainbow (well, kinda, I mean, rainbows should totally have pink as a color wtf), in accordance to the Up theme of Audrey's wedding! We were all assigned a color, and I was originally supposed to be in red. However the tailor didn't have any red fabric, so I got fuchsia instead, which I was secretly happy about. Alas, my dress was too small!! O_O Luckily Ringo's dress (green) was a little too big on her, so we swapped dresses. And that's how come I ended up in a green dress.
Some of the bridesmaids with all of the best men. All very eligible ar.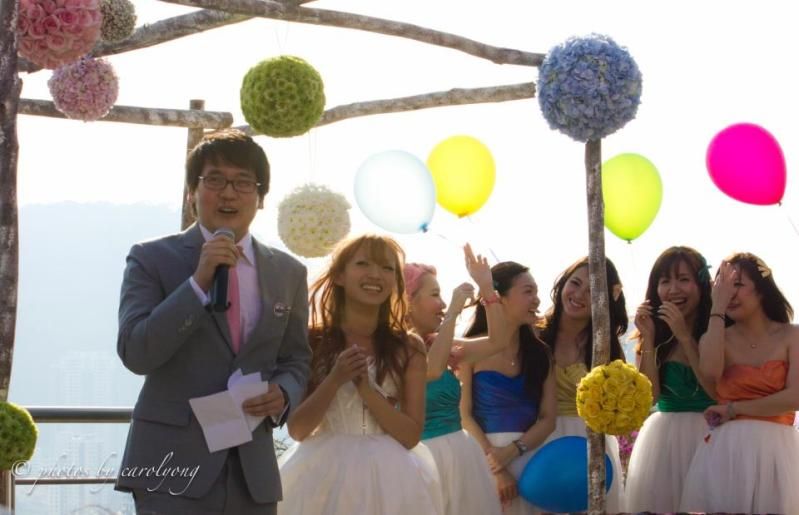 The ROM was held in Tim's family house yard, which is perched on top of a hill overlooking a magnificent view (seaview yo!). It was quite windy and the balloons kept on hitting us on our faces wtf.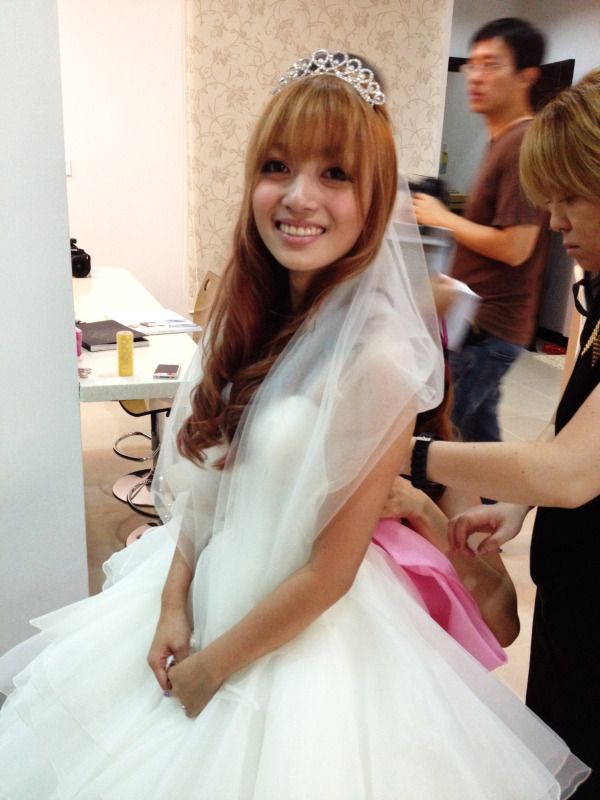 Beautiful Aud in her wedding gown before the groom came to pick up the bride. When she was still looking for her ideal wedding dress, she declared that she wants something like what a princess would wear, and I think her wedding gown totally fits the bill! :')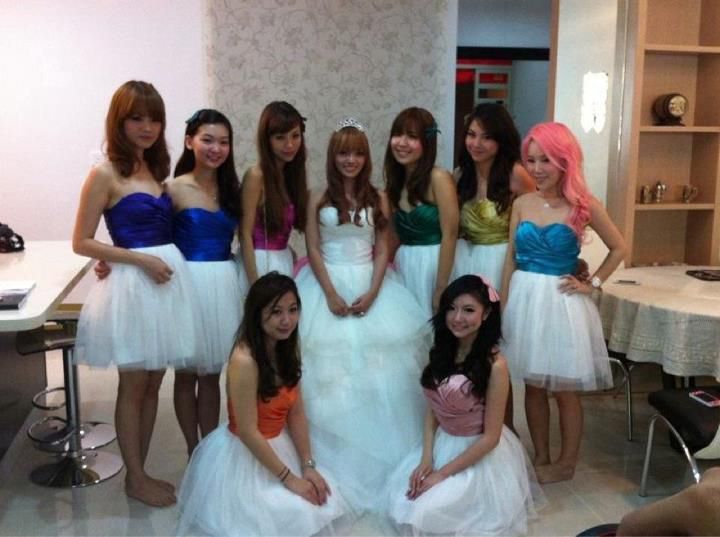 Another group shot before the groom and the best men arrived.
All of us (the bridesmaids) came from different parts of the world-- KL, Kuala Pilah wtf (Suet is a teacher there), Singapore, Vancouver... But we had this chance to be united under this beautiful occasion and be girlfriends! We didn't know every single one of us prior to the wedding, but after the hen's night and the wedding weekend, we are sending teary goodbye messages to each other wtf.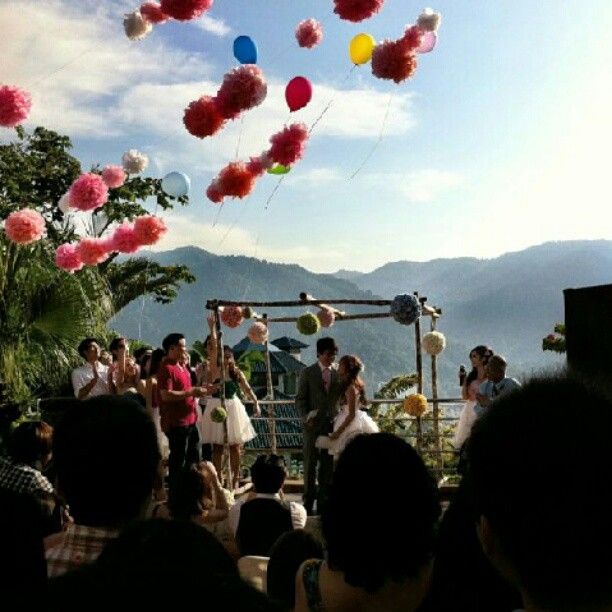 Taken from Tim's Instagram.
The bridesmaids made an impromptu decision to release the balloons in our hands (each of us had a matching colored balloon) the moment the groom kissed the bride after they were pronounced husband and wife. So happy that someone caught a picture of this!
The back of Audrey's dress. I love how her wedding gown still has an element of 'Audrey' in it, it's totally her!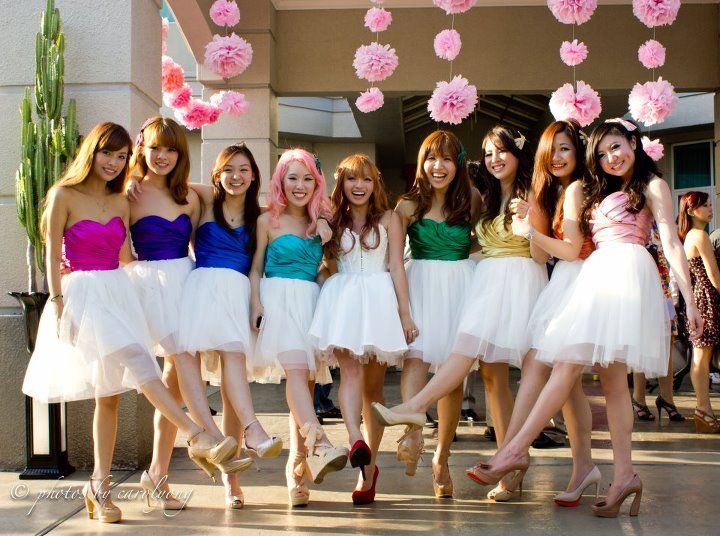 Ending with one of my favorite bridesmaids + bride shot. :)