The last 2 weeks of June haven't been great, I have to admit. Jing leaving, then Smalls (my ex-housemate, who left for Sydney for good), certain glitches at work, and tiny misfortunes was happening here and there. It would have been easy to be sucked into all the so-called negativity, but I was determined to keep my spirits up. That being said, I'm quite relieved that July is here.
For instance, just last Friday, we couldn't start our car after leaving work. Turns out that our car battery was dead. WTF right. But in the end, everything worked out fine, because as luck had it, we parked really near a car workshop on that day, and the mechanic changed our car battery easily for us. Teeny was being rather angst-y about the whole incident, but I was trying to think at the bright side of things. For instance, thank god that we were both together when it happened! Imagine if it either of us was alone and stranded, definitely not a good situation to be in considering the recent rise in crime cases! Also, of all days, we parked near a workshop. Our office is in Taipan, and usually it would have been near impossible to get a parking around the shop-lot area, but we managed to on that day. Also, luckily it was quite early when the incident happened (around 5plus pm)! If we left office half an hour later, the workshop would have been closed, and we would be stranded. So yea, I convinced Teeny that everything happened for the best, and on the way home we were howling to songs on the radio.
That is the power of your own thoughts, I guess. In general, I am quite a positive person by nature. I do get agitated very quickly, but I also snap out of it very fast, and is all la-la-la-let's-do-this again. There is a fine line between being optimistic and being a (unrealistic) dreamer though, which I often carefully thread between.
What about you? Are you an optimist or a pessimist? :)
*************************************

Moving on to some Seoul stories! These photos were all taken in early April.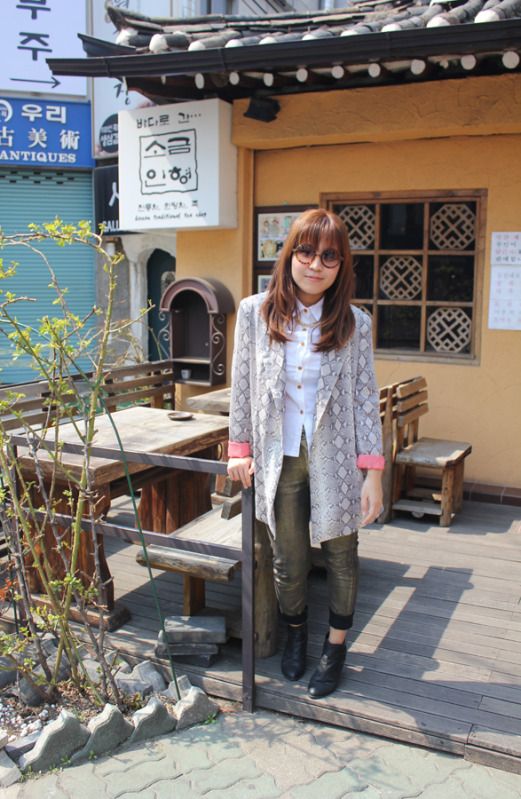 After spicy chicken lunch in Insa-dong, one of my favorite places to visit in Seoul!
Some kind of snack, which reminds me of... poo.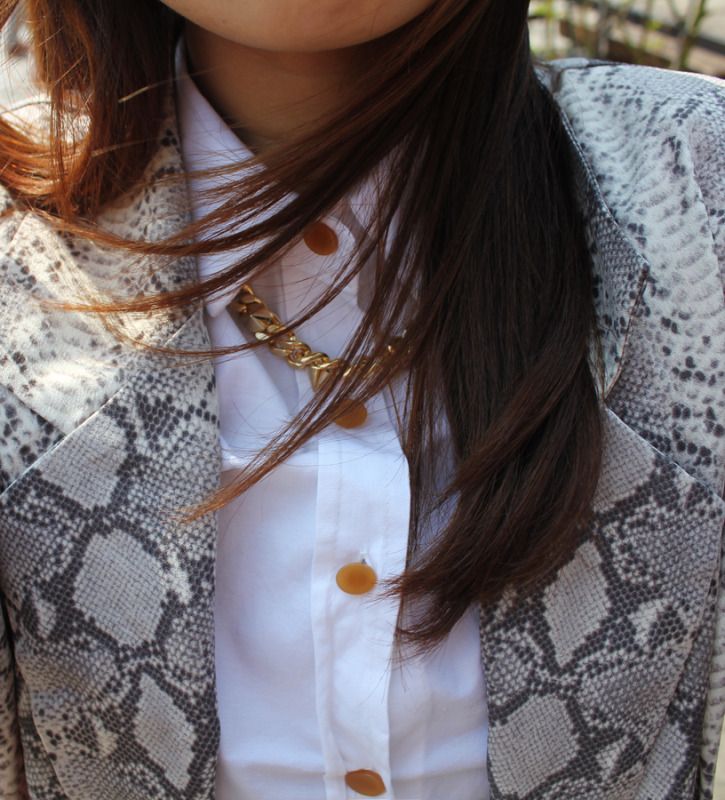 Spike necklace FTW.
This little girl with her miniature bouquet of flowers melted my heart.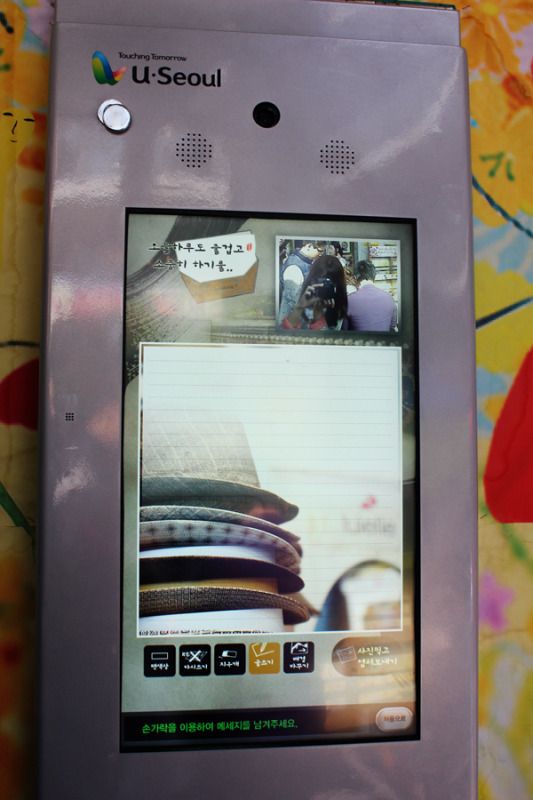 At Ssamziegil (in Insa-dong), which is basically an arts center... I love this place! One of the new features that they have is these screens where you can snap instant photos of yourself and have them emailed to your email account. Neat!
Favorite traveling boots.
A mini art installation in Ssamziegil.
Playing art gallery curator, hehehe.
Went to Garosugil (must-go shopping street!) after that to meet Ally, who happened to be in Seoul at the same time! :O :O :O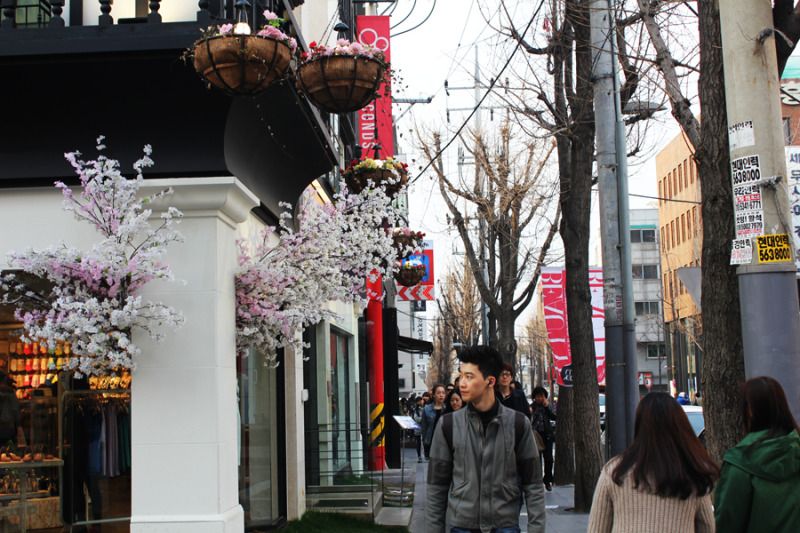 Such pretty cherry blossoms. I really feel so blessed that I can witness such beautiful sights! :)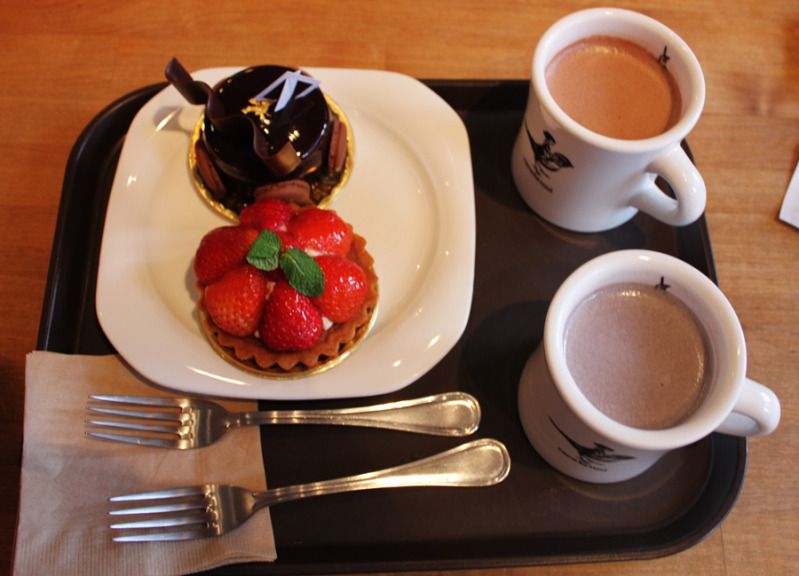 Obviously we have a sweet tooth.
With Ally. It is a really surreal (but definitely super cool) to meet with a friend at a totally different country!
Outfit details: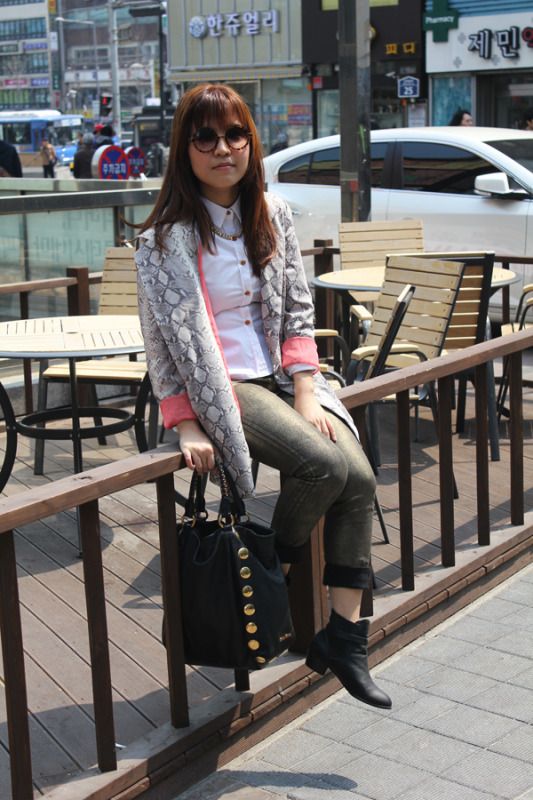 White shirt: Korea
Metallic jeans: H&M
Snake print blazer with pink cuffs: Korea
Gold spike necklace: Korea
Black ankle boots: Korea
Bag: Miu Miu