Sponsored post
Recently, I had the honor of being invited to a very special adidas Originals event.
Adidas Originals got three of hip hop's most influential DJs and the country's best dance crews to set Kuala Lumpur ablaze as one of the destinations of its 'Breathe and Stop' tour. The Breathe and Stop tour, which takes place in five of SEA's most iconic cities, kicked off in Bangkok on August 4th, and had Kuala Lumpur as the second stop.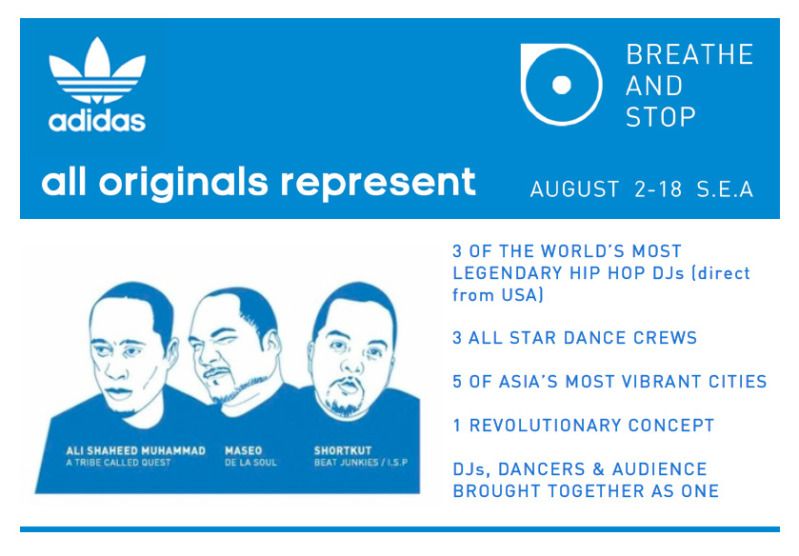 On 10 Aug, as part of the Malaysian leg, fans were treated to an exclusive meet and greet with the DJs at the adidas Originals Concept Store in KLCC. And I was so lucky to be one of them! I know of many people who would loved to be in my shoes. :)
When I said exclusive meet and greet, I really meant it! We really got to get upclose and personal with three of hiphop's most influential DJs: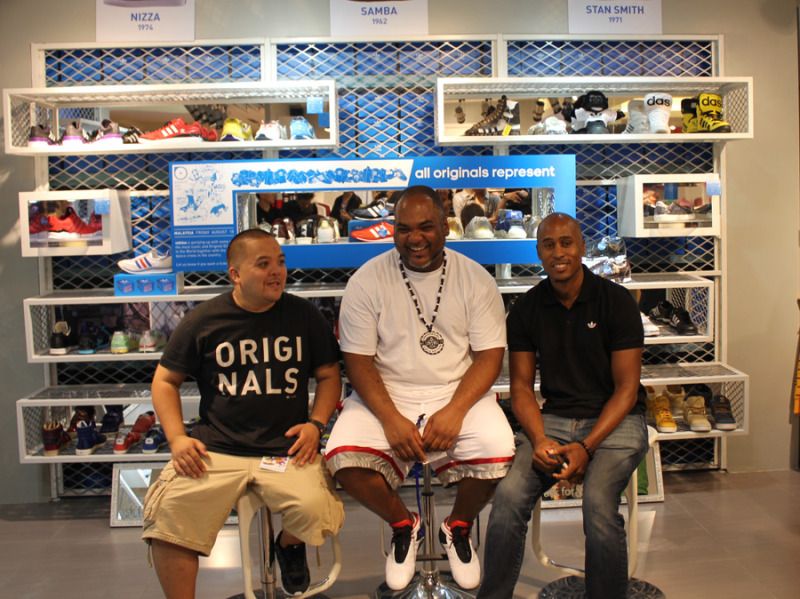 Shortkut (from San Francisco), MASEO, and Ali Shaheed Muhammed (both from NYC).
I am going to briefly run you guys through the sheer brilliance of these DJs!
MASEO
.
MASEO is a grammy award winning MC, DJ and Producer for the legendary hip hop group - DE LA SOUL, which has have received Soul Train, MTV, and Grammy award nominations. He has co-produced some of the most iconic hip hop albums of all time and is world renown as a heavy weight party rocker, which is not surprising at all, if you watch the video below:
We are always complaining that clubs in KL don't play good music, and aaah, when I saw this video, I was like, THIS IS WHAT WE NEED!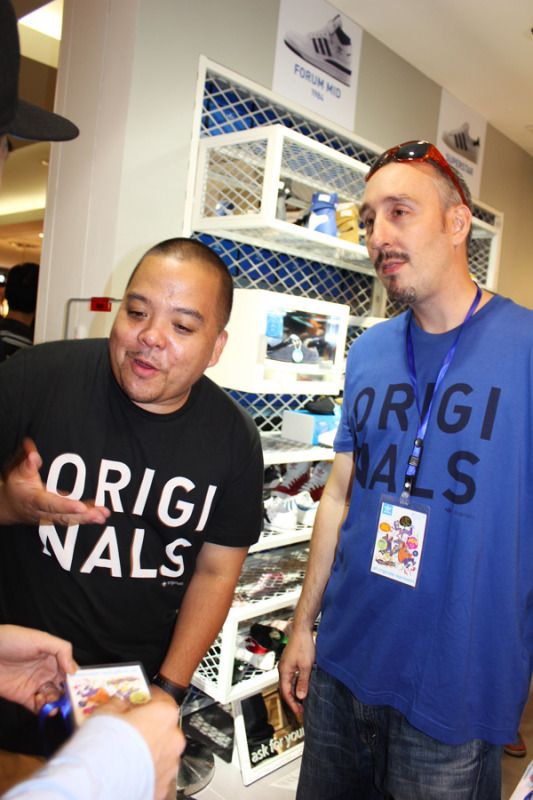 Shortkut
.
Shortkut is the founding member of 3 of the most iconic and influential DJ crews in history - Invisble Skratch Pickles, World Famous Beat Junkies and Triple Threat. He has claimed numerous titles, notably the 1994 and 1998 US/West Coast DMC Championships (watch the video below for one of his routines for the DMC Championship).
Shortkut's contribution to the DJ world and culture is unparalleled, and in 2007, he celebrated 20 years as a DJ, producer, DJ equipment designer, and battle champion. 20 years! 20 years ago I didn't even know what is a turntable wtf.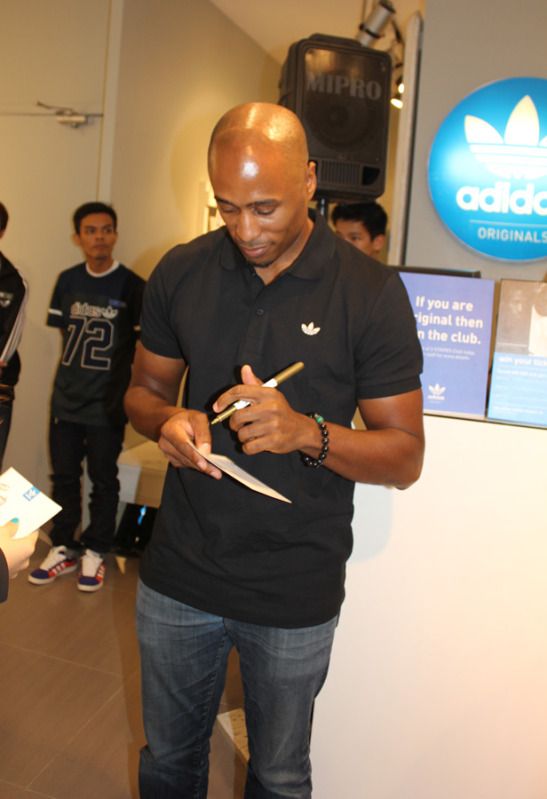 Ali Shaheed Muhammed
.
Ali Shaheed Muhammed is grammy award winning DJ & producer, and one of the most notable mention of him, is that he is a founding member of the legendary hip hop group-- A TRIBE CALLED QUEST. He has also created some of the most influential albums in hip hop history, and has also remixed songs for Janet Jackson Maxwell, Maroon 5and KRS-One!
It is easy to see why he is a crowd favorite:
Some pictures from the meet and greet session:
Autographed postcards! Yes, the three DJs also gave out autographs for their fans during the session.
I felt like a papparazi, snapping behind-the-scene photos of the dancers that will perform in Stage (where the DJs will be spinning), hehe.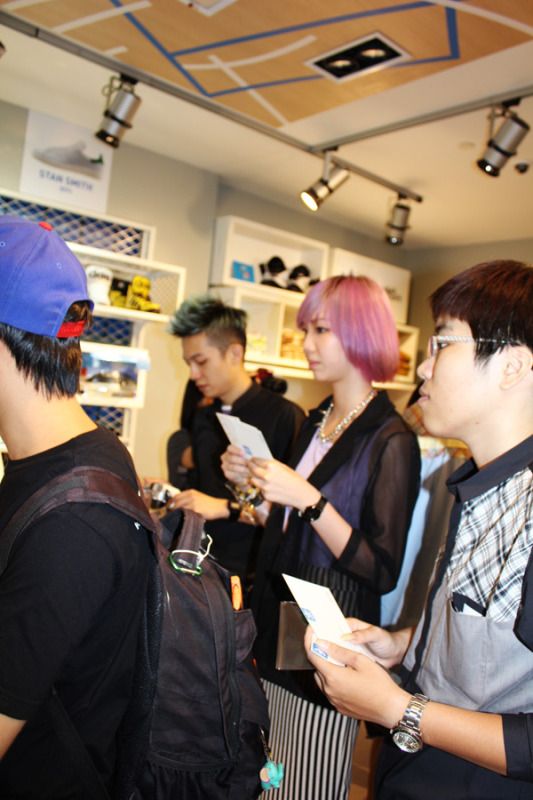 I spy Ashley, with her super cool hair!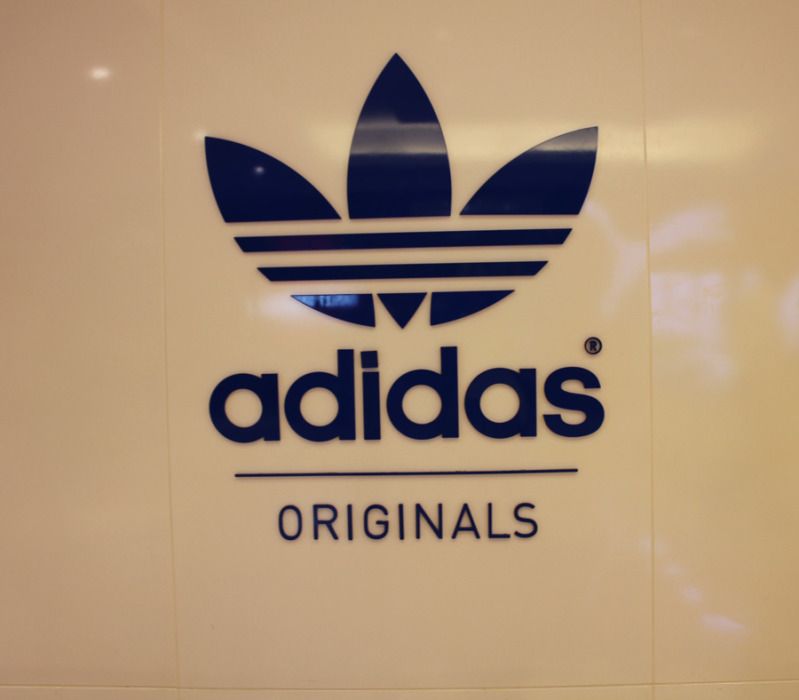 Adidas Originals Breathe and Stop. :)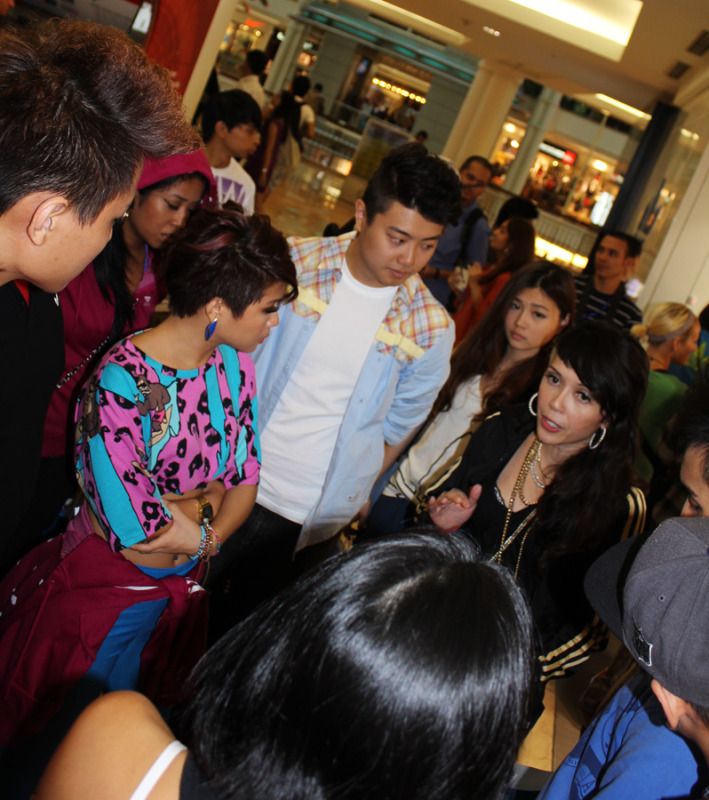 Dancers having a pep talk. Loving the energy!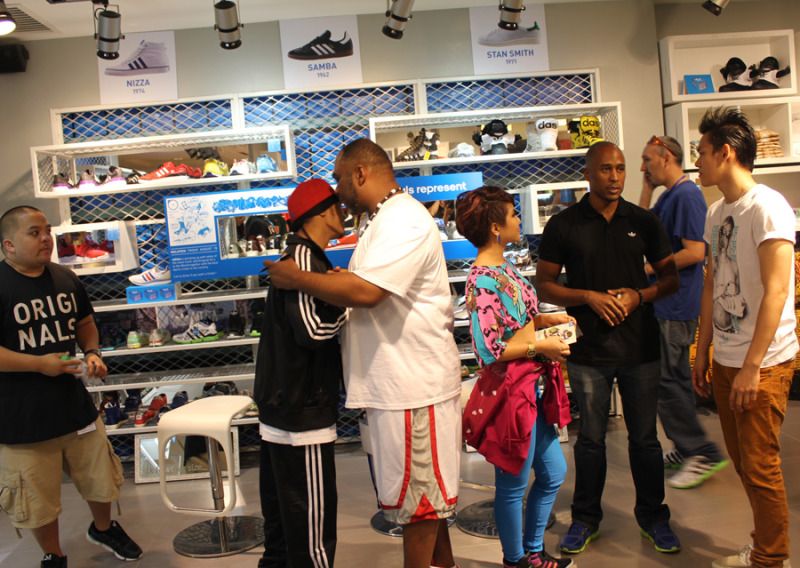 I like this picture—check out the hug in the middle. It's like 'we are homies yo!', hehe.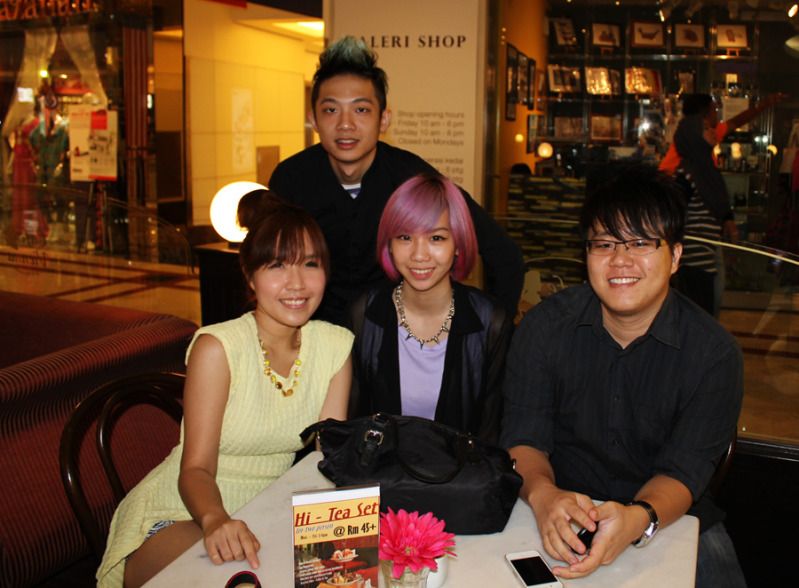 With Ashley, her boyfriend, and Joshua.
I also took some style shots during the event: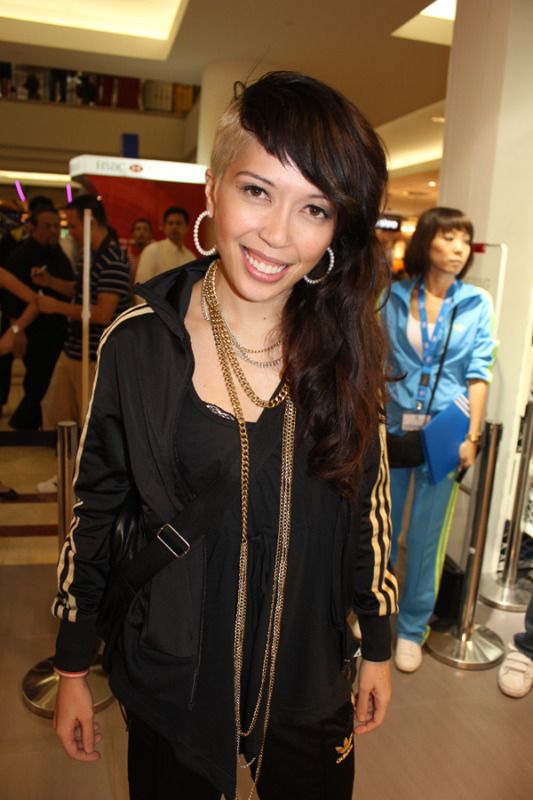 Major girl crush on her! Love the hair, the shaved sidecut, the gold accessories, everything!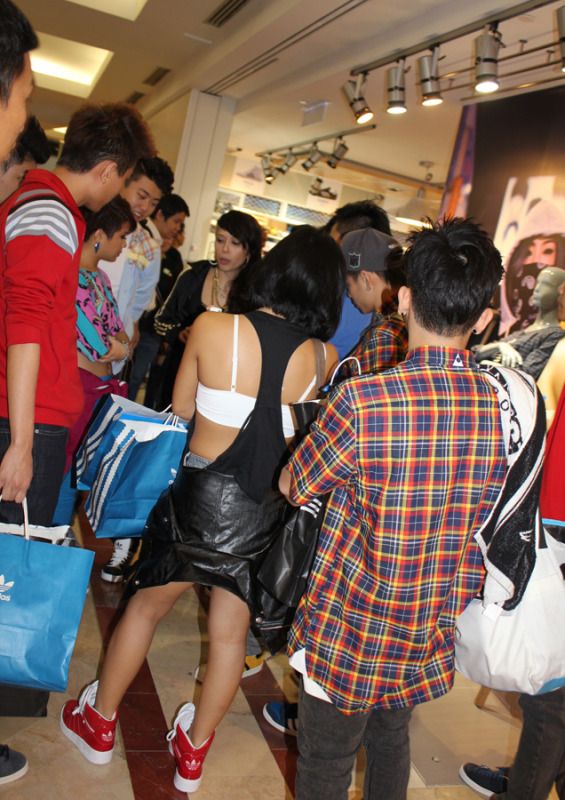 All the dancers dressed really well. I like the exaggerated racer back of the girl's blank tank—sexy!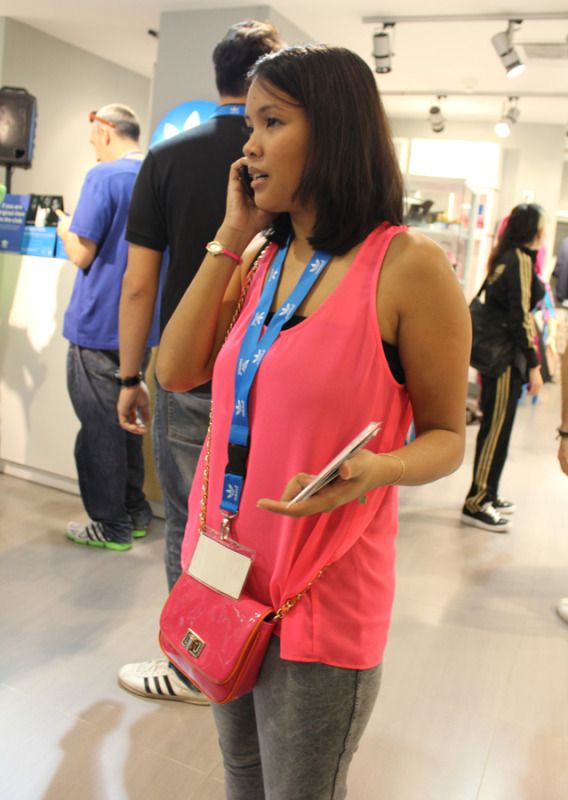 Happy corals tick all the boxes for me.
Aah, another girl crush! She is so sassy and spunky, and love her dimples. And damn, looking at her abs, I wish I picked up dancing. T_T
Sneakily put in my own narcisstic style shots hehe: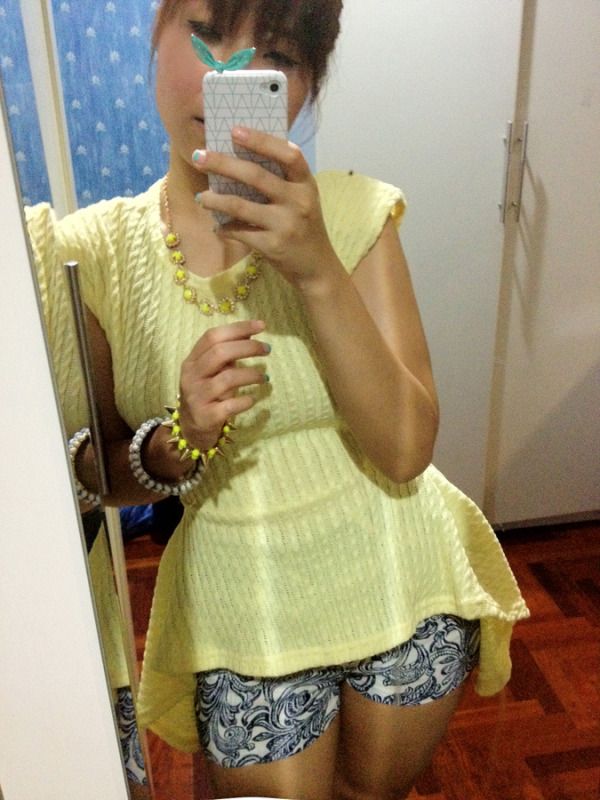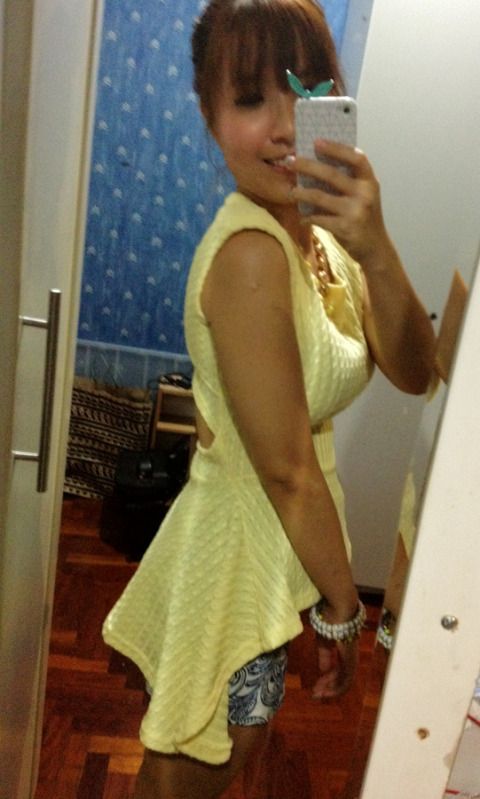 Wearing lemon peplum top from
AZORIAS
with batik print shorts, and some neon colored accessories.
Tada, there's a surprise to the back of my peplum top!
After the session, there was a dance showdown where awards will be handed out for the best individual performance, best teamwork, best crew and best outfit of the night. Local DJs also spinned and added some Malaysian flavor in the night's local edition of 'Breathe and Stop'.
For more photos of the Breathe and Stop event, check out their Facebook page
here
.
Now if you will excuse me, I am going to listen to tracks that are spinned by the guys below!