Sponsored post
To be honest, I think I have been a disgrace to womankind. -_- My nails look HORRIBLE (did gel nails 2 months ago, but had no time to go to a nail parlor to remove them-- so they are all grown out and broken/chipped now), I haven't hit the gym in ages, and I can't even remember the last time I went for a facial. It's not that I don't want to take care of myself, but sometimes I am just so short of time that going for a facial or spa treatments seem too luxurious.
Occasionally, I do think to myself, if only I can do my own face/hair/nail etc. treatments at home! Fine, I guess I can paint my nails by my own, but how am I going to do a facial on my own? Boil a kettle of water and stand very near it ar WTF.
So I was very impressed when someone introduced me to the Panasonic True Beauty Nanocare facial steamer. To be honest, I have always thought that facial steamers only function to open your pores, but this facial steamer claims to do so much more!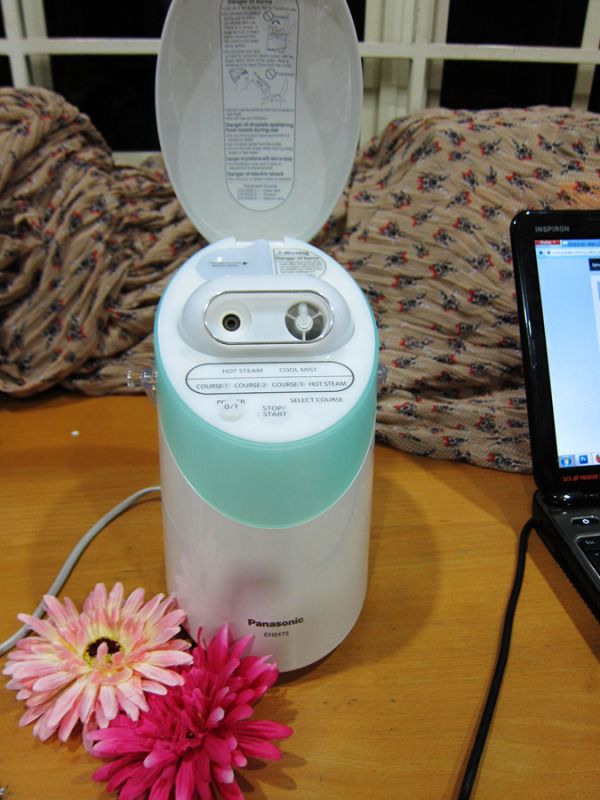 Skin savior.
First of all, why Nanocare? If you remember from our Science classes last time, nano actually means one over one billion—this is how small the created ion steam particles are!
Because the nano particles are so tiny, they are able to penetrate our skin much better, filling our skin with moisture, and thereby tightening our pores. Ordinary steam articles are too large, and therefore not able to penetrate our skin. You know how they always say that you should put a glass of water next to you in air-conditioned rooms to keep your skin moisturized? It's a myth then! But by using Panasonic True Beauty Nanocare Facial Steamer, you will then truly be able to keep your skin supple and moist.
Previous facial sessions have always gave me the impression that facial steamers only open up pores so that other magic can be performed on my skin. But I learned that this facial steamer itself performs the magic! Using a hot-cold program, the facial steamer helps you to achieve great skin via 3 courses: Clear skin mode, Firming mode, or Sebum care mode.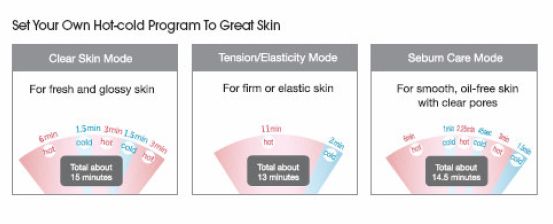 To be honest, I want to use ALL 3 modes! T___T I want non-oily, firm and fresh, dewy clear skin.
*greedy*
I even briefly contemplated doing 45 minutes straight (for all 3 courses) to achieve my dream skin WTF. But then I think I will just shrivel up and become a prune. -__- So for a start, I am aiming for fresh and clear skin (i.e. Course 1, Clear Skin mode), because my skin has been looking rather tired from all my lack of rest recently. Each session (for all 3 courses) last approximately 15 minutes, and you are recommended to do it 3 times a week. After your skin has gotten used to this treatment, you can subsequently increase the frequency if you wish.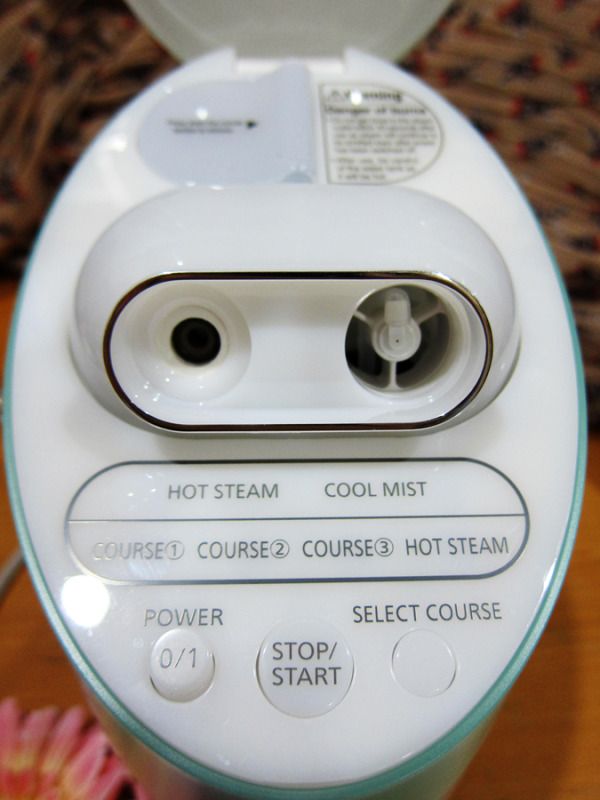 You can easily select your course, and the selected course will alternate between hot steam and cool mist to achieve your desired skin condition.
I was so excited to share with you guys this amazing discovery of mine that I shot a short video of me trying it out:
I love it! First of all, the hot steam felt very gentle on my face (because the nano ion particles are very tiny), so it felt like it was caressing my face, instead of how hot steam usually felt during my facials—like a train's smoke stack billowing smoke into my face WTF. I particularly enjoyed the cool mist function, because it felt very cooling and refreshing against my skin!
Also, I really, really appreciate the fact that I can do it from the comforts of my own home—no more traveling to facial salons to achieve great skin! In fact, as you can see from the video, I can actually do work (or watch videos/ surf etc.) while going through a facial-steaming session, which is just BRILLIANT for anyone with a busy lifestyle.
I usually sleep in an air-conditioned room, and my skin will feel dry-ish on the next day. But after one session of the Nanocare Facial Steamer, I woke up feeling that my skin was properly moisturized—although I didn't change my beauty routine at all! Am really looking forward to see the long-term results of using this wonderful product. :)
The Nanocare Facial Steamer is retailing for RM1,499, and is available through Panasonic authorized dealers nationwide. For more information on Panasonic brand and products, visit their website at www.panasonic.com.my or call their Customer Care Centre at 03-5543 7600.