Sponsored post
Everytime I flip open glossy fashion magazines, my eyes are drawn to the luscious GUESS ads—. The
curvaceous bodies, big hair, full lips—the sensuous bombshell look that is so synonymous with the
GUESS brand.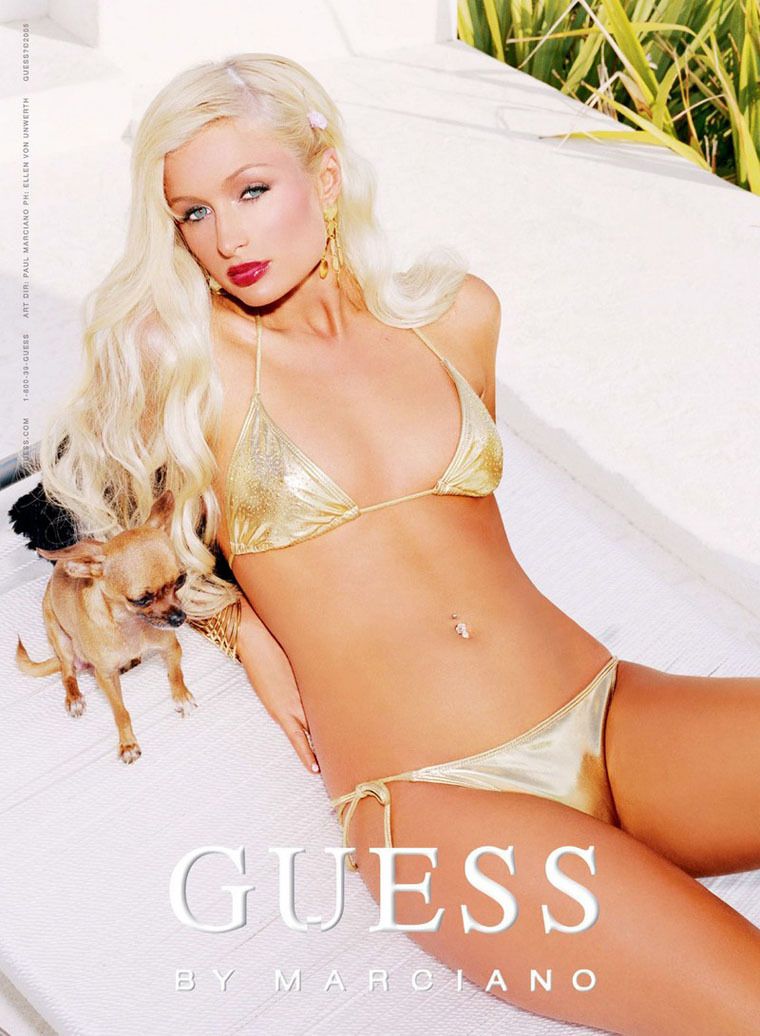 Paris Hilton was the face of GUESS back in 2004, do you girls remember that?
And going through back the older GUESS campaigns, you will see even more familiar faces: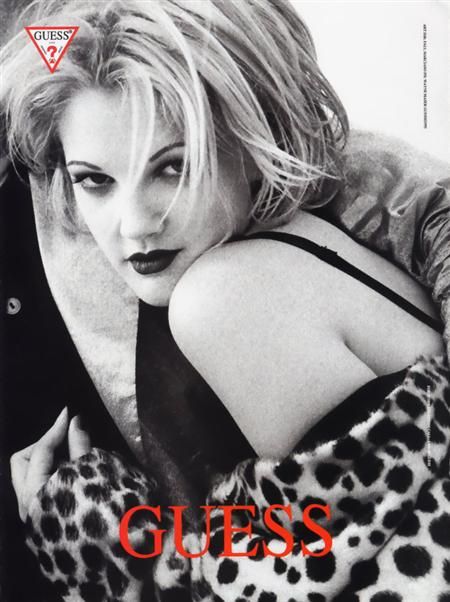 Did any of you know that Drew Barrymore has also modeled for GUESS before?
And who can forget the iconic Claudia Schiffer ads!
Trivia: Did you know Claudia Schiffer had her first Guess spread 23 years ago?
Over the years, GUESS has launched the careers of some of the most notable supermodels and
celebrities of today, e.g. Claudia Schiffer, Eva Herzigova, Alessandra Ambrosio etc. The sexy yet
playful models practically demand your attention, and over the years, it is clear that GUESS has
maintained the same covetable raw, sensual energy in its ads and its products.
How many years, you are asking?
30 sexy years
, that is what!
In conjunction of its 30th birthday, GUESS threw an impressive birthday bash at KLCC, whereby the
Holiday 2012 Collection and limited edition Tiesto Capsule Collection was also revealed!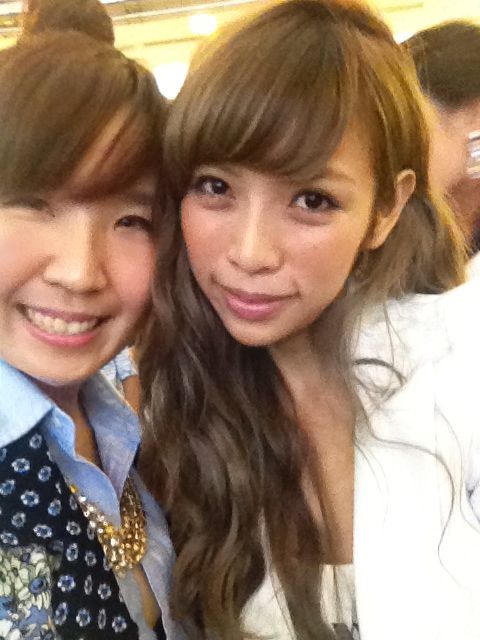 With Ringo.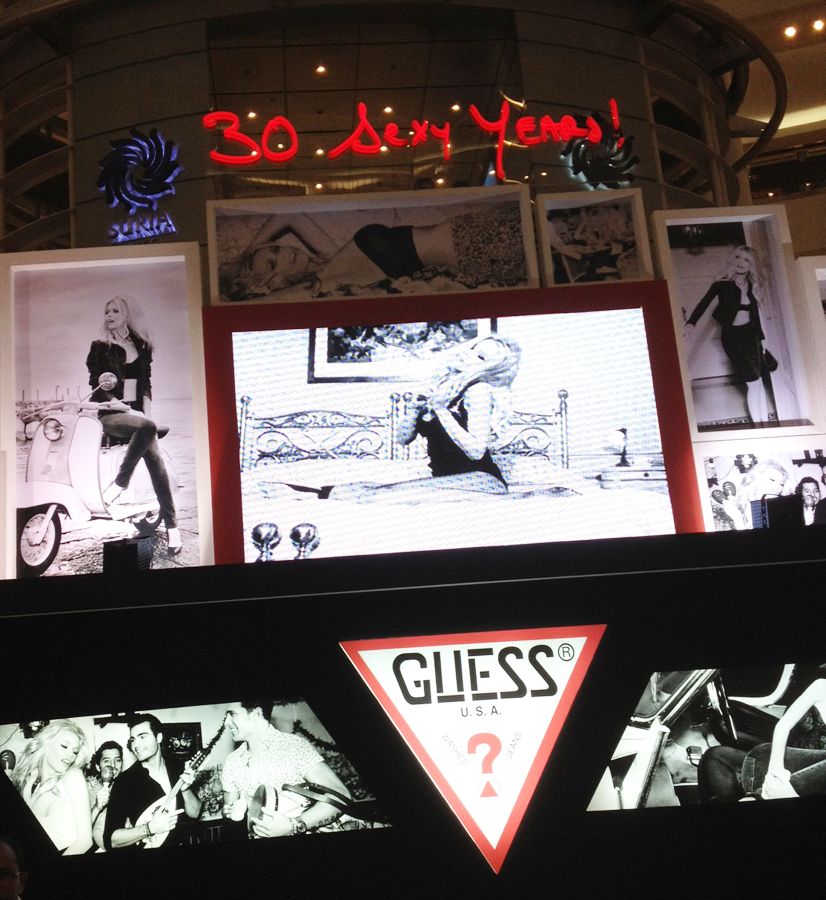 Happy Birthday, GUESS!
It was slightly emotional for me to see the '30 Sexy Years!' sign flashing at the top of the runway. Let
me share a little secret with you girls-- GUESS was the first brand that I was really passionate about! I
still remember lusting over all the GUESS bags, and negotiating with my mom to reward me with the
newest GUESS bags if I do well in school. And don't get me started on the jeans—I went totally crazy
over the world-famous triangle logo. :)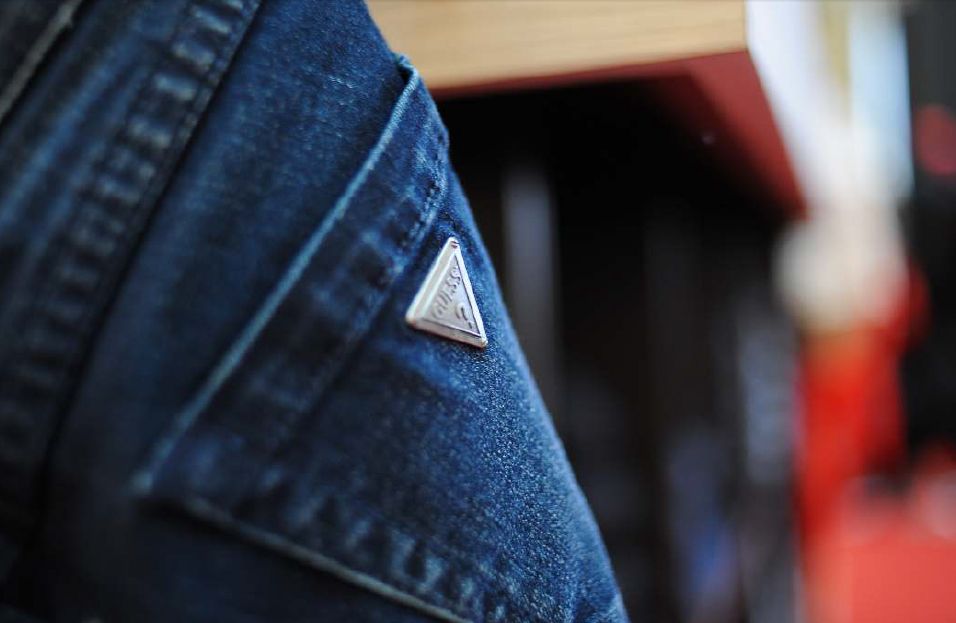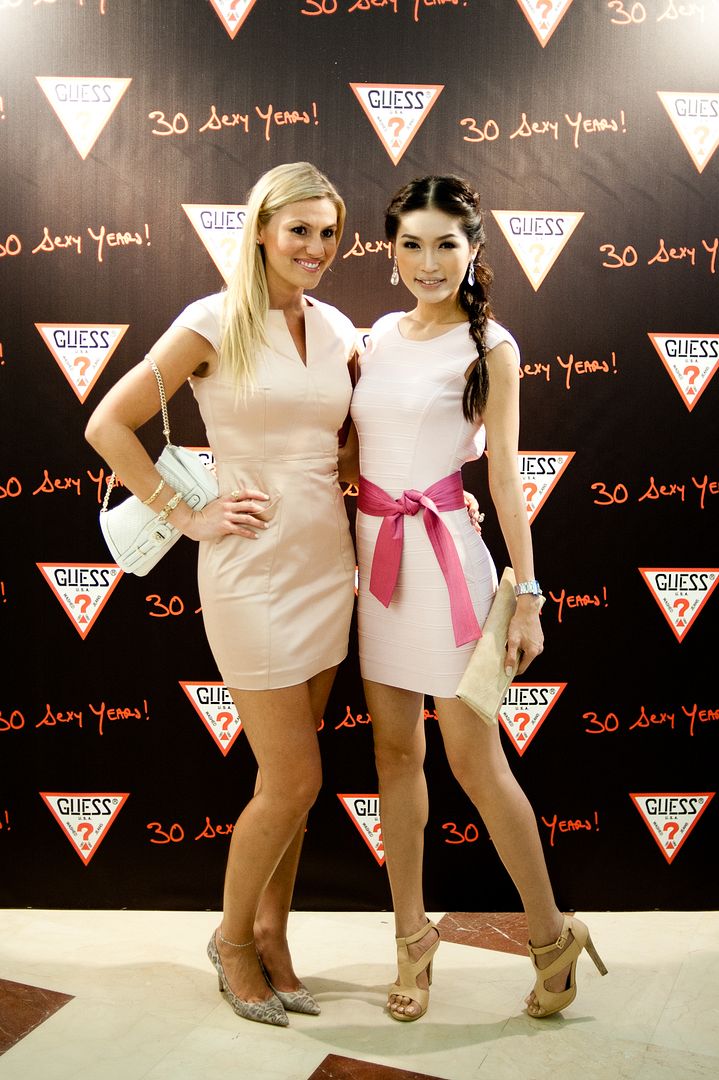 Amber Chia was clad in a slinky low-back dress from GUESS' latest collection.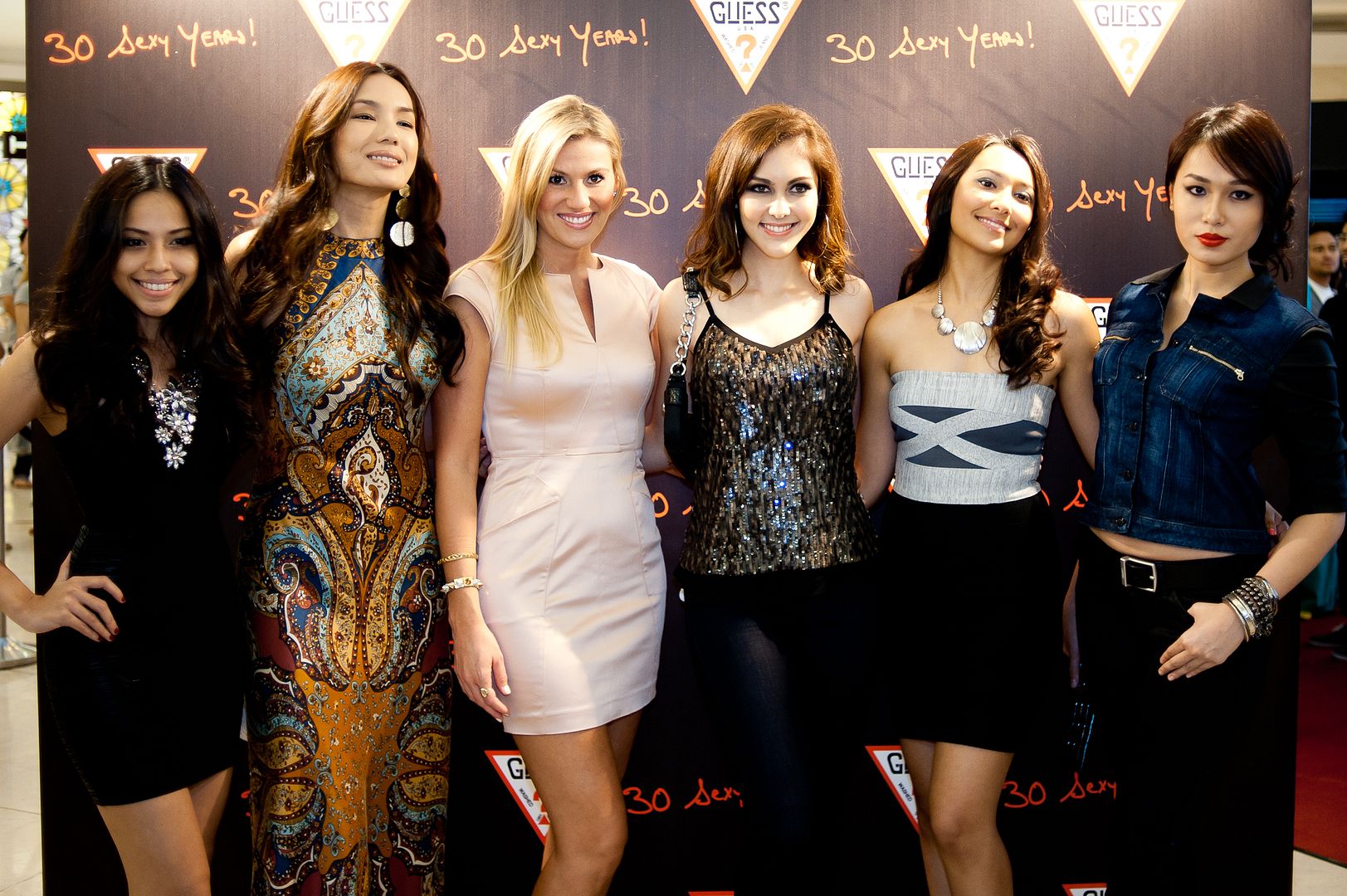 Also seen were Andrea Fonsenka and the Miss Malaysia alumni.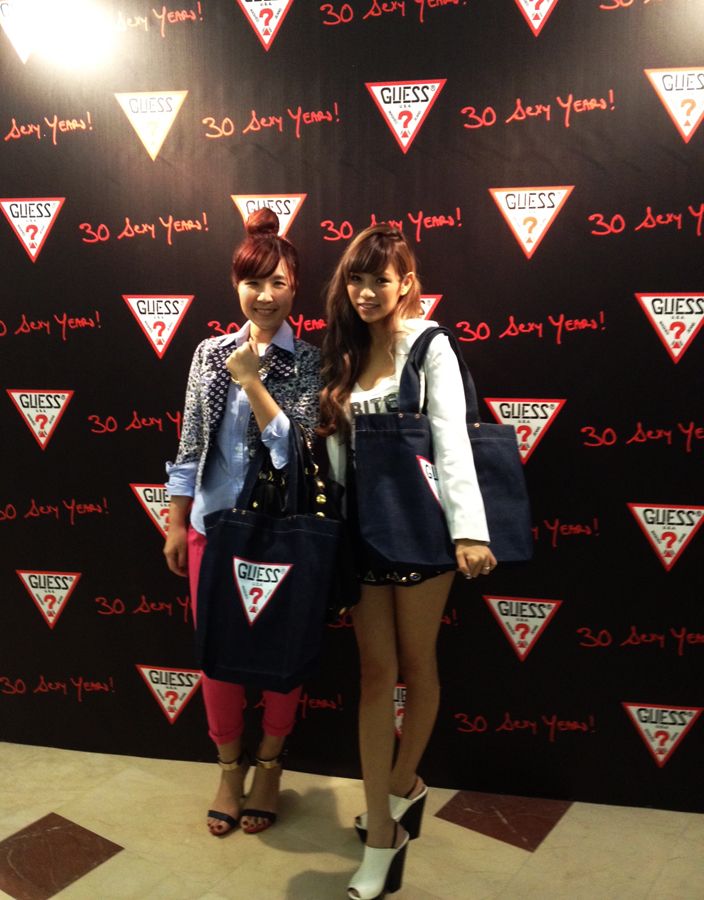 Flaunting our GUESS goodie bags proudly.
I am so crazy in love with the new 2012 Holiday collection by GUESS, you girls! All my favorite
elements in one beautiful collection: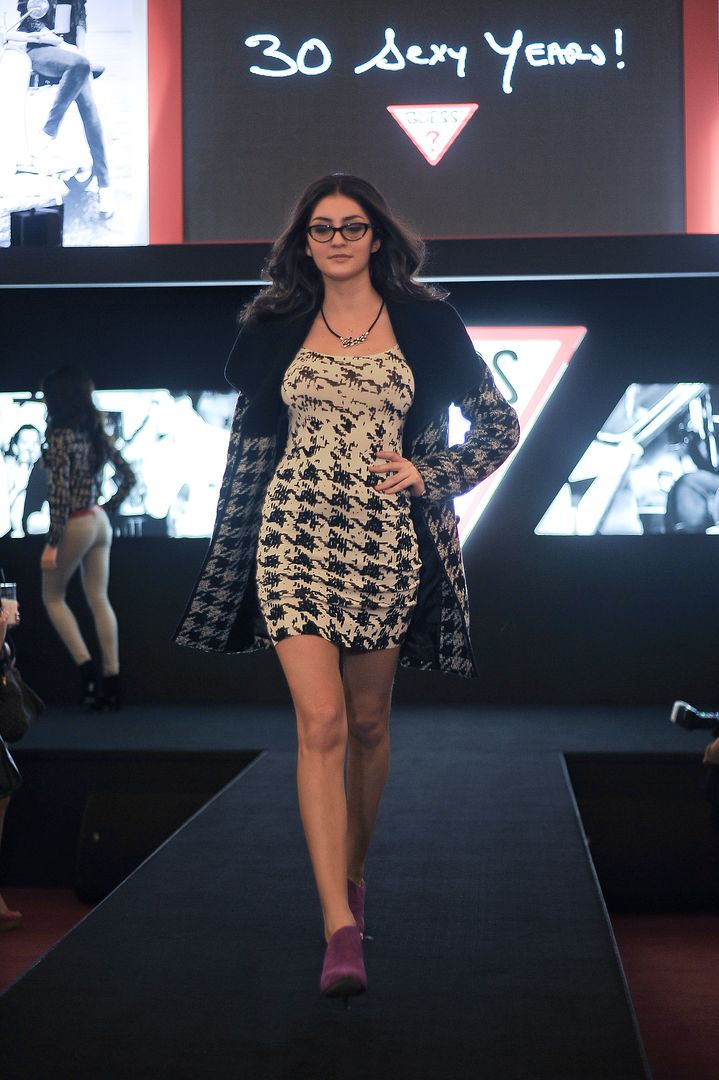 Print-on-print done to perfection, especially in the classic houndstooth print.
A vintage Americana feel is exuded for the men's collection, for example, knit cardigans. (love the
subtle houndstooth print here too!)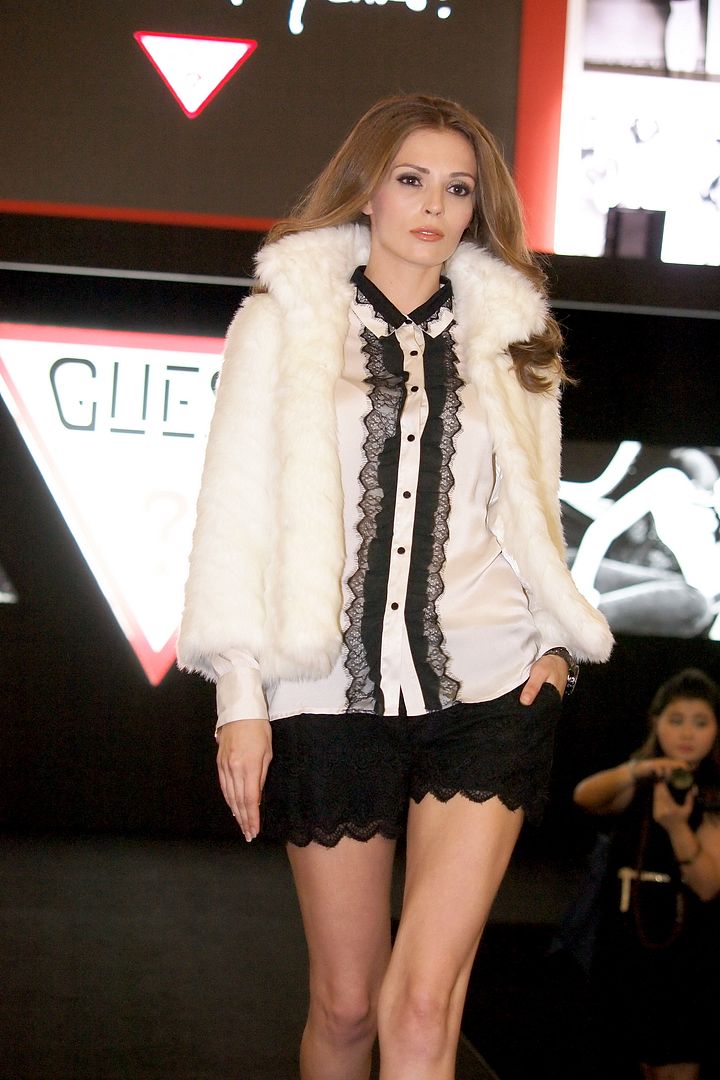 Loving the mixing of rich textures—silk blouses with lace accents AND with a fur coat. Yummy.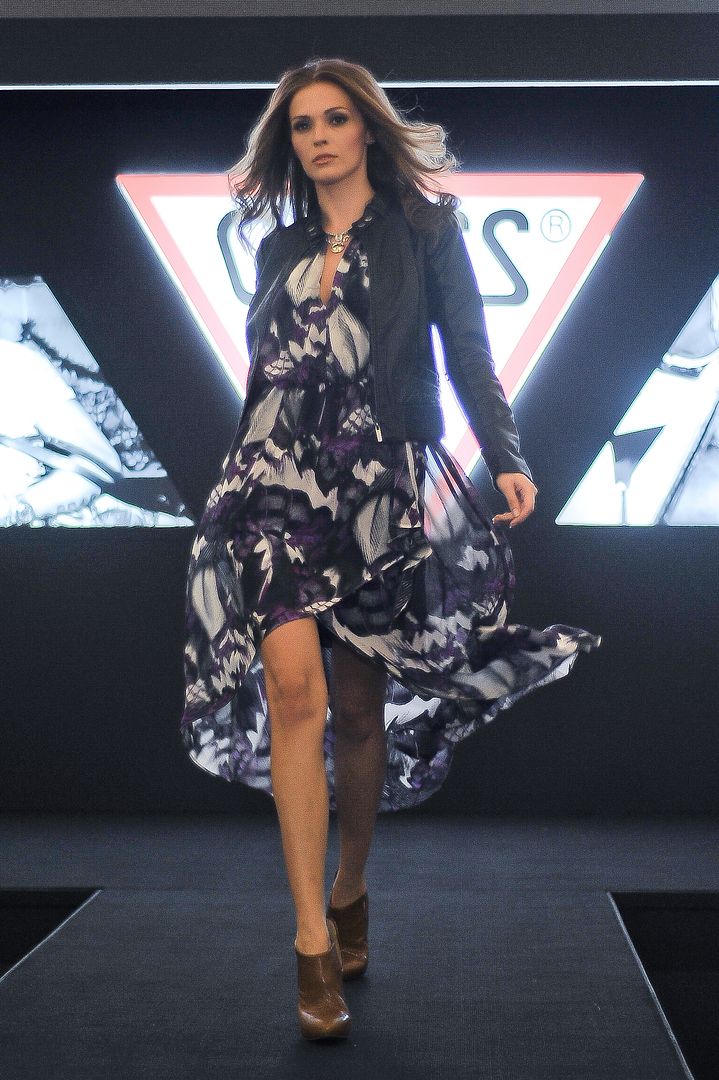 Wispy dress in a fluid print.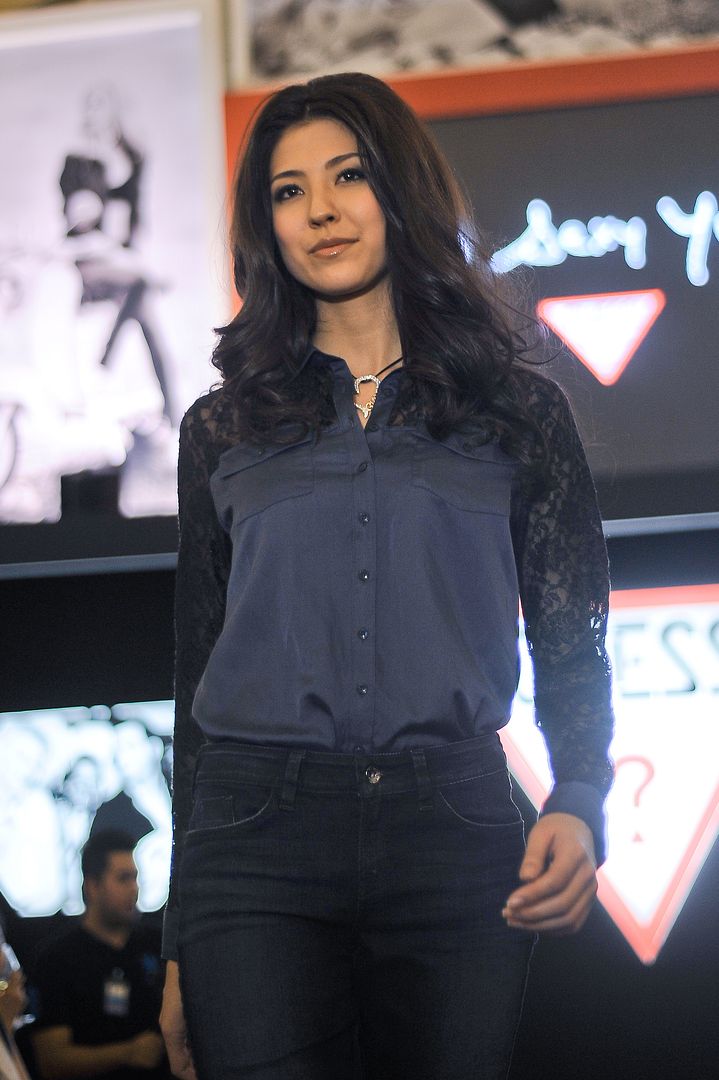 Another classy silky blouse.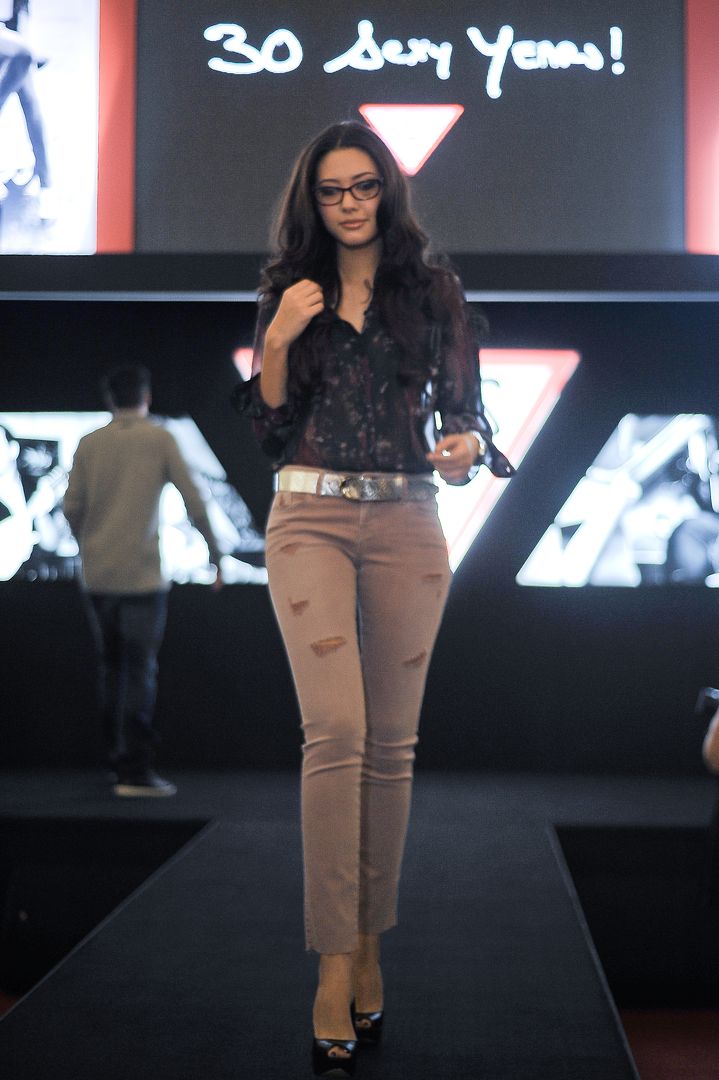 Adore the styling of this entire outfit! Must get my hand on that distressed Brittney jeans.
As mentioned earlier, the exclusive limited edition Tiesto Collection was also released on that day.
Tiesto's inspiration from electronic music and dance culture merged seamlessly with the free-spirited,
adventurous and sexy signature GUESS style, and the result was skinny-fit jeans, graphic print tees,
leather jackets and coated twill jackets, all trimmed with the custom GUESS/ Tiesto logo in black and
electric blue.
Some of the looks that caught my eye:
Two things that I am eying—these skinny jeans (can the fit be any more divine?), and the very
adorable model! Girl crush.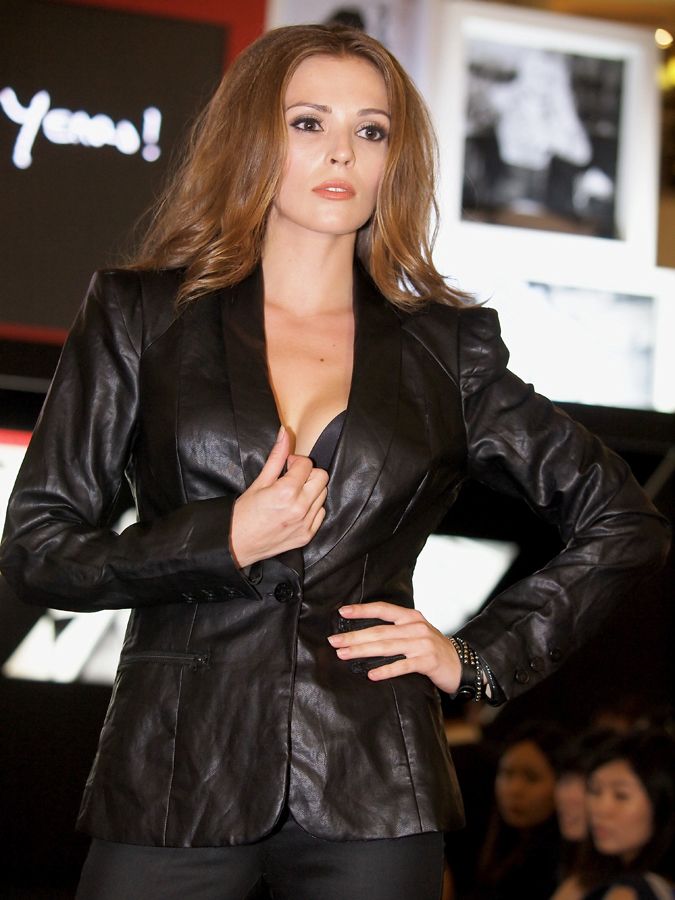 A sleek black leather jacket. Mmm.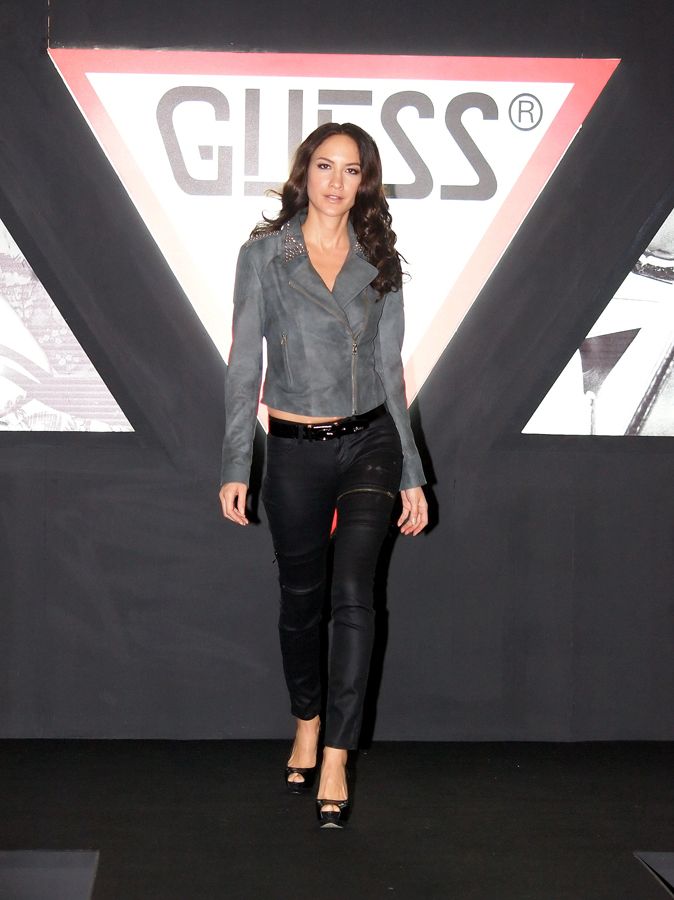 Leather on leather? Hell yea.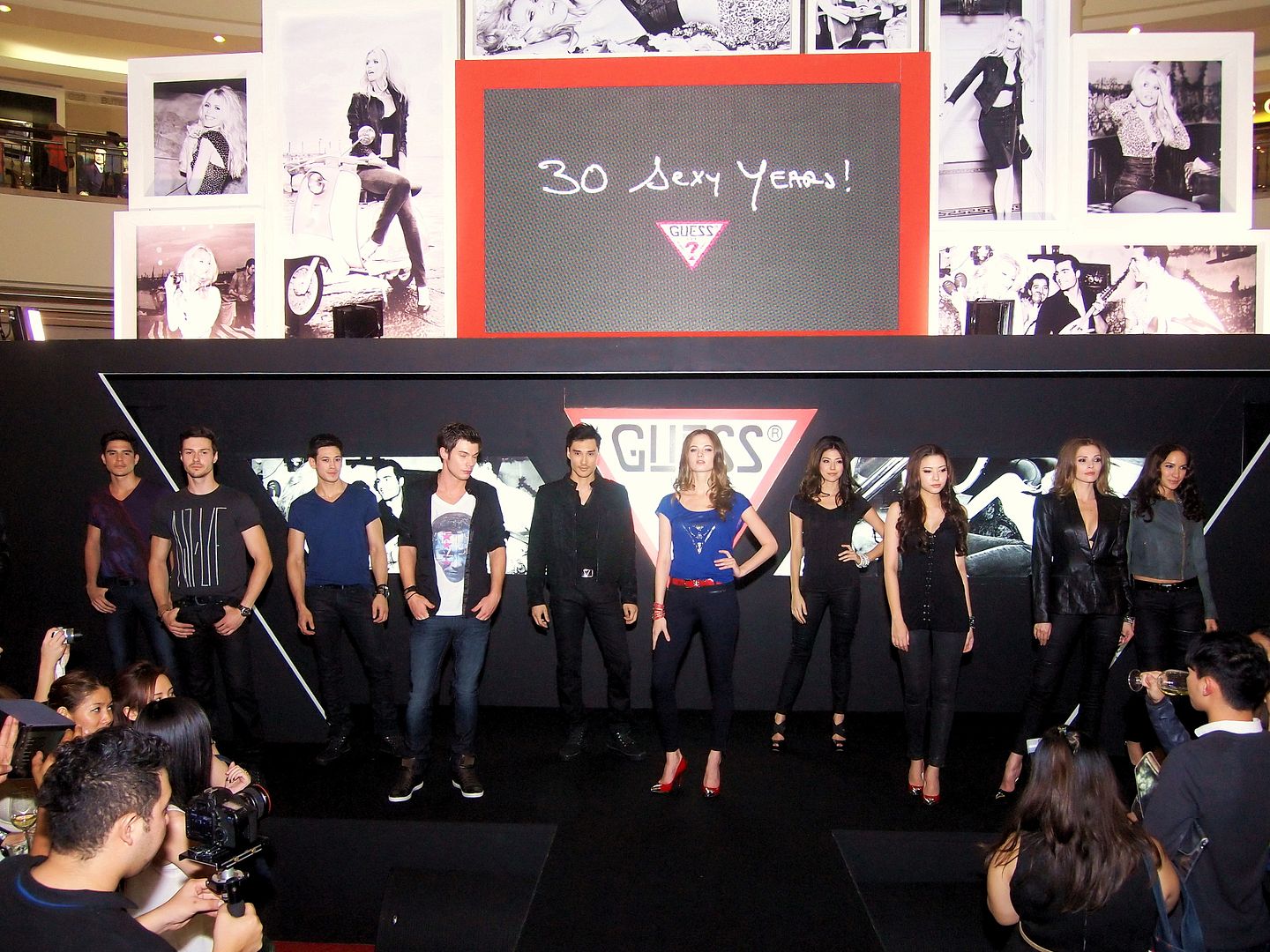 The ending looks for the Tiesto Capsule Collection's runway.
And it doesn't end here.
As part of its 30th birthday celebration, GUESS is running a series of shopping specials and weekend
giveaways from 1-30 October. Think
RM100 vouchers, RM300 specials and 30% off accessories
(for selected items)! Limited editions products are also available for sale during weekends along with free
giveaways to the first 30 GUESS fans. Also, if you are an October baby, you are in for a surprise on
29th and 30th October! Visit the stores for more information, and better yet, check in daily for
anniversary treats!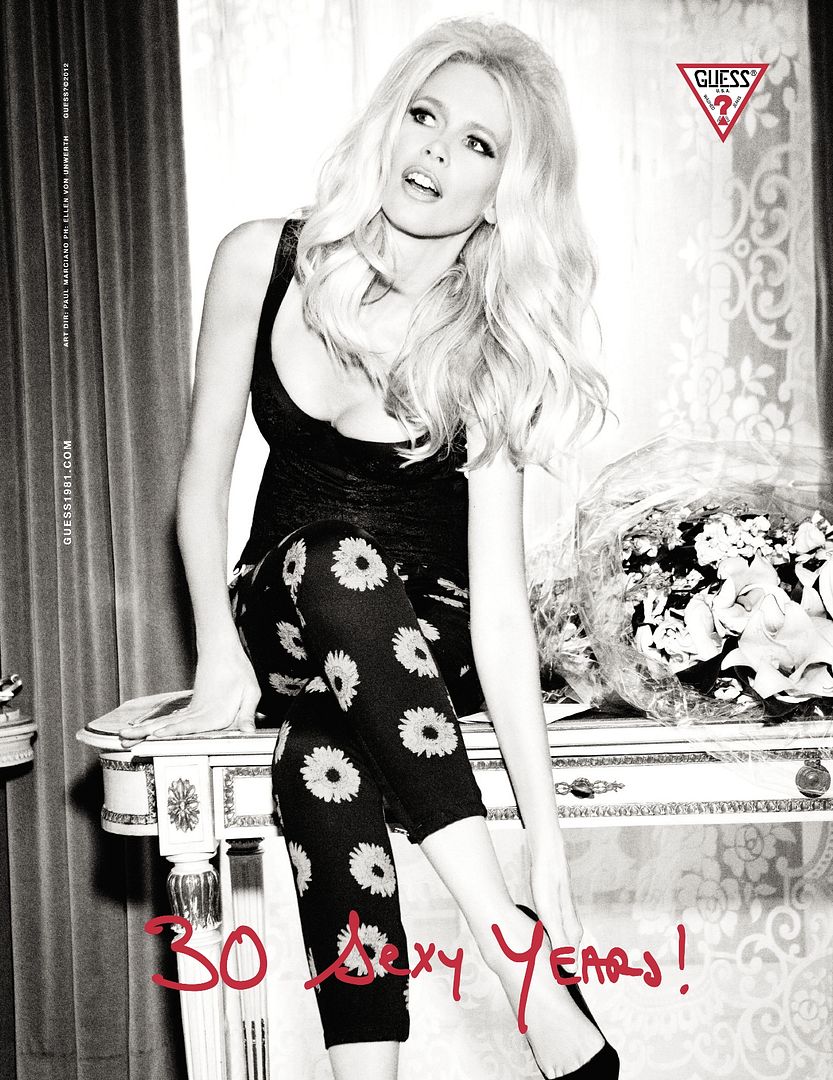 GUESS brought Claudia Schiffer back into the spotlight for its 30th anniversary campaign.
As for me, of course I will happily go on a shopping spree at GUESS, my first love! See you at a GUESS
store!