Sponsored post
So as you all know, I
checked into paradis
e 2 weeks back. Beauty paradise, in fact. I was invited by Panasonic to attend its regional launch for some products that will literally change the modern woman's life.
What products are we talking about?
Remember that I said that a special hamper was already placed in my room the moment I stepped in? When I stepped closer to the beautifully tulle-wrapped hamper, I muffled a delighted squeal: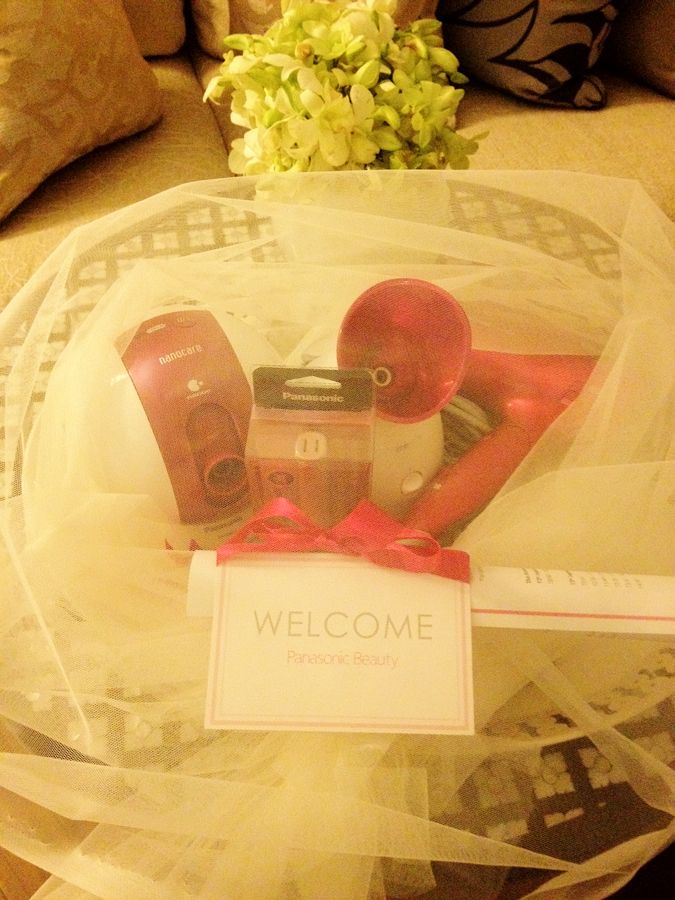 The prettiest products in my favorite shade of pink. :O
The thing is, having tested Panasonic products before (
here
and
here
), I know they are not just aesthetically nice to look at, but they have fab functions to boost! In my hamper, I received (L-R): the Nanocare ionizer, Pocket Doltz toothbrush, Nanocare facial ionic steamer, and Nanocare hairdryer.
All in the most glorious pink in the world!!!
A brief intro on these products:
(1) Nanocare facial ionic steamer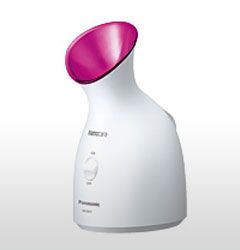 Panasonic's famed facial steamer is updated into a much sleeker and compact version (and so pretty too!). You can read my review on the facial steamer
here
. Its nano-sized steam particles penetrate quickly into skin for deep moisture retention. Frequent use of the facial steamer increases the firmness and suppleness of your skin—the perfect pampering home spa solution! I am really happy that it is much smaller and lighter now, making it much more portable.
(2) Pocket Doltz toothbrush
A sonic vibration toothbrush (operates at a whopping 16,000 brush strokes per minute) that is so sleek in design that you can easily bring it out (perfect for cleaning after meals). It looks like a mascara, no?
(3) Nanocare hairdryer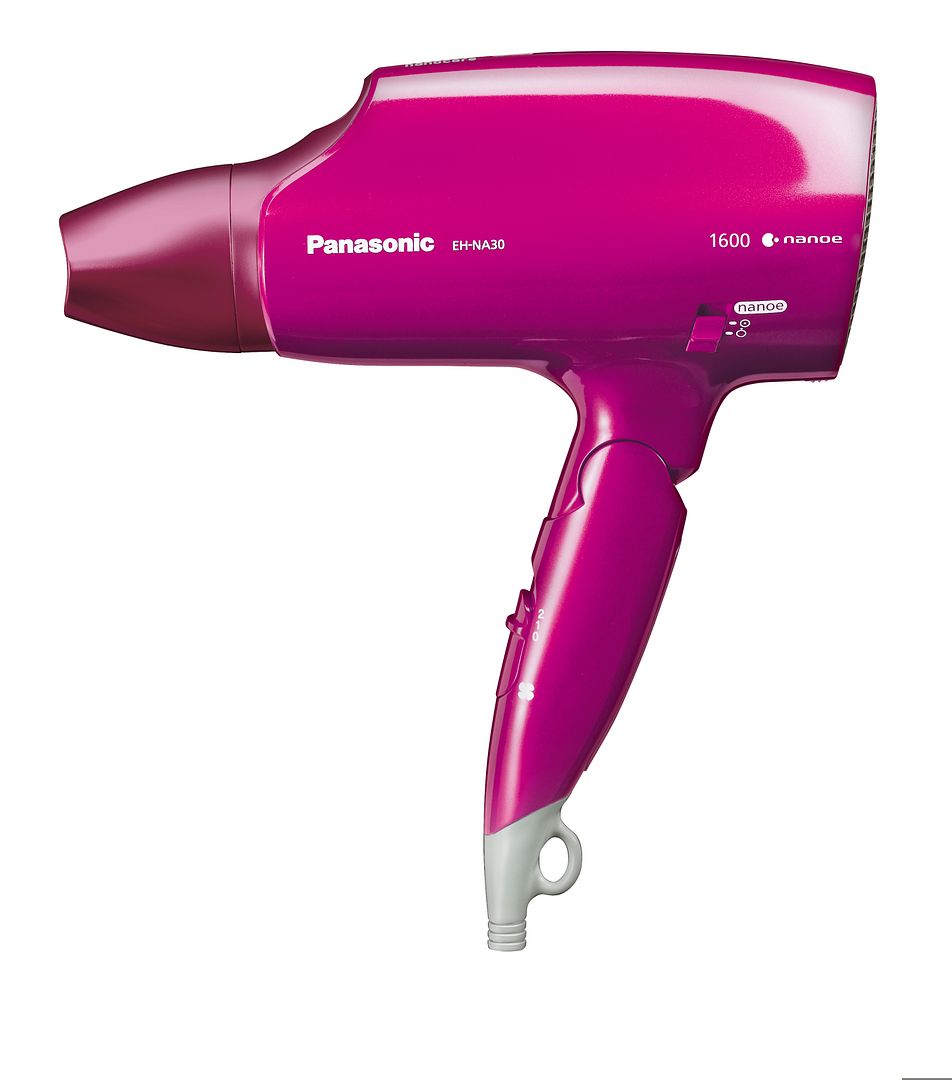 Aah, another one of my favorite products. Click
here
for my review on it. Using Panasonic's unique nanoe technology, the nano-sized moisture ions help to smoothen out hair cuticles and balance the pH of our hair—resulting in healthy and silky hair! Thank god Panasonic gifted me this new pink hairdryer. 'Cause Teeny loved the one I reviewed so much that she has stolen it off me. -_-
(4) Ionizer
This product is so new that there is no product image of it even! But I think it is one that may make the most impact on our lives. Firstly, you don't have to operate it all. All you need to do is to leave it on, and it will emit nano-sized moisture ions that will keep your hair and skin looking great! Isn't this the most awesome product ever?? I still can't decide whether I want to keep mine in my bedroom or in the office…
Anyway, during my 2-day-1-night stay in St. Regis Bangkok, we were given an introduction to these awesome products.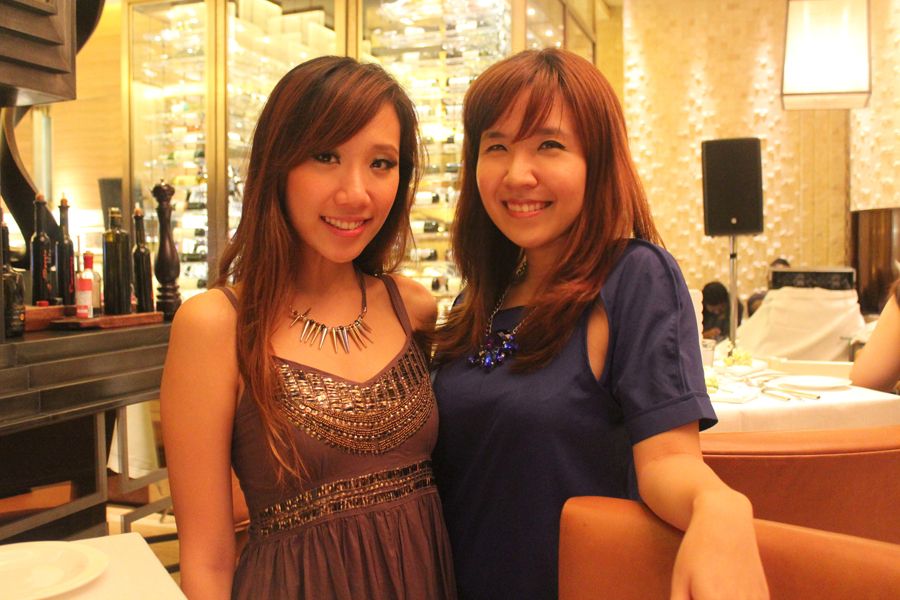 With Cindy, where we were treated to a fine dining feast, and mingled with Panasonic high management (mostly Japanese men, haha), where they shared interesting stories of Japanese women and their obsession with beauty!
For example, did you know that some Japanese cars already have ionizers inbuilt
IN
the cars because ionizers are scientifically proven to improve health and beauty!!!
In fact, Panasonic, having researched extensively on different types of women's hair, skin, lifestyle and perception of beauty, has had its products gaining dominant market share in the Japanese market. As such, Panasonic now wants to bring these products into South-East Asia. And hey, we all know how Japanese women take beauty really seriously right! If it's good enough for the Japanese women, it's good enough for me wtf.
The next morning was the official regional launch, whereby the aforementioned products will be unveiled for the first time in South-East Asia. Having already received the products the night before, I couldn't help but felt that I knew some delicious secret that no one knows about yet. :P
Panasonic beauty counter with a colorful array of Panasonic products. All the colors are so refreshing and uplifting!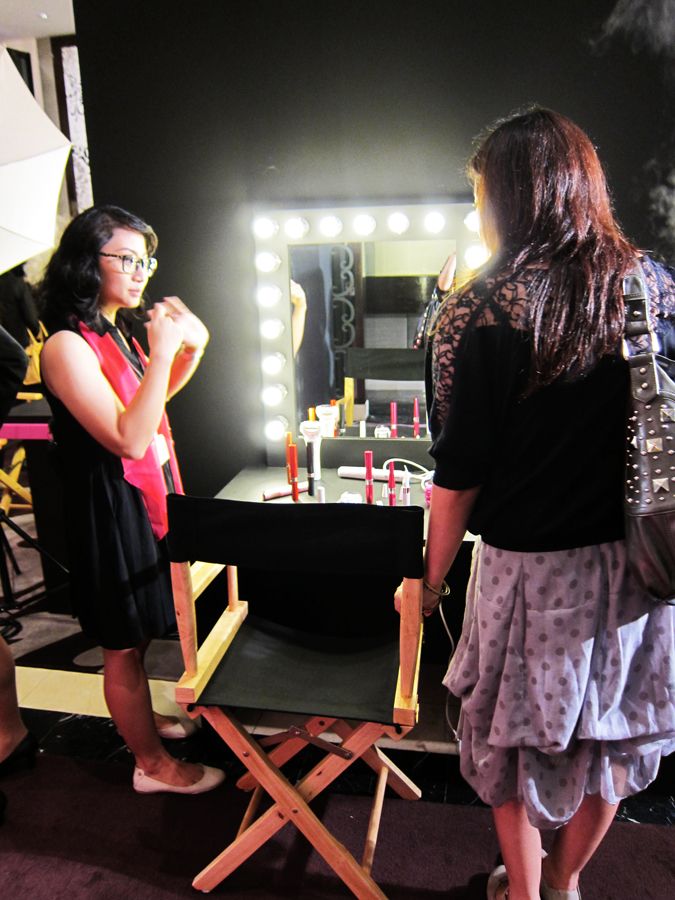 Experienced Panasonic staff was around to provide advice and tips on ways to use Panasonic products to make yourself more beautiful.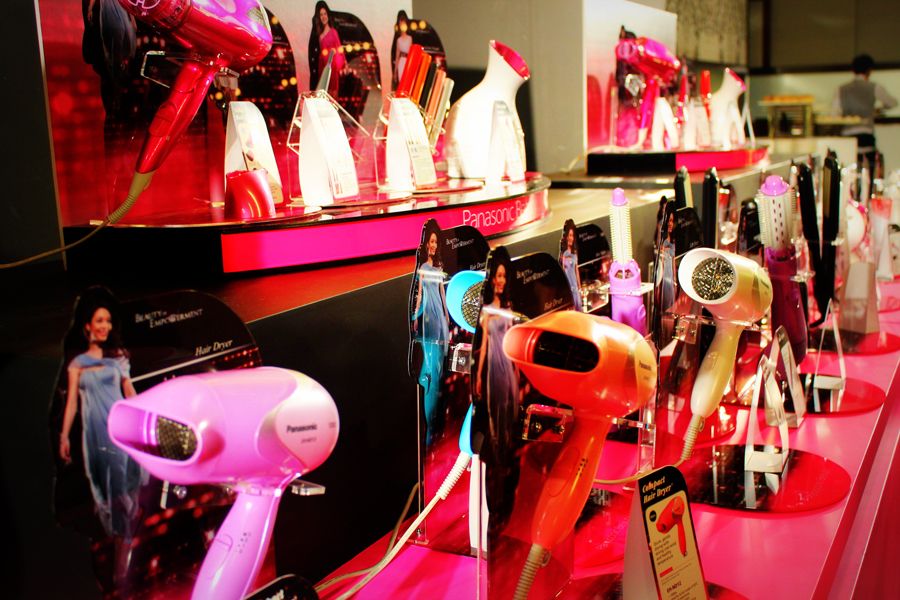 Spot my favorite (pink) Panasonic products! :P
Products that I love (and personally use) on this dressing table—the Pocket Doltz toothbrush, the eyelash curler (hot pink tube), the epilator and the hairdryer.
If you observe closely, you may notice these products are really sleek and handy/ tiny, which is perfect for us busy ladies who do not have time to keep up with our grooming needs, as we will be able to do it anytime, anywhere.
During the launch, Panasonic also revealed their four new ambassadors:
(L-R) Marion Caunter (Malaysia/ Singapore), Atiqah Hasiholan (Indonesia), Urassaya Sperbund 'Yaya' (Thailand), Duong Truong Thien Ly (Vietnam).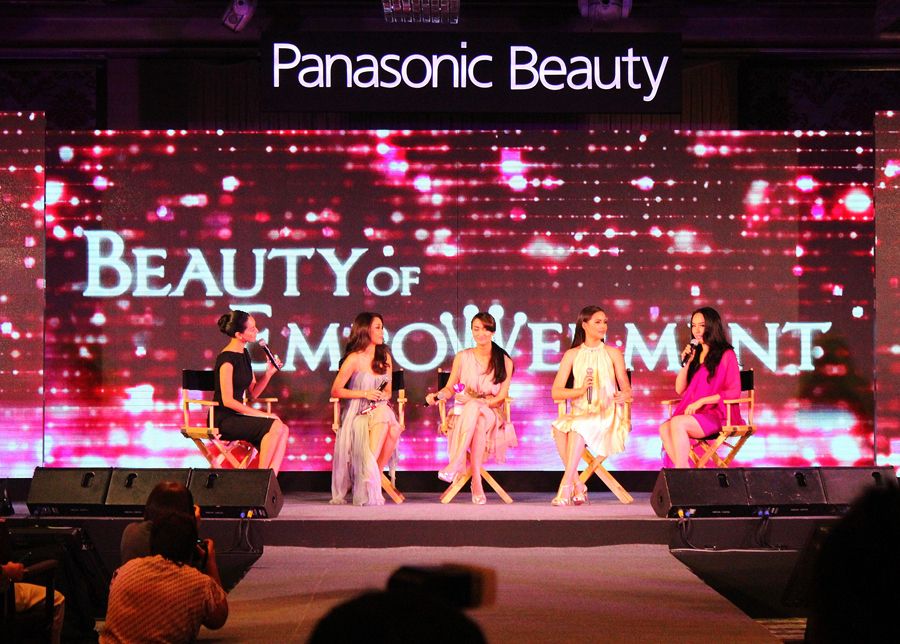 The four ambassadors sharing their thoughts on the new Panasonic products. They all simultaneously agreed that not only are the products pretty to look at, they also deliver impressive maximum results!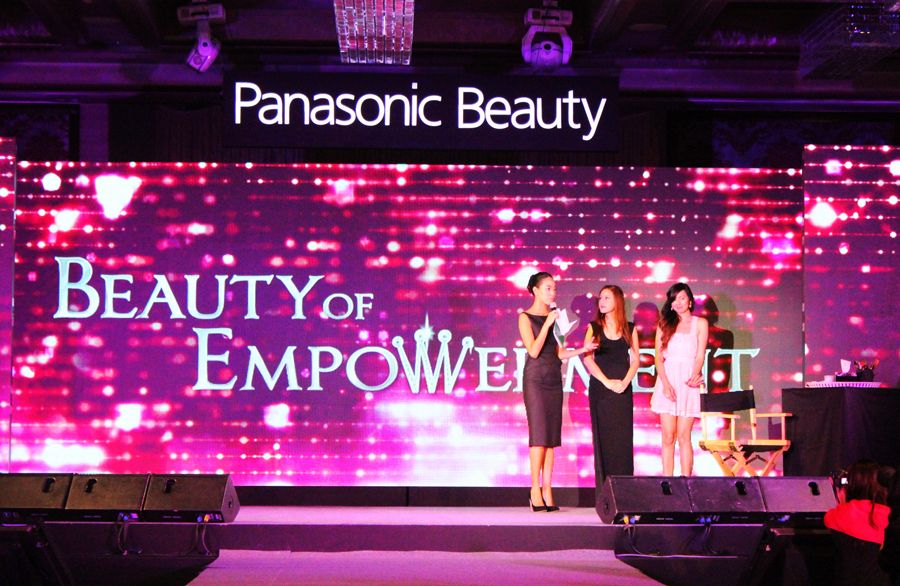 Panasonic also invited one of my favorite Instagrammers, Pearypie (renown makeup-artist in Thailand) to demonstrate some make-up tips using Panasonic products. Pearypie is also a
famous Youtube guru
, and I honestly cannot think of a more perfect person to do the job!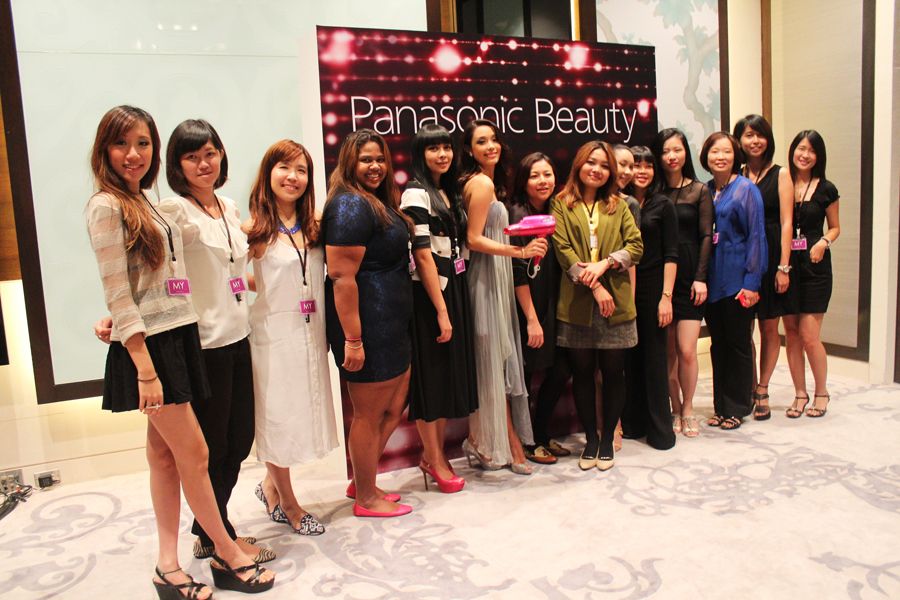 Malaysian media team with Marion Caunter.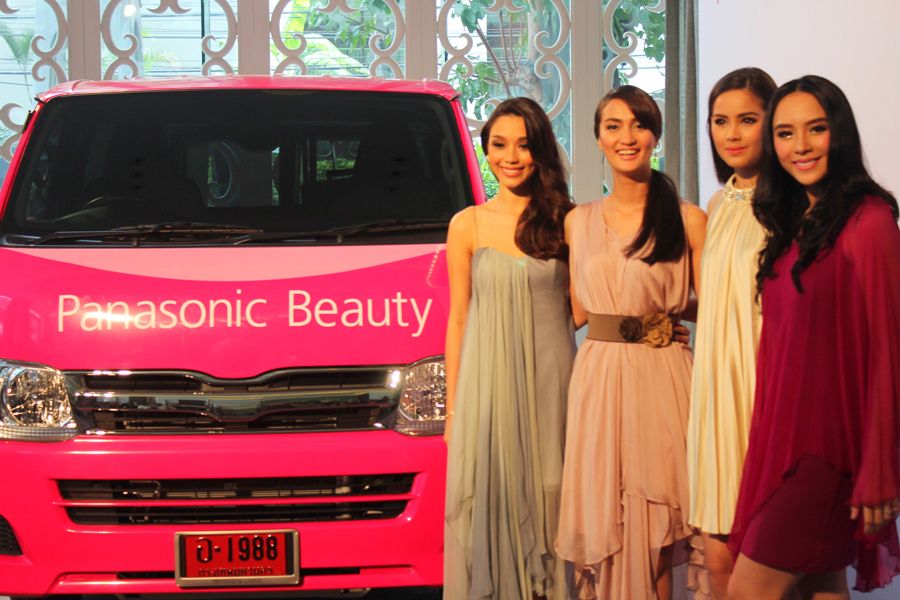 Panasonic Beauty Wagons will also be roving from country to country, offering a "touch and try" experience of these products. So hail the pretty pink vans down if you see 'em! For more details about the Beauty Wagon, click
here
.
Consistent with Panasonic's catchphrase "Beauty of Empowerment", I can really identify with these products because I think that they perfectly complement the modern active and busy woman! If you are a woman on the go, and appreciate easy yet effective products that deliver optimum results, do visit
http://panasonic.asia/beauty/
for more details.