I mentioned *
here*
that I will do a proper room tour of our hotel room, so here it is!
We stayed in Festive Hotel (part of Resort World, located at Sentosa Island), which is supposedly the least impressive hotel out of all the of RW hotels in SG (they have six, I think). We flew into Singapore on a Friday night (as Teeny and I had work), met Jing at the airport (she flew into Changi airport from Sydney), and by the time we checked into the hotel, it was midnight!
I have a funny story to share. My mom was the one holding the hotel room key, and she was walking in front of us-- Jing, Teeny and I were trailing few steps behind, too busy chattering away and catching up. My mom slit the card key into the door card slot, swung the door opened, and she stopped in her steps, gasping
"Oh my god, there is something in the room!"
The door blocked our view, and being the drama queens that we are, our immediate thought was that "SHIT THERE IS A GHOST IN THE ROOM", hehe. But I swear to god that
"there is some THING in the room"
sounds a lot worse in Cantonese-- very suggestive wtf. Anyway, we pushed the door open apprehensively, and didn't see any ghosts, but instead we saw a few pieces of foreign luggage. Turns out that the hotel staff sent the wrong luggage into our room. -_____________-
Anyway, after all our initial paranoia, we finally got to soak in our room's ambiance, and this was what that greeted us: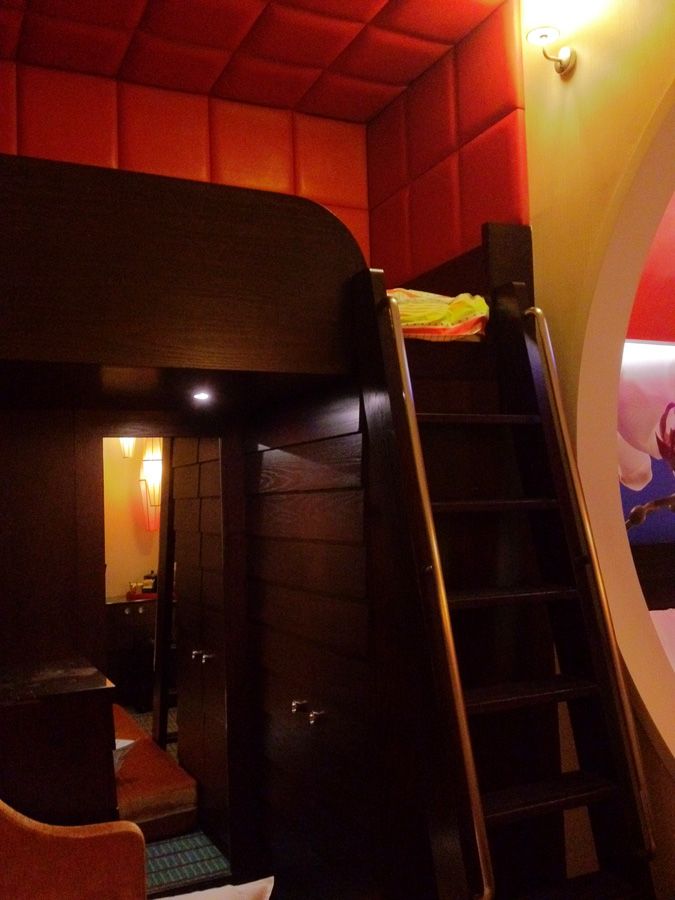 The room was supposed to sleep 4 people (i.e. Mom, and the three of us sisters), and I suspect that this is actually a children's bed of some sort. But yippiedoo, lucky me for being the shortest, so I got relegated to sleeping here for 2 nights. T____T
The steps are really steep, and it was a bitch trying to get down because I kept on trying to get down like it's a flight of stairs wtf. And perhaps it is an appropriate moment now for me to announce that I have a phobia of heights. So my family was really cruel for making me sleep there!! Tsk tsk.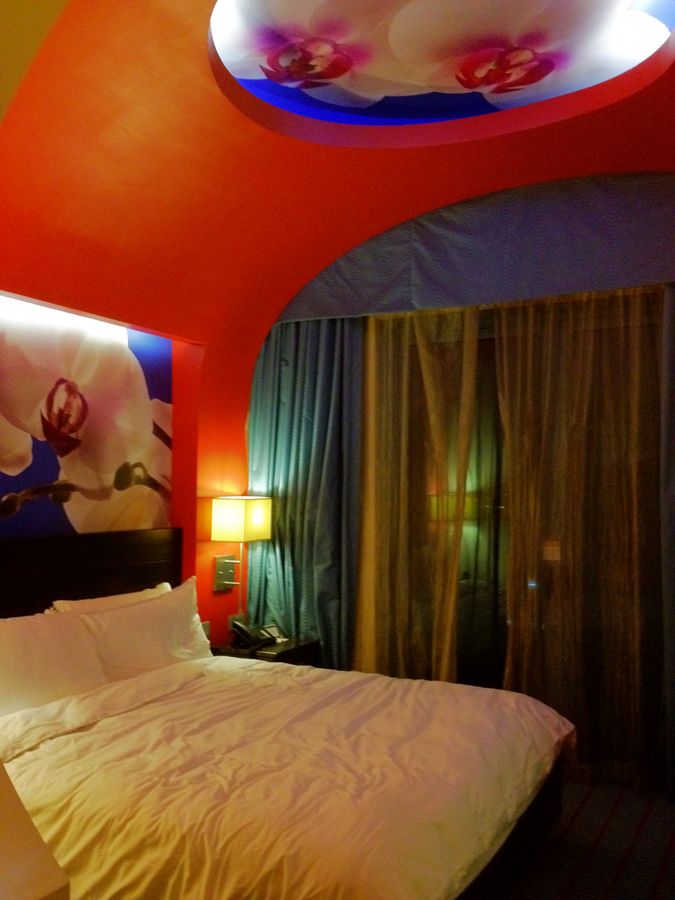 The main bed area. I really wanted to sleep here because the mattress/ comforter was really fluffy and comfy! But we all know where I ended up right wtf.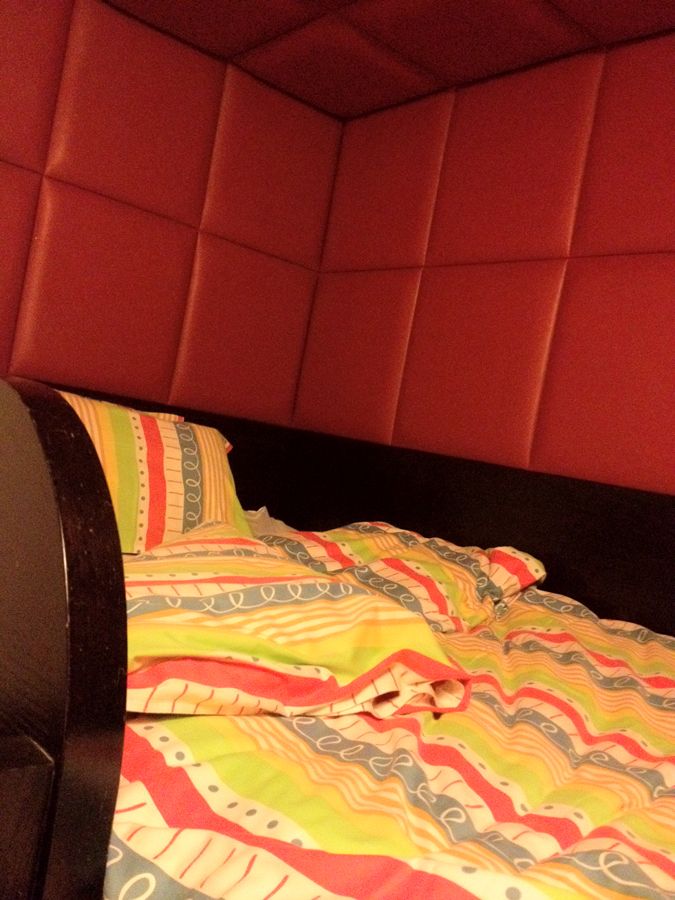 Yep, here. It wasn't that bad, to be honest. And I got leather padded walls. Like a psycho patient wtf. Anyway, I could fit just nicely into the bed (my toes were grazing the other side of the wall), so I doubt that my sisters or my mom could sleep here.
*noble*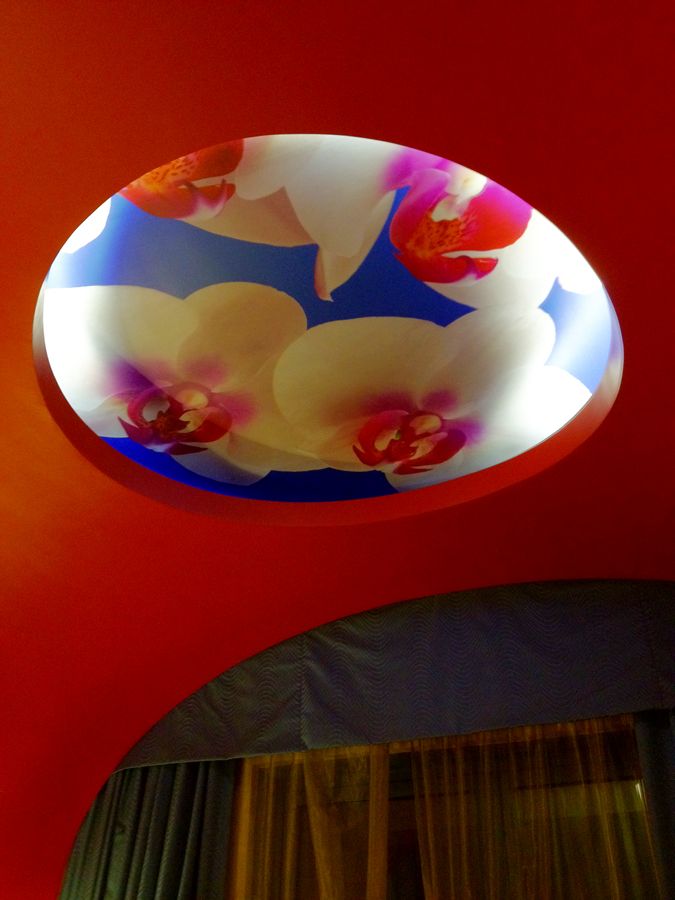 Possibly one of my favorite parts of the room-- this orchid mural on the ceiling.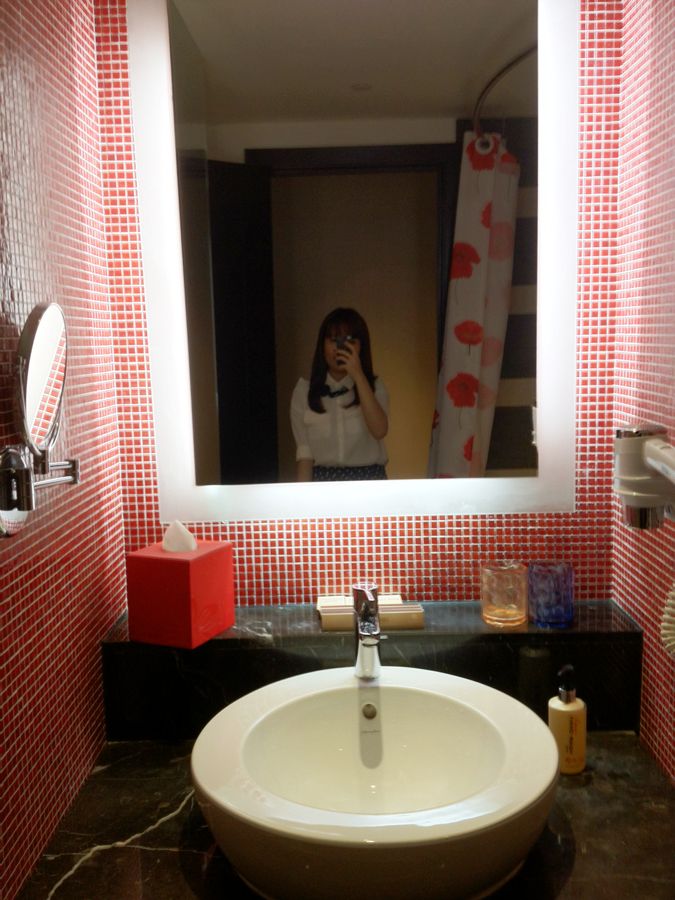 Wearing AZORIAS white shirt and polka-dot shorts.
Click *here* for more outfit details.
The red theme carries into the bathroom as well, which I thought was quite unique, because most hotels utilize simple white/cream color themes.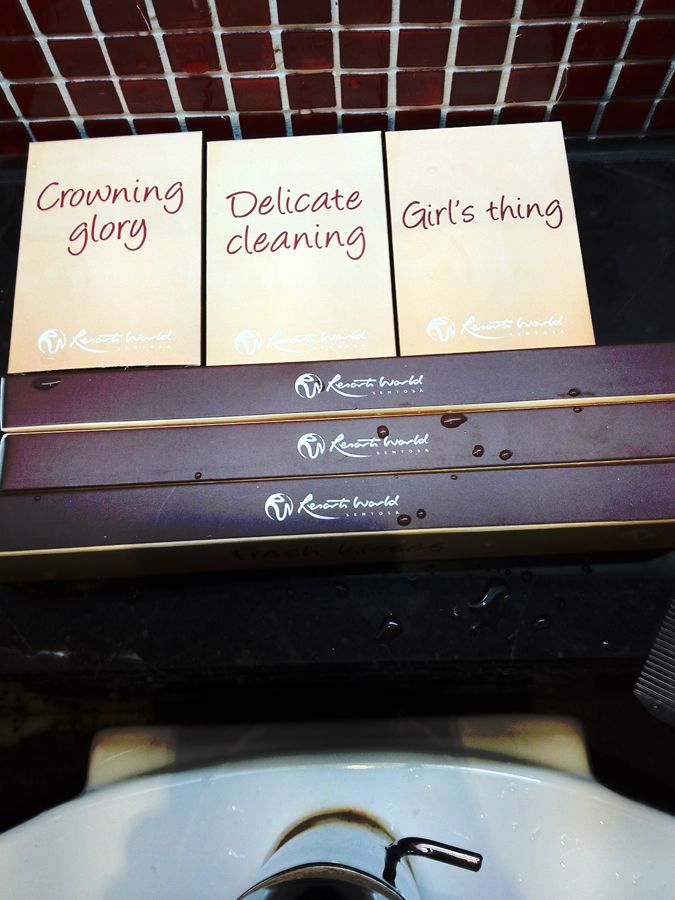 Cute names for the toiletries!
Again, colored/ printed shower curtains are very rare in hotels! We all agreed that hotel room was quite nicely done, and reminded ourselves of a quaint boutique hotel.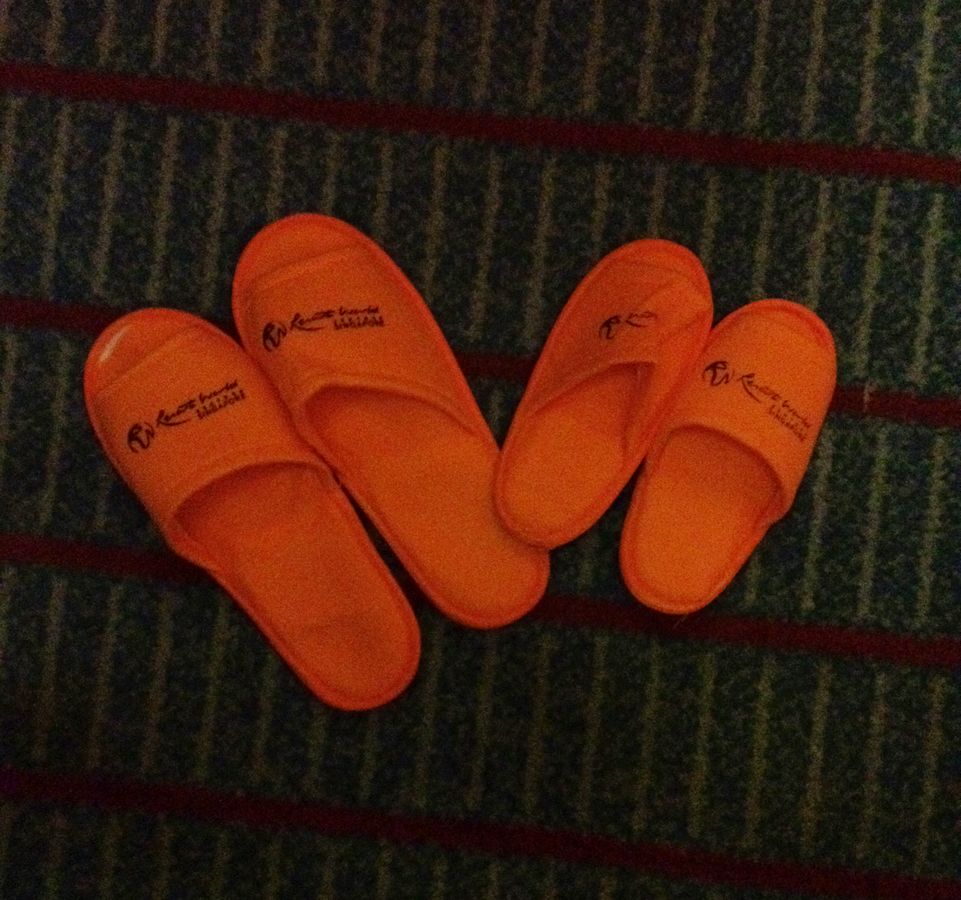 There is one fugly thing with the room though-- these neon orange slippers. :/ There is a family joke that I am the smallest in the family, so guess who got assigned the kid's slippers. -__________-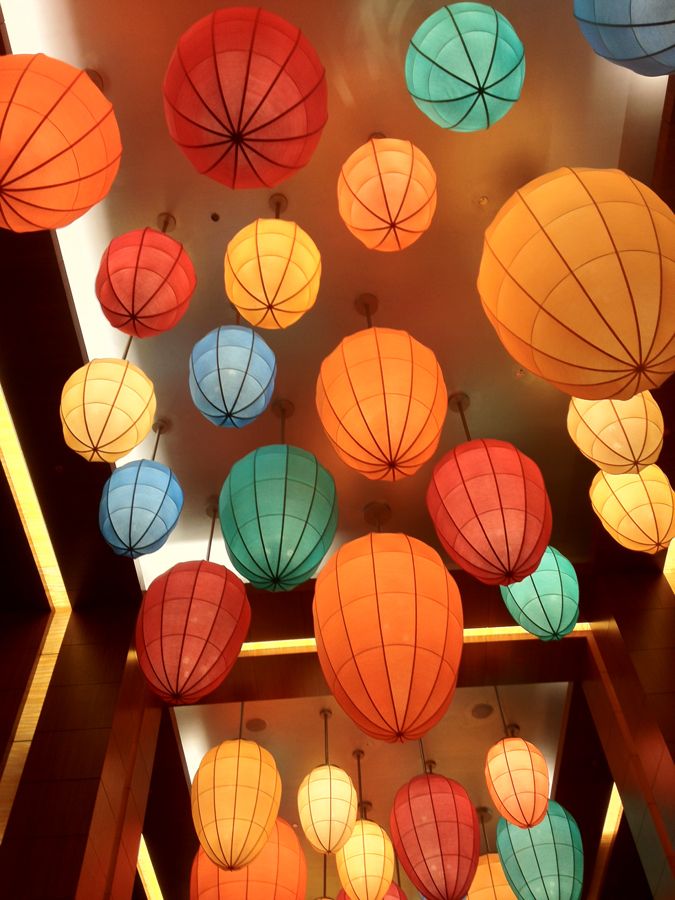 Lanterns in the lobby. I posted this photo up on
Instagram
, my sisters and my mom were so puzzled when they saw it. "Where did you see these lanterns?" they asked. If only they looked up when we were checking in. ;)
Anyway, it's definitely worthwhile to check out different hotels in Singapore because the boyfriend and I are exploring spending NYE in Singapore as we are attending a wedding dinner in Johor Bharu on 30th Dec, and we will need to find somewhere nice-ish but affordable to stay. But what do Singaporeans do on NYE ya? I have never spent NYE in Singapore despite working there for 2 years plus! :O