I would be lying if I say that
sometimes
,
most times
, fine, ALL the time, I think longingly of the beautiful weather and scenery that my sister and friends in Australia enjoy. Based on my experience, somehow countries with 4 seasons always have more scenic environments, whether it's winter or summer! And spring/ fall is always heavenly. I am most envious of all the beautiful outdoors at these countries! Able to cycle around lush parks, have picnics under the tree.... Aah.
For me, the closest that I can come to such activities in Malaysia is in Desa Park City. Sometimes when the boyfriend and I have nothing to do, we will just pop by at the park and just take a leisure stroll, cooing over the puppies brought out for walks (cooing only done by me). Once, we even walked into the middle of a dog obedience exam! There were at least thirty dogs of all kinds of species then, all waiting for their turn at the test. It was quite hilarious to some of the more stubborn dogs at the exams, hehe.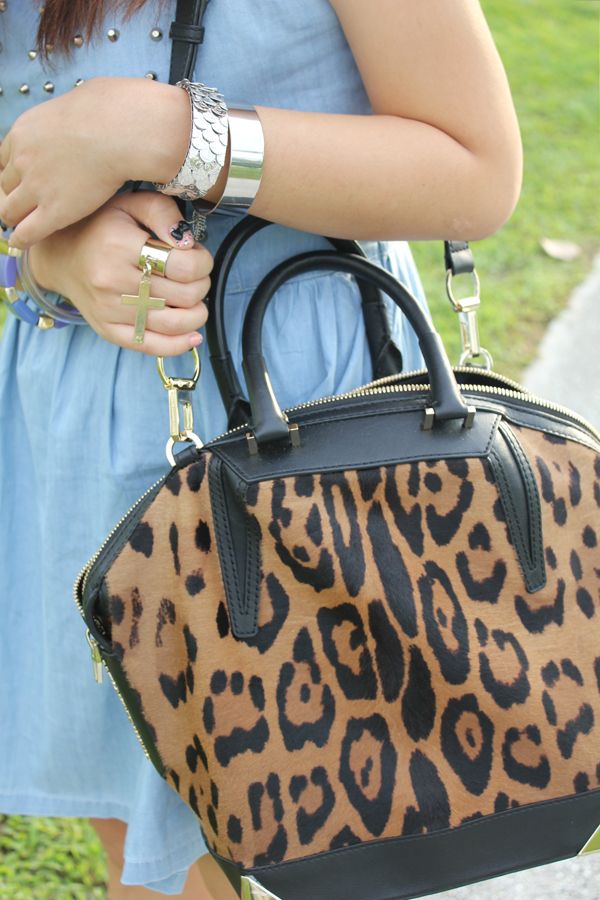 I harbor secret dreams that one day I will bring my own puppy for a walk at Desa Park City! Well, not so much a secret now since I have told you guys. ;)
Like I mentioned, our walks at Desa Park City are usually pretty impromptu! Hence I was caught in heels. My new favorite heels by the way. And I am aware that at a glance, I looked like I was tiptoeing, haha.
Studded chambray dress: AZORIAS
Bangles: Topshop/ H&M/ Korea
Ring: Maria Francesca
Sunnies: Celine
Ankle strap shoes with perspex heels: Jeffrey Campbell
Bag: Alexander Wang Emile tote
Denim and studs? Oh yes please.
Just remind me to not wear to to the airport. I bet the metal sensors at immigration checks will have a field day.