Moving on to Day 2 in Hong Kong! Supposed to blog about this really fab dinner we had on our first night in HK, but I don't really feel like doing so when I am hungry wtf. Onwards!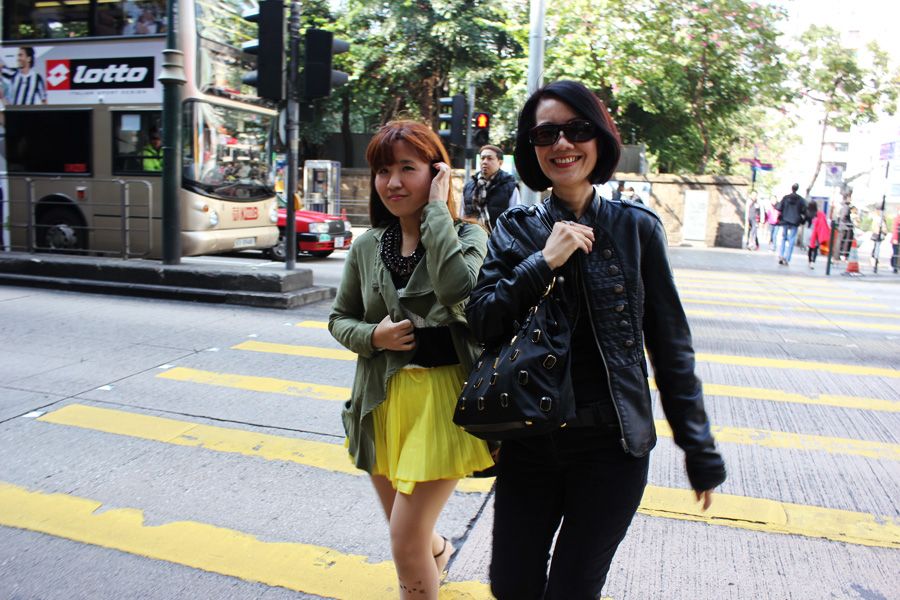 Walking to the Miramar shopping centre to have dim sum. One thing I have to admit, although our hotel wasn't really luxurious, its location is top-notch-- right at the heart of Tsm Tsa Tsui, and barely 5 minutes away from the nearest train station (Jordan station).
Looking quite tired 'cause I didn't sleep well the night before. :(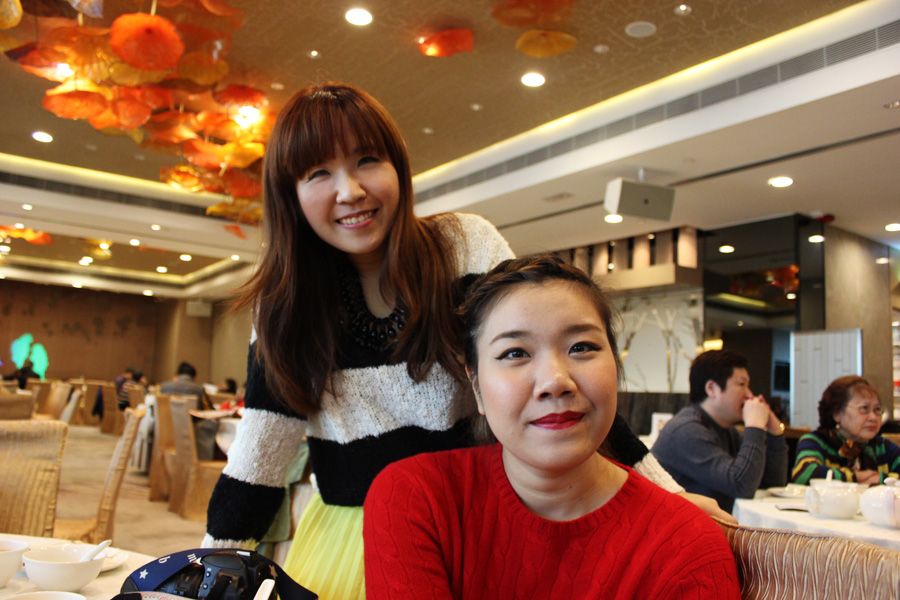 Loved Teeny's make-up and hair for the day (braids everywhere wtf)-- went really well with her Ralph Lauren sweater! Which reminds me, I totally want to steal this sweater to match with my mom's new red Jimmy Choo diamante heels bought on the same day-- more on that later.
Ceiling of Tsui Hang Village, where we had dim sum. I can't decide whether this is gaudy or art?
There is a private joke in our family that we three sisters run in sizes S, M, L-- in reverse; i.e. I am the tiniest, Jing is medium-sized, and Teeny is the tallest. So when our char siew pau came in three different sizes, our Mom forced us to pose with them. -__-
All three paus looked the same size in the photo. -_______-
Egg tarts, a must have in Hong Kong! But this one wasn't THAT good (bearing in mind that I have exceptionally high standards of egg tarts). Somehow my best memory of Hong Kong egg tarts is a fresh-out-of-the-oven one that we came across in a dinghy small bakery shop amidst the hustle and bustle of Flower Market (Kowloon) many years ago....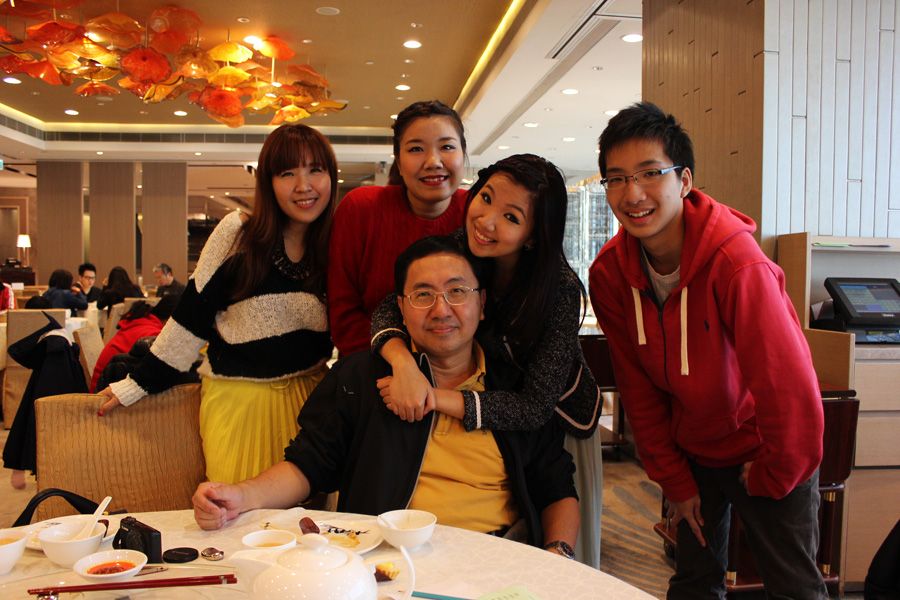 With Dad! I know that he is the happiest one when the whole family gets to reunite for a holiday. :)
There is a temporary lapse for the middle portion of our day 'cause we spent it in the Prada outlet store wtf. Situated in Ap Lei Chau (more directions
here
), I would consider it a must-go if you are a Prada/ Miu Miu lover and have a bit of money to spare.
Shoes are a steal here, sometimes going for 90% off! I saw a pair of Miu Miu patent bow peeptoes (in my size) going for RM200++. Cheaper than Nine West or Aldo shoes okay. -___- Would have totally snapped it up in a heartbeat if I was still working in corporate, but I gave it some thought, and decided that it isn't really my style, so while it was an absolute bargain, I gave it a pass. Clothes are reasonably-priced too (in terms of the brand that you are getting), both Jing and Teeny got Miu Miu skirts for RM400++ each.
If Prada is not your thing, there is another outlet mall nearby which can make your trip to Ap Lei Chau (about half an hour from Tsim Tsa Tsui) worth your while. Horizon Plaza, which is about a 5 minute cab ride away, boasts of outlet stores like Moschino, Ralph Lauren, Vivienne Westwood, Lane Crawford (one of the biggest luxury department stores in HK), Armani, and basically any brand you can imagine. I would recommend to just hop into a cab than walking because it would be quite a far walk, and not to mention, you may get lost. Alternatively, you can take a shuttle bus (from one of the bus stands outside South Horizons Plaza, where the Prada outlet is) to Horizon Plaza.
We went to have a look-see since we were so near. There was only one flaw in our plan-- we haven't had a proper lunch! Sure, we had dim sum earlier on, but that was more of a brunch, and everyone knows that dim sum gets digested really quickly right!!
We thought we were really smart to go to Horizon Plaza and grab a meal there-- but alas, there are no proper eateries in the mall, as opposed to what the travel guides/ brochures may tell you. The only place we found was a ginormous fancy furniture shop which happened to have a cafe inside. So we dropped in to have a quick bite (we were actually really itching to just start shopping, to be honest).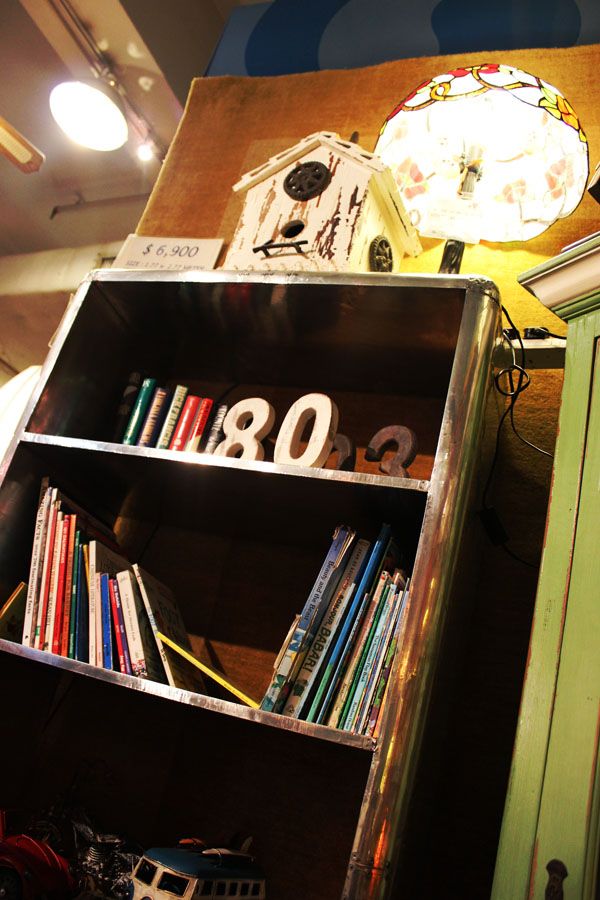 RM2700 for a bookshelf? Yep, you better believe it. That being said, I really liked the decorations/ furniture in the shop though! Can't resist anything quaint/ old-school/ charming!
*cries*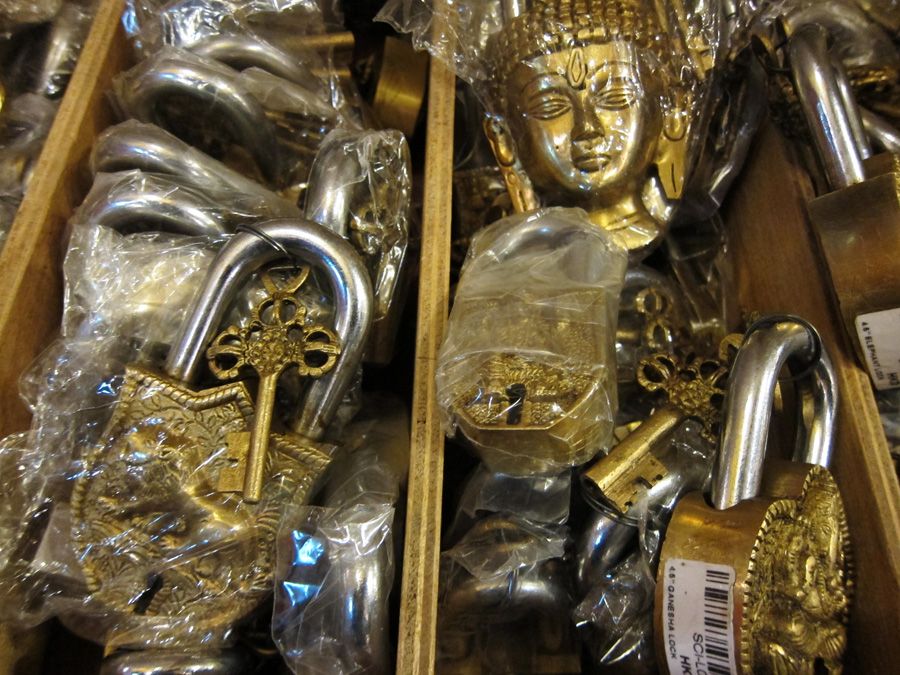 Found these really elaborate lock and keys in the shop, omg I LOVE. There were all kinds of designs, and check out the intricate keys that came along!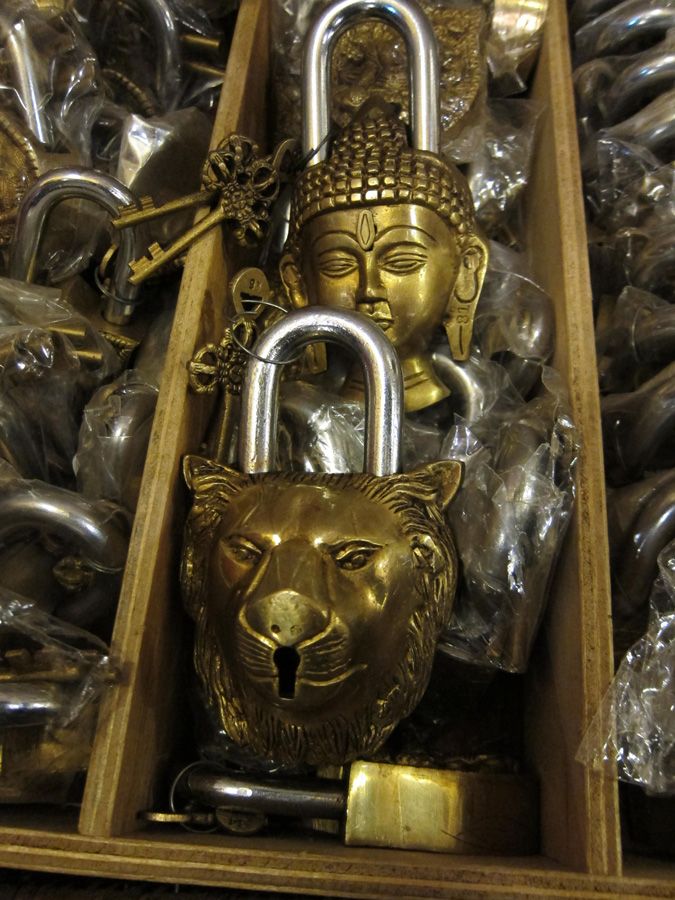 We were joking that we should buy the Buddha lock and put it on our house door. And if a robber comes to our house (not entire impossible, considering the current crime rates -_-), the Buddha will be looking at the robber, judging him, and hopefully will unsettle the robber a little wtf.
With my favorite lock of all-- the lion head one! Wanted to buy for my luggage bag WTF.
These locks are really really heavy though! And they cost about RM160++ each, in case you are wondering.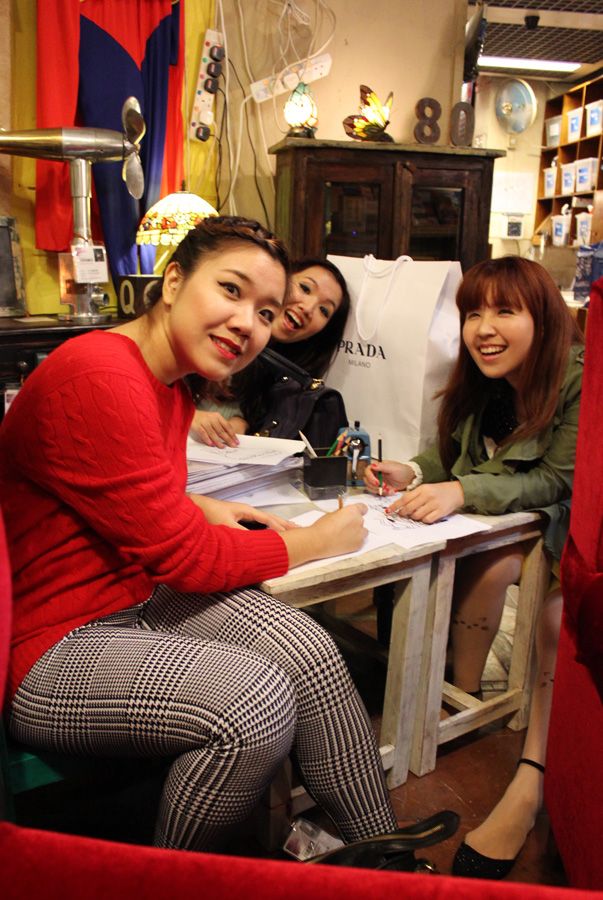 Coloring while my mom was munching on her sandwich.
Okay, verdict of the outlet stores in Horizon Plaza-- things are not THAT cheap, so don't expect too much. Again, it's probably a place that you will enjoy if you have some money to spare. And some of the stock can be quite crappy and old (some not all), so some patience is needed to dig through. Here is where my mom scored a pair of Jimmy Choo sandals though!
By the time we reached Tsim Tsa Chui, it was already 5.30pm, and all I had in my mind was FOOOOOOOD. We went to my favorite
char chan teng
in Hong Kong-- Tsui Wah! Tsui Wah is so successful that it is already listed okay. Imagine, a coffeeshop which got listed! :O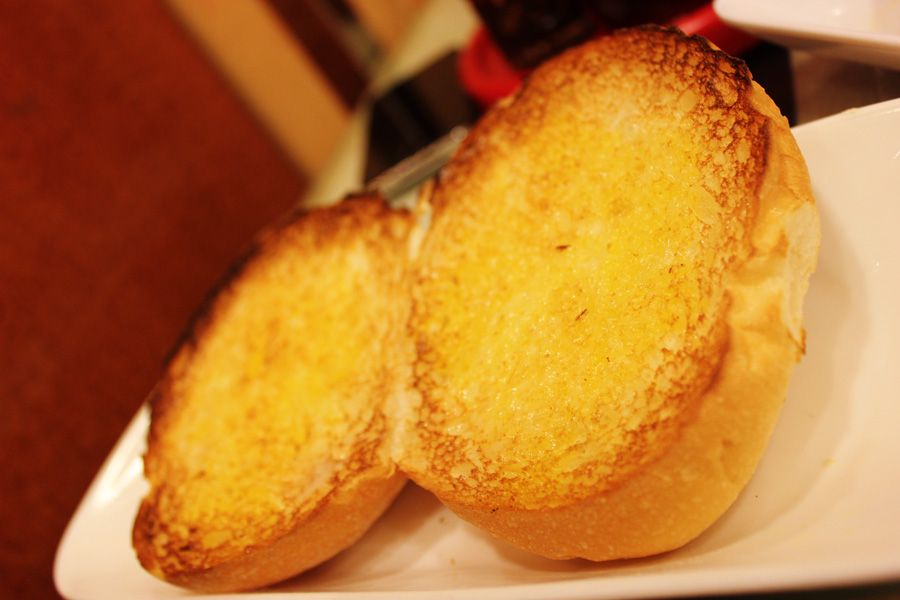 My siblings' favorite food in Tsui Wah-- buttery condensed milk pork buns. There is no actual pork in this dish, but they are called pork buns because it's the same bread that they use for HK's signature pork burgers. I am not a huge fan because I try to avoid carbs if I can help it. T_T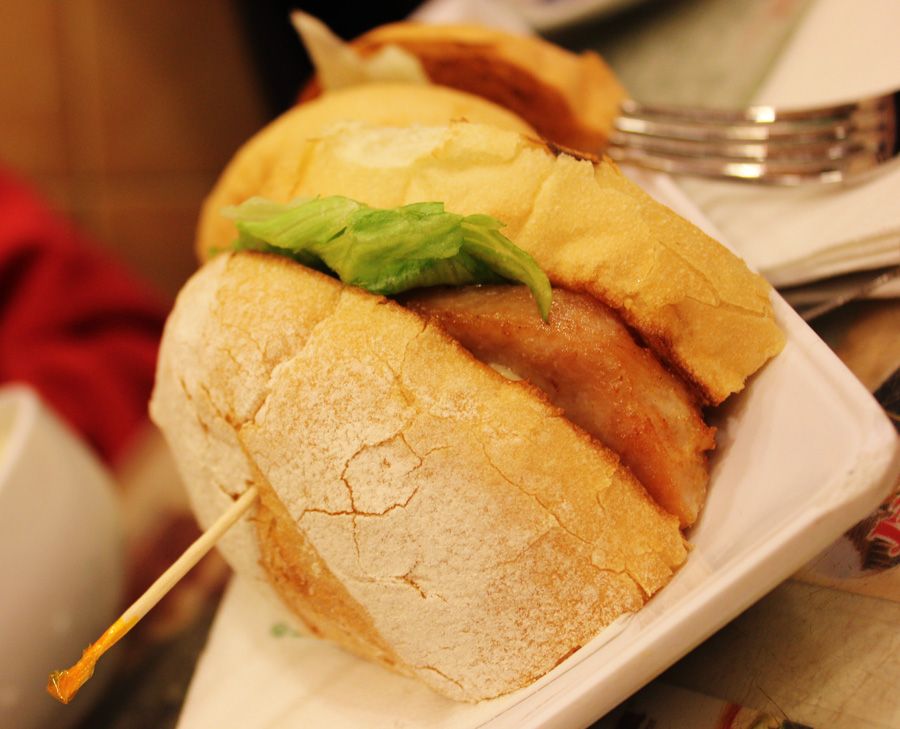 The real pork bun. Not as yummy as I would have liked... Teeny declared that the best pork burger is actually in Kim Gary back in Malaysia, hahaha, FOL.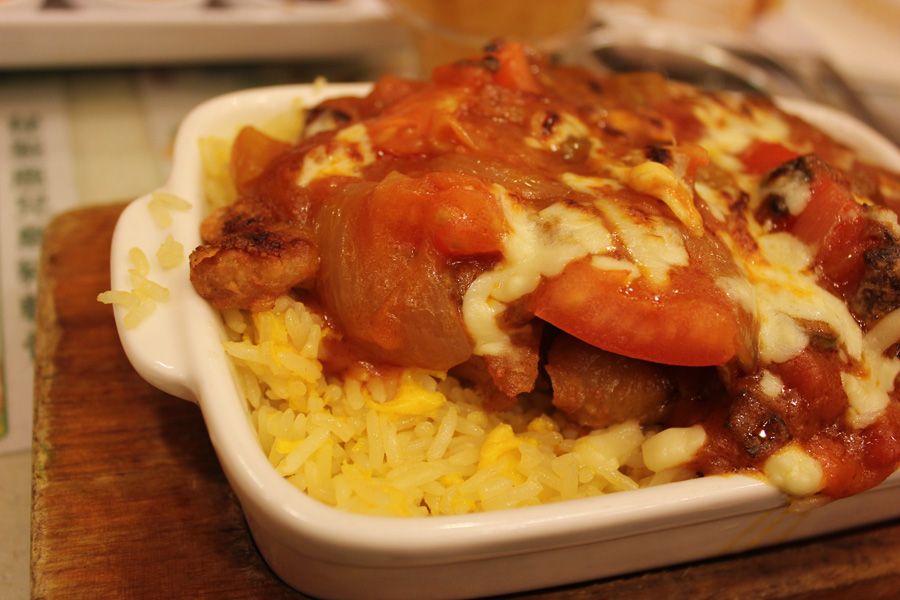 Jing's cheese-baked pork chop fried rice.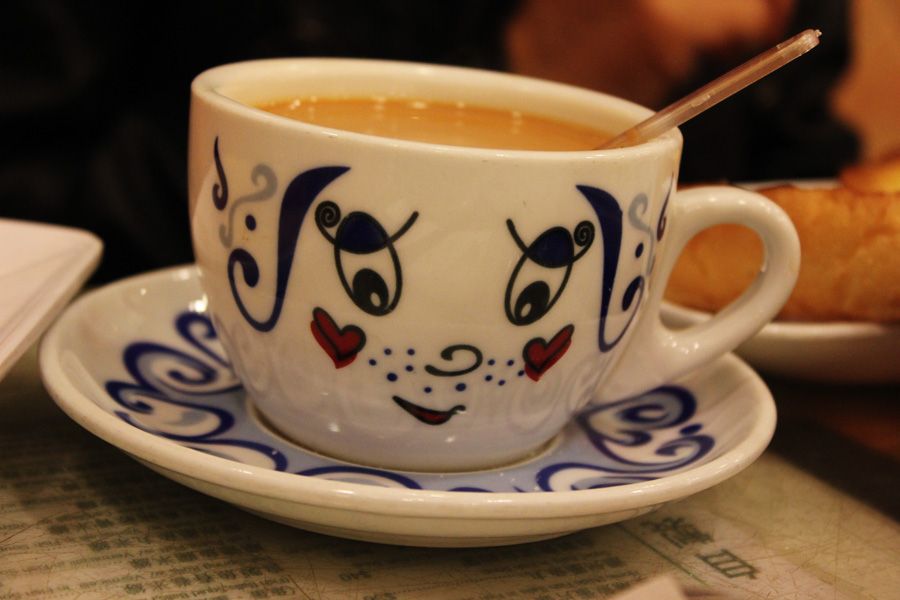 My favorite drink in Hong Kong--
nai cha
, or milk tea! I swear to god, milk teas in Hong Kong are so much smoother and nicer and more fragrant. Yums. Could drink them all day long, but I am aware that they are not very healthy. :(
By the way, my mom took one look at the cup and asked me, "Why this cup so
miang
?", HAHAHA.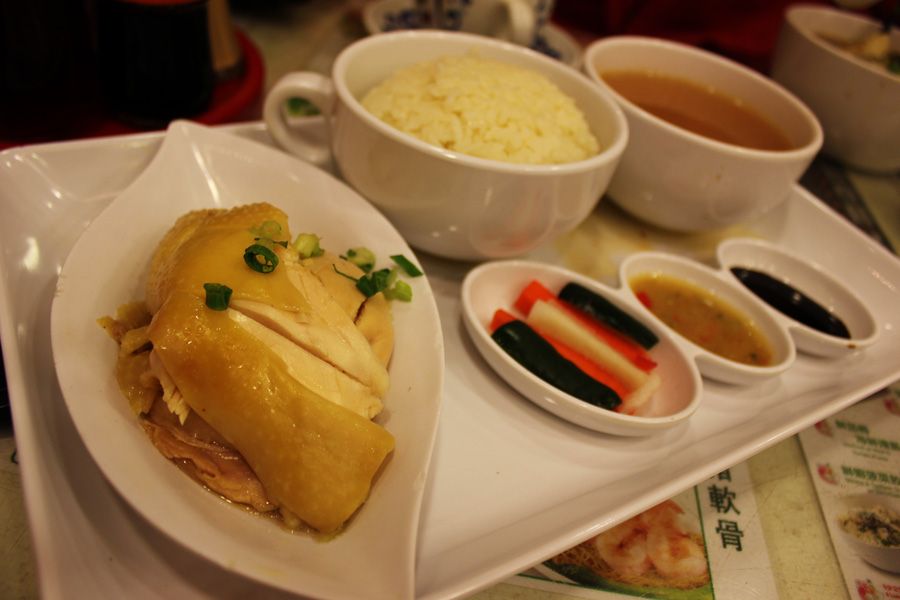 And the real reason why we go to Tsui Wah-- chicken rice, I kid you not. Tsui Wah's chicken rice is really famous, and it's the BEST chicken rice I have ever eaten, and it trumps even the supposedly very famous Mandarin Oriental chicken rice in Singapore (which is not very nice at all).
Whenever I see this photo, I get really angry wtf. 'Cause I didn't get to eat this at all!! T___T
My favorite chicken rice... T____T
What happened was this: I needed to go pee badly upon reaching the restaurant, but I didn't want to use the restaurant's squatting toilet with all my layers of winter clothes (I shall not delve into previous bad experiences here wtf). Since there were many shops/ malls nearby, I thought I would be a smart-ass and go find another toilet outside. Hence I told my mom to order some chicken rice to share (didn't want to eat it all by myself, because like I said earlier on, I try to avoid eating too much rice) and soup noodles for myself, while I went out to find a toilet. When I came back, every single morsel of rice was polished off the TWO plates of chicken rice that my mom ordered. -______________-
I couldn't even order another portion of chicken rice 'cause I had my own soup noodles, and everyone else was "too full" to share another plate of chicken rice. RAWRRRR!!!
Okay rant over. Now to the outfit of the day!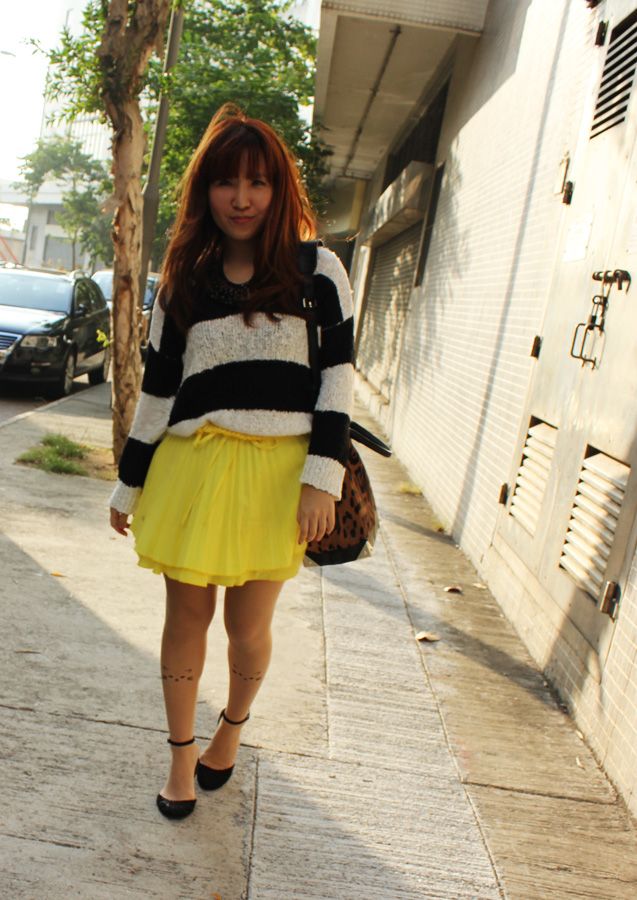 Something very comfortable and easy.
Spot my kitty stockings! :D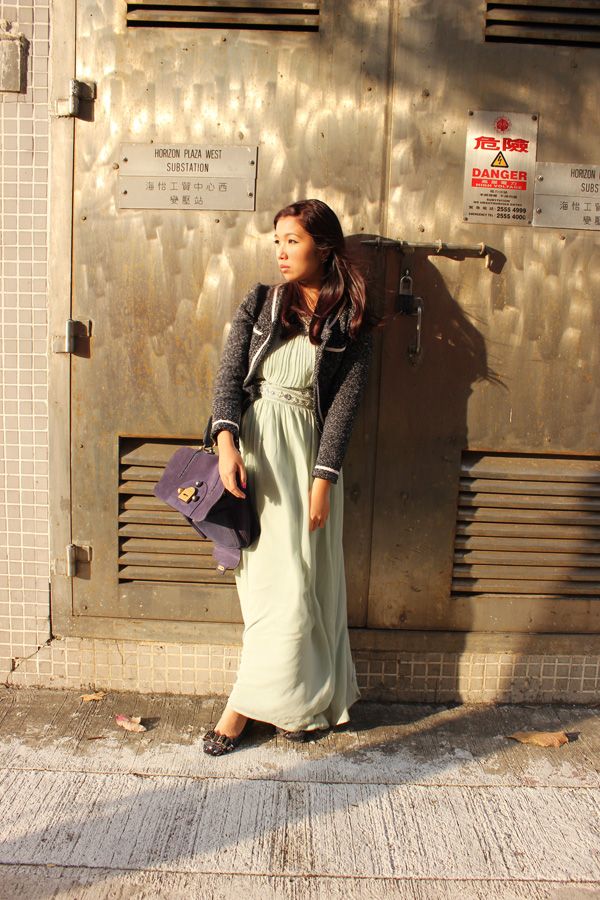 When Jing packed this fully embellished maxi dress, I thought she was going to wear it for the Michelin-star dinner we went for the night before. Instead, she insisted on wearing it during the day! -_-
Jing was wearing dress from Topshop, Chanel-esque jacket from me (bought in Singapore), shoes from Salvatore Ferragamo, and bag from Fendi.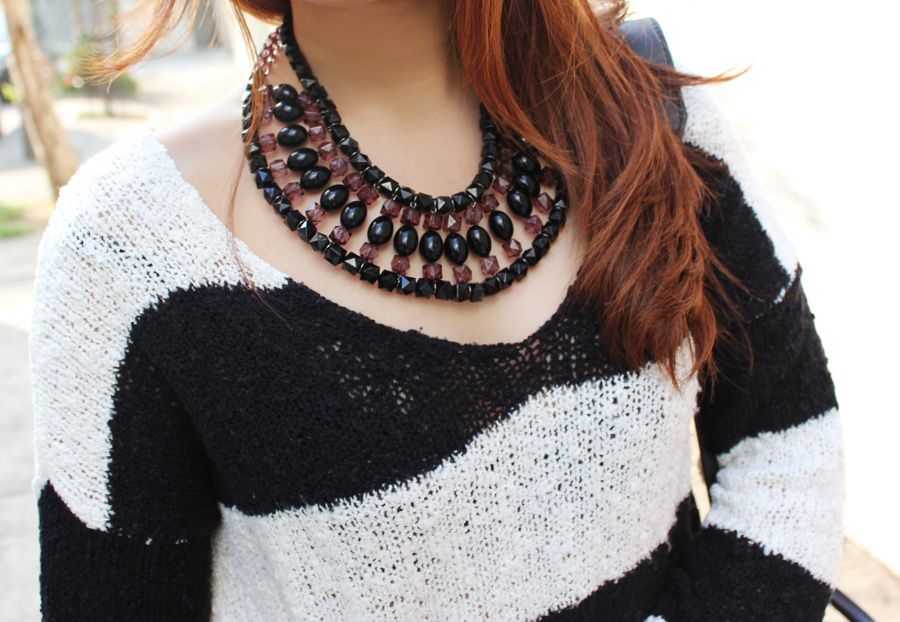 Better look at my necklace, one of the newest additions into my accessories family.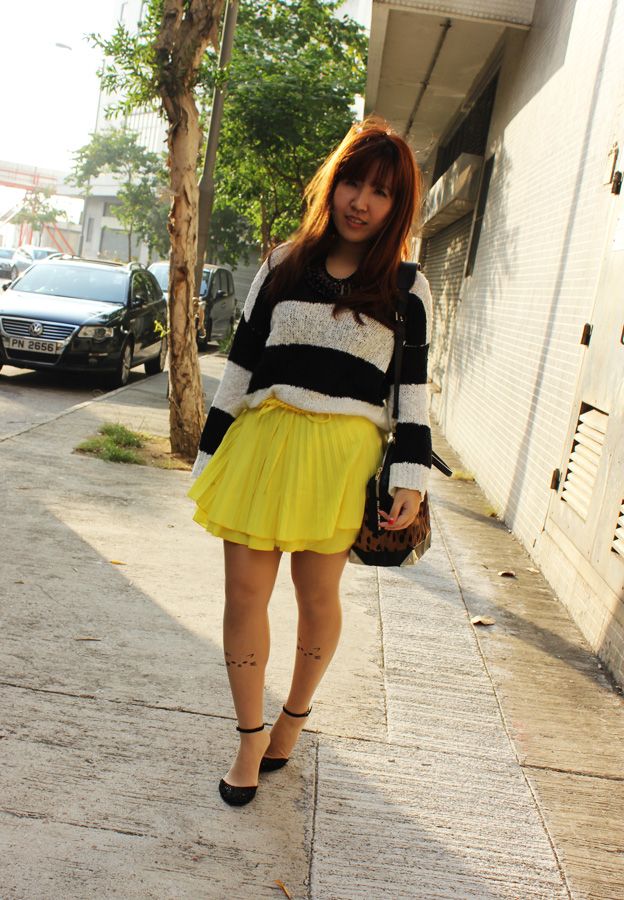 I daresay this was one of my favorite outfits during our trip! I think it is because there are all my favorite elements in a single outfit, i.e. stripes (love them, they are the most fundamental basics to me), bright colors, a statement necklace, cute shoes, leopard prints, and a quirky touch (kitty stockings hello?).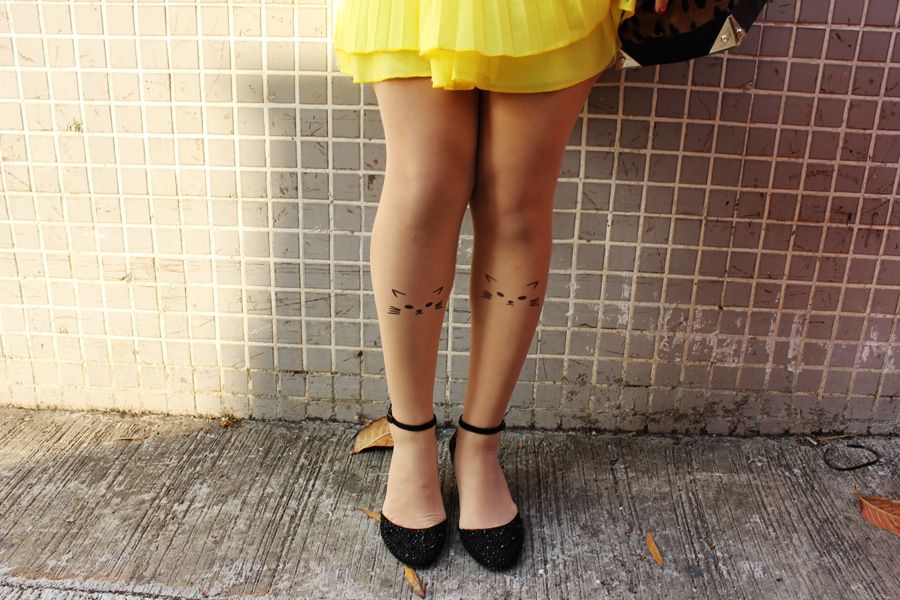 A sense of humor in my outfits is a must. :)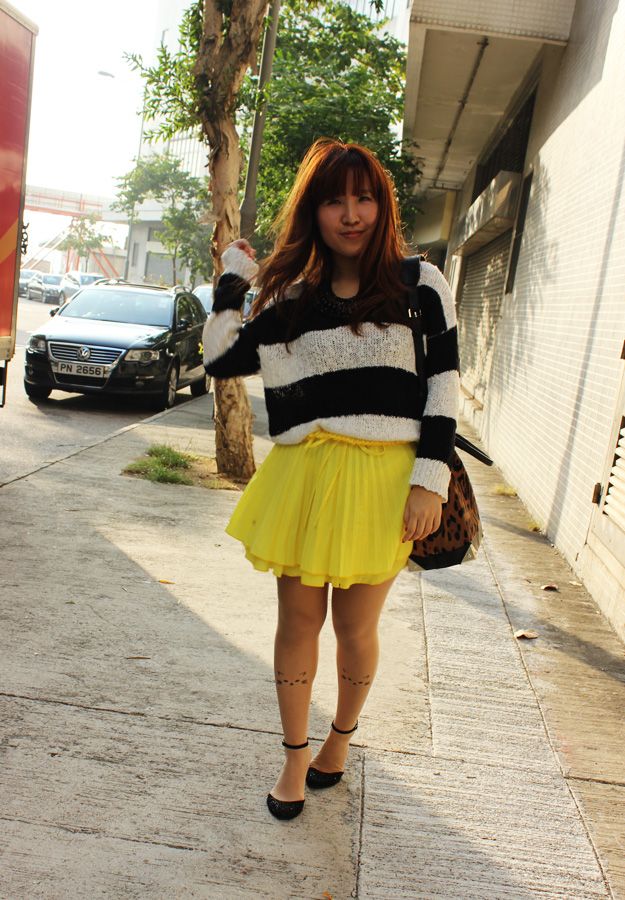 Oversized striped sweater: Teeny's (bought in Taiwan)
Neon yellow pleated skirt with ruched waist: Topshop
Black beaded statement necklace: Korea
Kitty tattoo stockings: Korea
Black suede studded flats with ankle-straps: Zara
Leopard print ponyhair bag: Alexander Wang