Took all my willpower to not end my title with 'burger' wtf.
It's Chap Goh Mei! And for that, I declare it is apt to blog about my CNY outfit on '
chor yat
' (first day of Chinese New Year). You all would have gotten a sneak peek of it
here
.
Anyway, backstore on my CNY outfit is that I actually got a green dress for the occasion! But I later read somewhere that green is an unlucky color for people born in the year of Ox FML. This was barely 2 weeks before CNY, and I had to scramble for something red (supposed lucky color for me). Thank god I was struck brilliance and thought of this
AZORIAS red skirt
that I have kept for myself!
Tada, my outfit. I think I didn't do too shabbily by putting everything together on the morning itself eh? :P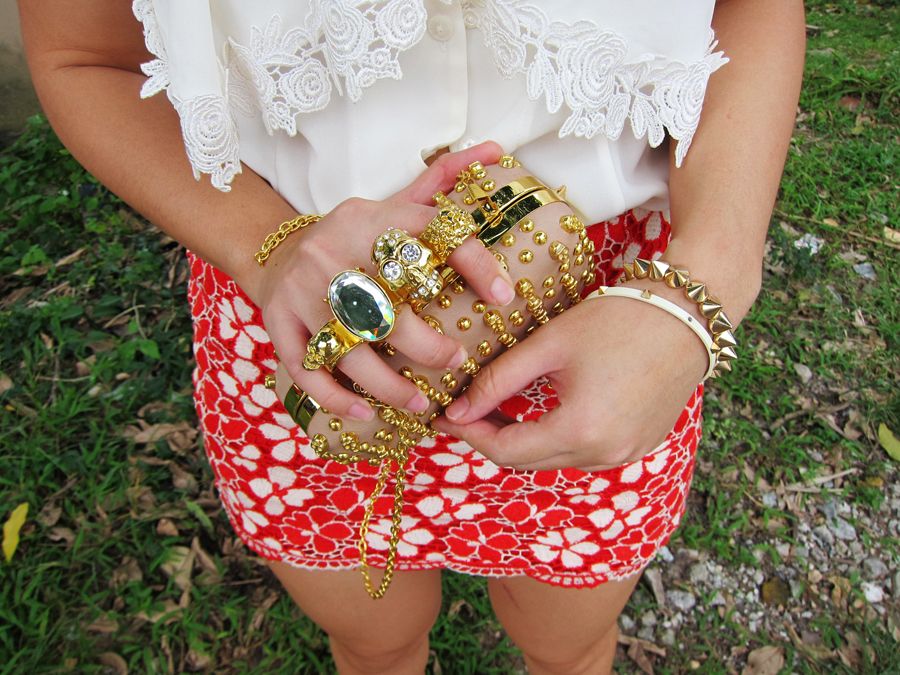 Didn't buy new underwear for CNY so I compensated with new bag wtf.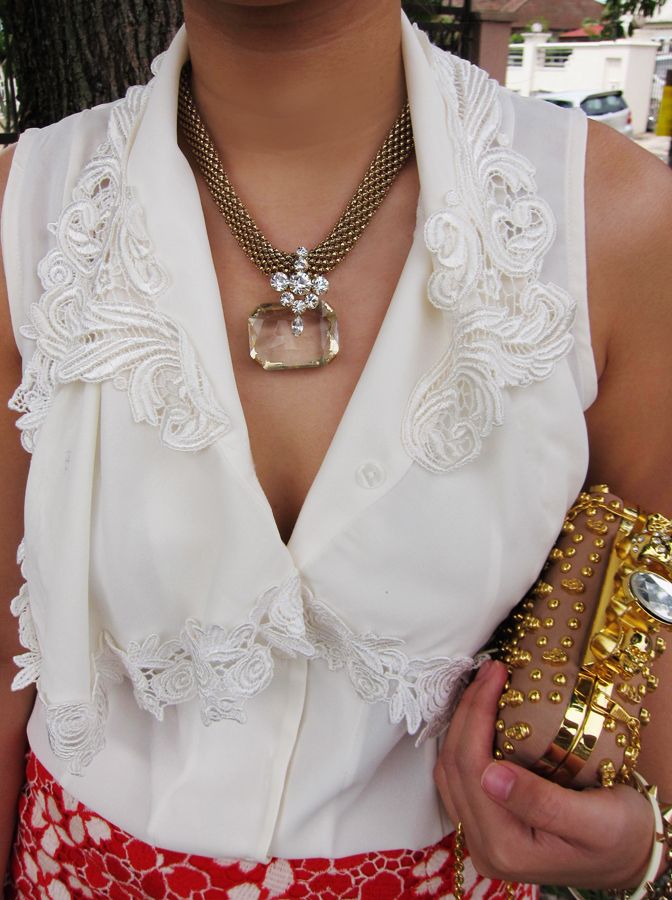 Super love the lace detailing of this top! Jing has one too. It's already sold out on
AZORIAS
though!
Crochet lace trimmed blouse AZORIAS
Red floral lace chain miniskirt: AZORIAS
Gold necklace with oversized stone: Korea
Gold spiked bracelets: Korea
Nude scalloped pumps with laced-up heels: Tokyo
Studded skull clutch: Zhuhai
By the way, I have a story to share. Last year, my boyfriend told me that
angpao
s are luck that people bestow on us, and thus, we are not supposed to use the money, as it will mean using up the luck. Instead, we are supposed to keep the money for one whole year till the next CNY. Being
naive and gullible
trusting of my boyfriend, I really didn't touch a single cent of last year's
angpao
s! And on CNY eve this year, I happily announced to him that I am so excited to open
last year's
angpao
s, and he was like, "Huh, you really believe ar? It is just some myth that my cousin told me."
WTF. -_____-
Anyway, have any of you heard of this story before, and do any of you practice it? Share! Because whether or not I will get to open my
angpao
s this year will depend on it wtf.
Follow me on NuffnangX.