Hello from Korea! Loads of work to still be done, but felt like blogging (makes me feel connected to home wtf), so I am gonna post one of my recent work outfits!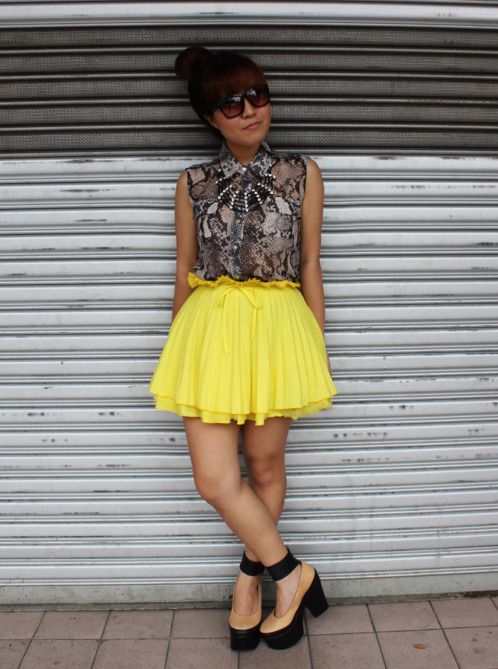 Some of you may recognize my skirt from my
Hong Kong trip
.
Wearing one of my new heels from
Solestruck
. Bought heaps of Jeffrey Campbell shoes end of last year due to a massive sale on the site (50% on sale price WTF).
Outfit details:
Snake print sleeveless shirt: Korea
Neon yellow pleated skirt: ASOS
Black diamante statement necklace: Korea
Contrast ankle-strapped pumps: Jeffrey Campbell
Facetimed with the boyfriend yesterday, and one of his advise to me was "
Don't eat so much rice ar
" wtf. 'Cause I tend to eat a lot of rice in Korea (as opposed to usually being carbo-phobic back home) and then once I am home I will complain to him that I am fat. HAHAHAHA. But I can't help it! Almost all of Korean dishes are meant to be eaten with rice, and Korean rice is yummier compared to our rice!!
Anyway, I would just like to announce here that contrary to what I just said, I am actually my thinnest in Korea!! One magic word-- KIMCHI. I used to not like the taste of kimchi, but after visiting the country for so many times, I have grown to enjoy it. So much so that I ate 4 plates of kimchi yesterday WTF. And the result is... Every time after I eat, I will need to go to the toilet! Like a hamster. -_- This is a big revolution k, especially since I only, erm, eliminate once every 2 days back home. But now, my stomach is perpetually flat and empty wtf.
*suddenly struck by brilliance*
I will bring a big bag of kimchi to my next beach holiday so that I will have the flattest stomach! :P
Anyway, you for sure can't call this an insincere blog entry. I shared my most intimate details with you all k-- eating and shitting habits wtf. Back to work now! Bye bye, lucky people who are in a warm climate!