Warning! Do not read this post if you are hungry.
Just remembered that I am not done blogging about my Hong Kong/ Zhuhai trip in January! Will jump to Day 4 of the trip i.e. in Zhuhai because errr.. there are a lot of photos from Day 3 and I am lazy to go through/ edit them hehe. You can click
here
and
here
to read Day 1 and Day 2's posts!
People often ask me what is there to do in Zhuhai. My answer is... Nothing! wtf. Well, nothing except to EAT and SHOP. Best way to live, if you ask me. :P Specifically, for food, we always go to this Chinese restaurant called Gam Yut Hin, which in my family's humble opinion, serves the BEST Chinese food. Yes, even better than Malaysia and Hong Kong. Typically, we will be in Zhuhai for 2-3 days, and we ALWAYS go back to the same restaurant for all 3 meals in a day-- breakfast, lunch and dinner! That's how good the food is.
For shopping, we shop at the Underground Shopping Mall (where the main bus terminal is). They have pretty nice stuff there, made in China products, but of better quality than Bangkok. The things used to be quite affordable, but since the mall went through some renovations, rental of the shops have been adjusted (rumor has it that it now cost RMB40,000 for one shop-lot), so prices have gone through the roof as well. :(
Anyway, I am just going to share some photos from the day in chronological order, and 70% of them are going to be of FOOD!
Went to the restaurant for dimsum in the morning: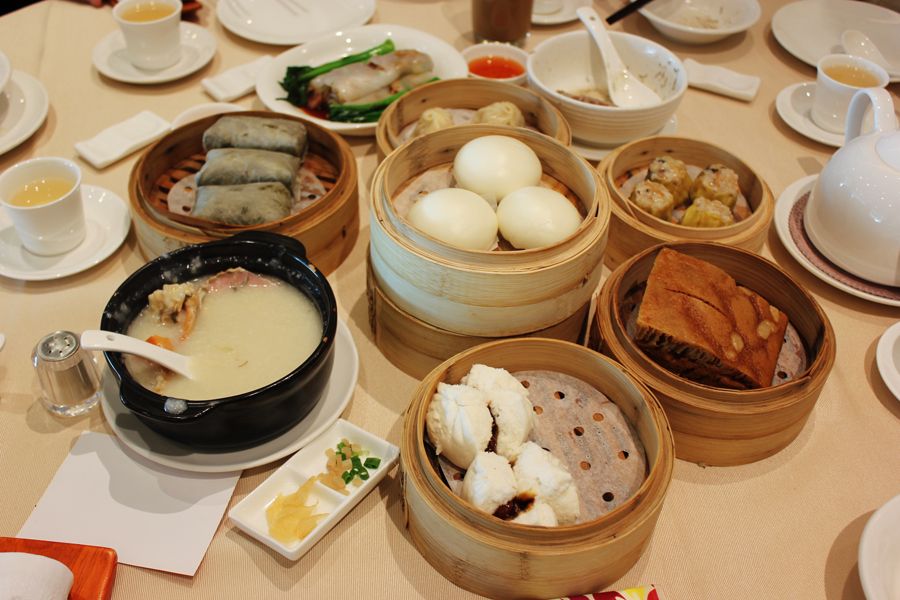 *Some* of the food that we ordered. But wait, there's more!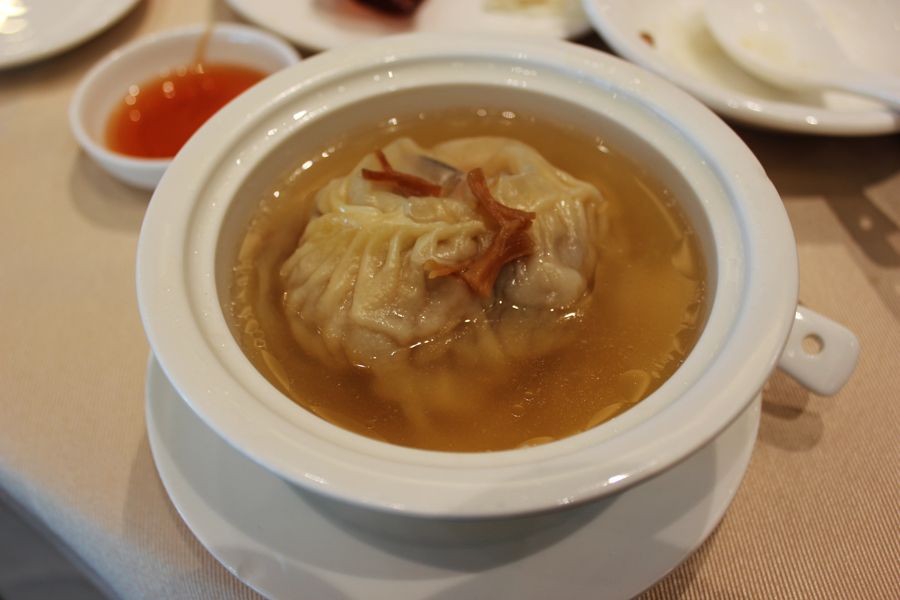 Soup dumpling (灌汤饺). It's kind of like a big
siew loong pau
immersed in clear soup.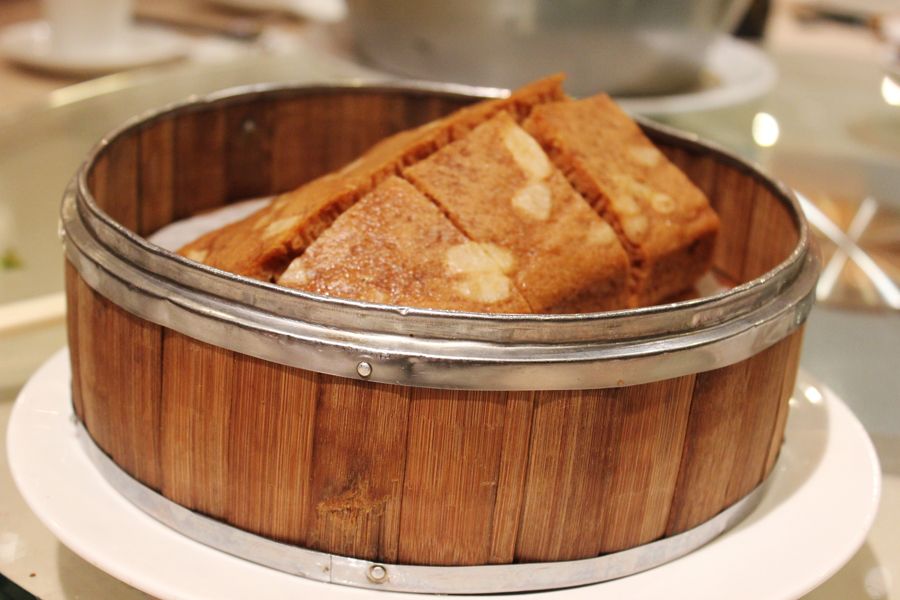 马来糕. Something like steamed
gula melaka
cake.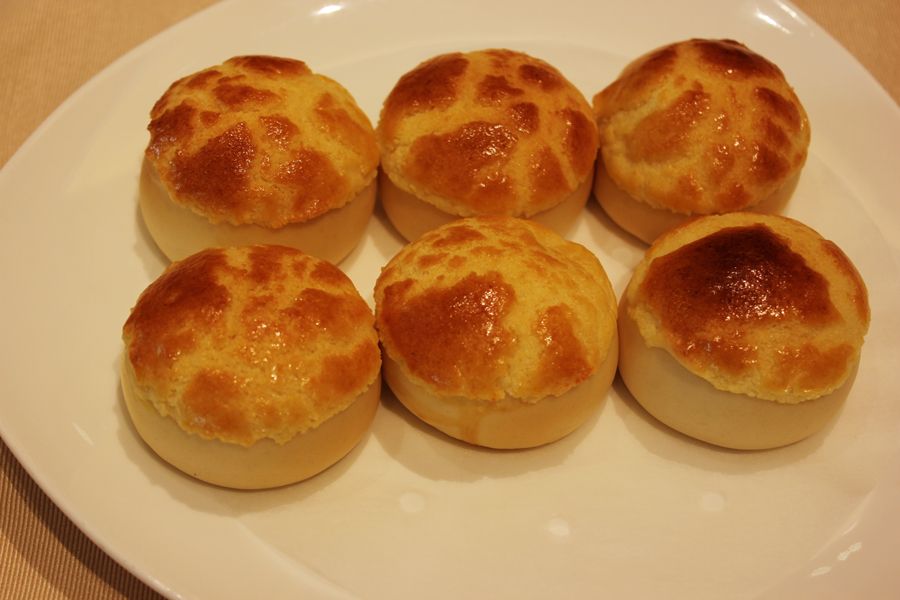 波萝包 (polo bun). This bun is famous in Hong Kong, but I have not tasted a tastier version than than Gam Yut Hin's. Covered with biscuit crust, the soft bun has custard and pineapple cubes in it. It's my sisters' favorite dish, and we usually order a dozen buns for each meal. -__-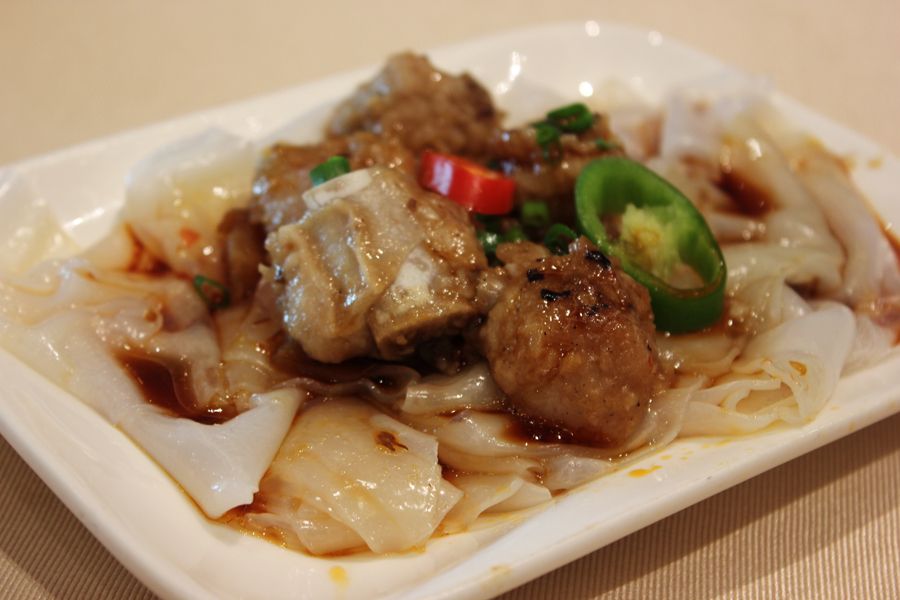 Char siu chee cheong fun? Prawn chee cheong fun? Please, that's so old school. We had the Szechuan pork ribs chee cheong fun (along with the the Char Siu chee cheong fun, which is the best that I have ever had), so yummy! The chee cheong fun is super smooth and actually translucent... kind of like crystal! :O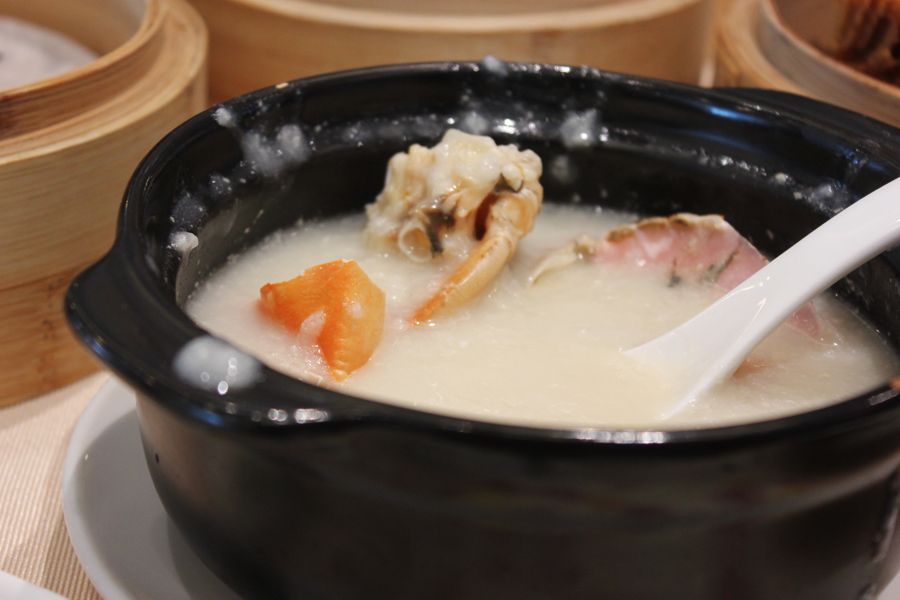 皮蛋瘦肉粥 (pork and century egg porridge)? 鸡丝粥 (shredded chicken porridge)? Passé. We had crab porridge instead. :D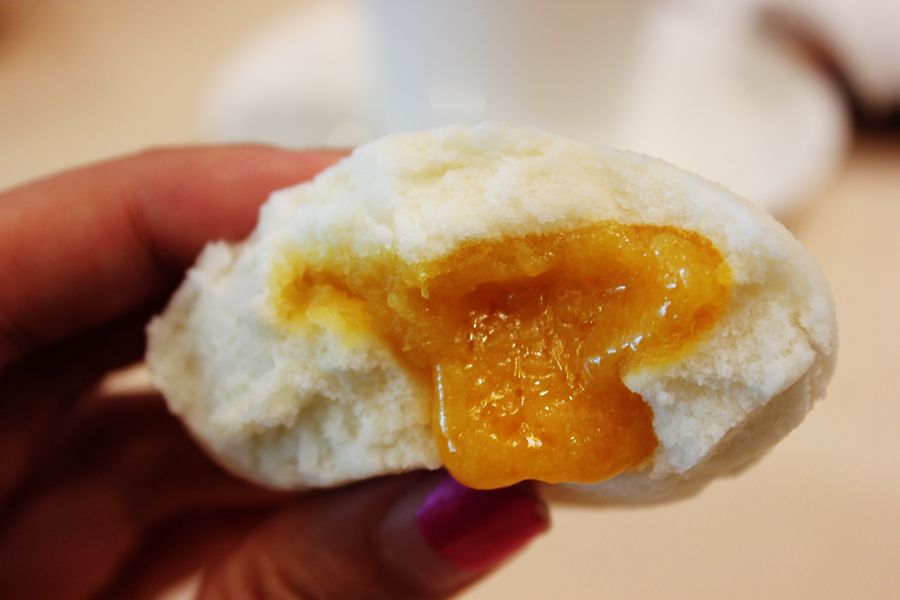 流沙包 (salted egg custard bun). Another one of my sisters' favorite. I am sure you are starting to see the pattern...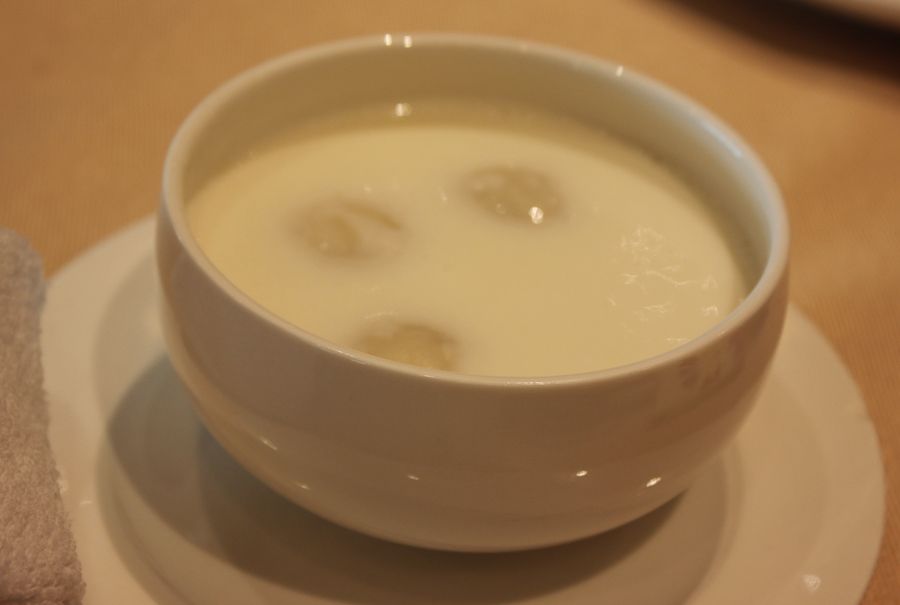 Almond dessert with
tong yuen
. The pattern is that... they really have a huge sweet tooth!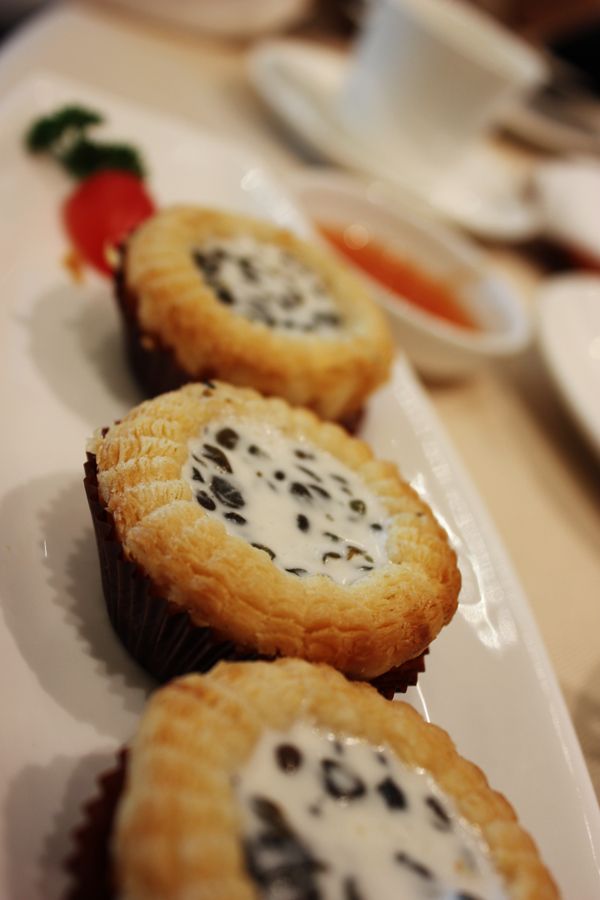 Coconut milk egg tart with black glutinous rice. Parents ordered this for my sake 'cause the restaurant only serves bird's nest egg tarts and I am allergic to bird's nest wtf. Love this-- the milk is actually in warm liquid form! :D
After a super satisfying brunch, we went to get our hair washed. Y'see, besides eating and shopping, there's another worthwhile activity in Zhuhai-- getting a hairwash! I swear to god, salon hairwash in Zhuhai is like nothing you have ever experienced before. First of all, you get your hair wash lying down on a leather bed. Like a princess. But that's not all. You get a head massage as well. That's not all. It comes with a body massage too!!! They will typically massage your neck, shoulders, back and hands (spending about 30minutes on this). Sometimes they may massage your legs too (if there's time). O_O And all this while you are doing a hair spa (i.e. some sort of hair treatment, depending on your choice of the treatment). AND they even help clean your ears (they will use a cotton bud to clean your ears of earwax haha). And then they will help blow/ curl your hair into your desired hairstyle, and damn, they do an awesome job at it.
And all this for about (starting from) RMB60 !!!! That's less than RM30 ok. -___-
Super worth it! You all must try k if you ever visit Zhuhai!
Super nice hair after our visit to the salon. :D
Outfit pictures: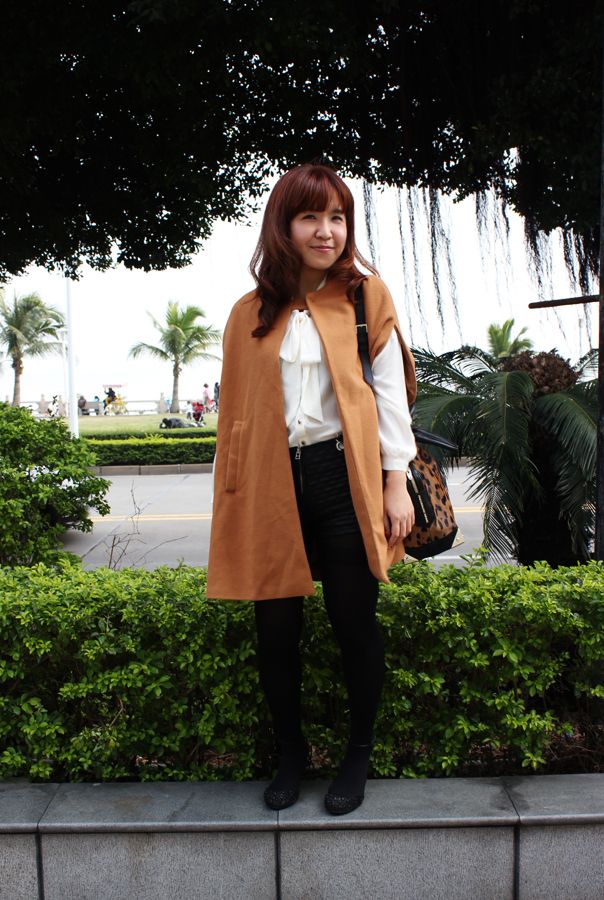 Super happy that I got to wear my new cape coat! It's actually not that new, 'cause I have bought it for more than half a year already, but never had a chance to wear it 'cause the weather needs to be mildly chilly but not too cold because the coat doesn't have sleeves. -___- The things we do for fashion, haha!
Wind in my hair. :D Love my blouse so so much, but in this picture I can't shake off the feeling that the pockets look like bra stick-ons wtf.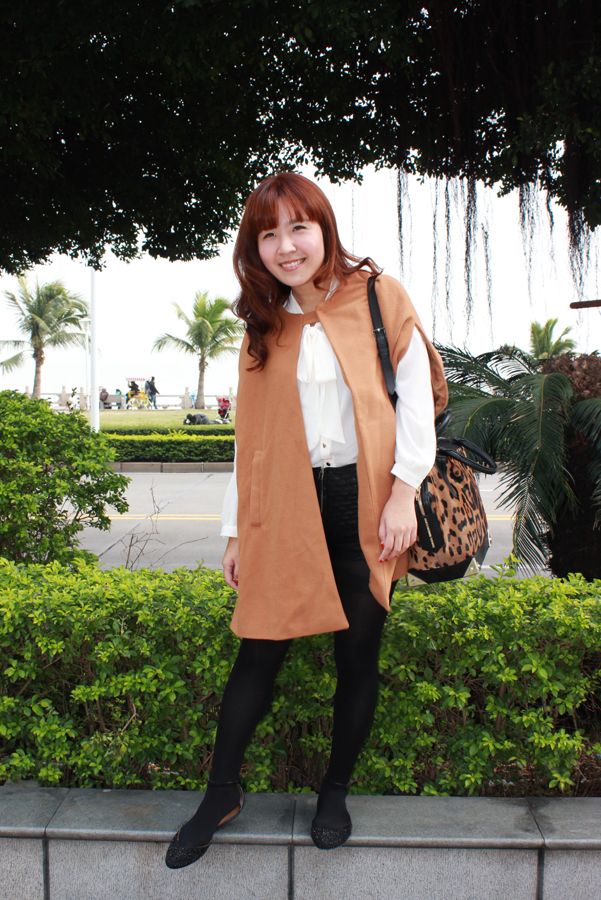 Posting this photo 'cause I was posing like Robin Hood wtf.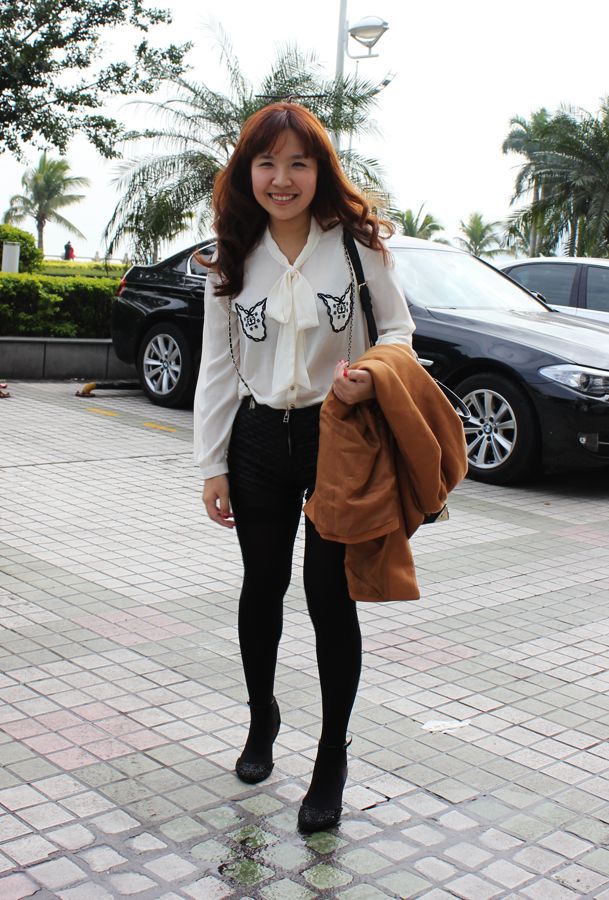 Major love for my quilted leather shorts, because the chain-link straps are actually removable! Was contemplating to bring it in for
AZORIAS
, but they are quite expensive. :(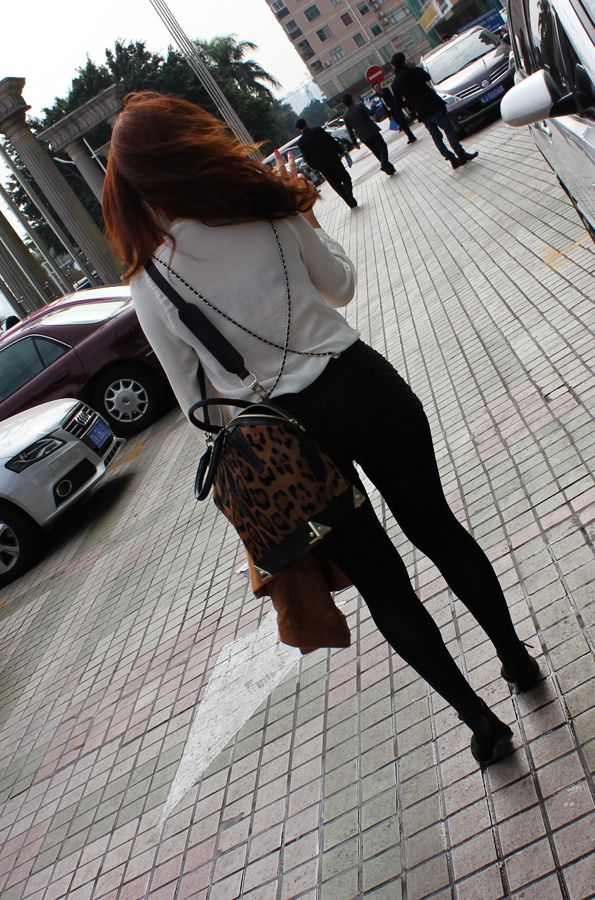 Blouse, cape coat, quilted leather shorts: Korea
Spiked diamante flats with ankle-straps: Zara
Bag: Alexander Wang
Then we went shopping! No pictures taken then because we were too engrossed hehe. So let's move on to dinner...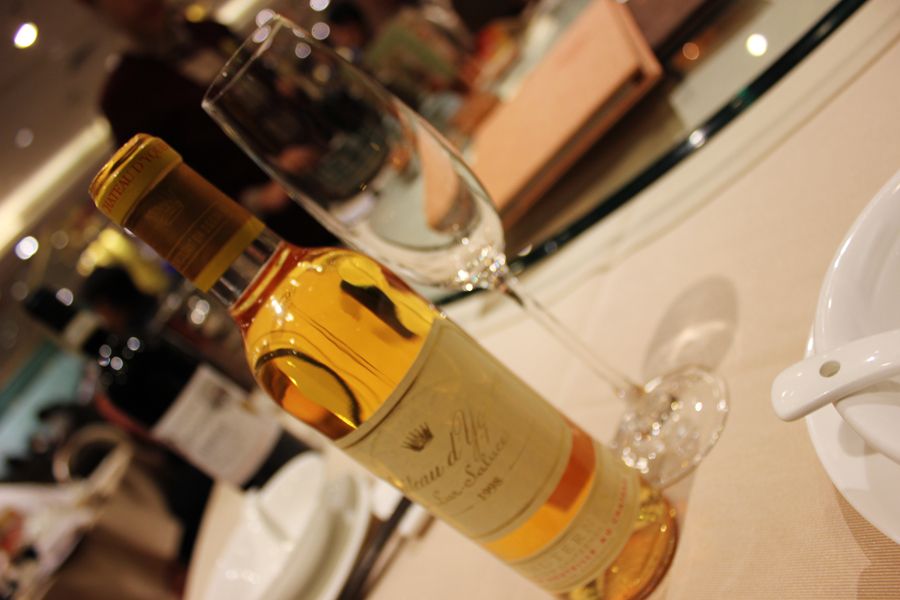 When we were in Hong Kong, my dad bought a (small) bottle of one of the best white wines in the world, and he purposely saved it for a dinner at Gam Yut Hin. Apparently a vintage bottle of
Château d'Yquem
can cost about than USD100,000!!! O_O
Salmon bellyyyyyyy. :D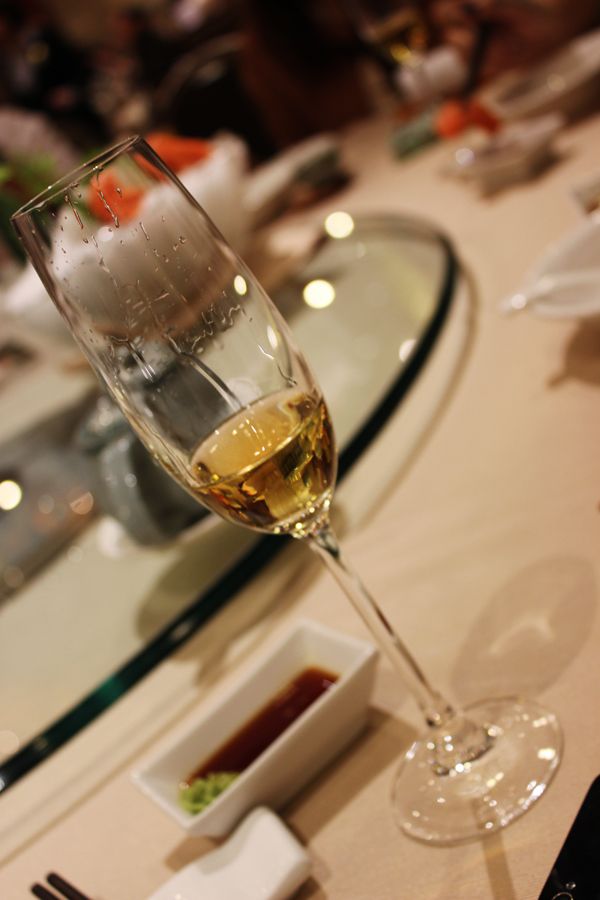 WINE!! My comment after my first sip: "Wow, this is like nectar!"
As the wine is quite expensive, my dad only bought a small bottle for us to try. During the dinner, we promised him that someday soon we will buy him the full-sized one and toast him for being the best dad ever. :)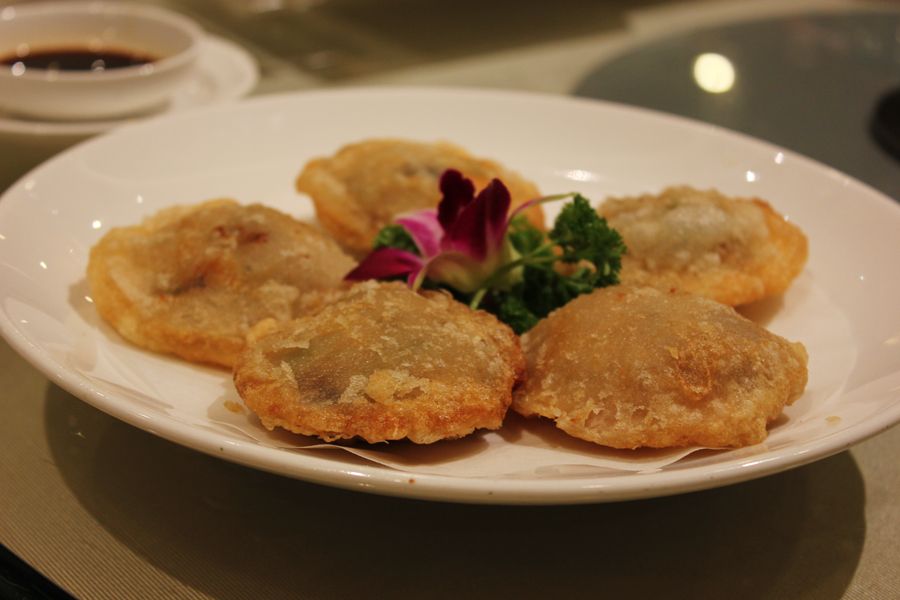 Deep fried stuffed crab.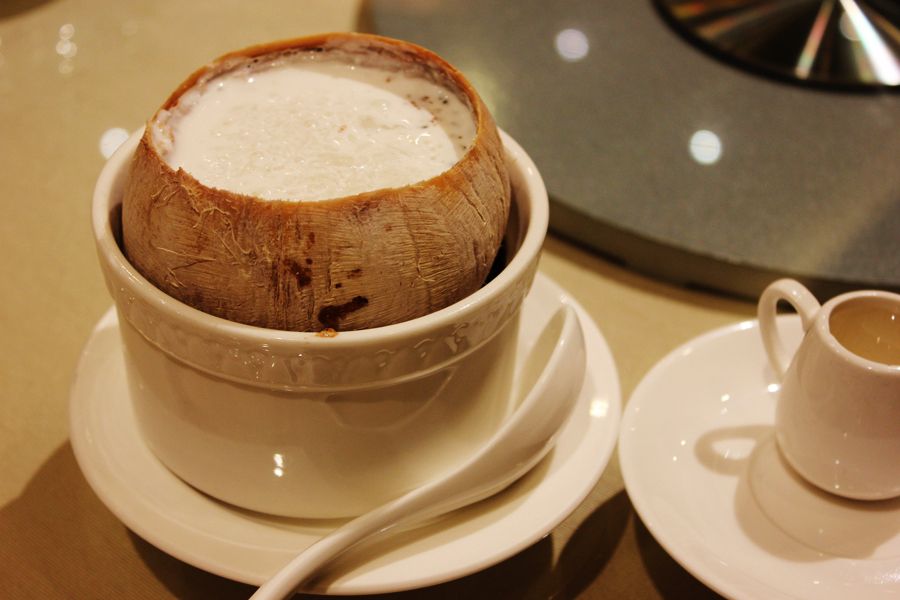 Bird's nest in coconut milk, which I can't eat. T___T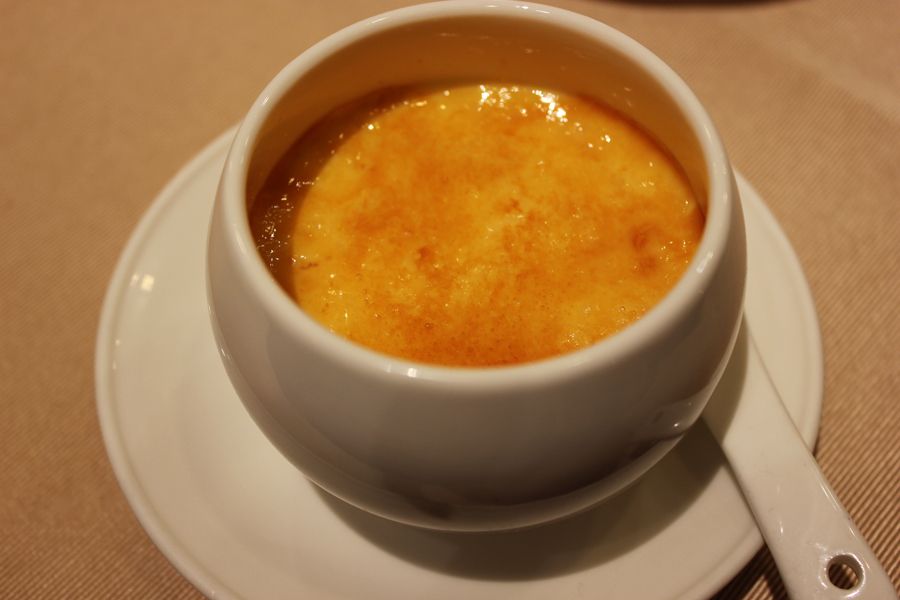 One of the things we enjoy the most in Gam Yut Hin... Creme brulee!!! I know, it is a Chinese restaurant, but its Creme Brulee is seriously WORLD CLASS. I have never tasted better Creme brulee!!!!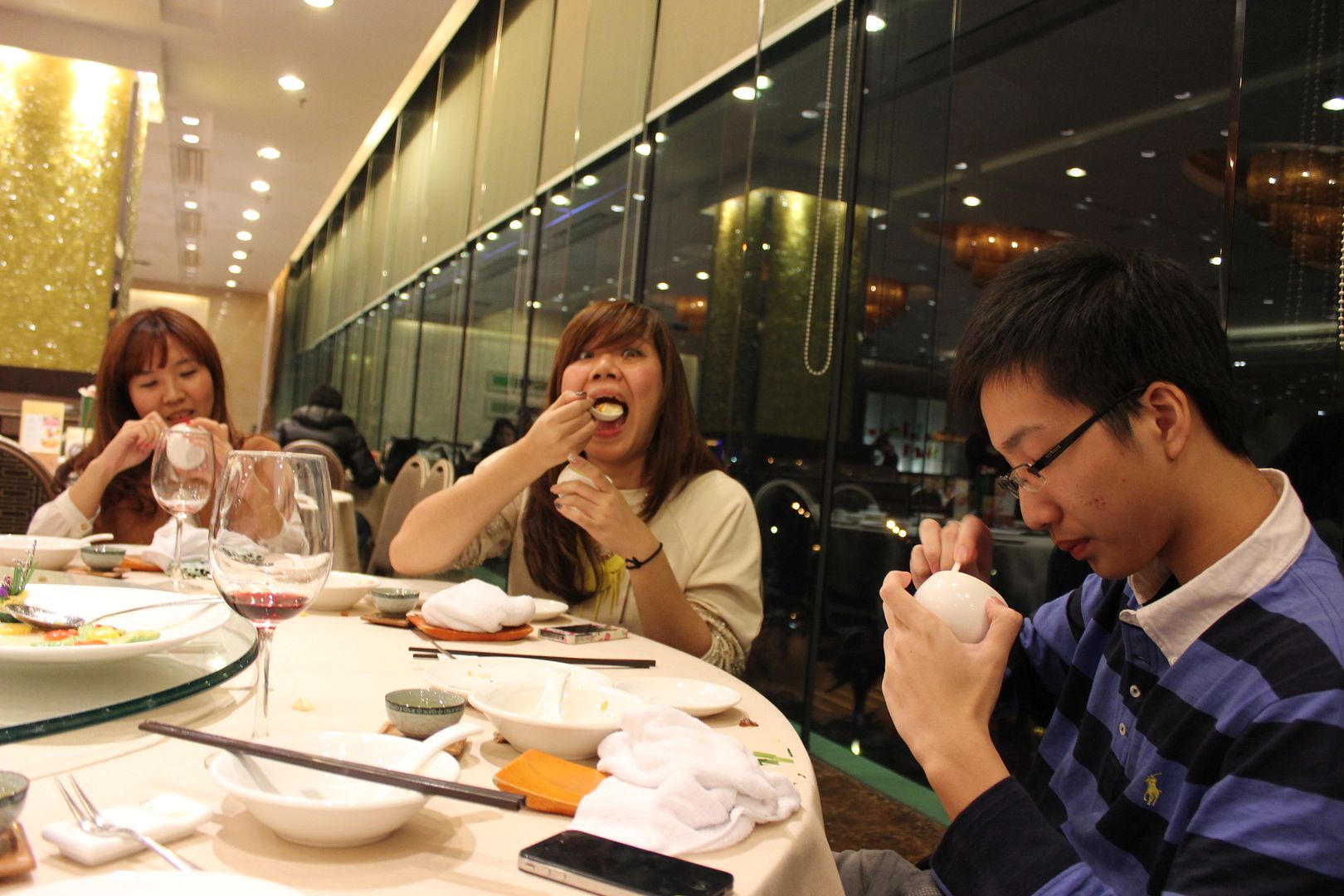 So much so that even after a really filling meal, we could still order one Creme brulee each and licked the bowl clean.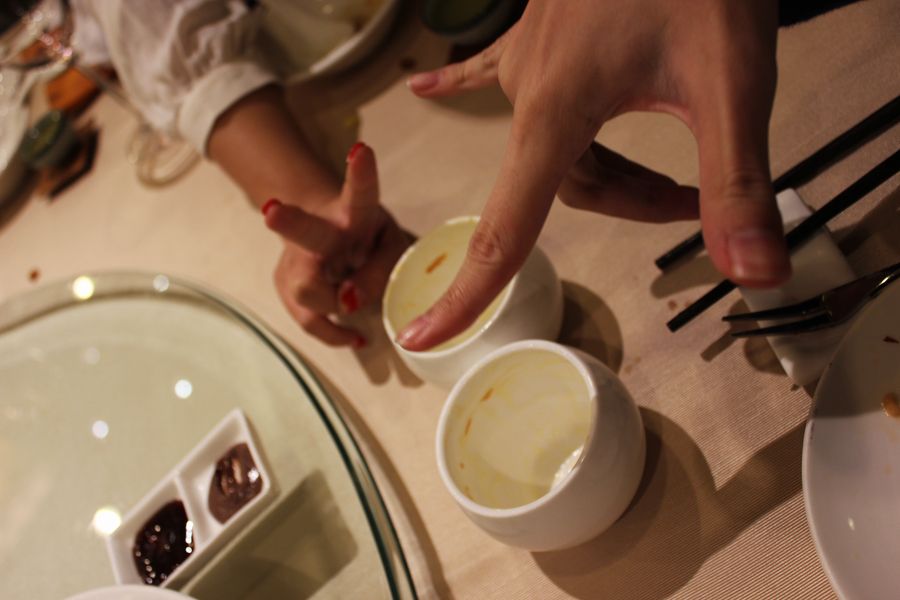 And it started a competition between us... Who can lick the bowl the cleanest?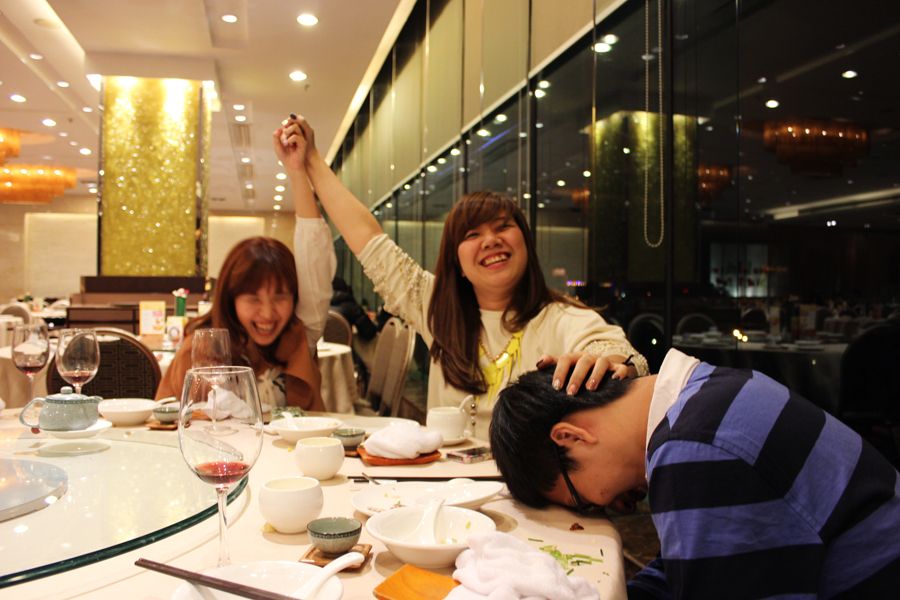 I WON!!! And that's my brother's look of defeat HAHAHA.
But then Teeny ordered one more bowl...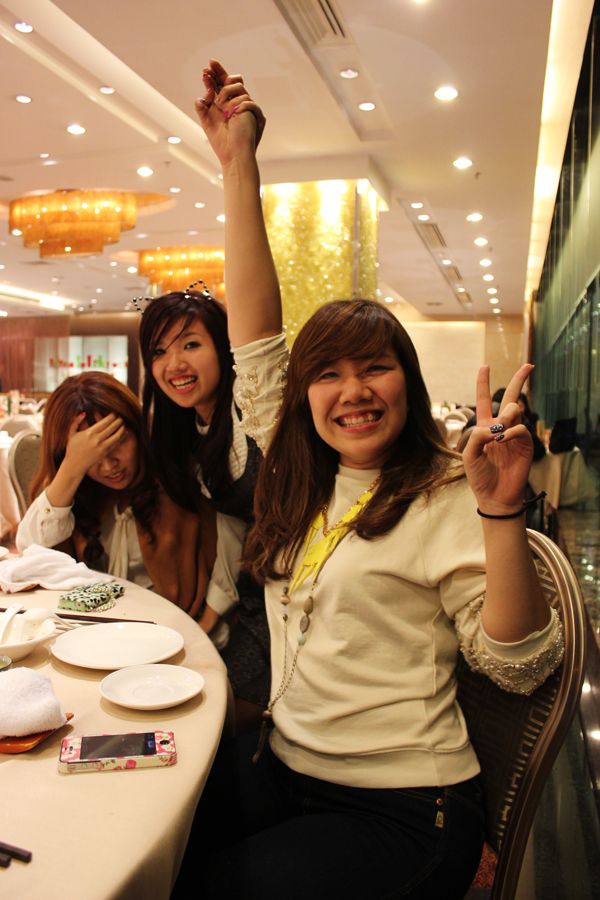 ... and she defeated me, the reining champion WTF.
We are seriously damn crazy and stupid with each other HAHAHHAHA. But do you know where did we get our genes from?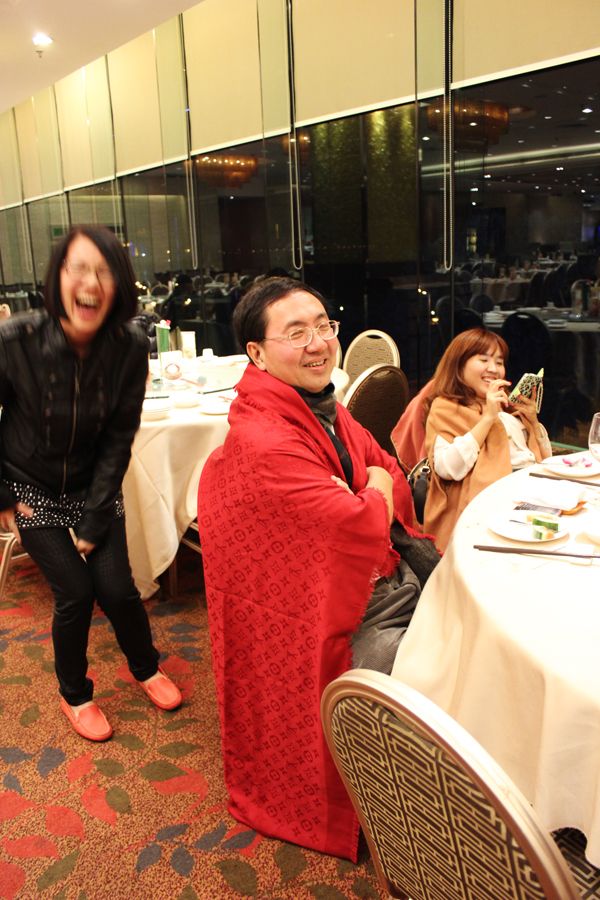 This man.
Who forgot to bring his jacket out to dinner in a 4-degree weather. -_-
So my mom lent him her LV scarf and he wore it like a Superman cape HAHHAHHA. And that's me trying to pretend that I don't know him wtf.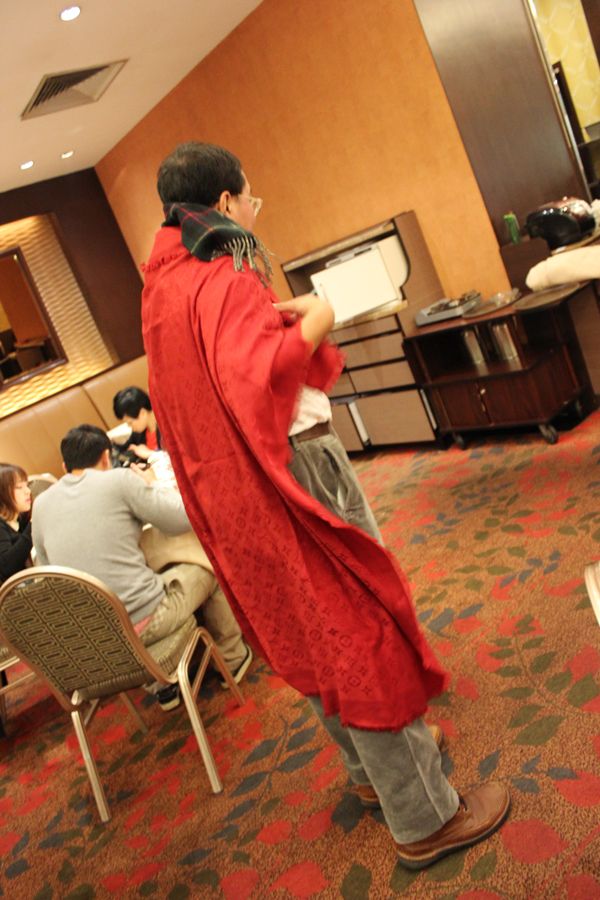 We have a lot of picture of him running after a cab in this get-up HAHAHHAHAAH.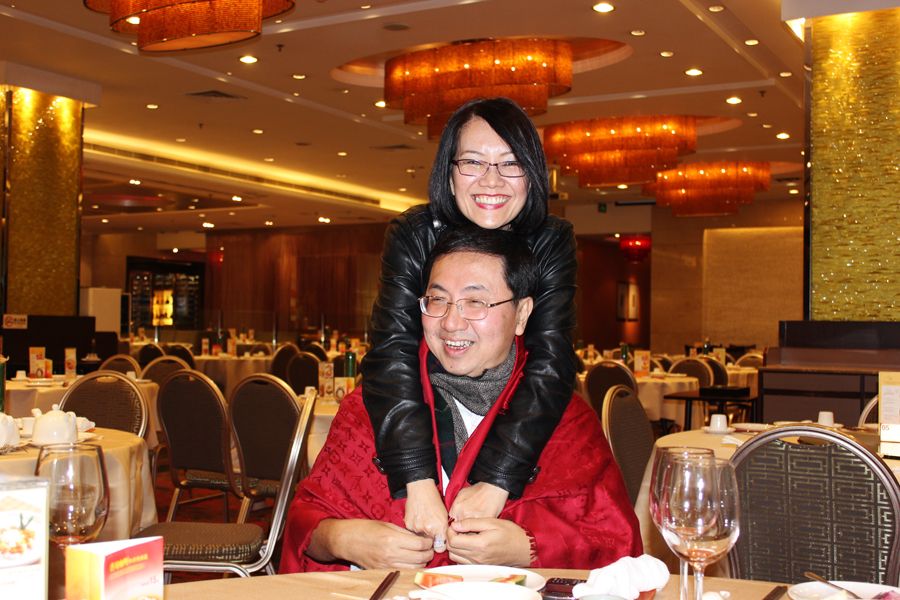 And I love this photo of my parents. :))))