Last month, I was interviewed for the Pink Biz column for The China Press, which features women entrepreneurs who are making a difference in the society.
Okay, here is when I let the cat out of the bag.
I know Chinese. As in, I can speak, write, and read the language. Heck, I have been a straight-A student in the Chinese subject all my life. But somehow people always think that I don't know Chinese! Good for me though, 'cause then I know when someone is bitching about me in Chinese wtf.
That being said, I was extremely nervous about the interview because admittedly, my spoken Mandarin has been quite rusty as I rarely get the chance to practice it nowadays. And maybe it's the yellow pride in me, I WANTED to speak in Mandarin during the interview (although it would have been perfectly acceptable for me to speak in English and the reporter will then translate). But I not only wanted to speak the language, I wanted to really be able to
articulate
my thoughts in it.
I think I did okay, I even managed to slip in a few proverbs wtf. Though young(er) Hui Wen would have done much better at the interview.
*sheepish*
Anyway, here's the article!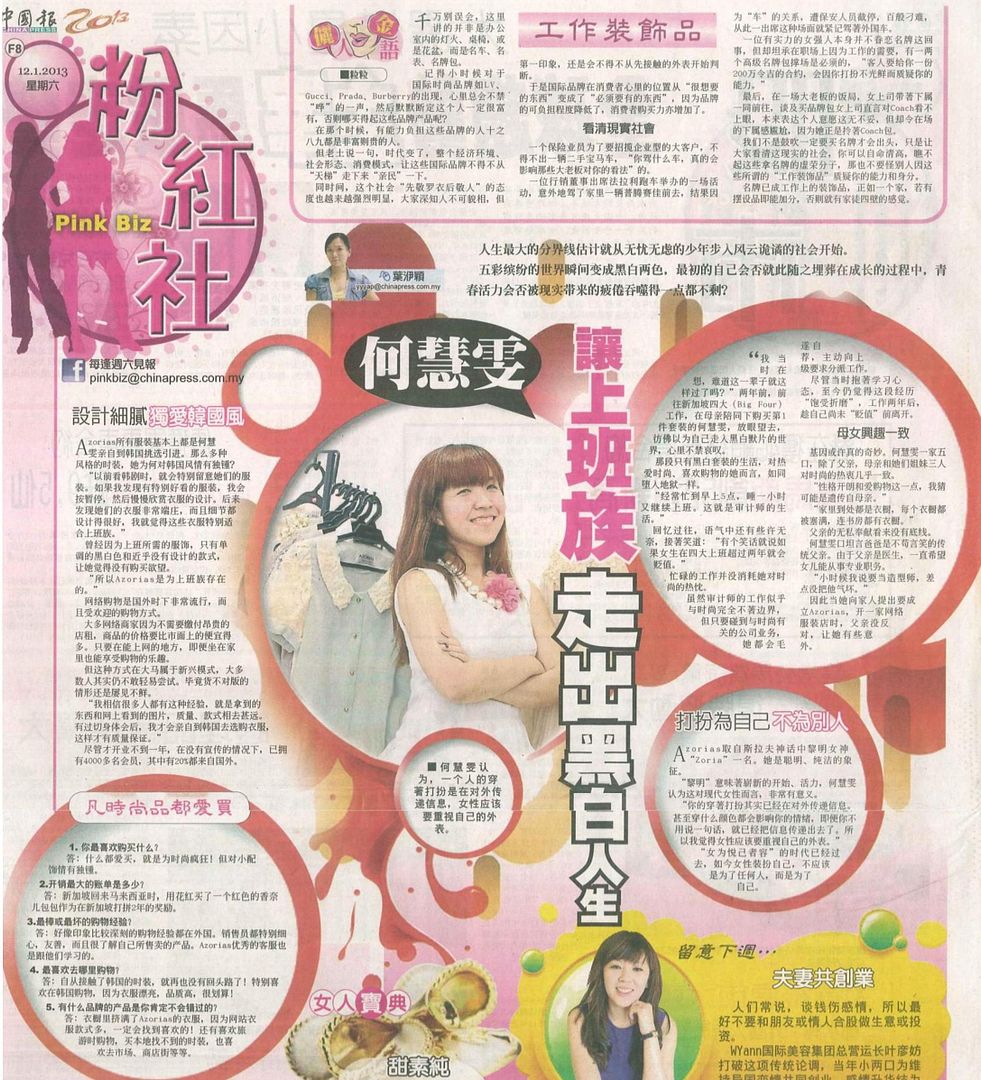 I hope all of you can read Chinese wtf.
I have been really blessed to be featured in a few publications for
AZORIAS
since its inception, but I think this is the most meaningful feature thus far. :) Because it's in Chinese, and hence my grandparents can read it, and have a better understanding of what I am doing, and hopefully they feel more reassured and, dare I hope for it, even proud of me.
Y'see, my grandparents don't really understand what I am doing. They don't comprehend the concept of the Internet, of online shopping. They questioned why would people pay us in advance for goods that they can't touch or feel! They were born in a totally different era, and every few days they will tell me what a waste it is for me to give up my professional career, to let my qualifications go to waste. In fact, last year I joined some bazaars in my personal capacity to sell my own pre-loved clothes, and when they saw me lugging luggage bags into the car-- they actually thought I was selling clothes at the
pasar malam
(night market)! For the longest time, they were really sad and worried about my future.
So when they saw a sneak peek in the papers of my upcoming interview the week before the article came out...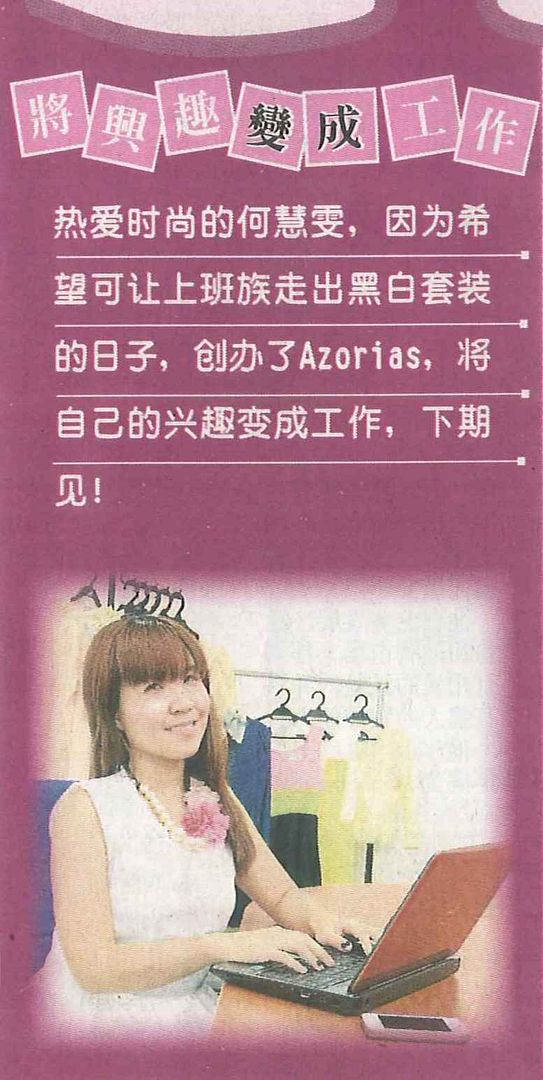 ... They got really excited. And kept on asking me how many copies should they buy.
(I told them two-- one for the family, and one for the office)
But on the day of the newspaper release, they bought a few times more than the amount I asked for, hahaha. And during CNY, they have one copy casually perched in the living room, whereby they will show to all the guests who visit. A little mortifying for me, but still, it's really cute to see them proud and excited about what I do. :)
And that... that mental image of my grandparents proudly showing off the semi-crumpled newspaper clipping... That forms one of my motivations to succeed. :)