Am going to jump back to blogging about my
Bangkok birthday trip
! Any new readers to this blog sure get damn confused with all my back-and-forth travel posts. T_T
Anyway, I promise you that this post will be a good post! 'Cause we got totally ripped off on this day.
*cue dramatic pause*
On our first night in Bangkok, we took a cab to Asiatique Riverfront, and we started chatting with the taxi driver who surprisingly spoke really good English. He then recommended for us to visit the floating market, and offered to bring us around to popular sightseeing spots for 1500 baht (RM150) for the whole day. Since it was the boyfriend's first trip to Bangkok, and I myself have NEVER done anything remotely tourist-y in Bangkok (we only ever shop and eat in Bangkok, heh), plus it's really rare to come across someone who can speak really good English in Thailand, we decided to take up his offer.
So the next morning at 8am, we hopped into his cab and started our journey to Damnoen where the floating market is. After about 1 hour, we reached the market, and we had to sit down with some guides to rent a boat. Now, this was when I got really confused. I have to clarify here that my initial impression is that the floating market is, well, a market, and it's FREE to enter! But okay, I was expecting to pay abut RM10 or something to get a seat on the boat, so all was well.
The guide tapped out some numbers on the calculator and showed me. 500baht!!! RM50 for a stupid boat ride!!! I was quite unhappy, but oh well, since we were already there, I took out 500 baht from my wallet and handed it to the guy. He took the money and continued to look at me expectantly. We just sort of stared at each other for a few seconds before I grab the calculator to look again.....
5000
.
5000 baht (RM500) for the stupid boat!!! I was really pissed off, and I told the boyfriend and the guide that there was no way I am going on a RM500 boat ride, and I just kept on shaking my head and calling them a "Rip-off!!" wtf. The guide then quickly snatched the calculator and retyped "3000" on it. The boyfriend shushed me and said it's okay, what to do, we are already there. I was super unhappy, but just stood there trembling with anger and throwing the guide dirty looks wtf.
So onto the boat we went! We were mainly traveling through tight water canals, which were super dirty. -_- Especially after I compare it with the water canals in Venice wtf.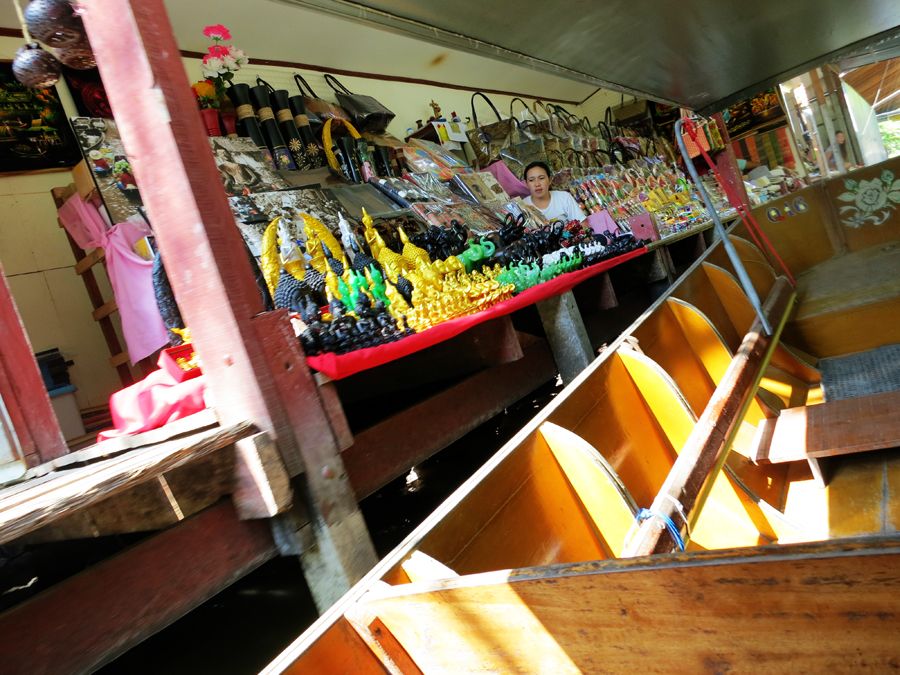 My view on the boat. There are rows of shops/ stalls along the water canals, and some boats on the river/ canals are stalls as well.
I was daydreaming, and let out a HUGE yelp of terror when I realized that there was a python right next to me!!! Turns out it was a stall which allows you to pet the python + snap a photo for 100 baht (RM10), but as the water canal was so tight, the snake was literally 3 inches away from me. Major FML moment there.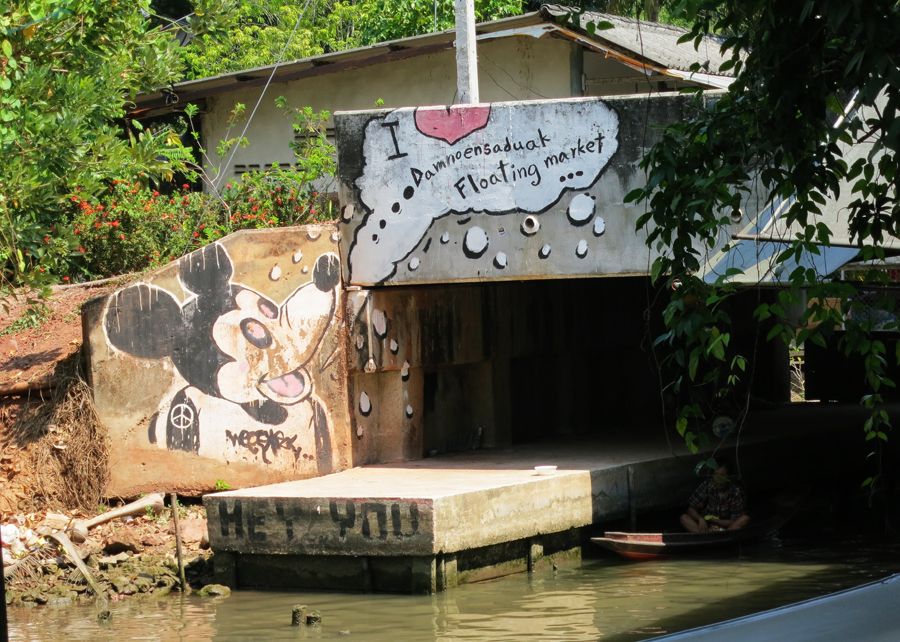 All in all, it was quite an experience. Just be careful not to open your mouth while the boat is moving, because the dirty water from the canal may splash into your mouth. -_- But it was definitely not worth RM500 (RM300 + the cabfare we paid)-- heck, I could get Disneyland tickets for that price!
*gets emo again wtf*
Outfit: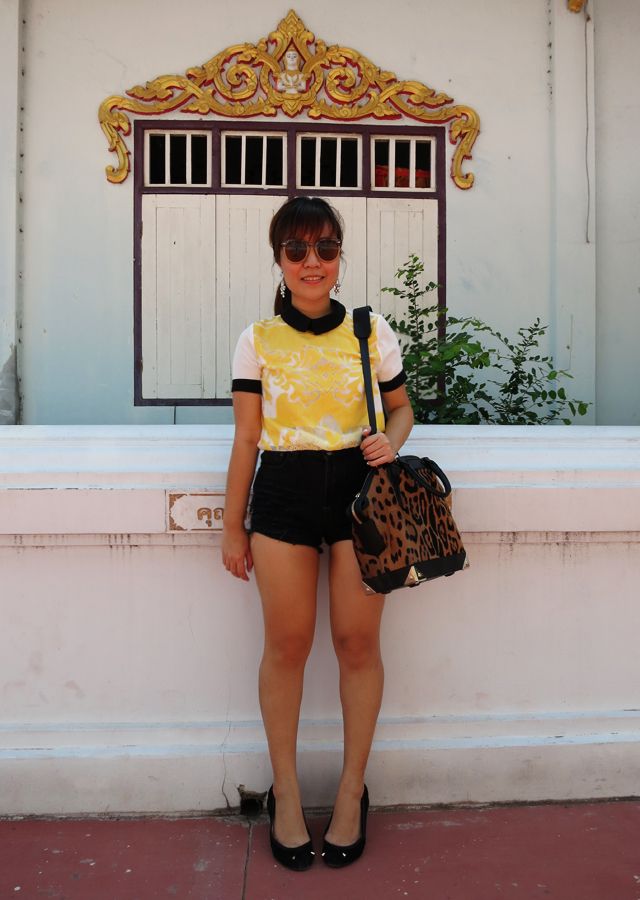 Awkward tourist pose. -_-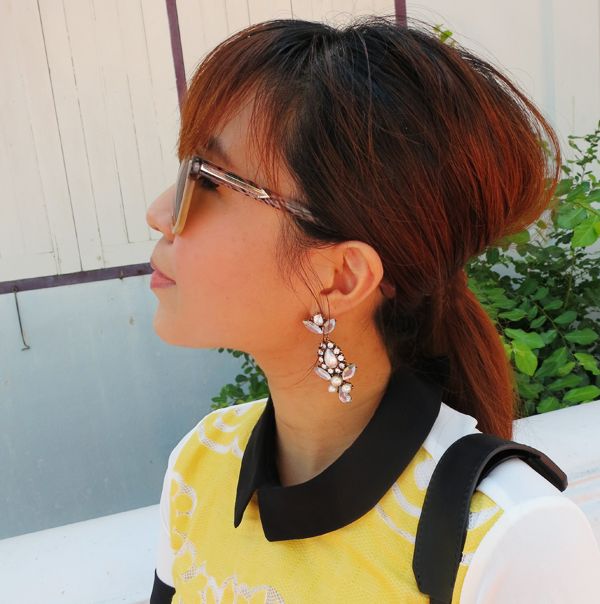 Am into ornate earrings recently.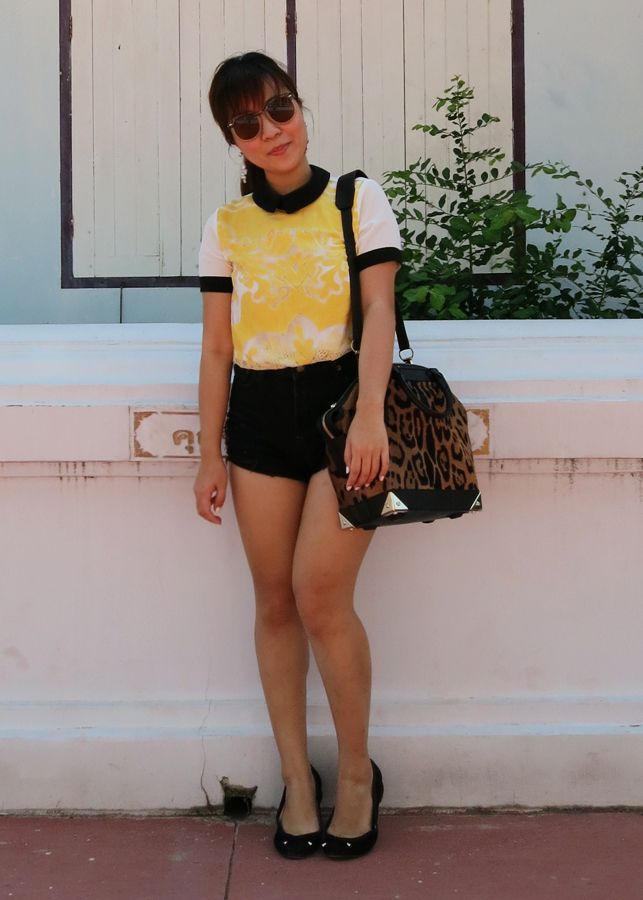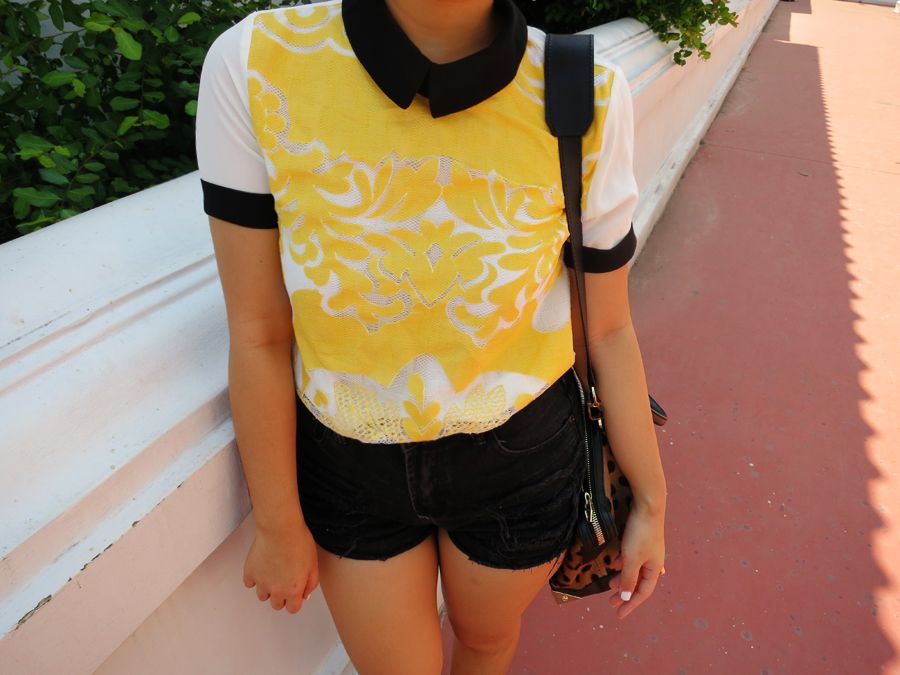 Baroque mesh polo blouse: Korea
Black ripped denim shorts: Bangkok
Diamante earrings: Forever 21
Black suede ballet heels: Topshop
Bag: Alexander Wang
So one word of advise, research and follow a proper tour to the floating market if you plan to visit it! We didn't get to research 'cause I couldn't since the trip was a surprise wtf, and the boyfriend was so busy at work he wasn't able to do any as well.
Nonetheless, I chose to look at the bright side of things-- I took a romantic cruise with my new fiance! :)