Erm, so we were thinking of renaming Rocky again (despite changing his name 3 times wtf
*click*
). Already the boyfriend and I are thinking of getting a second corgi (har har we are so funny, already one corgi is throwing our life totally off-balance), and based on some articles that we read, the second corgi should be a female (if the first one is a male) to maintain a harmonious household. For some reason, I suddenly got struck by inspiration that it would be so cute to call Rocky, Blaze, instead, and the second corgi, Blitz! Blaze and Blitz does have a ring to it right!
Furthermore, Rocky runs really quick despite his short legs-- Blaze! And not to mention, the white markings on a corgi's head is also known as Blaze.
The boyfriend likes the name Blaze too.
The boyfriend:
Damn, why didn't we think of it earlier!
Me:
We did! We wrote it in our list of names! But don't know why we forgot about it...
And then we spent the next few hours pondering over whether we should change Rocky's name. We would be answerable to many people-- including his family, our vet, the pet groomer... wtf.
In the end, we decided to stick to Rocky, but we gave him a middle name as nama glamor! As you guessed it, it's Blaze.
So now our puppy is Rocky Blaze. :)
******************************************************
Rocky is one cheeky puppy. At times, he can be such an angel, but when he is naughty, oh boy. And he is really good at acting, sometimes you just don't know whether to laugh or cry!
The boyfriend:
This dog ar, he is really a world-class actor la.
Me:
*looks at Rocky*
You think you are Matt Damon ar!
The boyfriend:
No, he is not. He is a Demon. Mutt Demon.
******************************************************
Rocky slept with us in the beginning. One night before going to sleep, I lied in bed looking at Rocky snoring peacefully... And started tearing WTF. Damn pre-menstrual hormones.
The boyfriend:
WHAT?? What did I do??!!
Me:
No lar, I suddenly feel so emo looking at Rocky! He is part of our family now. He will follow us on our journey together, he will see us get married, he will see our firstborn, he will probably see our children grow up...
The boyfriend:
Women.
-___-
******************************************************
We brought Rocky to the groomer recently, and when we went to bring him back from his grooming session, his groomer couldn't stop raving about him. Apparently he was an 'angel' and super well-behaved. Ahem.
In fact, she said that if Rocky ever have babies, she wants to reserve one for herself! O___O
As we were walking back to the car with Rocky in my arms...
The boyfriend:
Wow, Rocky, you get more attention from girls than your daddy huh.
Me.
Ya man. Rocky is just a baby himself, and already people are eying his babies!!!
******************************************************
The boyfriend:
You are just like a corgi.
Me:
Whaa..???
The boyfriend:
Corgis are headstrong, stubborn, have a mind of their own, love to boss people around... And they are incredibly food-driven!
Me:
OY!!!
The boyfriend:
They are also affectionate, friendly, loving.... Intelligent Good with kids. Loyal. Fun-loving. And you are such an excited ball of energy , you FRAP (known as Frequent Random Acts of Play, here is an example of a corgi FRAP: *click*) all the time!! Run here run there, jump up and down, and always singing and skipping....
Me:
Hehehe.
The boyfriend:
And you have short legs.
ME:
HEYY!!!
******************************************************
I am in Korea now, and the boyfriend has been updating me about Rocky. How he played with his new toys, new foods bought for him etc. He was telling me that he took Rocky for a walk in the night.
The boyfriend:
He saw his own shadow and he went to attack it!!
Me:
Silly dog!!
The boyfriend:
He was growling and pawing at his shadow, so I pulled him away. He started trotting behind me, but he got scared when he saw the shadow following him!!
Me:
HAHAHAHAHA...
******************************************************
Me:
Baby! I saw a Vogue feature today on someone's wedding, and the couple had their pet corgi as their ringbearer!! THAT'S WHAT I WANT!!
The boyfriend:
What if he shits on the job...
Me:
Errr... Won't right. By that time he should have better control over his bowels.
The boyfriend:
What if he starts biting your dress?
Me:
....
The boyfriend:
What if his herding instincts take over? Herd the bride. Haha...
Me:
Okay, obviously I didn't think this through.
******************************************************
Anyway, we started an
Instagram account for Rocky
! The main reason for this is because he is growing so quickly (it has only been a month, and he is already double the size of when we first brought him home!) and we want to savor and document his puppy moments. Also, like I said earlier on, Rocky will follow us on our journey, and I want to do the same for him! :)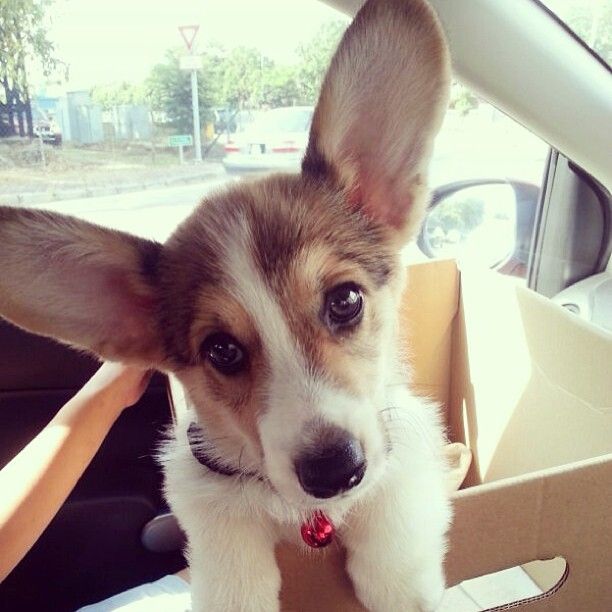 Follow this little
d
evil via
@blazincorgi
. :)