During our Eurotrip, we were lucky enough to stay at some pretty memorable places, so I thought I would do a blogpost on some of these accommodation!
First of all, a little back-story because some of you have been asking me about the tour we joined. We followed a local tour (
Trafalgar Tours
, which was founded in London), and they have many options of tours to cater to varying budget and schedules. The one we went on is actually the Cost Saver tour (about RM5K-plus, excluding flight tickets; and we also extended our stay in Paris, which is not part of the tour), mainly because we bought our flight tickets
before
booking the tour, and our arrival and departure date/ city was pretty much locked. We looked at numerous tour groups, but the Trafalgar Cost Saver tour was the tour that fit our dates/ duration best.
Now, being a cost-saver tour, we weren't expecting much from the accommodation. Generally, a rule of thumb is that the first and last accommodation would be the nicest, and everything else in the middle sucks wtf.
To recap, here are the places we went to in sequential order:
Paris> Amsterdam> Cologne (Germany)> Munich (Germany)> Innsbruck (Austria)> Venice (Italy)> Rome (Italy)> Florence (Italy)> Lucerne (Switzerland)> Paris
I will talk about the (interesting) hotels in this order too!
Amsterdam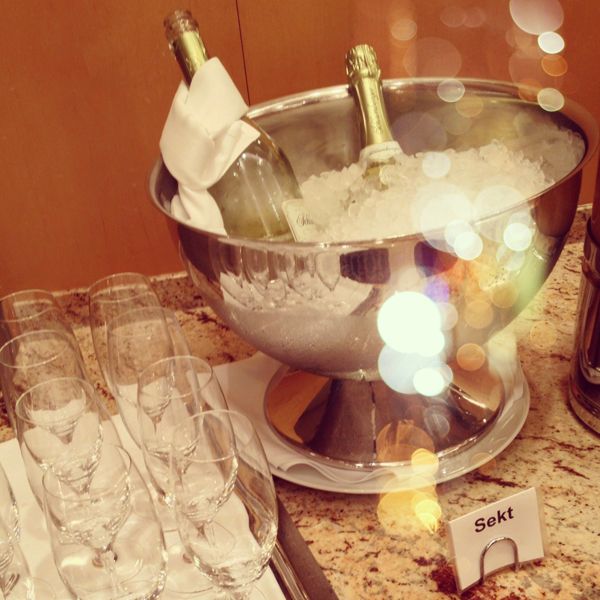 This was a very artsy business hotel, with a lot of random art fixtures everywhere. It was a very decent hotel, no complains at all. But especially noteworthy was its breakfast! Hands down it was the best hotel breakfast of our entire trip. From chinese soups, pancakes, sashimi, to Amsterdam specialties like herring, they have it. We even had champagne for breakfast! Not bad at all. :D
Austria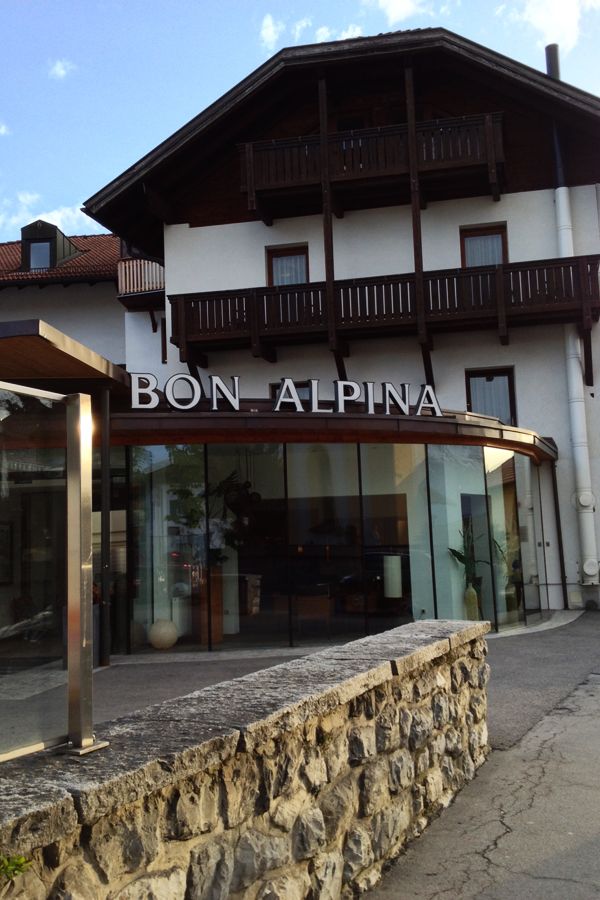 One of the ways tours save costs is by still putting you in a decent-standard hotel-- but far away from the city. I wasn't too optimistic about the hotel in Austria, as Innsbruck itself already has a 'small town' feel to it, and I can't imagine what a suburb to it will be like. To our pleasant surprise, our accommodation in Austria is actually a ski-lodge-like place on top of a mountain, with the most charming interior!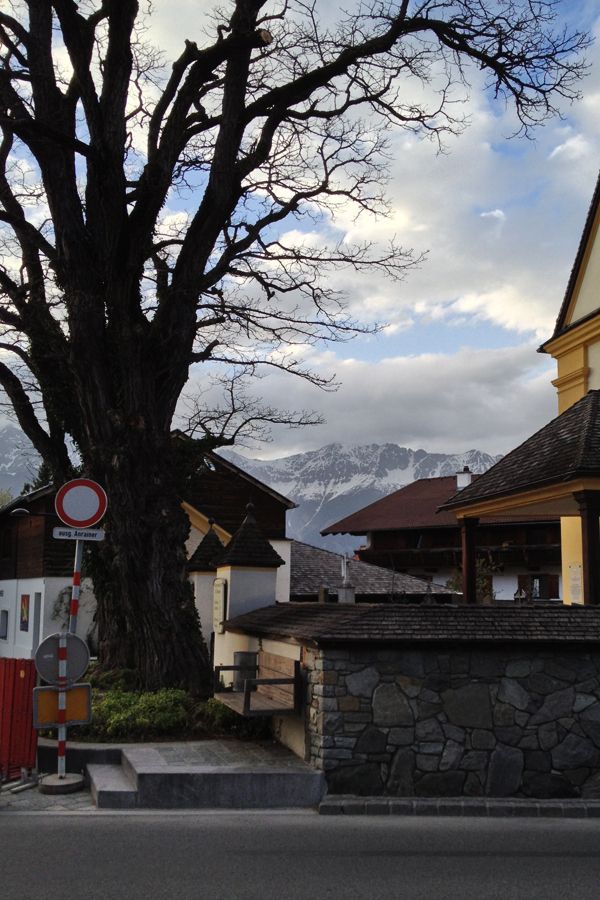 And not to mention a magnificent view of snow-capped Alps. :)
The sleeping arrangement during the tour was for my parents to be in one room, whilst the 3 of us sisters take another room. Much to our delight, my sisters and I found that we were constantly placed in the biggest/ best room in ALL of our accommodation as most people travel in pairs!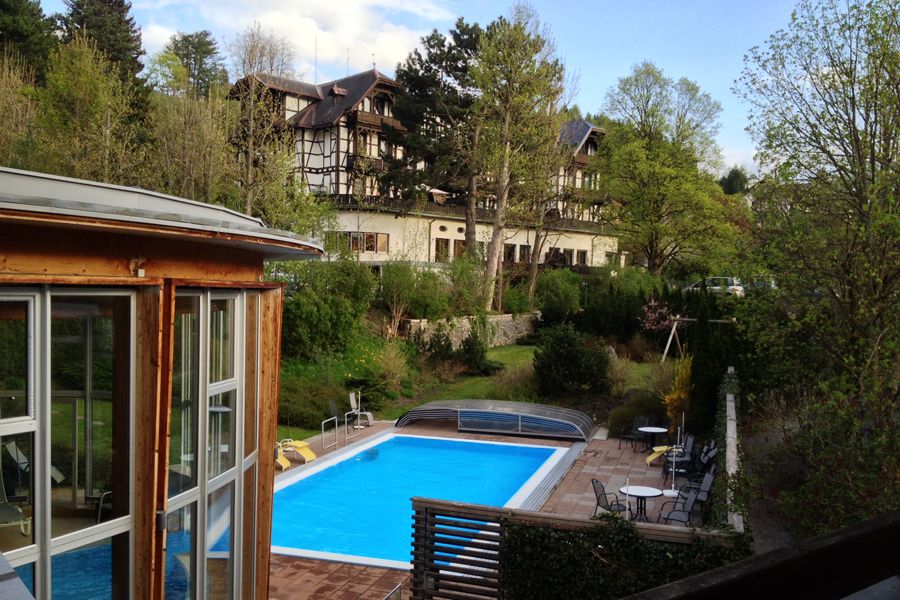 For instance, in the Austrian wooden lodge hotel, we had a big suite with a spacious balcony facing the pool, glass house (with heated pool), and loads of lush greenery.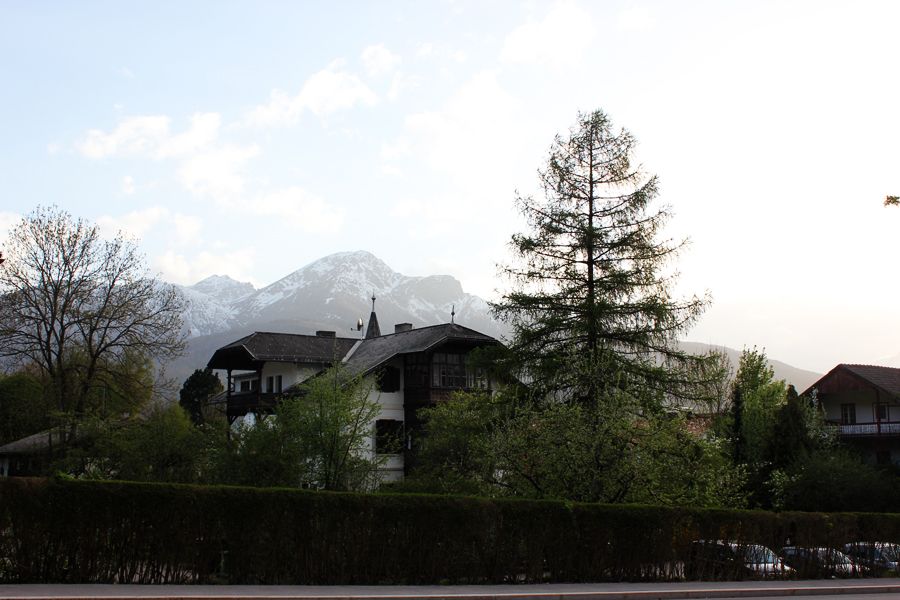 Another photo of the great view surrounding us. :)
Venice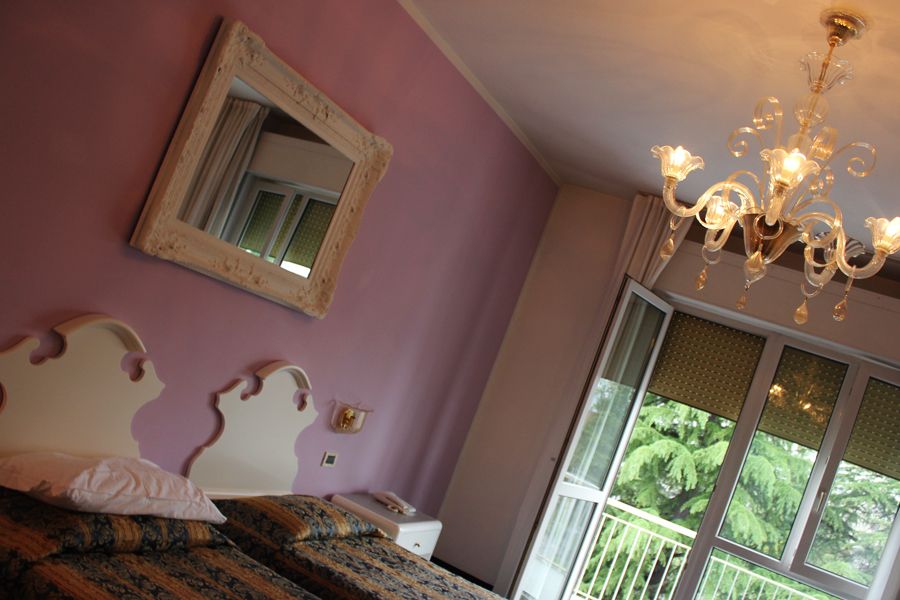 Again, we were placed in one of the biggest rooms! Love the princess feel of this room, hehe.
Rome
When the tour bus was nearing the hotel, I let out an inward cringe-- the hotel looks HORRIBLE from the outside! Peeling walls, patchy paint job, wilting plants... I wouldn't even be surprised if it was haunted.
However, when we stepped into the lobby, we were pleasantly surprised!
In fact, I saved this photo in an inspiration folder for my future home WTF.
The hotel is owned and managed by two Italian brothers. Two
very
good looking Italian brothers. Jing and Teeny kept on trying to catch their eyes while they were assigning rooms to us, haha.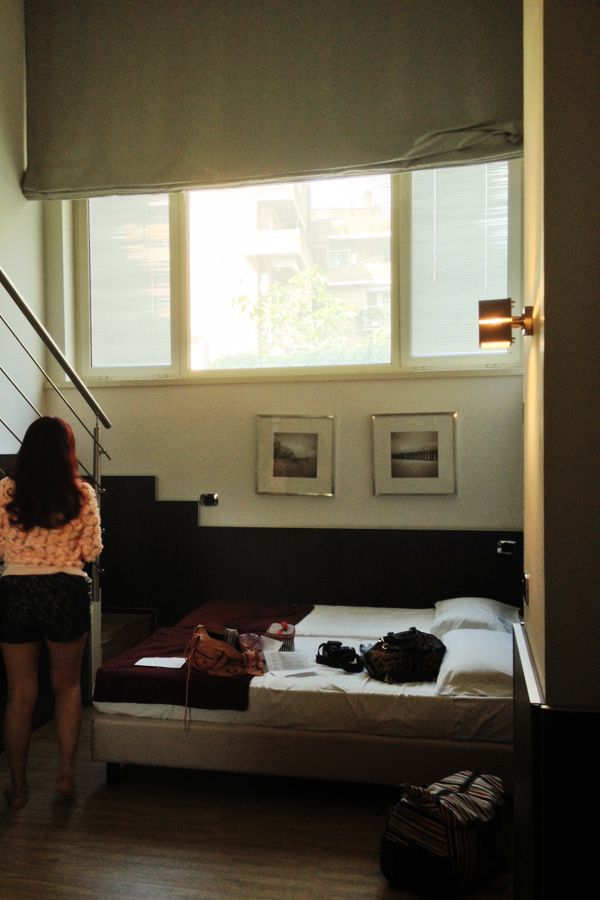 We opened the door to our room, and was greeted by this sleek, minimalistic room. Not bad!
Then suddenly we noticed the stairs....
... which leads to another room!!
We got a duplex yo!! That's practically like staying at a penthouse!!
The three of us got so excited that we started jumping and screaming like hooligans. Suddenly, there was a knock on the door. One of the brothers came to deliver our bags.
*shy*
He asked us in a deep Italian accent,
"Do you like your room?"
, and we answered demurely,
"Oh yes, we do."
Then he told us,
"Yes I know, I heard your screams from outside."
WTFFF shy maximum!!
But that didn't stop us from loving our room! Hehe.
And that's about it for the places that we stayed in Europe! Didn't blog about the rest of the places 'cause they were either
meh
(Germany and Switzerland) or decent but not really unique (Florence and Paris). One important thing that I really learned from this trip is that THREE is a PARTY for tours because most likely a nicer room is guaranteed! :D