Recently I have been staying over at the boyfriend's place a lot more, and you would have thought that after numerous conversations over the years with girlfriends who (semi) moved in with their partners, I should have been fore-warned of a huge challenge....
A wardrobe challenge, that is!
Do you stay over at your boyfriend's? Then the lugging over of toiletries and frantic packing of isolated, mismatched clothing should be very familiar to you. -__- I almost always forget to bring something wtf-- contact lens solution, comb, medicine, sanitary pads... and the list goes on, sigh.
Besides that, you will have all these disparate pieces in your duffel bag, which you desperately try to "make it work". Thinking of that pair of shoes or necklace that would be perfect for the outfit, but it's not with you. GAH! I pretty much looked like a tramp recently. T_T
So this weekend, I decided to change that. I came up with a list of outfits to wear for the rest of the week, and pack all the shoes/ accessories that I intend to make up the outfits. The result is a very very heavy luggage bag wtf. The by-product is a very pretty Hui Wen HEHE.
To kickstart my week of dressing up, I wore a summery dress that I have been itching to wear!
A candy colored dress from
AZORIAS
that is in a really flattering cut. You can't tell that I have just eaten 1.5 plates of pork chops WTF.
Extra love for it 'cause of the scooped keyhole at the back! I am a huge sucker for any kind of back details.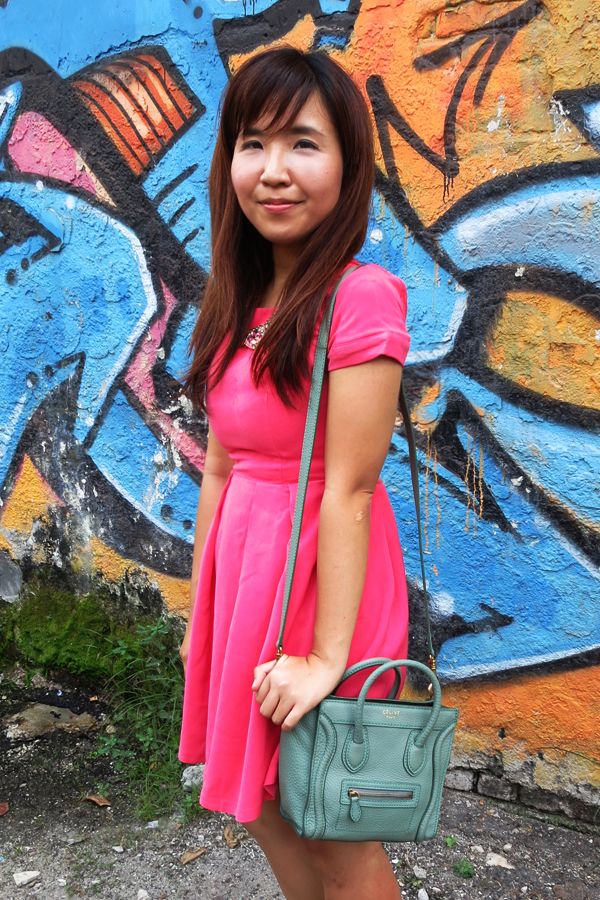 Coral dress with back keyhole: AZORIAS
Diamante necklace: Borrowed from Teeny
Nude leather chainlink heels: Korea
Bag: Celine