I think one of my favorite things in the world is the beach.
I can literally just lie down on the beach for hours just to watch the waves crash against the shore, listening to the rhythmic lullaby of the waves, pondering the vast skies above... And anyone who knows me well enough will know that doing anything on/ near the beach is a HUGE plus point for me, that includes strolling along a beach, staying next to the beach, dining in restaurants on a beach...
In fact, my number one sexual fantasy was to do it on a beach wtf. Until someone pointed out that you will get sand all
inside
you WTF.
So one of the things that I envy Jing the most was being able to access the beach at anytime when she was in Sydney! Now she is working in Brisbane-- which means even more beaches.
*turns green with envy*
Knowing my love for beaches, Jing actually arranged a lot of meals next to the beach for me! For example, brunch at Deckhouse which I blogged about
here
.
Another morning, she brought us to have lunch very near to Bondi beach! It was one of the best brunches I have
ever
had, and after the extremely satisfying meal, we took a walk down Bondi beach.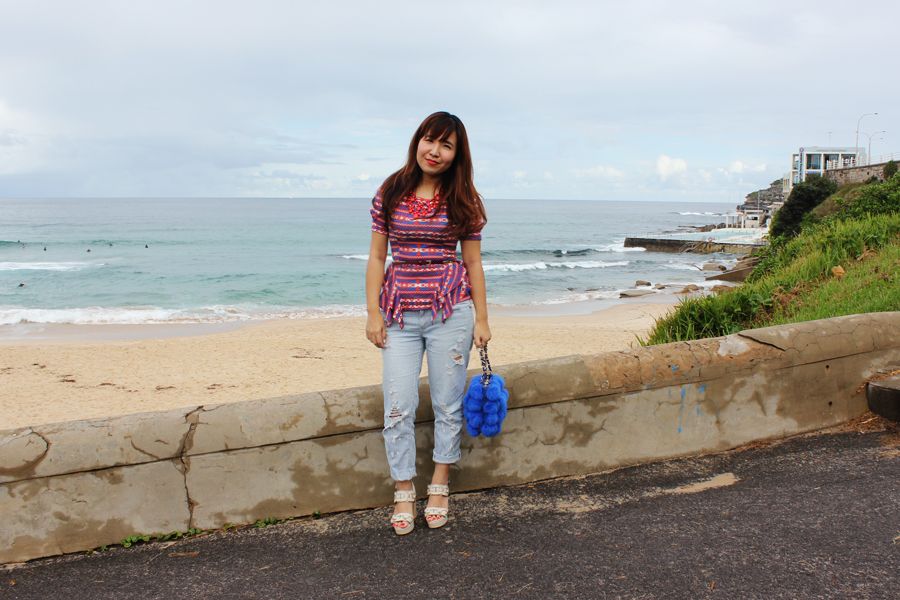 Really happy to be on the beach although it was quite an overcast day! But I just realized that I have no fate with Bondi beach-- it is shady and gloomy
every single time
I go to Bondi. -____-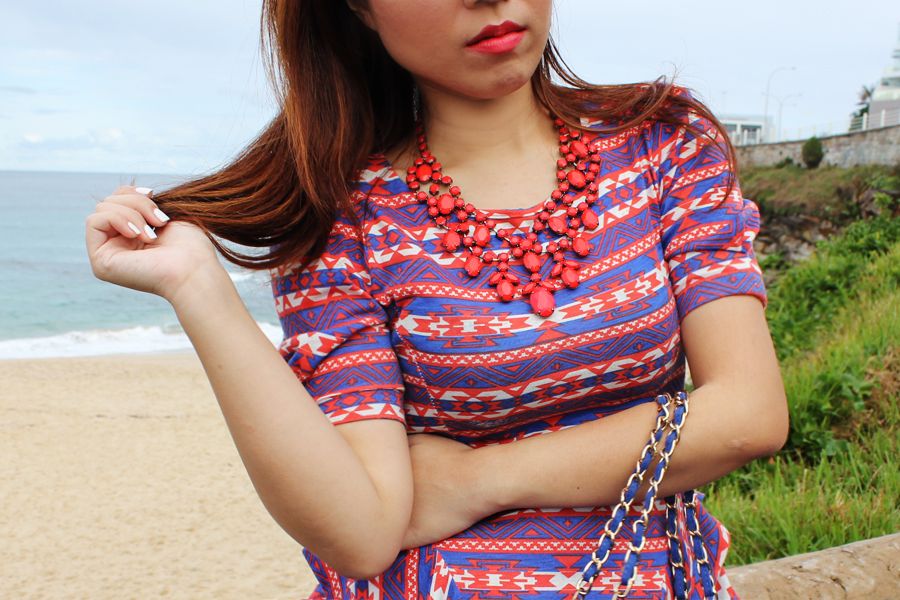 Wearing a Korean brand lipstick that I picked up in Seoul. It is the BEST lipstick I have ever used (except for maybe YSL, but YSL is like 4 times the price wtf)-- pigmented rich color, long-lasting, and very moisturizing but not to the point of being oily! Thank god I got it in 4 colors. :D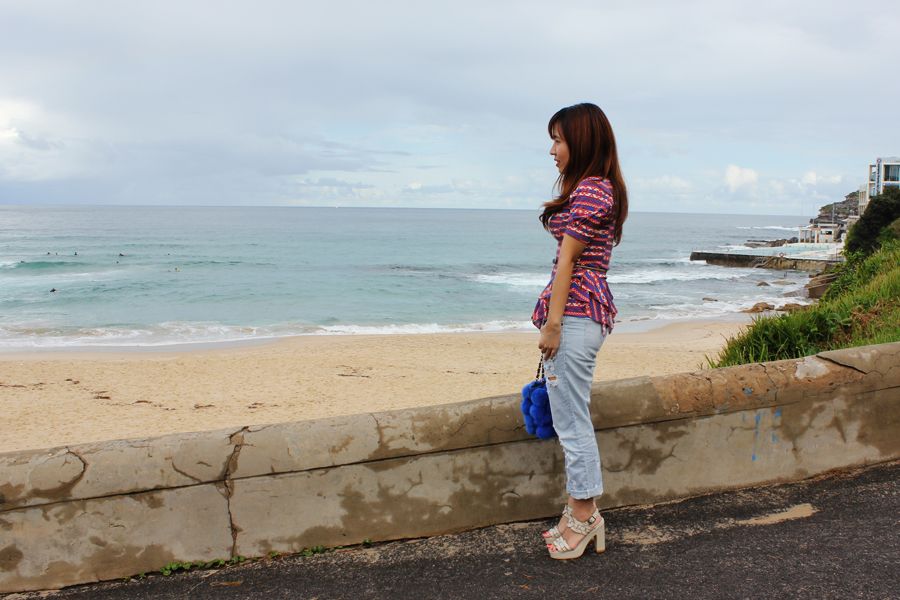 Suddenly noticed that the sun was creeping out!
Outfit: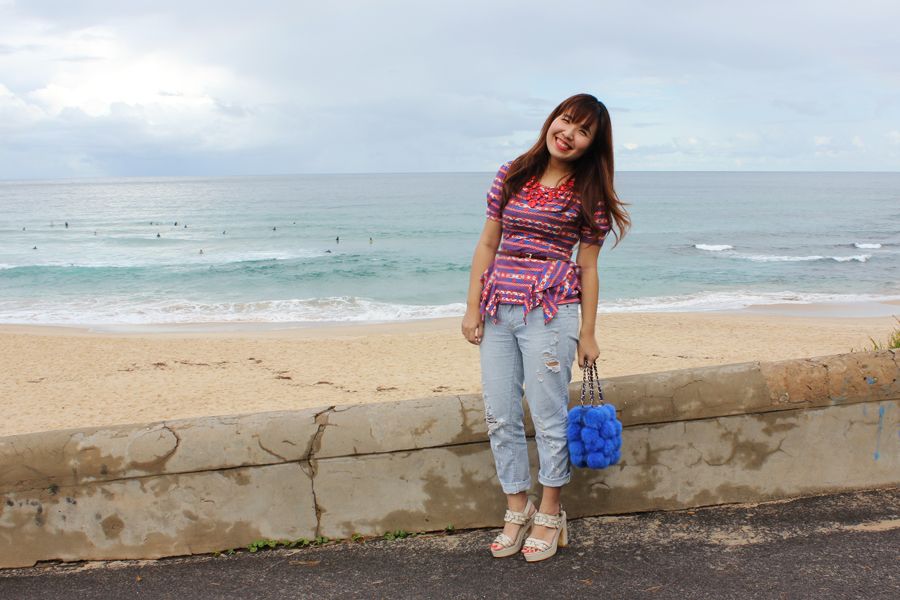 I have a thing for tribal prints, Aztec print, ikat print, batik, Navajo print.. I love them all! So when I saw this Aztec print tee with a really unique peplum hem (kind of structured and jutting out, if you may), I knew I had to have it!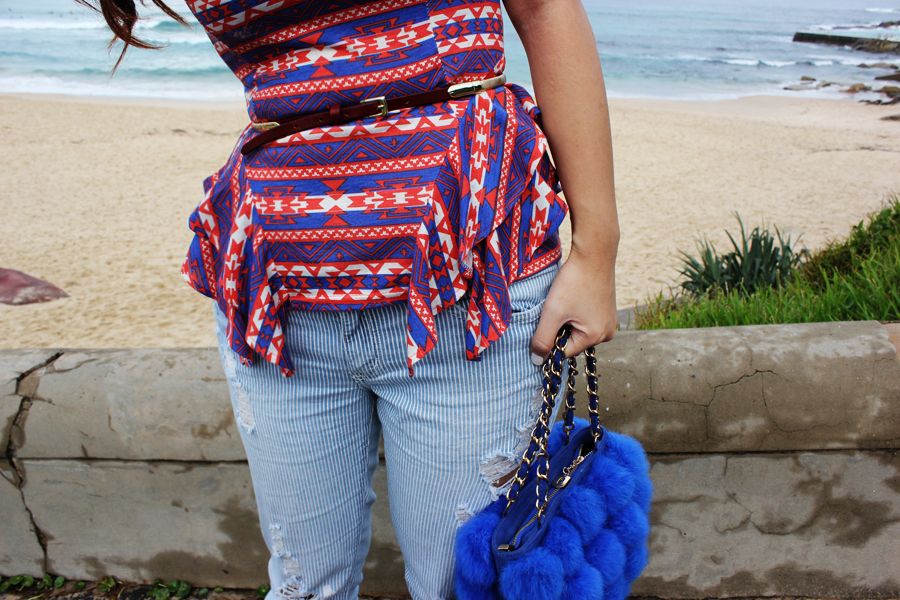 Aztec print tee with stuctured peplum hem: AZORIAS
Frayed boyfriend jeans: Forever 21
Red jewel necklace: Korea
Nude leather link heels: Korea
Electric blue pom-pom bag: Holiday in Zhuhai
And the behind the scenes of our outfit photos...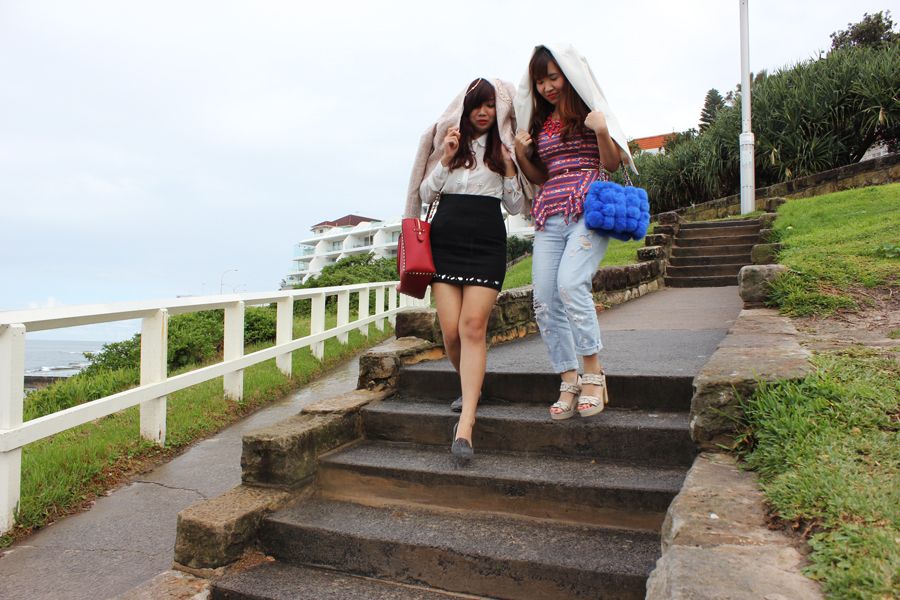 Scampering around underneath our jackets because we didn't want the rain to mess up our hair and make up WTF.
Jing's wearing
top
and
bottom
from AZORIAS, and I am using a
blazer
as an umbrella wtf from AZORIAS too.