The Hoe family loves food. How much, you ask?
What if I tell you we purposely went to a country just to purchase food wtf.
During our Hong Kong/ Zhuhai trip this year, we decided that we had to make a trip to Macao to buy the famous
heong beng
(specialty biscuits). To be fair, Macao is really really near to Zhuhai la, just need to cross a tunnel wtf. This is why I highly recommend Zhuhai for any of you who happened to visit Macao, because shopping and food is so much cheaper there!
We took a cab from the immigration center at Macao (after coming out from the tunnel), and the cab was nice enough to wait for us. Since we were in a hurry, we had to plan our routes properly-- this is because we decided that we also want to buy some egg tarts and bird nest tarts, hehe. So Jing and I went to buy the biscuits, while my mom queued for the tarts.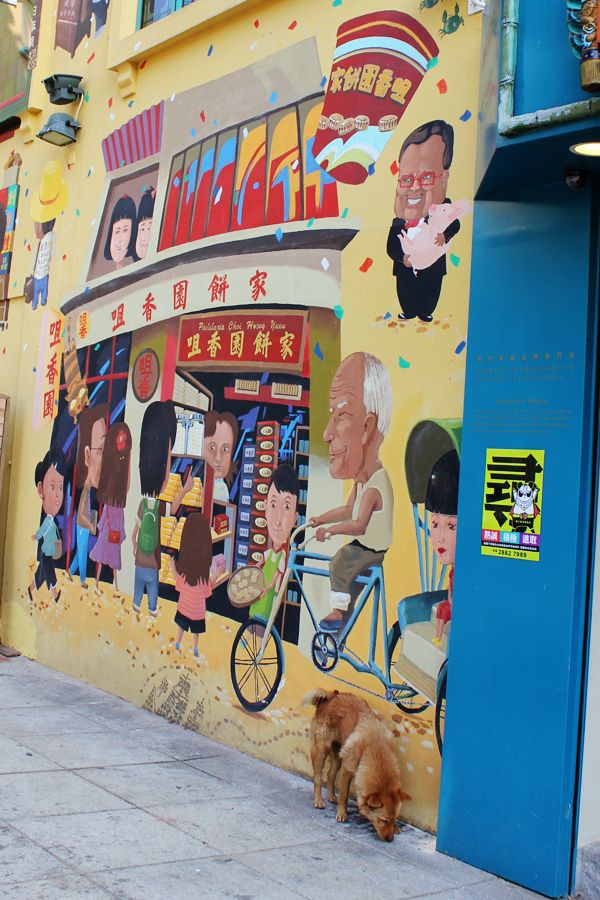 While walking to the biscuit shop, I saw a stray dog who looks too cute to be a stray! I remember plotting to bring this dog home 'cause I don't see how I can ever own a dog otherwise. Who would have guessed that a few months down the road I would be a proud owner of
this monster
??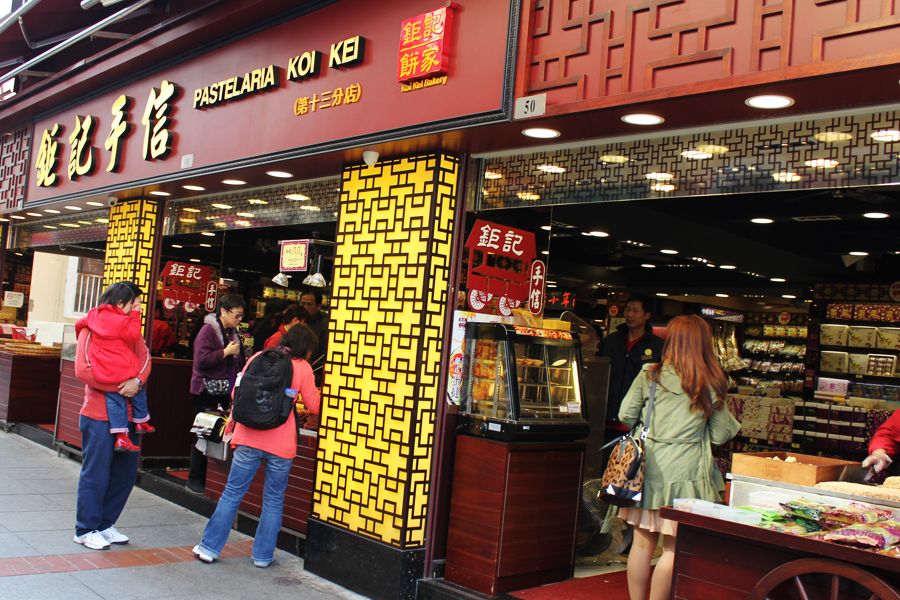 At the biscuit shop, where I also deemed it fit to buy a two dozens of Portuguese egg tarts. Spot me!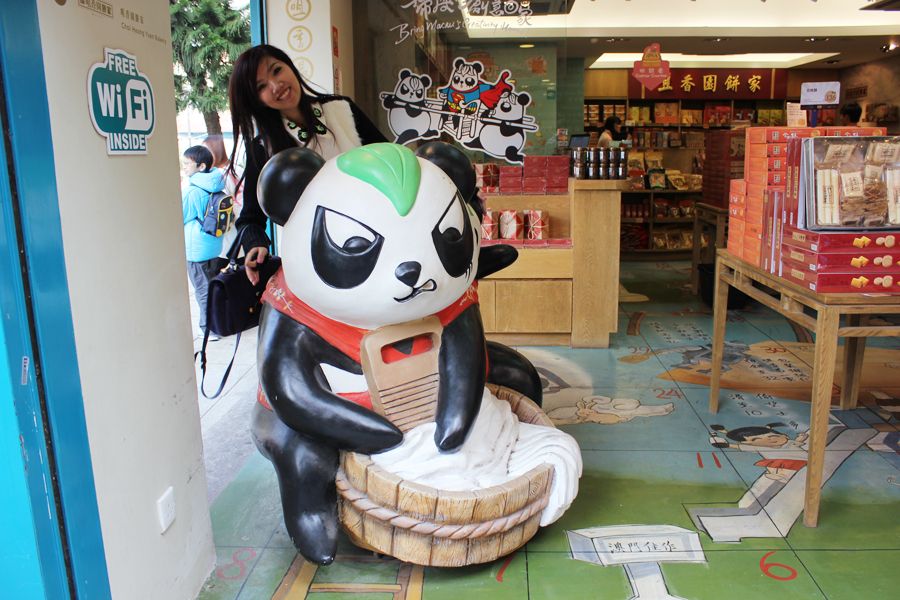 While I was busy buying the food souvenirs, Jing found time to camwhore. -_-
Outfit: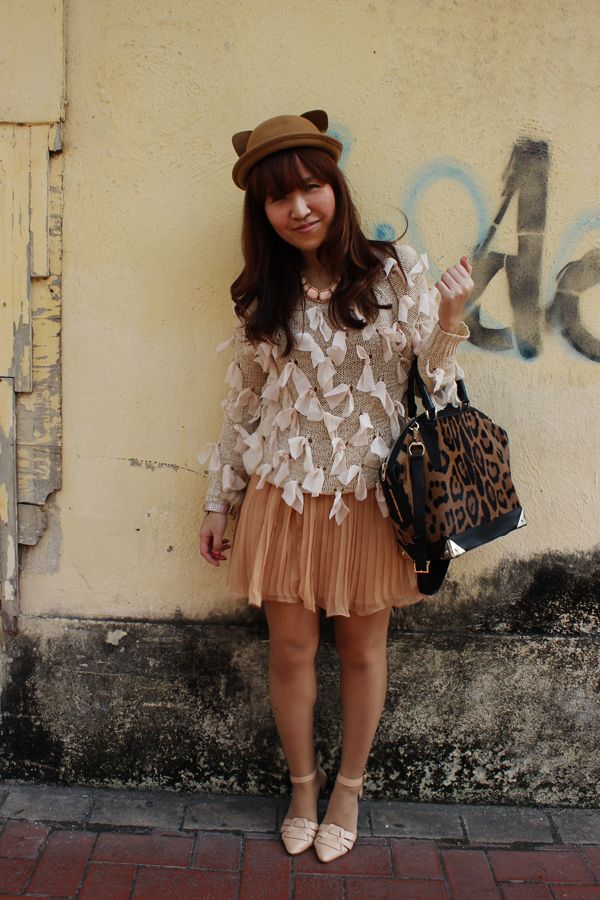 Love looking fun and happy on holidays!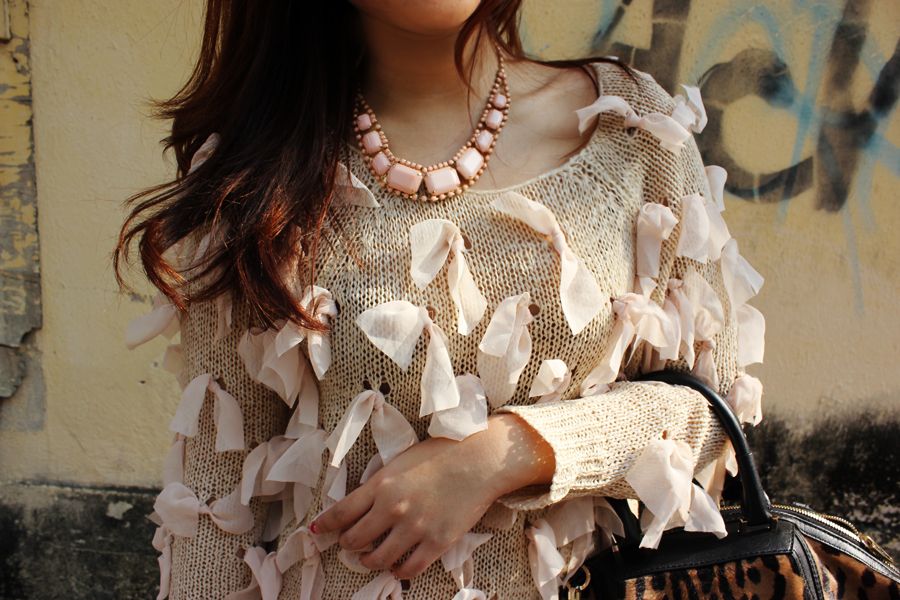 Wearing one of my
favorite sweaters
-- it is impossible not to feel pretty in this ribbon work-of-art! It is also my mom's favorite, if you remember from this post (
*click*
).
Very girlie accessories to go with the outfit. Sometimes I can be a sweet girl too, y'know. Hehe.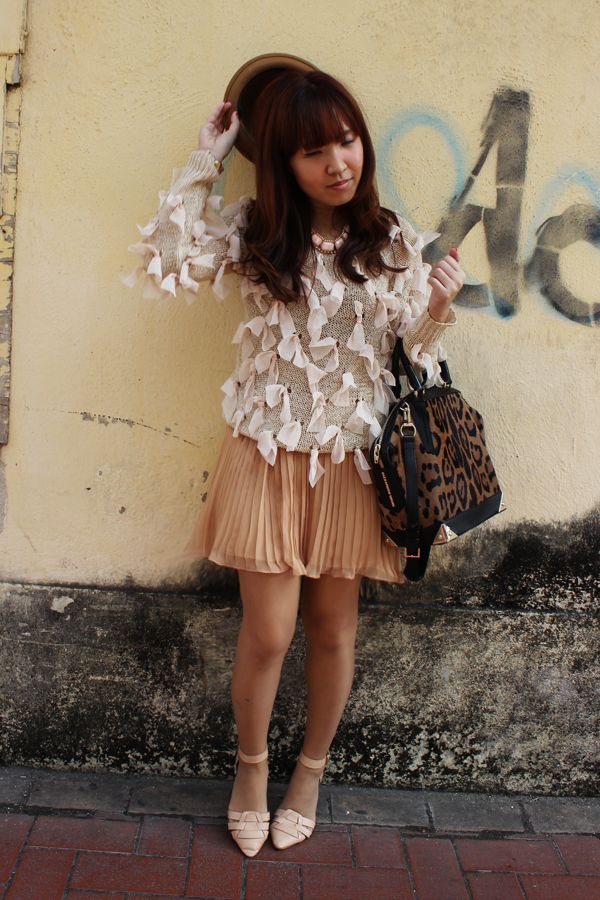 Pale pink chiffon bow sweater: AZORIAS
Nude pleated overalls worn as skirt: AZORIAS
Pale peach jewel necklace: Korea
Neko hat: Korea
Nude ankle-strapped pumps: Zara
Bag: Alexander Wang
We ended up in the cab with biscuits, Portuguese egg tarts, bird nest egg tarts, coconut tarts, normal egg tarts, milk tea and Macao pork burgers.
WHAT?? We had to make our cross-border trip worth it, no?