Sponsored post
I have been dying to get a Clarisonic for ages, so when I found out that
Audrey
was in the States recently, I got her to buy me one!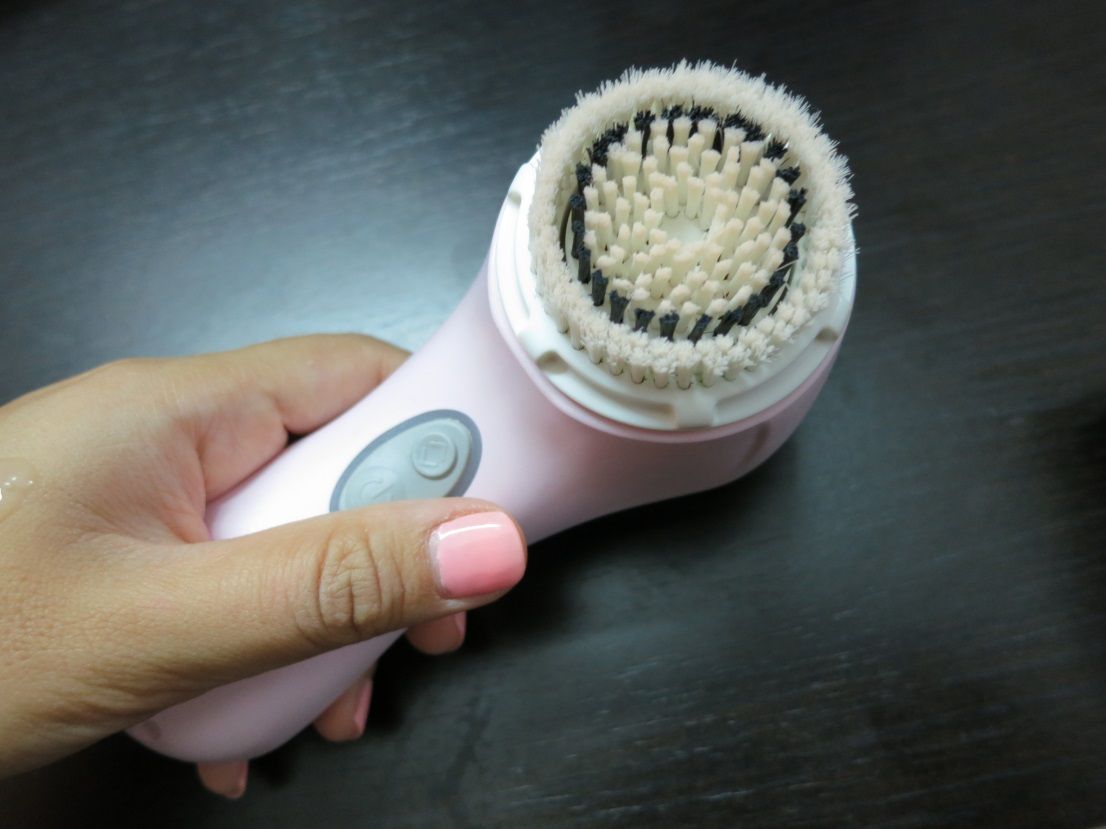 In a pretty baby pink that coincidentally matches my current nails too, hehe.
I was really excited about my new toy, and I started doing a lot of research on it, including ways to use it, care instructions, frequency of use etc. But one word kept on cropping up.
Cetaphil
.
My curiosity was piqued, and I started digging deeper on this brand. Turns out that it produces one of the mildest cleansers in the market—the Gentle Skin Cleanser—a pH-balance formula which is soap-free and fragrance-free, so mild that it is mild enough for a baby's delicate skin! For that reason, it is the no. 1 most recommended cleanser by dermatologists! In fact, many reviews that I found online called Cetaphil and the Clarisonic a 'match made in heaven'. I also found out that many celebrities use Cetaphil, such as Angelina Jolie, Diane Kruger, Olivia Wilde, and even Pharrel! :O
So I was really happy when I was invited to attend a Cetaphil workshop recently. I managed to get my hands on some Cetaphil samples, and I couldn't wait to try it out at home.
I was most excited about the
Cetaphil Gentle Skin Cleanser
, due to the online reviews that I have read, so naturally it was the first product that I tried out.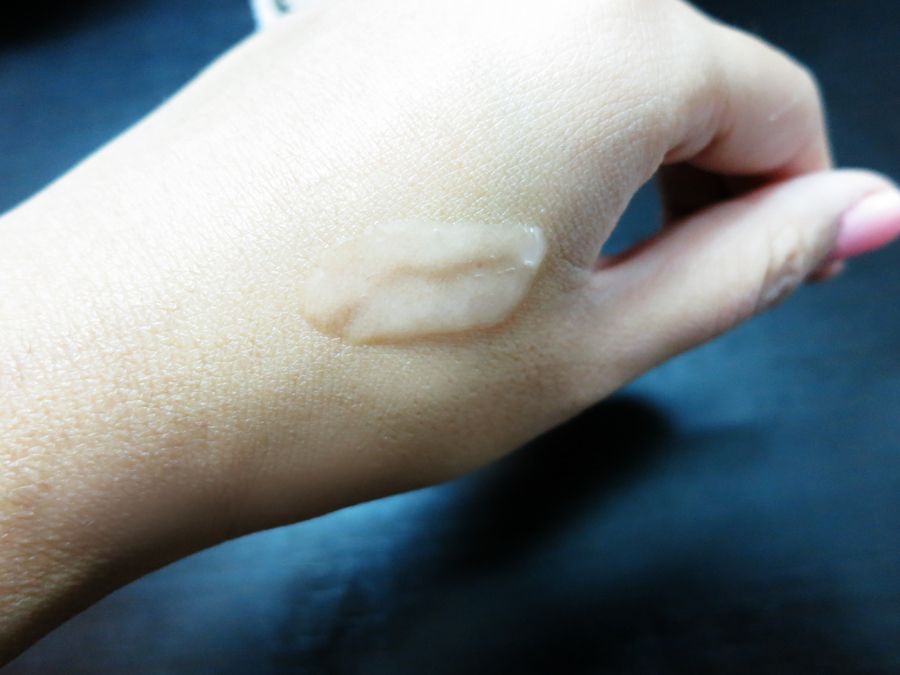 I poured out a bit of the cleanser onto my hand. The texture is very light, and lotion-like. Because of its non-foaming texture, I did not wash it with water as how I would normally do with other facial cleansers. Instead, dermatologists recommend to use Cetaphil Gentle Skin Cleanser on dry or damp skin.
Then I spread the Cetaphil cleanser evenly all over my slightly damp face, and then I switched on my Clarisonic and run it all over my face.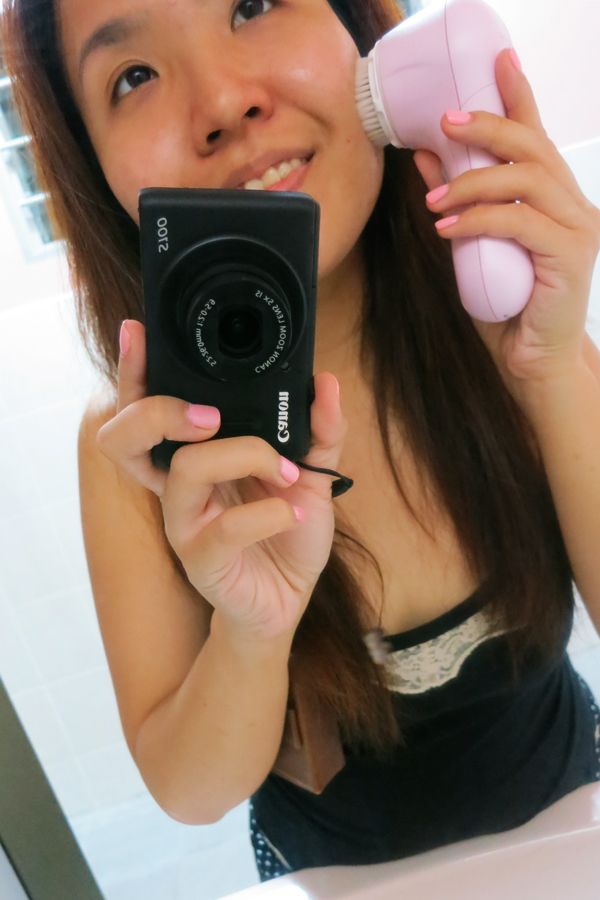 Verdict after washing it off?
I LOVED IT. The combination of the very gentle Cetaphil cleanser and the high tech Clarisonic brush leads to very clean skin, but yet skin still feels soft and moisturized.
The reason for this is because Cetaphil hydrates as it cleanses, as it has 3 humectants (a substance that is used to keep things moist. It might sound like a technical jargon, but I am absolutely sold on this because during the Cetaphil worshop, a moisture test was done on my skin. An apparatus was held to my arm to test my moisture level—mine was 31.5%-- ideal moisture level is at least 45% FML. Then I rubbed a bit of Cetaphil Gentle Skin Cleanser onto the same spot, and again, my moisture level was checked.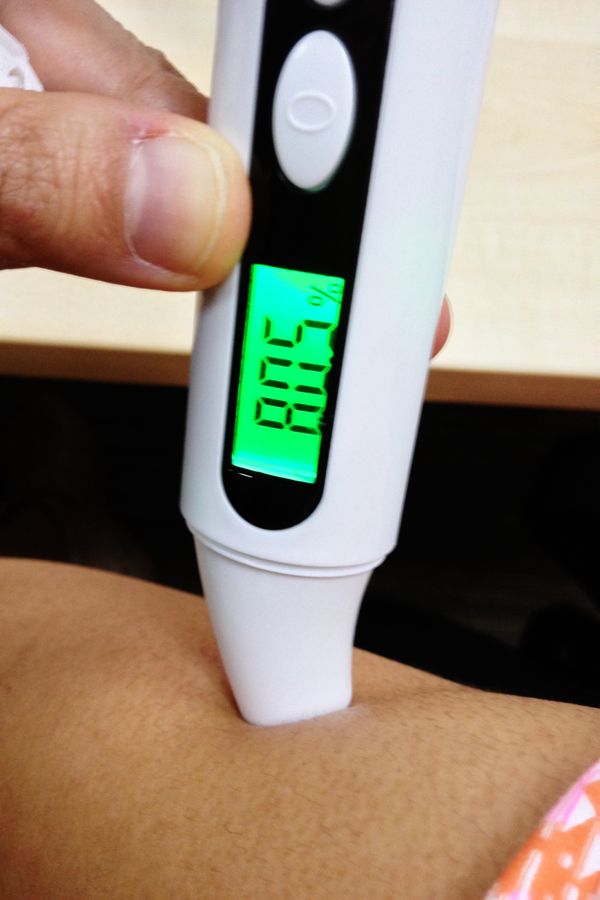 WHAT THE SORCERY???!!!!
The Cetaphil Gentle Cleanser actually made my skin's moisture level went up by 50%!! And 80.5%!!?? That is like a High Distinction if I was in an exam
*geek mode*
. And it's also pretty close to 100% which would make me 100% moist, like a camel's hump or something wtf.
GET ME A BOTTLE OF THIS MAGIC NOW PLEASE.
The Gentle Skin Cleanser can not only be used on the face, it can also be used on the body. It is also non-comedogenic (i.e. won't block pores), so it is great for people with acne (and backne!) problems.
Another amazing fact about this product—did you know that I didn't rinse off the cleanser after the moisture test? Because I didn't need to! The cleanser is so mild that it can actually cleanse without water. :O :O :O This must be why in some of the online reviews that I read, many girls talk about using the Gentle Skin Cleanser to double cleanse—first to remove make up, then to cleanse as per normal.
So I decided it out myself-- using the cleanser as a make-up remover. The way to do it is to pump some onto your cotton pad, and swipe away.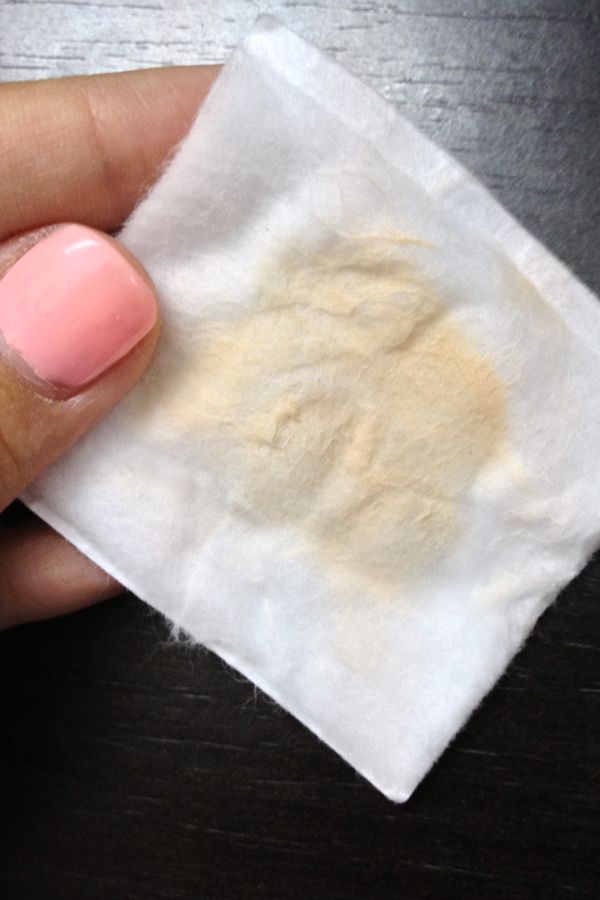 My make-up came off easily! That being said, I would say that it'll work better on light make-up.
Another product that I really like is the
Cetaphil Moisturizing Lotion
. I absent-mindedly rubbed some on my neck during the workshop, and was surprised to find out that my neck was extremely smooth even at the end of the night! So much that I kept on offering my neck to the boyfriend and asked him to stroke it, HEHEHE.
That being said, I would probably leave the Moisturizing Lotion for the body, and instead settle for the
Daily Facial Moisturizer SPF15
for the face. The 2-in-1 formula is suitable for all skin types, and is perfect for lazy bums who can't be arsed to apply moisturizer and sunscreen.
But if you are a little diligent, I totally recommend the
UVA/ UVB Defense SPF50
! It provides a 12-hour moisturization after only one application, and most importantly (to me), it is non-comedogenic i.e. it will not block pores. This is because I hate the greasy feeling from most sunscreens and I always feel that they are clogging up my pores!
Cetaphil is running a campaign now called "Share a Good Thing", which I can't agree any more, which is why I am sharing it with you guys.  On a personal level, I am going to share the Gentle Skin Cleanser with my boyfriend, because sometimes he gets dry patches on his face, and I believe this product will help solve the problem. In fact, I am planning to get a big bottle (want to use it as a body wash as well) right after this, as there is a 20% discount on Cetaphil Gentle Skin Cleanser in Guardian, Watson and Caring pharmacies currently.
Just remember that after you try it out and it works, to
Share a Good Thing
! :D