Sponsored post
I was ecstatic to be invited to my second Elegantology event shortly after my first one (blogged
here
)—especially this time around, the event is a more intimate one with a fine dining experience at the Elegantology restaurant at Publika as well as a first look at the launch of their New Collection.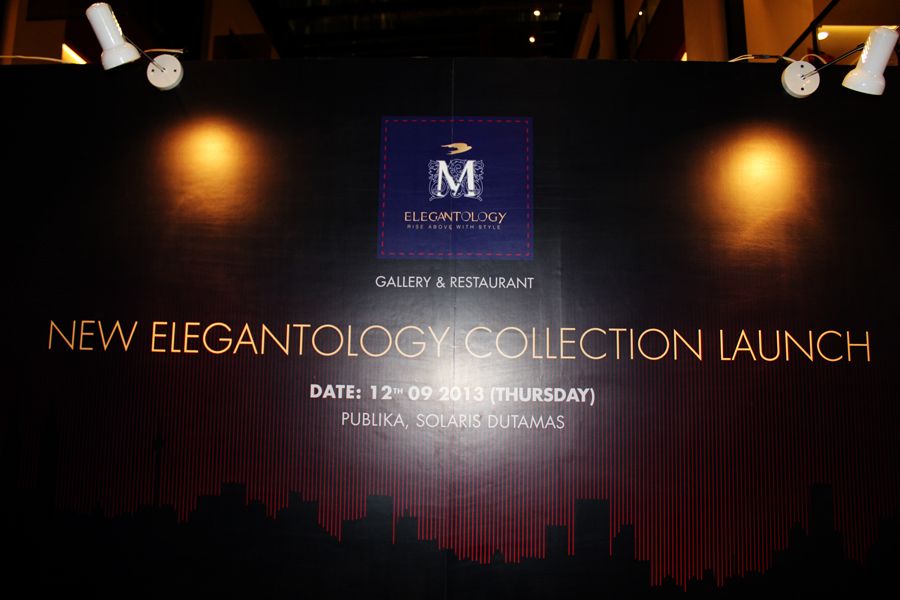 The event started off with the fashion show showcasing the New Collection.
I did, however, thought that the theme would be easier this time (the last one was "White Elegance"), but alas, I was wrong! The theme this time is "Gold Elegance", which could be quite simple but I didn't want to take the easy way out by donning gold accessories. Instead I insisted on finding something elegantly gold wtf but still ME. Thank god I managed to put together something at the 11th hour!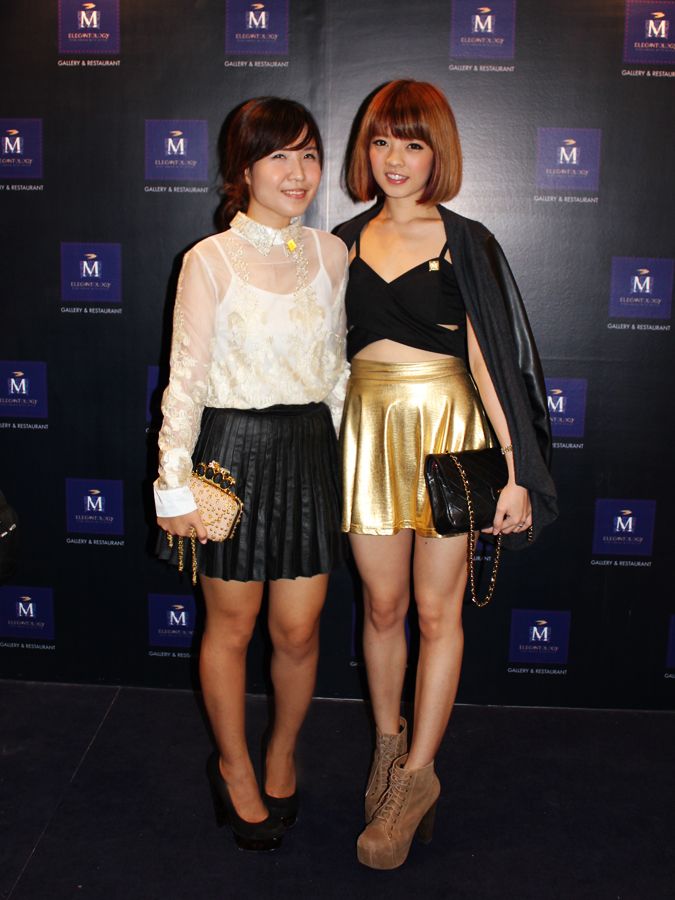 Tada! With Bobo here. What do you think of my outfit? :D
Gold sequined embroidered sheer blouse: AZORIAS
Leather pleated skirt: Korea
Black suede pumps with tortoiseshell heels: Topshop
Studded clutch with bejeweled skull clasp: Holiday in Zhuhai
As some of you may already know, Elegantology Gallery & Restaurant houses exclusive men's fashion and lifestyle collections created by reputable local designers alongside a gastronomic haven which is the work of celebrity chefs Johnny Fua and Sherson Lian.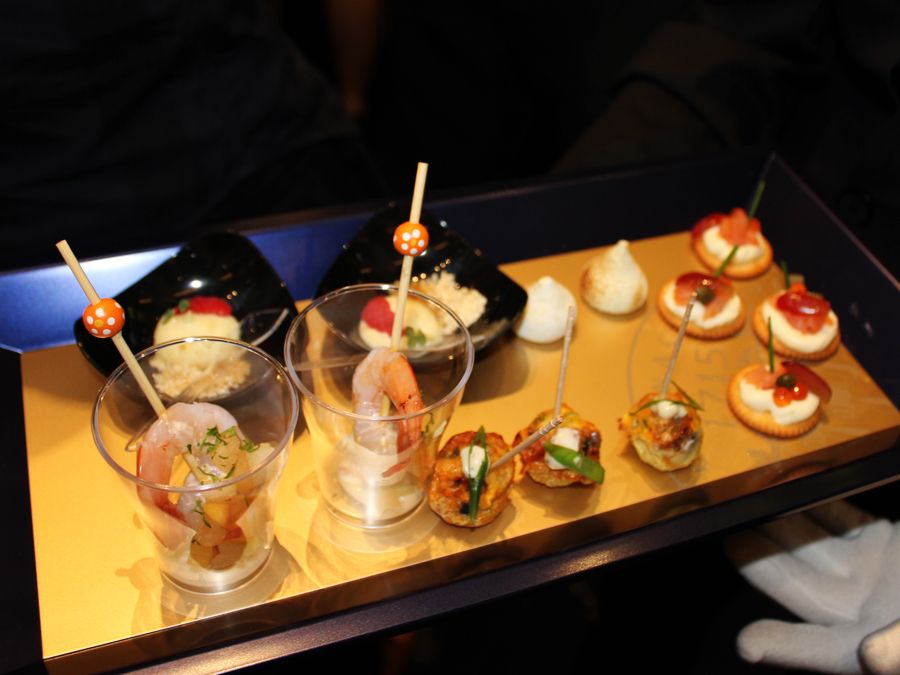 Some of the delicious hors d'oeuvres that we got to sampled.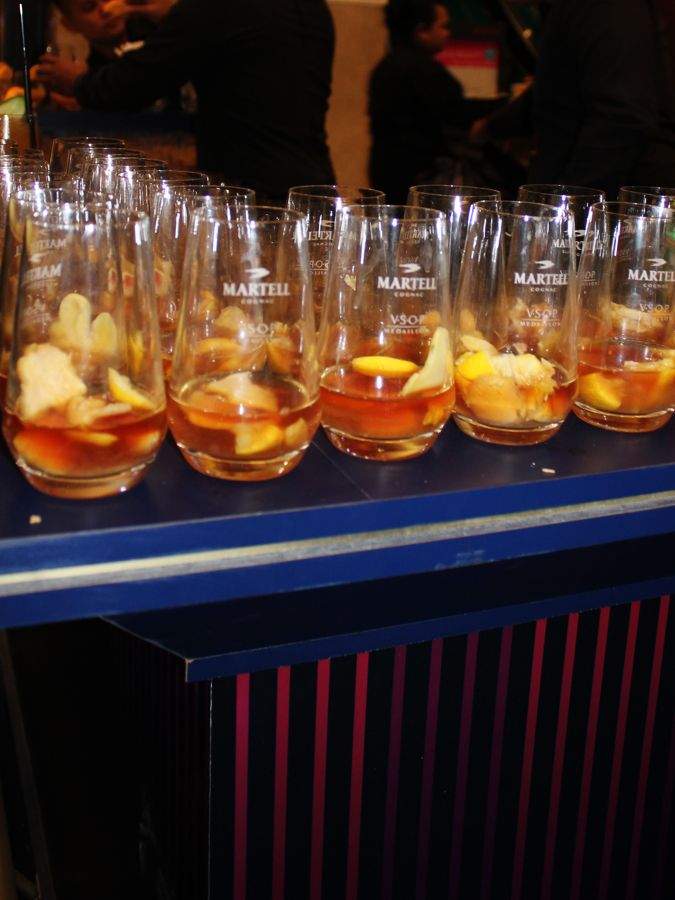 They went so well with the Martell cocktails served throughout the night! Free flow, of course. :D
At the food bar, where more of the tantalizing canapés were served.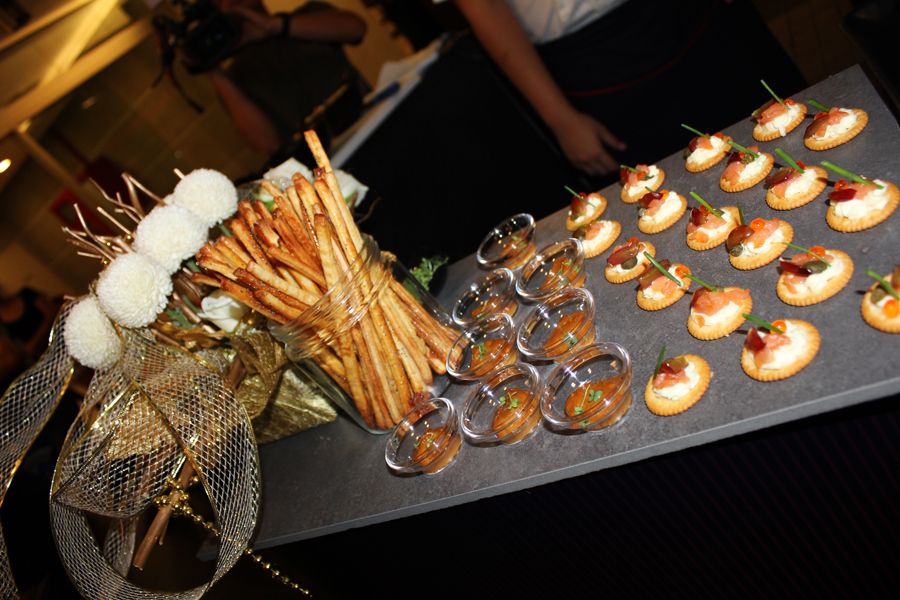 Uh oh. These. Cheese. Sticks. We loved them so much from the previous event! This time they are served with a different but equally appetizing dip.
It was really difficult to remind myself not to fill up my tummy with these finger foods, 'cause there would be more yummy food awaiting for me at dinner after the fashion show.
After some mingling around (so many familiar faces and celebrity sightings!), the show was about to start. It was kicked off by announcing three best-dressed gentlemen of the night, and by cheekily inviting them to do a spontaneous catwalk.
One of the winners. You go, boy! They handled it like pros!
Elegantology's New Collection was presented by up-and-coming designers as well as established designers such as Beatrice Looi, Daniel Chong, Hayden Koh, Ian Chang, Jason Zeck Lee, Joe Chia, Justin Yap and Venie Tee.
Here are some of the looks:
I love elbow-patched anything!
Peter Davis, actor and mixed martial artist, totally carrying off this long shirt robe! Many celebrities also walked the catwalk that night.
A sweater that I think is preppy with a bit of edge.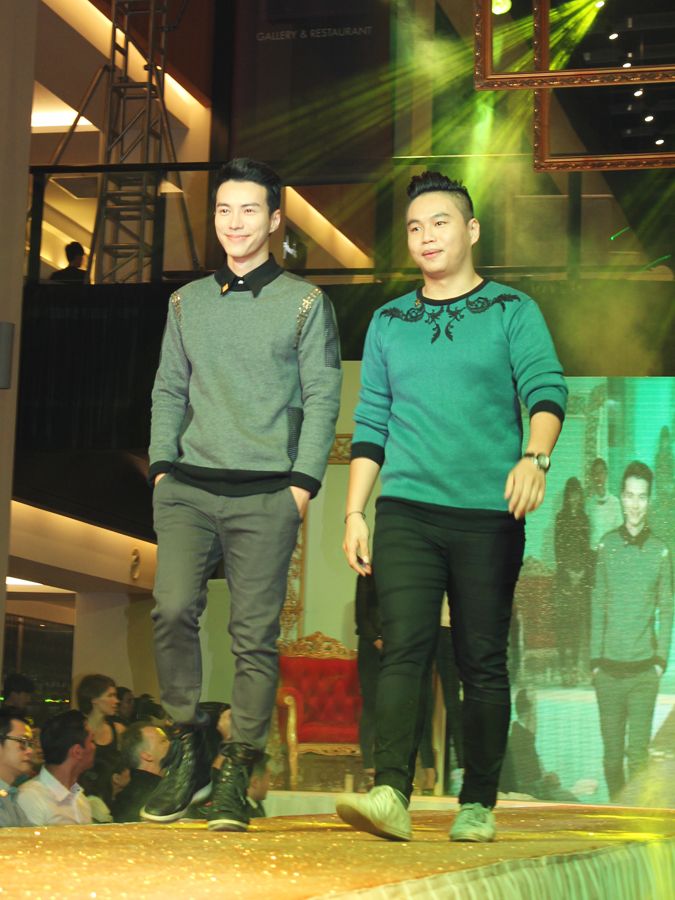 Hayden Koh (Designer) and Lawrence Wong strutting the catwalk.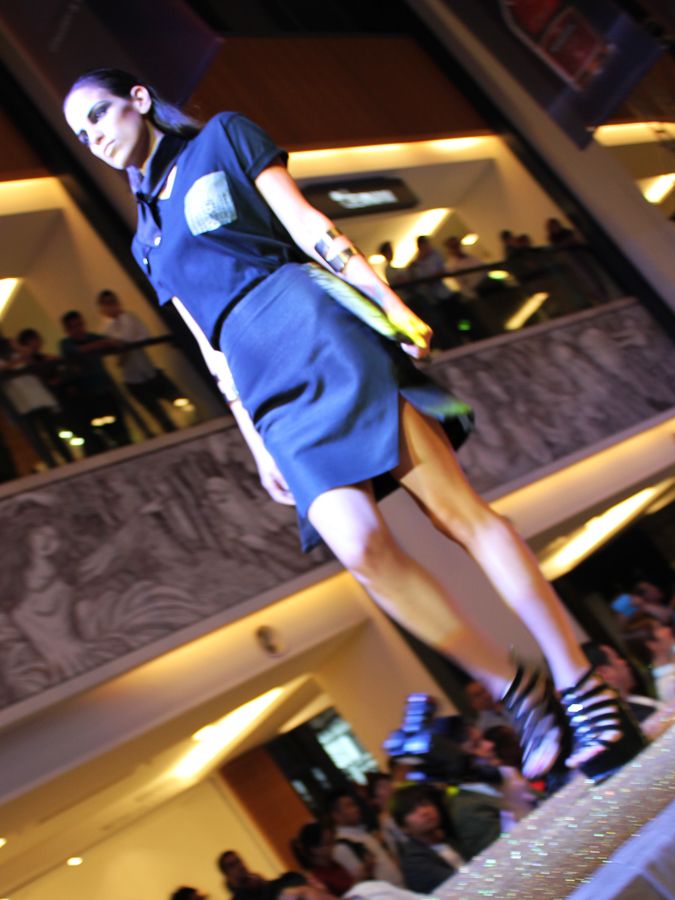 I like how this skirt moves in real life.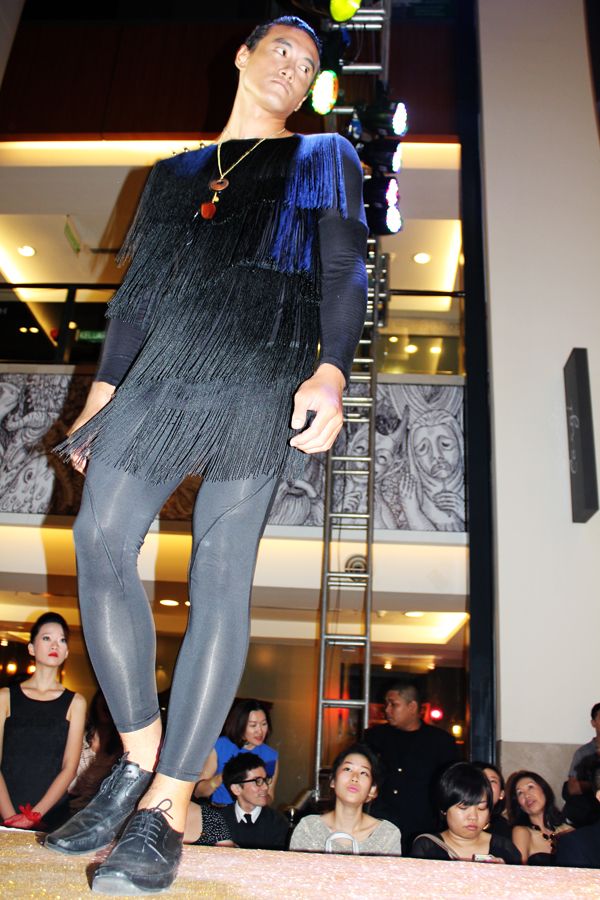 I can think of many girls who would totally rock this though! I think that's the beauty of Elegantology—women can shop the collection as well, as the androgynous menswear look is always evergreen. And I can't be the only one stealing from my boyfriend's wardrobe right? Hehe.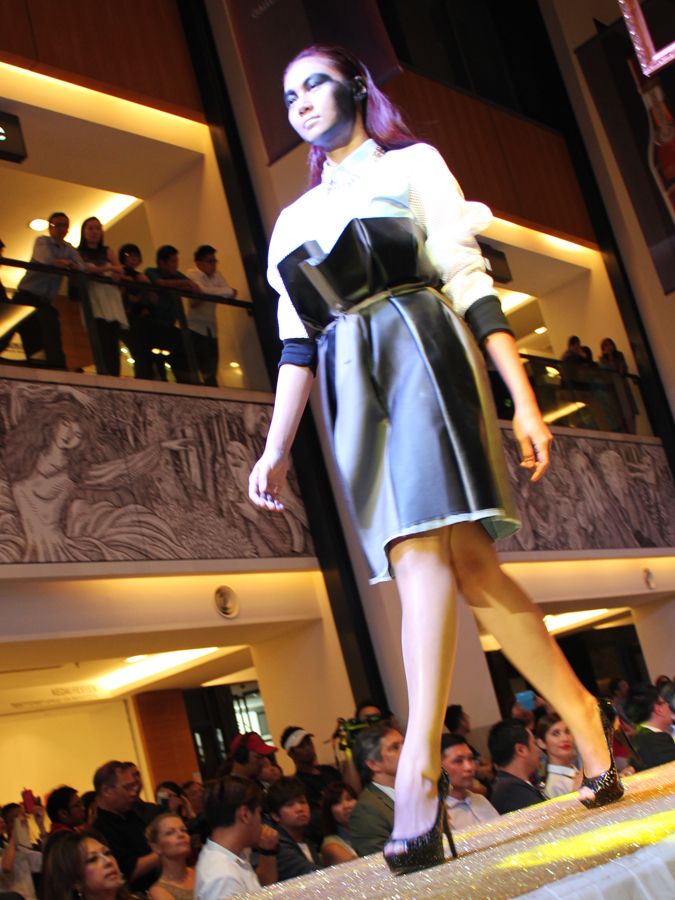 A more avant-garde skirt.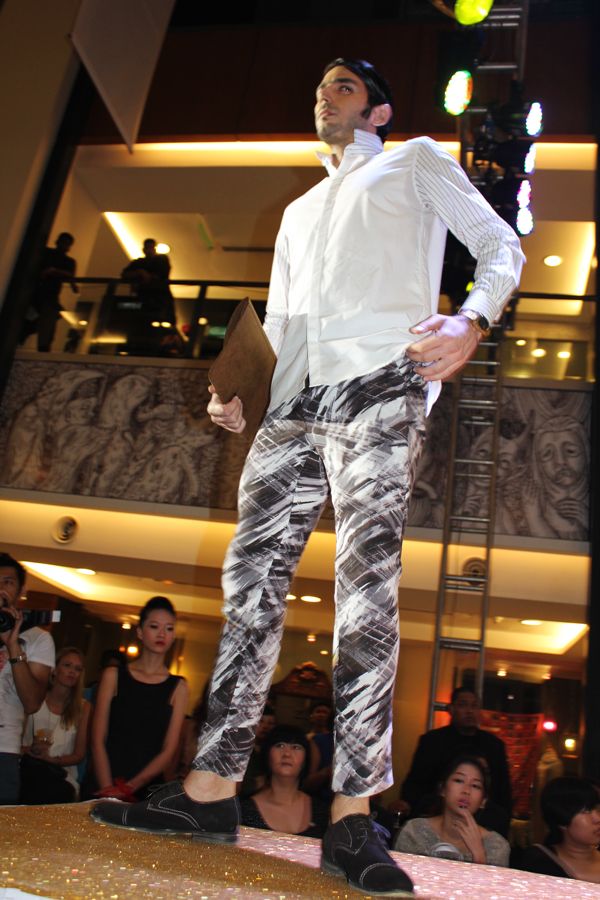 These printed pants.
*thumbs up*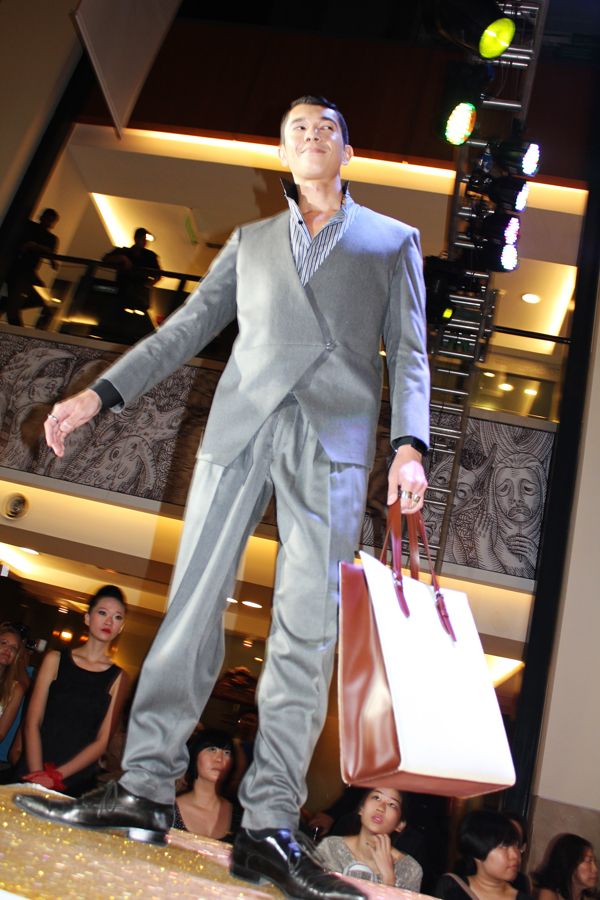 Will Quah looking dapper in a sleek suit by Joe Chia.
Wind in the hair, wind in the skirt for this fab dress! Adore the OTT gold bow belt as well.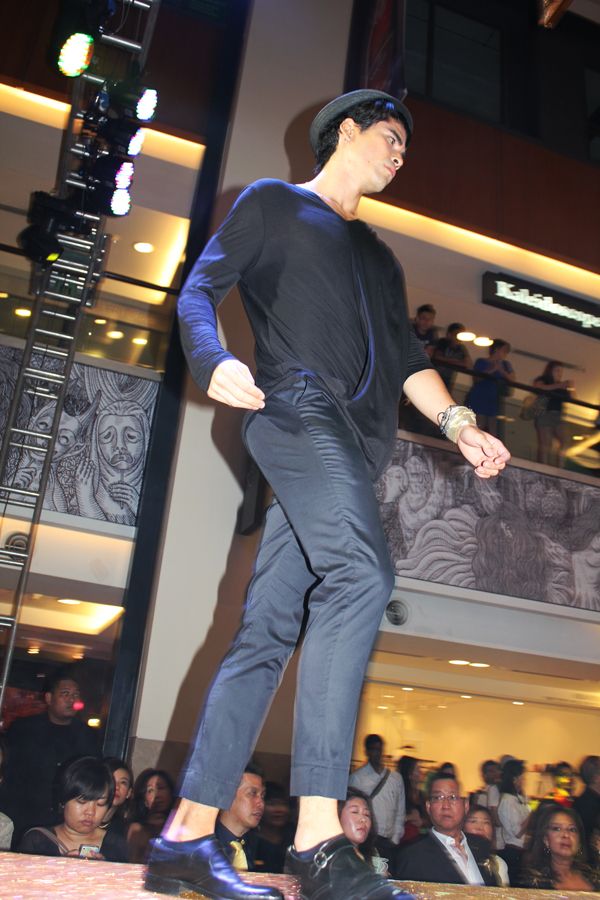 Something easy chic for the boys.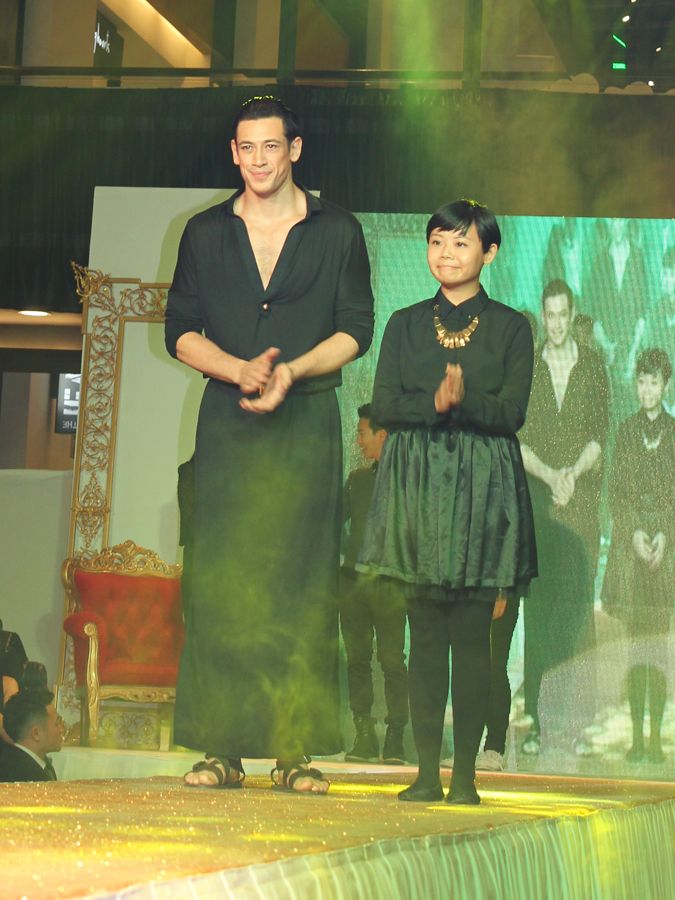 Another photo of Peter Davis 'cause he is so cute.
*grins*
Daniel Chong and Will Quah taking another walk.
One of the collections that I really enjoyed was Beatrice Looi's "Debonair Gentleman". It was cheeky and fun, and the pieces were elaborate and full of beautiful details.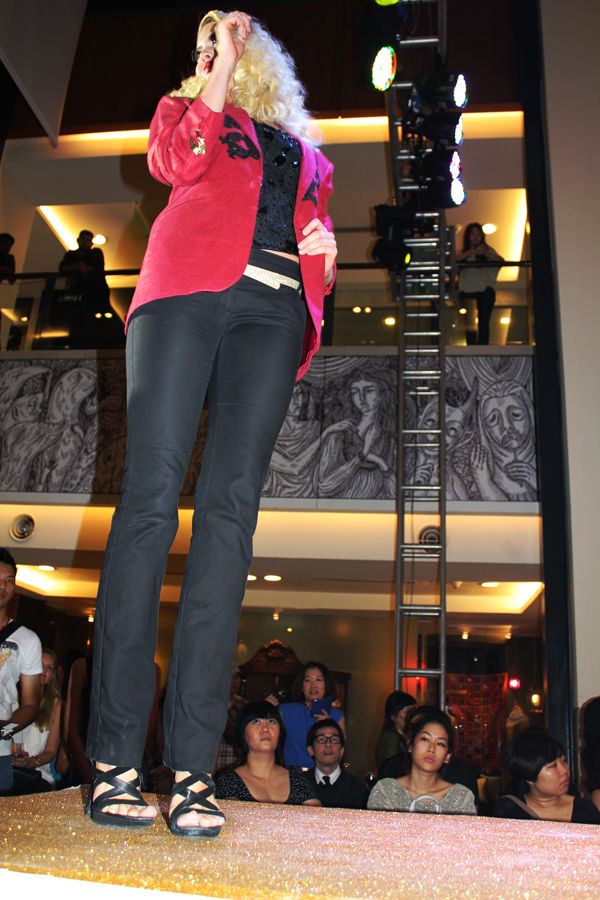 The bombshell model who was playfully flirting with all the male models for Beatrice Looi's show.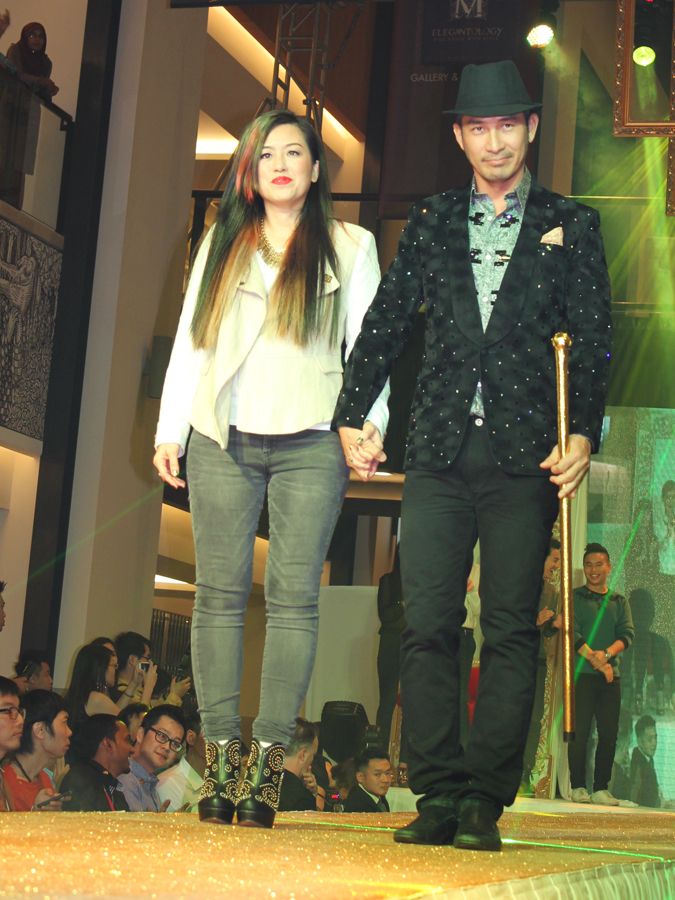 Beatrice Looi and Steve Yap, one of Malaysia's top male models.
With the show ending on a high note, we were escorted to the Elegantology Gallery & Restaurant (located at 35, Level G2, Publika).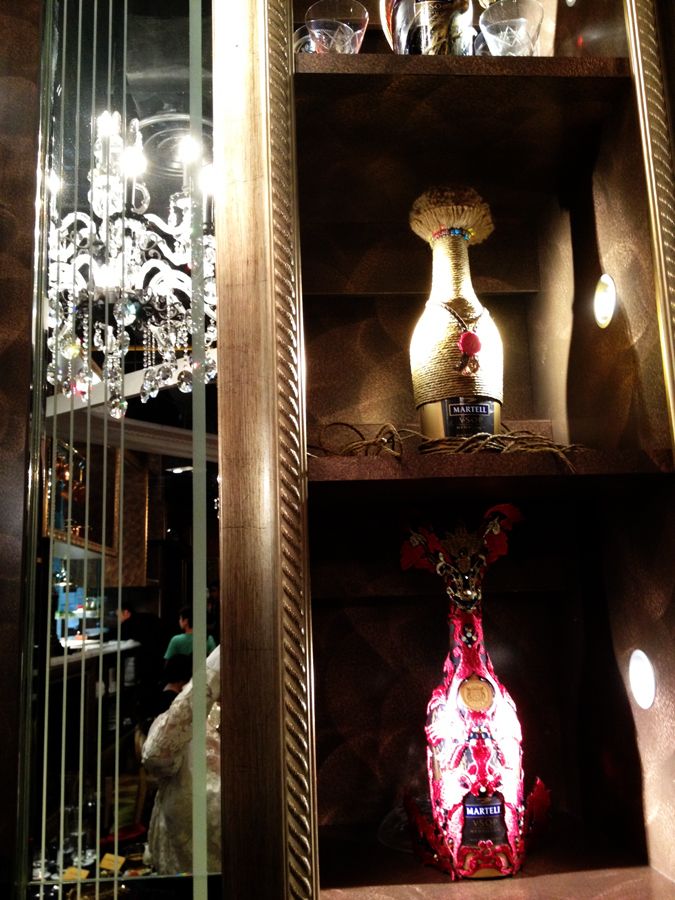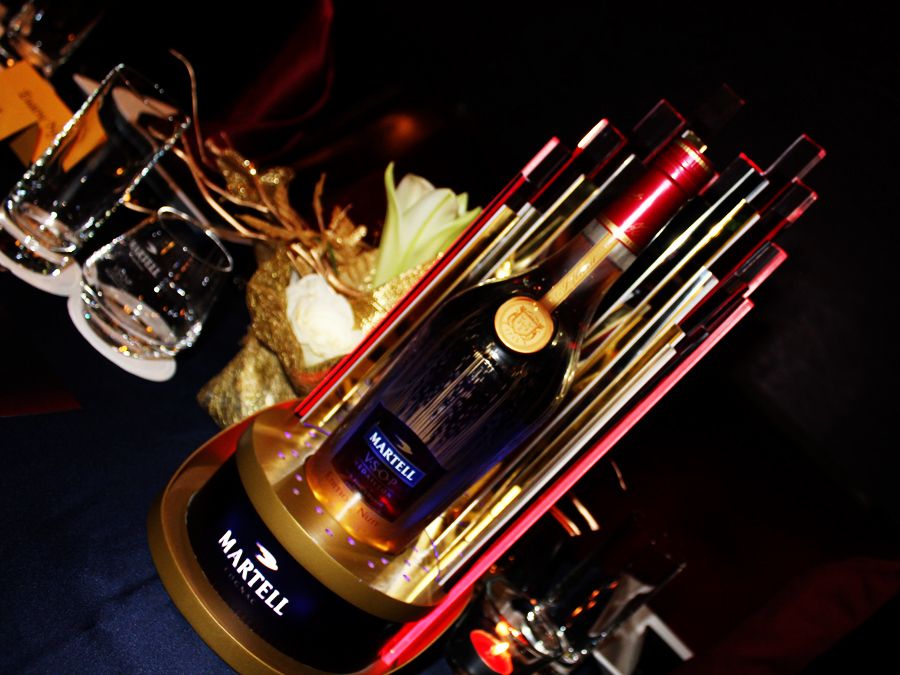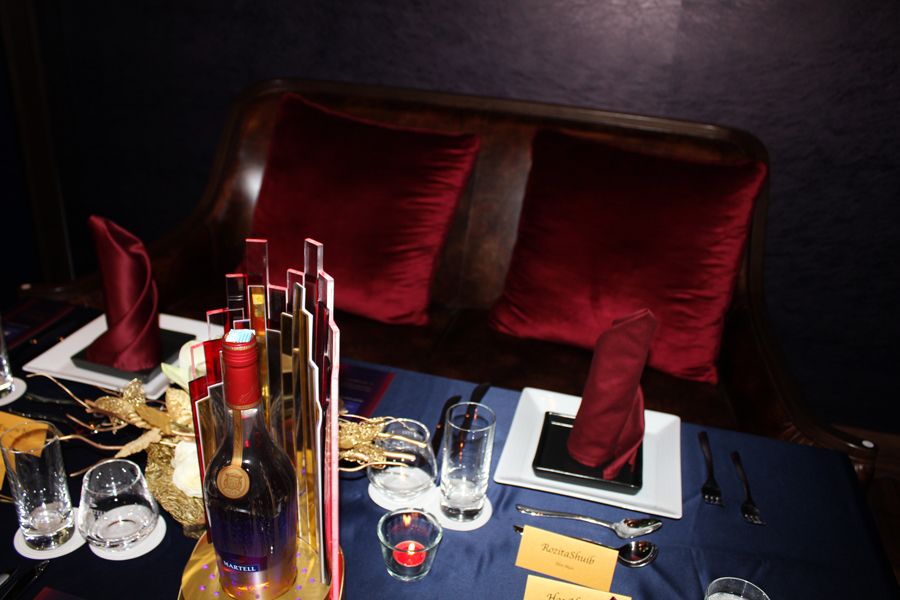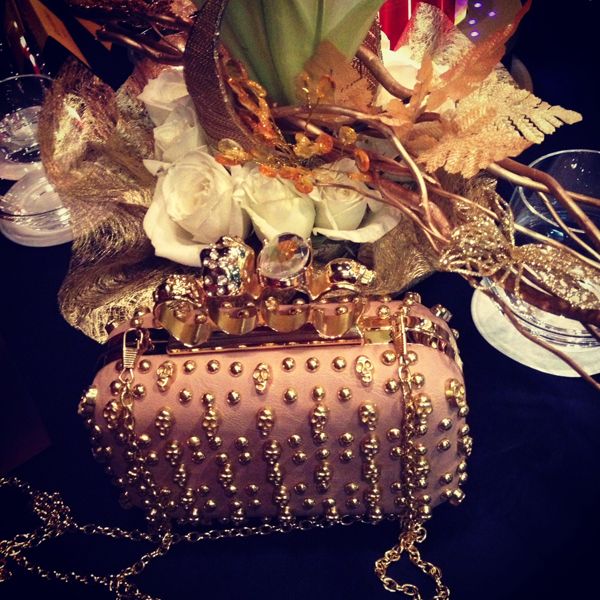 Having been to the Gallery once, I was pleasantly surprised to see that the place was further transformed to a classic beautiful dining setting. With such a stunning interior and ambience, I really looking forward to the magic that chefs Sherson Lian and Johnny Fua would whip up for the night.
My dinner partners for the night:
Nana, Joyce, Bobo, and Chuckei. Chattered nostop with these lovely ladies throughout the night!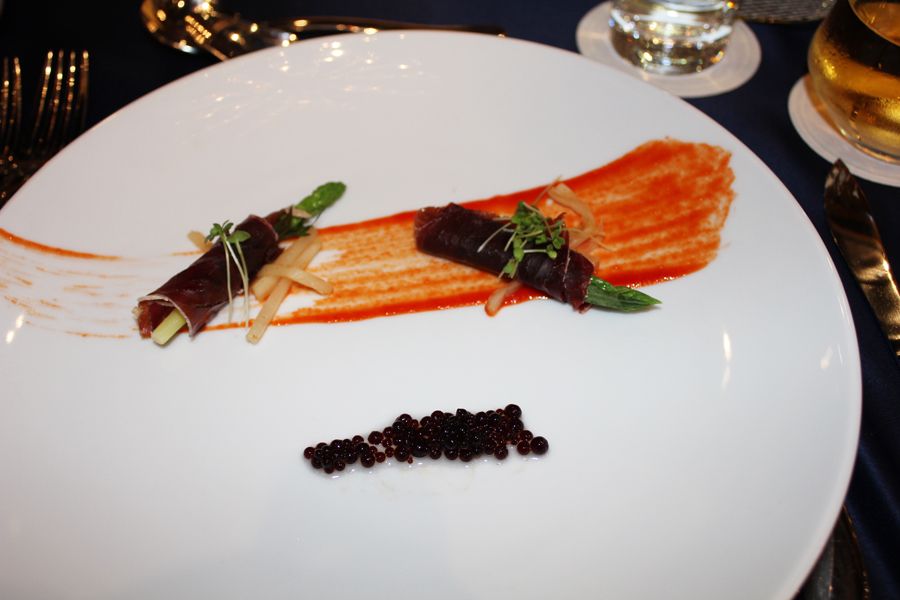 Starter: Air-tried beed wrapped pencil asparagus, ulam Raja pear infused kimchi, balsamic pearls.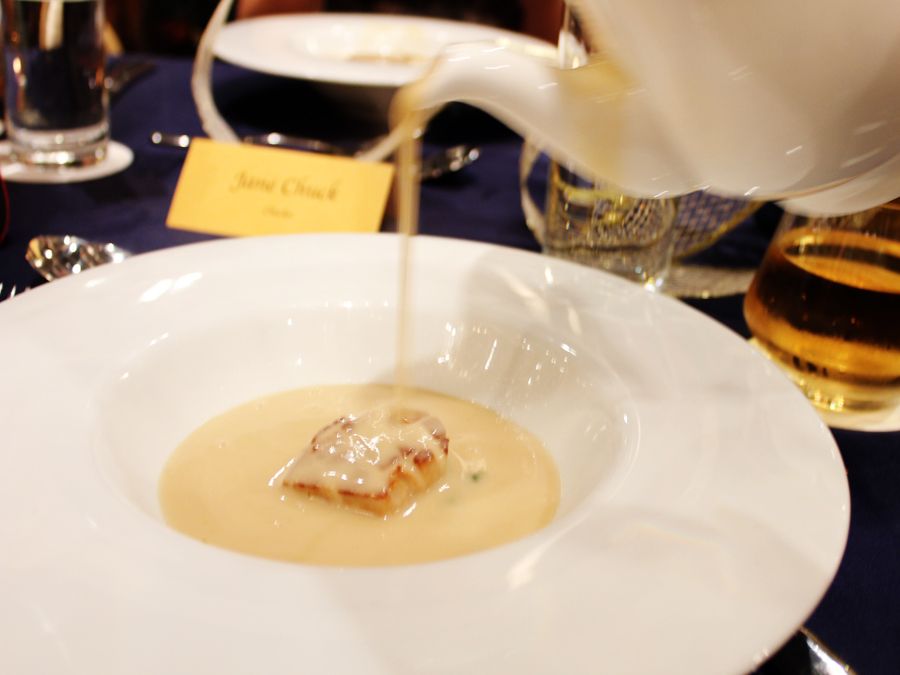 Soup: Yuko potato and Naganegi hearty soup foies gras, scented spray and wilted spinach.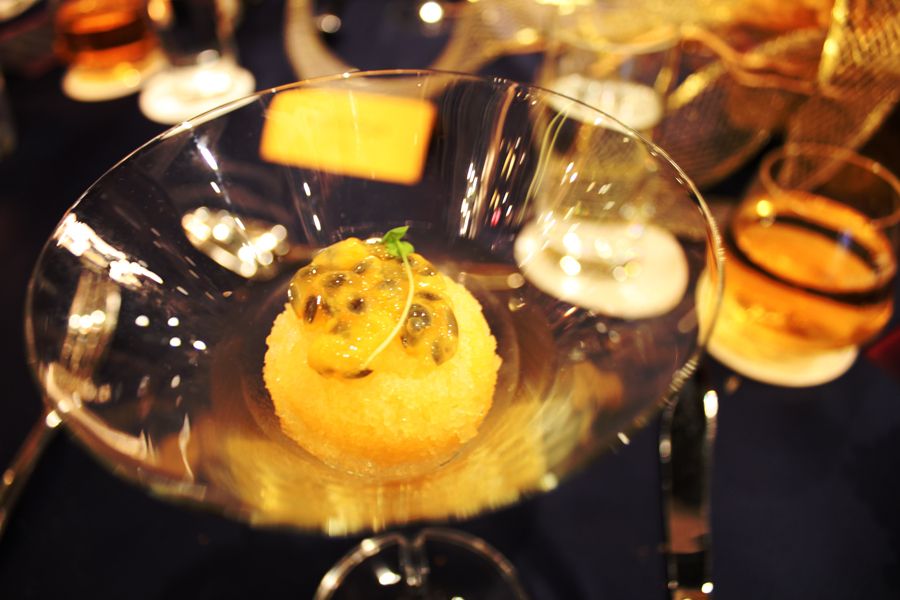 Passion fruit sorbet to clean our palette before mains.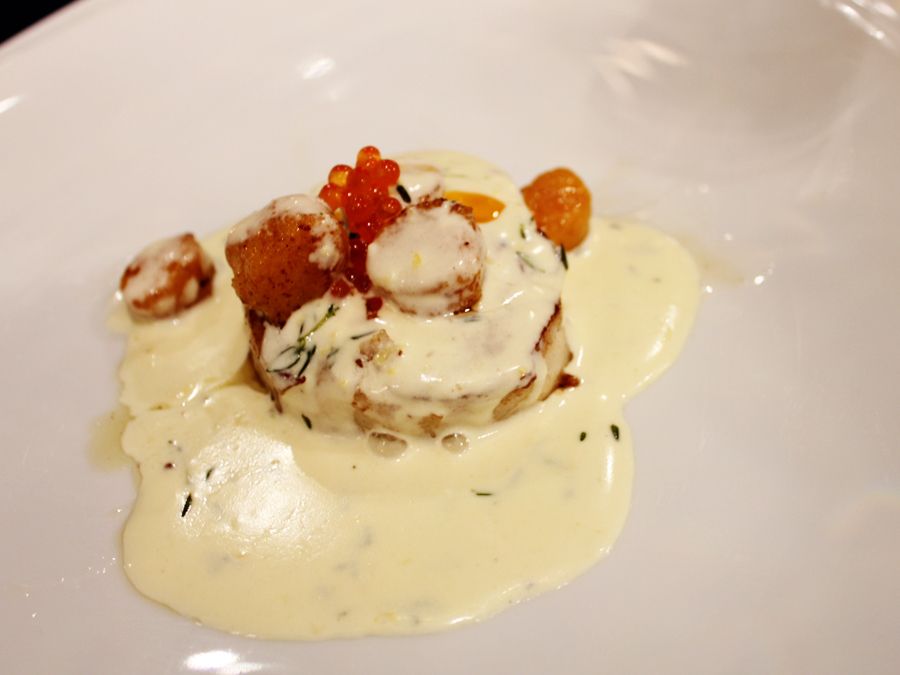 Mains: Pan fried cod roulade, lemon thyme crème pumpkin gnocchi, chilli oil, home grown mustard crest.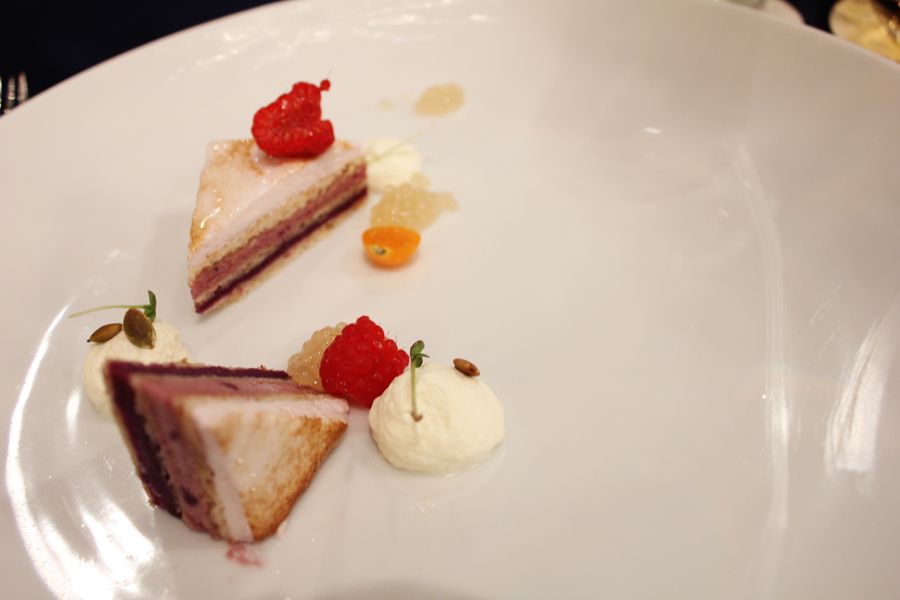 Dessert: Maple syrup and walnut jaconde ginger purple potato mousse.
It was such a beautiful dinner! Everything was lovely and top-notch. :) A meticulously crafted dinner, coupled with melodious live singing, wonderful company, what could possibly make the night better?
Well, Elegantology did it. With a magic/ illusion show!
Here is the illusionist (he masqueraded as our head waiter at first) teaching Bobo how to bend a fork just by stroking it.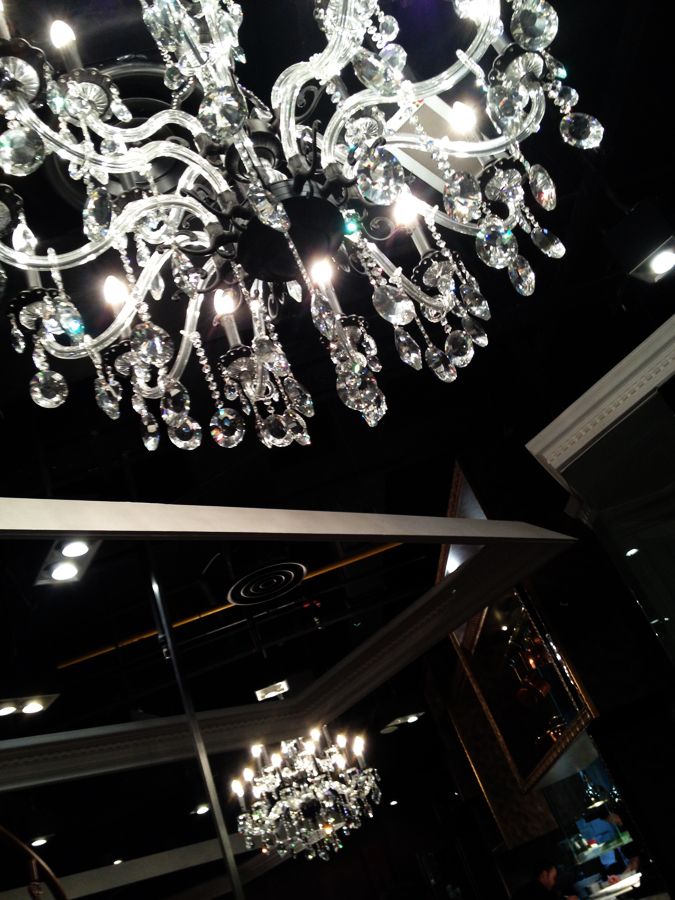 As I threw my head back laughing at something one of the girls said, while rubbing my filled belly appreciatively, I looked around taking in the beautiful sights around me, I thought to myself, how lucky I was to be able to there that night. :)
To savor the exquisite experience I had that night, follow Elegantology on
Facebook
and visit their
website
!