I have been in really high spirits lately. :D
There is no single particular reason... More like a myriad of things. For example, Jing will be coming back at the end of the year, and we are looking to plan our first ever sisterly trip. For all the traveling that we do, can you believe that we have never been on a trip just by the three of us? We haven't decided whether we want it to be a city trip or a beach holiday, but one thing's for sure-- I can't wait! The boy and I are also planning for a big trip next year, don't want to talk too much on this in case I jinx it, but oh boy, I am MAJORLY excited for this too. :P November will see the return of Jaclyn, my ex-flatmate, whom I haven't seen in ages!
Audrey
's new baby-- can't wait to visit once my workload eases up a bit. A possible Eurotrip: Part 2 is in the discussion with the family. Starting a new life with the boy including planning for a reception/ wedding (nothing's confirmed for the moment though!), things have been so good between us. :) Rock's obedience class which is starting this weekend-- he has been quite a darling recently, and I just
know
that he will ace the class. Am excited for him to make some doggy friends! And he has fans all over parks and malls (Ikano Power Center, to be specific, as it is dog-friendly)-- so I doubt it will be any different in the class. :P New plans to be put into place for
AZORIAS
.Wearing the new Zara shoes that I bought on sale, haha.
There is just so so much to look forward in life! And that's really a damn great feeling. :D
Anyway, enough of my babbling. Moving on to an outfit last weekend!
With my camera-sensitive
puppy
.
Hah, I wish! The boyfriend has to call out his name and wave like a mad man to get him to look at the camera, haha.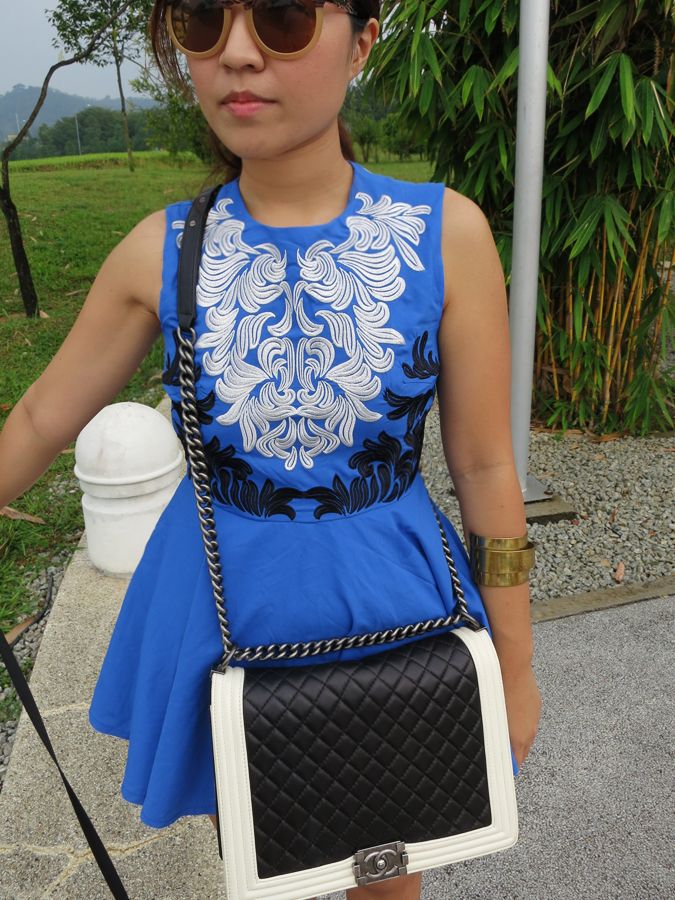 Can't get enough of the embroidery details on my dress!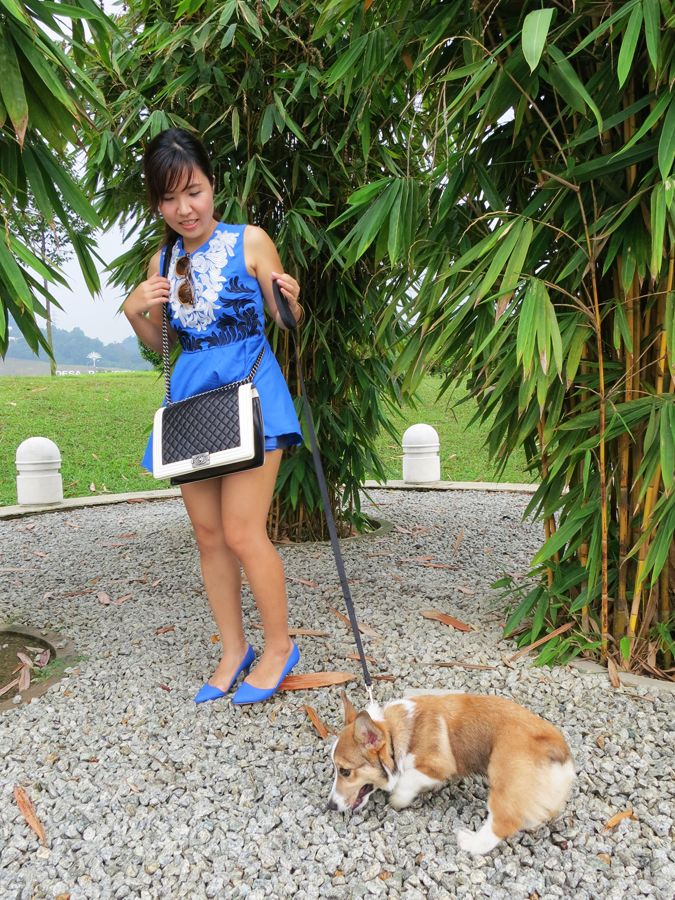 Blue embroided dress: AZORIAS
Gold cuff: Diva
Blue cutaway pumps: Korea
Bag: Boy Chanel