Feeling really lazy today, so I am going to take the easy way out and post some outfit photos taken with my phone! They have never been posted anywhere because i) the photo quality sucked or ii) the photo wasn't pretty enough.
But now I am posting them here wtf.
God I have stooped to a new low wtf.
1)
Coral peplum top with bow-back: AZORIAS
Denim shorts: Korea
Tulle rosette pearl necklace: Old Blossom Box
Bracelets: F21/ Korea
Bag: Louis Vuitton
This was at the end of a work day-- hence the almost make-up-less face! T_T
2)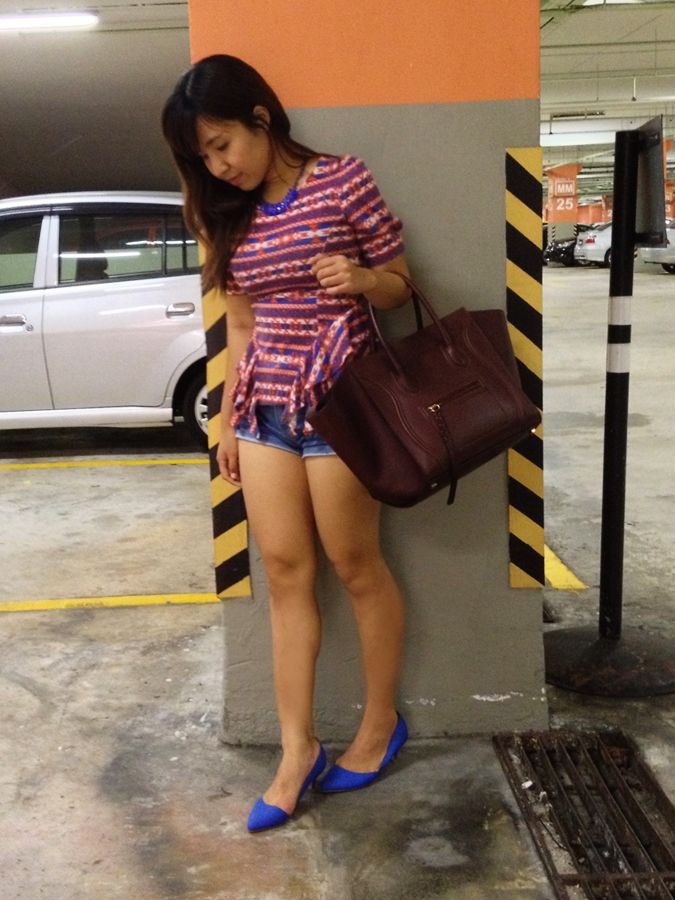 Aztec print flouncy peplum tee: AZORIAS
Denim shorts: Korea
Blue jewel necklace: Korea
Sku blue cutaway pumps: Korea
Bag: Celine
After Menya Musashi ramen with Teeny recently. That's one of my favorite ramen in KL! :D
3)
Black sheer shirt: Korea
Purple crochet lace panel miniskirt: AZORIAS
Stone and chain statement necklace: Korea
Black cutaway pumps: Zara
Snake print envelope clutch: Korea
I was sporting a bright pink lip to match my bright colored lace skirt, but remember what I said about shitty photo quality? Sigh.
4)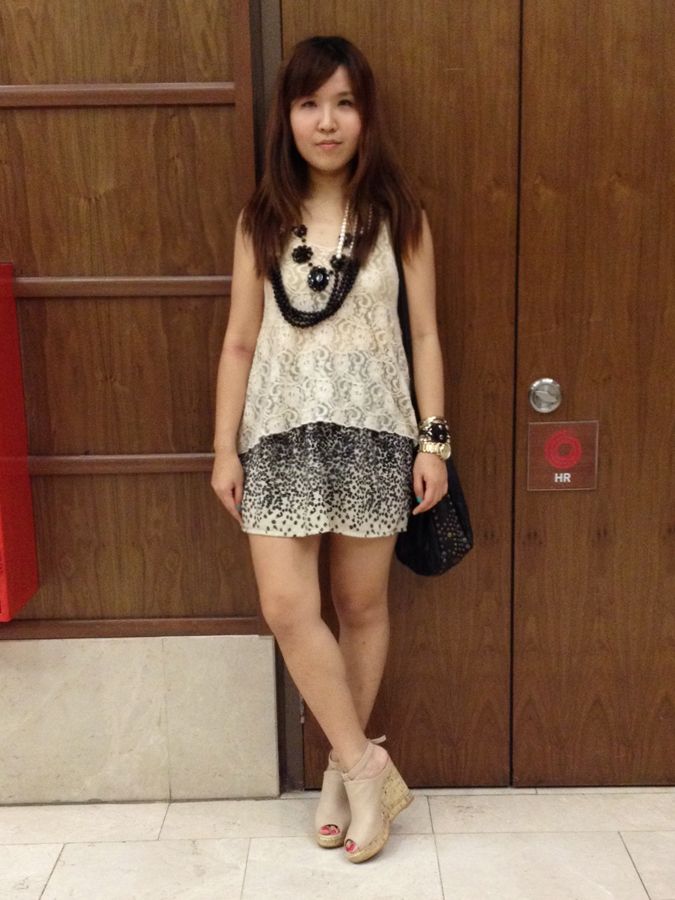 Nude lace tank: Bangkok
Leopard print full skirt: AZORIAS
Black diamante necklace: Korea
B/W layered pearl necklace: H&M
Nude ankle-strapped wedges: Korea
Bag: Kate Moss for Topshop
One of those lazy outfits that I simply put together i.e. everything-that-is-the-same-color-goes-together.
5)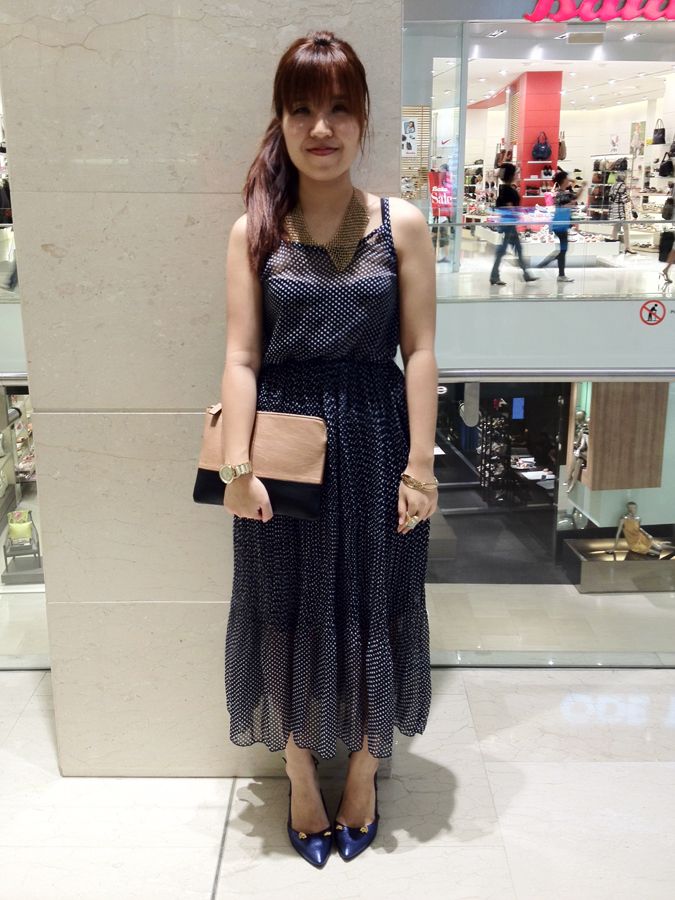 Navy polka dot maxi dress: Bangkok
Gold mesh necklace: Korea
Blue slingbacks with gold fox ears: Gallo
Block color zipper clutch: Korea
This is the one and only time I wore these pumps... The next time I found them, the fox ears have dropped off!!! Super angry, 'cause it's not as if these shoes were cheap!!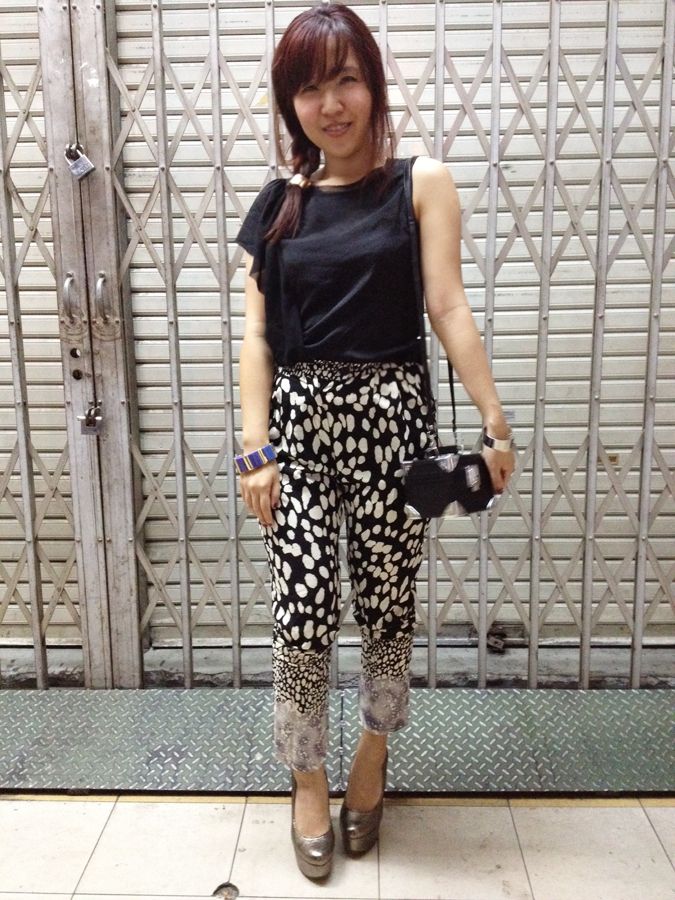 Black asymmetrical-sleeved top: AZORIAS
Printed pants: Korea
Metallic pumps with bone heels: Shoes Shoes Shoes
Black box bag: H&M
In my printed pants phase. Am still in it!