Doing another one of my 'bird's eye view' outfit post again! Click here for the
first
and
second
installation wtf. It's just a lot easier to snap a photo of my outfit myself this way, especially on week days when most likely I can't find anyone to take proper outfit shots!
#1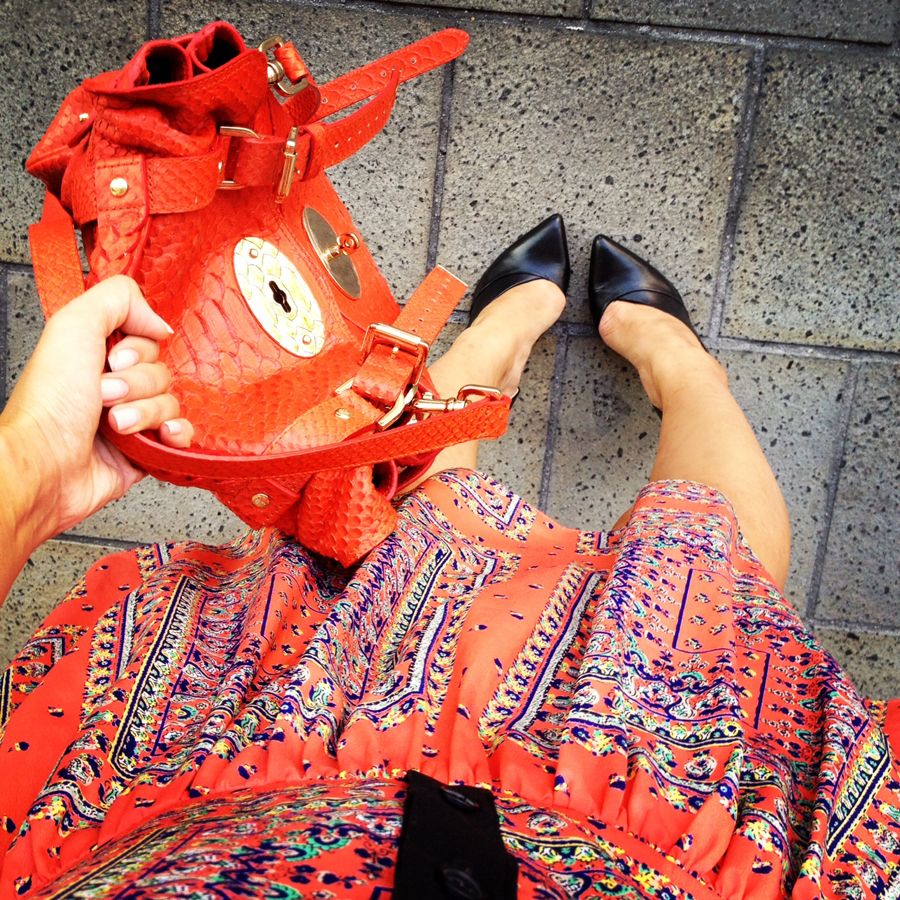 Wore this to a business meeting, and I guess I thought looking like a chilli was appropriate? Jokes aside, this IS one of my favorite colors recently! Also, I can't wait to rewear this dress when there's someone to take proper outfit pictures of me and show you guys; I love it so much!
Scarf print collared dress from Korea, black cutaway pumps from Zara, mock snake skin bag from Mulberry (if it's real snake I wouldn't touch it with a stick!!!).
#2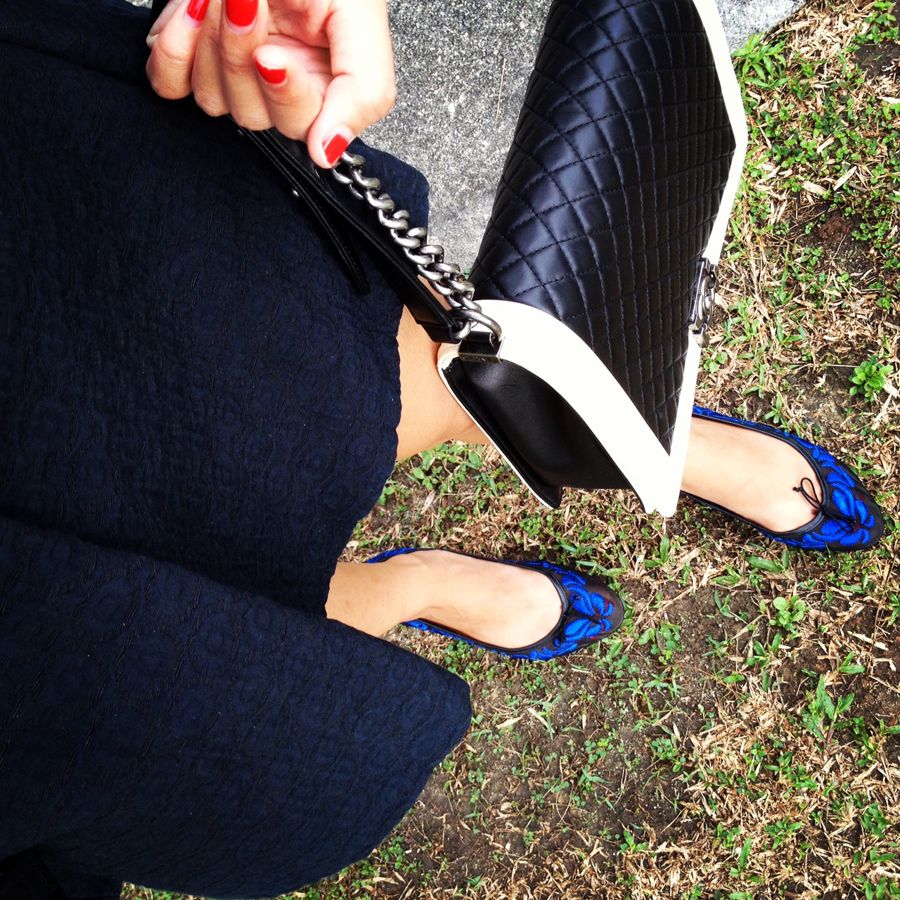 Brought
Rocky
to Central Park to see dog agility classes being carried out, as we would like to sign him up after he finishes his basic obedience class! He will still continue on with his intermediate obedience class, of course. We are classic examples of
High Expectation Asian Parents
lol. But we are not making Rocky go for classes 'cause we want him to be super dog or something, but we believe an engaged and socialized dog is a happy dog!
Wearing brocade flare skirt from River Island, and electric blue embroidery mesh flats from Zara, bag from Chanel.
#3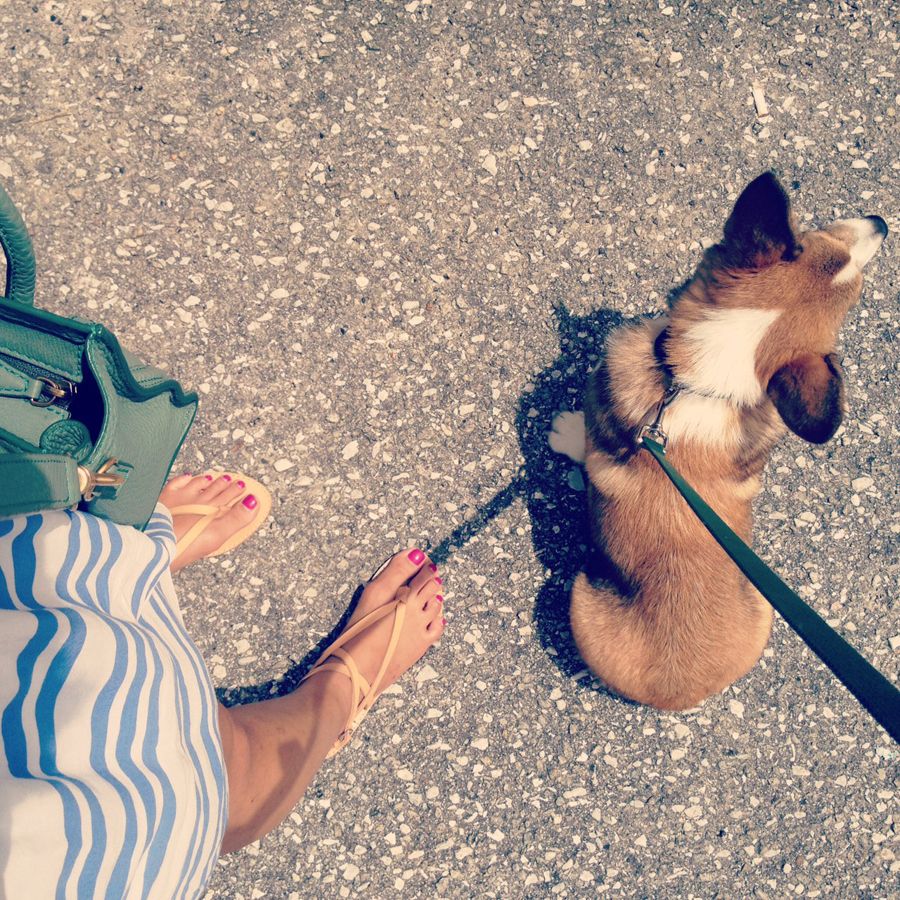 Do you notice the pattern? Walking Rocky = flats time.
Wearing striped collared dress from Korea, nude leather sandals from Zara, bag from Celine.
#4
Went to Pudu for Wong Kee's
siew yoke
(roasted pork) after rekindling our memory from this article--
20 best restaurants in KL
by CNN Travel (no.13).
By the way, how many restaurants out of the 20 have you tried? I have only tried 10!! I am aghast! I am supposed to be a foodie, how can I only just tried half of the (supposed) best restaurants in KL! >:(
Wearing cutout tank from AZORIAS, pale peach lace pencil skirt, bejeweled sandals from Stuart Weitzman, bag from Louis Vuitton.
#5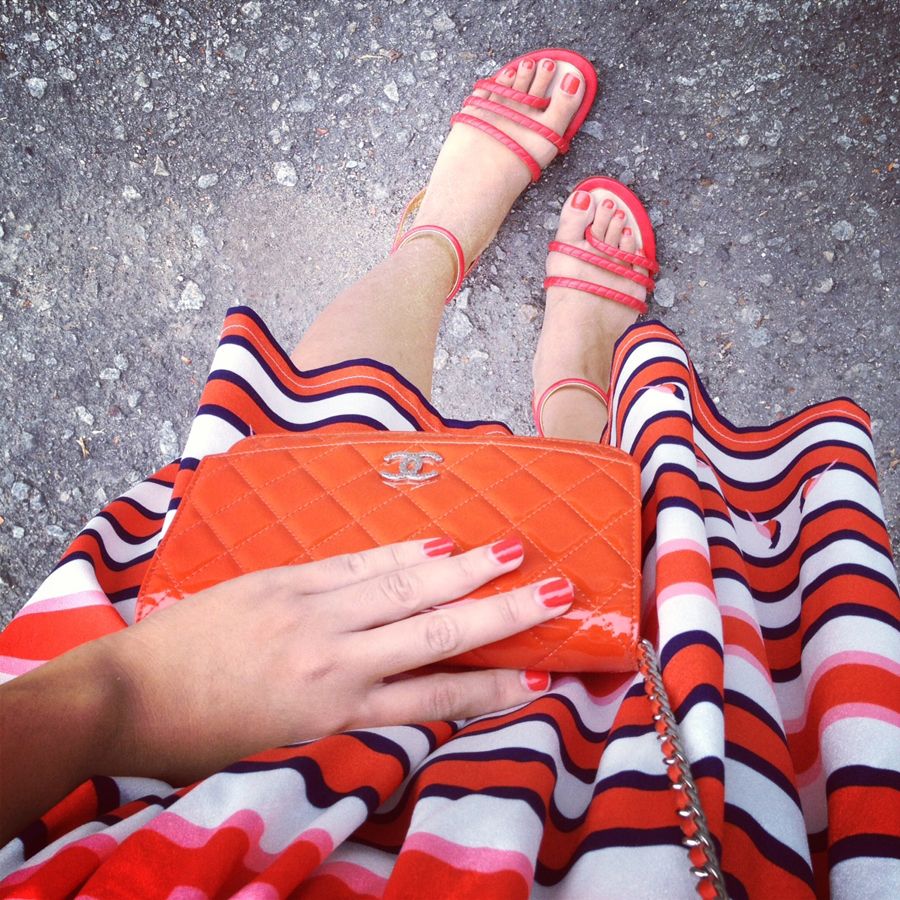 Told you I like looking like a chilli wtf.
Wearing bird print striped dress from Korea, red sandals with gilded gold heel from Salvatore Ferragamo, patent slingbag from Chanel.
#6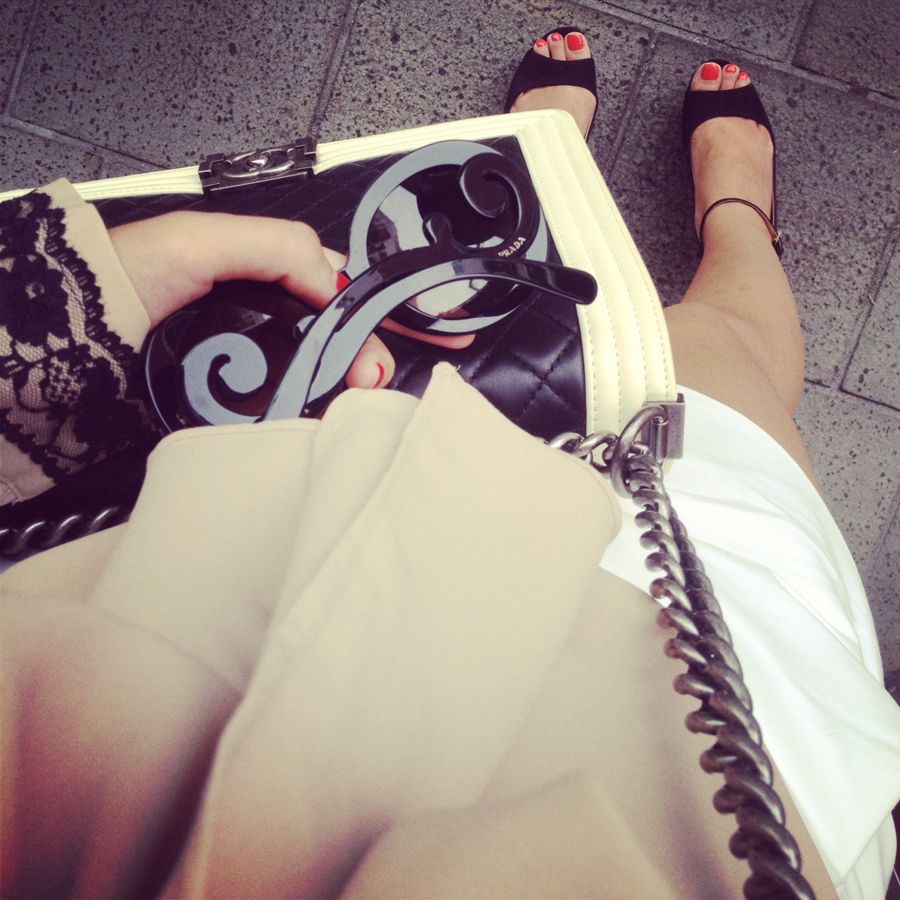 Another business meeting outfit! Wore shorts (well to be politically correct it's a skort) because I know the person I was meeting better hehe.
Lace accent pussybow blouse from AZORIAS (similar here), foldover skorts from Zara, suede ankle-strapped wedges from Zara, sunnies from Prada, bag from Chanel.
#7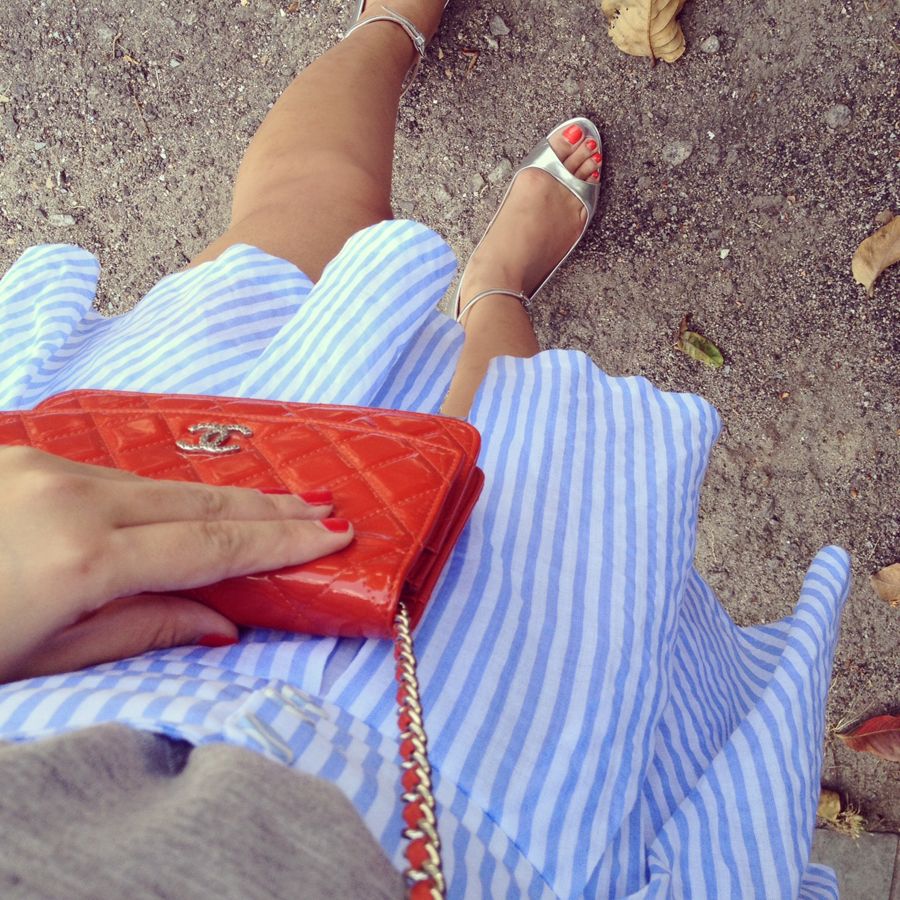 Already blogged about this outfit
here
.
Gray tee from Korea, highwaist pinstripe swing skirt from AZORIAS, silver ankle-strapped low-heeled peeptoes from Zara, patent slingbag from Chanel.
#8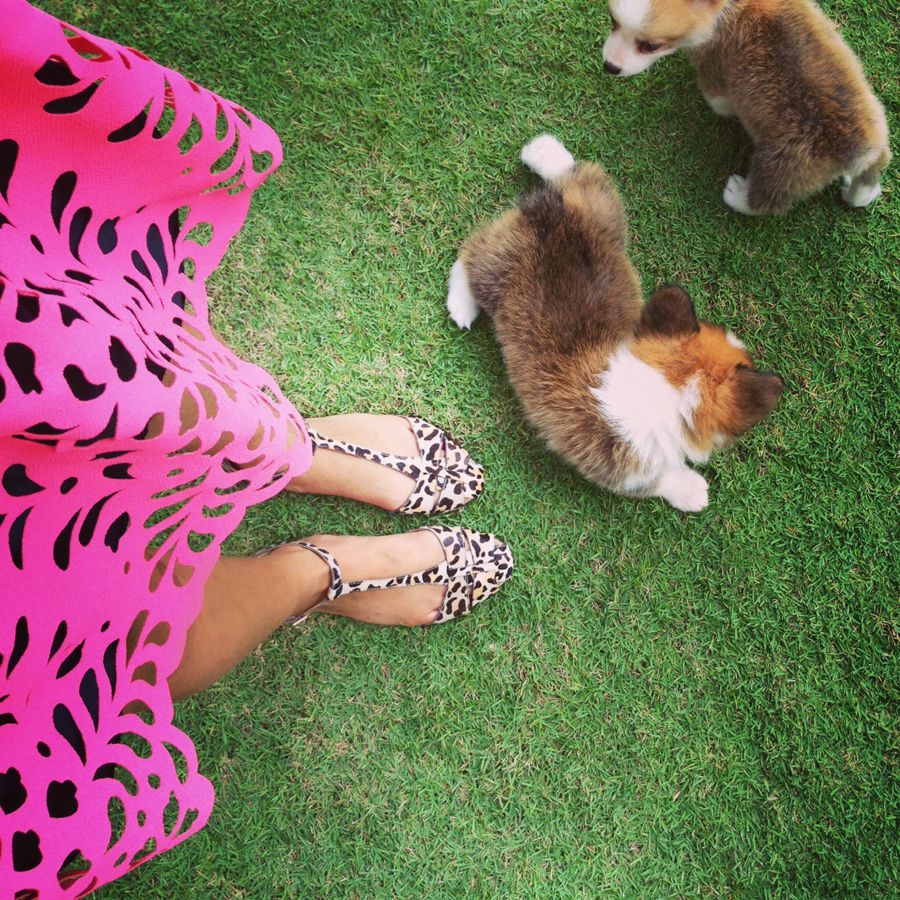 We went to visit a corgi breeder who just had new puppies! I DIE. The idea is to get a girlfriend for Rocky, haha. But not so soon yet! :P
Pink laser cutout skirt from
AZORIAS
, leopard print pony hair flats from Zara.