Yay today I am going to update about my wedding! It'll be in early July, and I only dare to properly update now 'cause... before this I really didn't have much planned or confirmed hahaha.
I am quite a girlie girl-- loves shoes, high teas and the color pink, but surprisingly all my life I have never given any thought to my wedding!!! I have never fantasized about my wedding dress, or my engagement ring, or what theme I want my wedding to have. So when it comes to getting down and dirty for the wedding, suddenly I found that I need to reach very deep into my soul wtf to find out what I would want for our wedding.
Also, to be honest, once we confirmed our venue, I started to chill la. 'Cause that is the most crucial part, everyone told me! So once we paid our deposit, I sat back and relaxed wtf. Then I realized that friends who are getting married later than us already did their 'Save the Date'. And some even already have the programme for the day itself! :O
Really scared the shit out of me. 'Cause is it just me, or is it true that a new bride-to-be will really have NO IDEA where to start? Thank god for Pinterest in my wedding-planning! It really helps to open my eyes to the norms of a wedding ('cause I really have no idea wan), as well as how I could break the rules a little. :P The problem though is that it's hard to trace the vendors on Pinterest, 'cause most of them are based overseas. Thus, a huge help to me was
www.wedding.com.my
, which has a similar platform to Pinterest, but is Malaysia-based! I couldn't find any good wedding directories initially, so bless my best friend, R (who got married last week, YAY!), who recommended me to
www.wedding.com.my
.
Anyway, I think now we have got the main portions of the wedding confirmed! Running through the list now to see whether I forgot anything...
1. Venue
This was the most difficult part, but yay it's the first thing we ticked off the checklist hehe. Blogged about it
here
.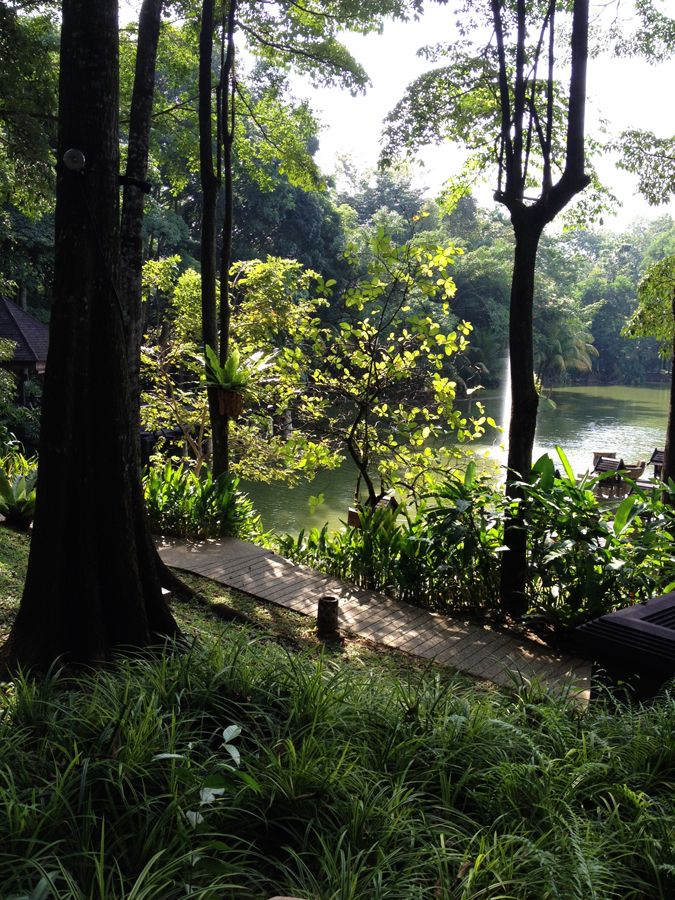 Everytime I look at pictures of our wedding venue, I feel my heart flutters a bit hehe. A bit nervous that guests will feel hot or it rains (*touch wood*), but hopefully having it in the morning will prevent these problems!
2. Theme
We don't really have a NAME for our theme, but I am imagining something rustic and unfinished, and slightly whimsical? We will leave the elegant stuff for the wedding dinner next year, haha. Most importantly, we really want to play to the strengths of the lush greenery and let the surrounding nature shine through. :)
3. Wedding planner
I was going back and forth on this one-- 'cause I do have flexible working hours, so do I really need a planner? But in the end, I decided we should get one. Mainly for decorations and on-the-day coordination, 'cause I can't really help with decorations as it's a morning event, and I don't really want to bog down my bridesmaids with coordination stuff on the actual day.
4. Bridesmaids
This one was a tough one.... I have so many girlfriends that I love dearly, and I would love for them to be a part of my wedding! Unfortunately though, our ceremony will be a small, intimate event, so if I have my girlfriends as my bridesmaids, I won't have any guests left WTF. So my bridesmaids will be my sisters-- Jing, Teeny, and my future sister-in-law. :)
5. Groomsmen/ ring-bearer
This is obviously the boys' responsibility, but one of the boys is extra, extra special to me.
Meet our ring-bearer: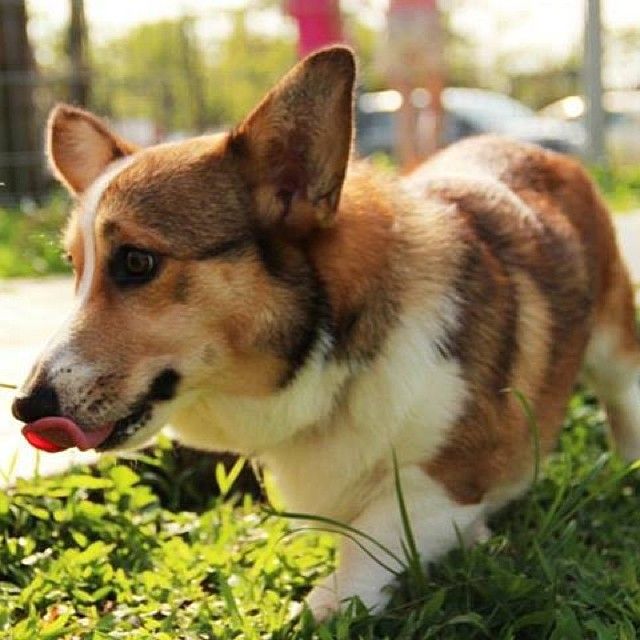 HEHEHE. Yes,
Rocky
is going to be at our wedding! That is one of the reasons why it was SO DIFFICULT to find a wedding venue, because most places are not pet friendly! I just thought it will be very meaningful to have him there, because we will be starting our lives together as a family on that day hehe.
Now we just need to train him to carry the rings properly wtf!
6. Photographer
This was also a toughie. I am not a huge fan of a lot of the photographers' work that I came across. Somehow they seemed very fake and dramatic, or comes with super harsh lighting? Why can't all photographers do work like what I see on
Style Me Pretty
, le sigh. But by some stroke of luck (actually huge thanks to Teeny, who has been sending me links of wedding vendors that she think I will like), I found someone whom I really, really like! Showed his portfolio to the fiance, and he have a big thumbs up too, phew. BOOKED!
7. Videographer
I was quite shocked to discover how much videographers charge. T_T Actually, scratch that, I was shocked at how much ALL wedding vendors charge wtf. I should have gone into the bridal industry WTF.
The boy asked me whether we can do without videography, since we already have a photographer. But a huge part of me really wants a video of our vow-exchange, 'cause I feel that it is the most momentous and significant part of a wedding. So I posted on my
Dayre
and asked you guys whether or not I should get a videographer, and many of you replied YES! In fact, someone commented that her children love to watch their wedding video. :P I told the boy about these feedback, and he was like, "Of course la, all your readers are girls", hahaha.
Anyway, I did some reading online (Vogue forum for brides haha), and there was this thread called "Biggest regrets of brides". And it seems that the biggest regret for most brides is not getting a videographer! So I decided to bite the bullet and book one, 'cause we mustn't live with regrets WTF.
It wasn't easy also to find someone whose work that I like! I cannot stand cheesy videos, like if you want me to run my hands over the boy's chest and drop slow-mo butterfly kisses across his face wtf. Or have us running in the forest for 3 minutes, laughing at nothing wtf. I CANNOT DEAL.
Luckily I found someone whom I like! :D But will still caution him about the slow-mo kisses wtf.
8. Wedding dress
This was the absolute last thing on my priority list (told you I haven't given any thought to my wedding dress), but it is the FIRST thing that all girlfriends ask me about! Apparently it's 'cause I am a 'fashion' person, so everyone is really curious about what I am going to wear.
*gulps* No pressure, guys!
Anyway, in the past few months I have started daydreaming a little on what I would like to wear on that day, and slowly I am piecing together an image. Instead of donning a off-the-rack dress (I always thought there is a slight chance I would be wearing Vera Wang on my wedding day T_T), I am going to custom make mine! :)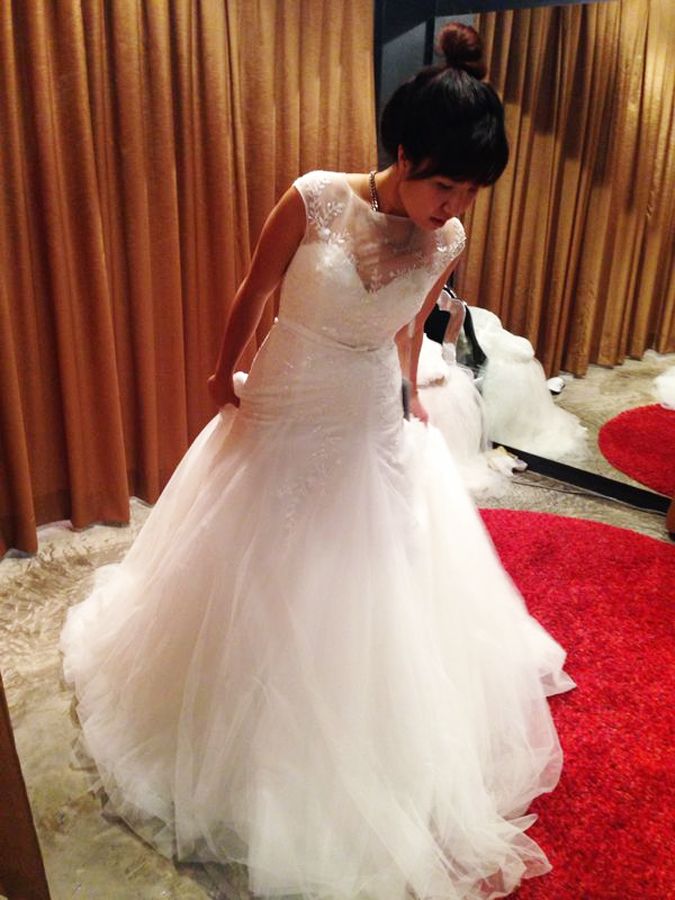 I have gone for some fittings, so we know what silhouette it is going to be already. :) Trying on wedding gowns REALLY hits it home that I am getting MARRIED!! And it really does make me bubble in excitement hehe. I am going to be a BRIDE!!! I should have began with trying on wedding gowns right from the start to put me in a wedding-planning mood, haha.
I will blog about my wedding dress fittings in a separate post k! :D
****************************************************
Anyway, I realized that in the updates above, I kept on saying "I", instead of "We", haha. I really do try to involve the boy in the wedding planning process as much as possible! One day, I sat him down and ask him:
"Baby, what is the most important aspect of the wedding to you? I respect you, I want to focus on the things that matter to you."
You know what was his answer to me?
"That you are happy."
SWOON! I am so lucky to be marrying this guy. :D