Eep, I just realized I have so much backlog of blogposts to do up! I have Osaka, our Bali mini-moon, my bridal shower, our Korea trip in spring, my dad's surprise birthday party, my bridal shower, not to mention I also want to do some wedding-related posts before I blog about our official wedding photos (getting them back any day now-- EXCITED!)... And I am really keen to blog about all these 'cause I LOVE reading back my old posts and rediscovering past memories, heh.
Anyway, I am going to start with our Bali mini-moon first! We were in Bali for 7 days 6 nights, which I initially thought was quite a long period for a beach getaway. Y'see, as our trips fell on the National Day long weekend, we found out that if we were to do a 4-5 day trip, flight fares were twice the price! :O So we decided that instead of paying for the exorbitant airfares, we might as well channel that amount of money to accommodation and extended our trip instead. Since we were going to be in Bali for a week, we split our holiday between Seminyak (which is more central, and is near to most of the popular attractions) and Ubud (about 1.5-2 hours away from Seminyak).
We got a private villa in Seminyak, since private villas are relatively affordable in Bali. In Ubud however, we opted for a suite room. Save money whenever we can!!
A typical day in Bali starts like this:
10am: Wake up and laze in bed. Reluctantly get out of bed when the hotel staff sends over our breakfast.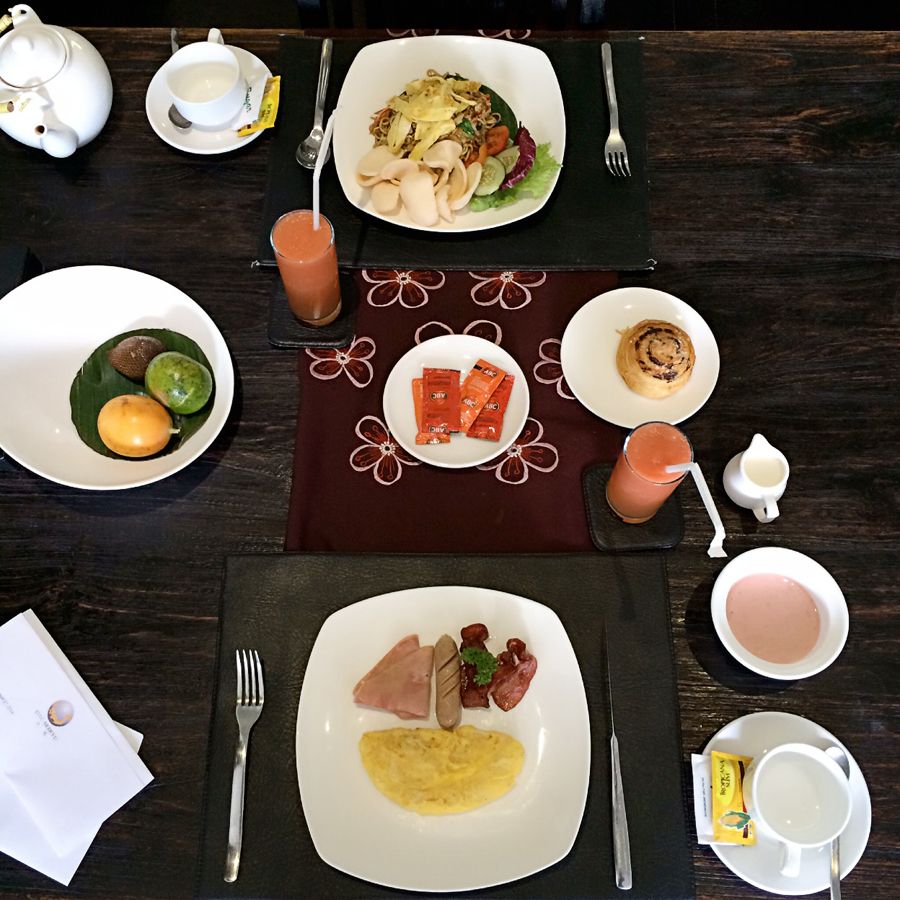 10.30am: Breakfast is served! We get to choose on a daily basis what we want to eat for our breakfast. :D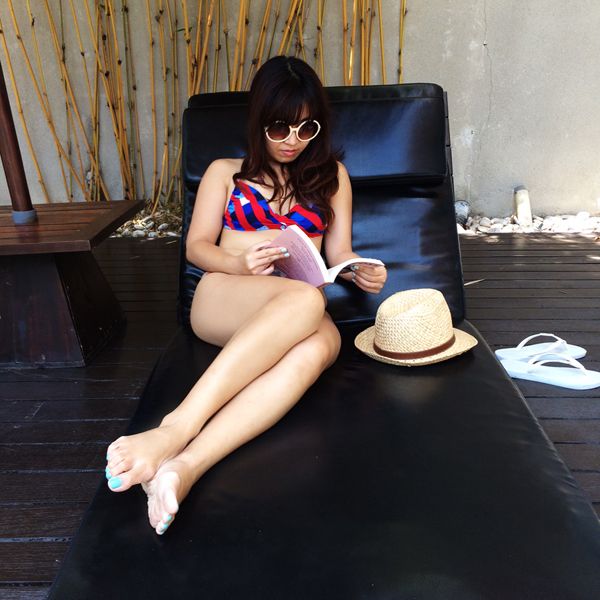 11am: Do some light reading by the pool in our villa.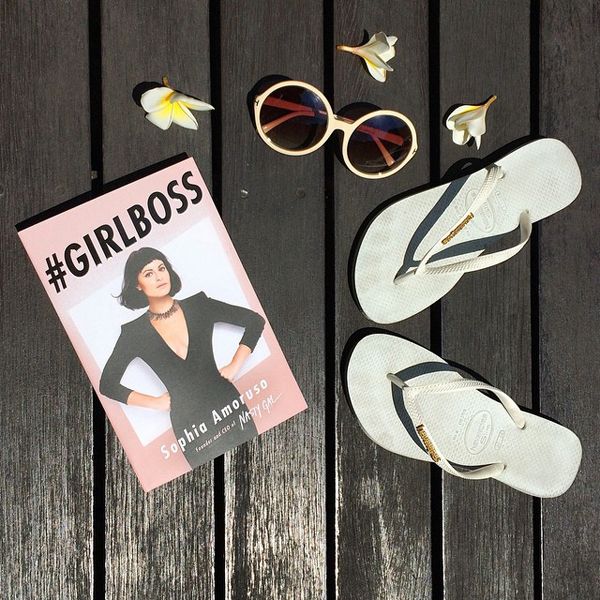 My pool/ beach read.
By the way, I really wanted to buy this book for our Bali trip, but it was sold out in most bookstores! So I thought, ok la, it's my fate to be a beach bum and just surf FB wtf.
But the hubby surprised me with this book right before we flew off! T__T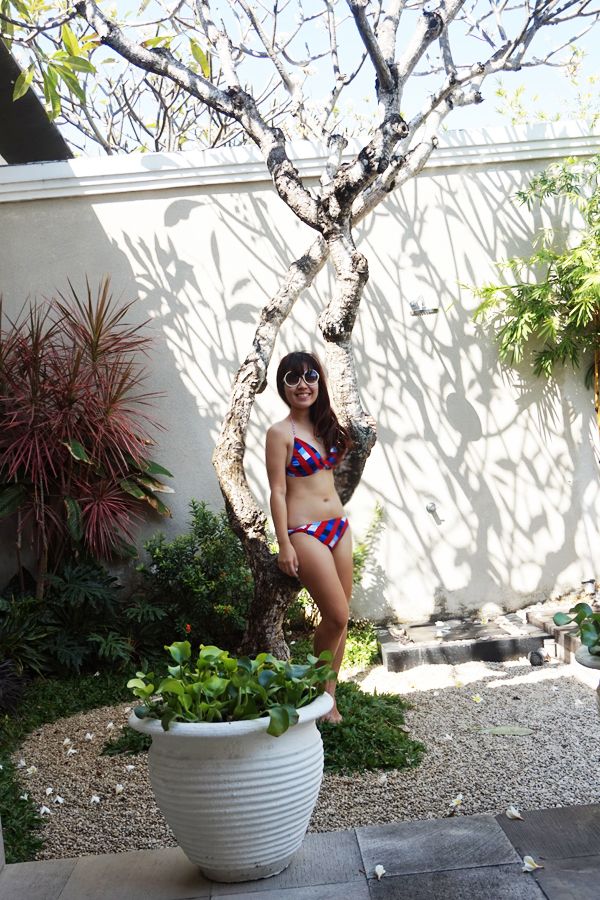 12pm: Scold the boy was taking insincere photos of me (
"Can't you see there is a giant pot of plant blocking me??"
) WTF.
Abstract grid print bikini: Bangkok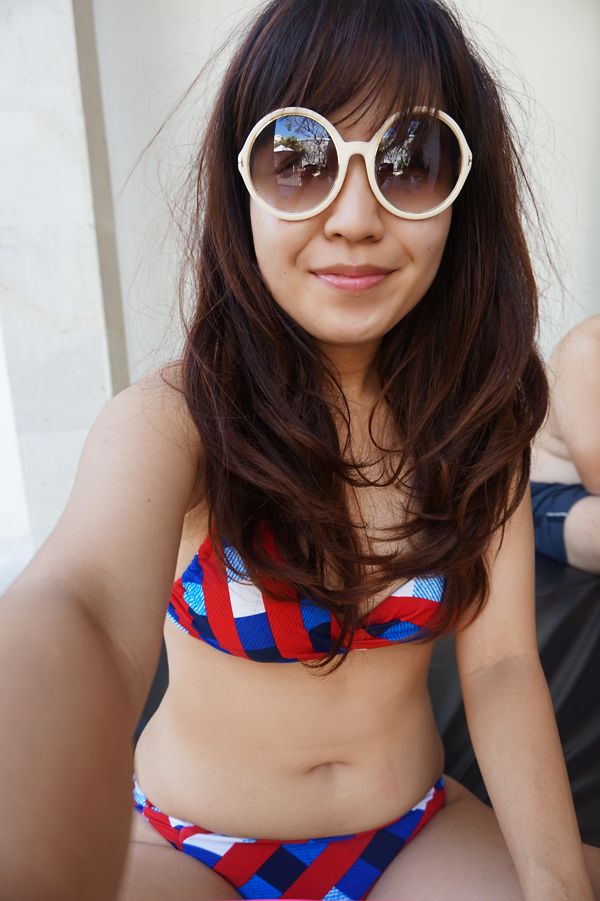 12:15pm: Give up on his photography skills, and rely on myself wtf. Don't know why my hair was so messy also!!
By the way, everyday in Bali was bare-faced day! :O 'Cause the boy is probably the only person in the world who thinks I am prettier without make-up, so ok lar, I grant his wish LOL.
I basically hide under sunnies and hats everyday, and I have to admit, it feels SO good to not wear make-up!
2pm: Have local Balinese food for lunch. This was at Warung Made, which was near to our villa. Warung Made (pronounced as "Ma-deh") is quite popular with tourists, but personally, we feel that the food is nothing to shout about.
3.30pm: Time to hit the beach! I bought this sheer dress from Zara a few years ago, but lost the slip that comes with it. However, I had the perfect solution to it for this trip-- wear my swimsuit underneath! Ya, I basically live in swimsuits, sunnies and hats all day long, haha.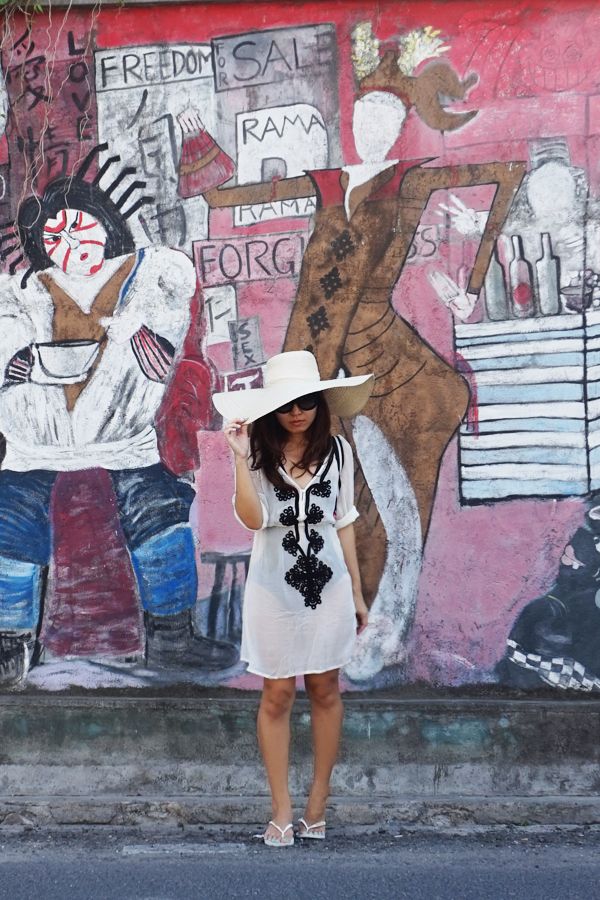 Sheer kaftan dress with embroidery: Zara
Oversized straw hat: Bangkok
Sunnies: Prada
White thongs: Havaina
Bag: Lesportsac
By the way, I LOVE my Lesportsac bag! I got the Curtis Kulig "Love Me" tote, and it's kind of a one-size-fit-all bag. I use it as my laptop bag (with my Macbook in a laptop sleeve), beach bag, hand-carry for traveling, extra shopping bag (when traveling)... And the fact that it comes in a simple yet chic handwriting/ graffiti print makes it so easy to match all my outfits. :D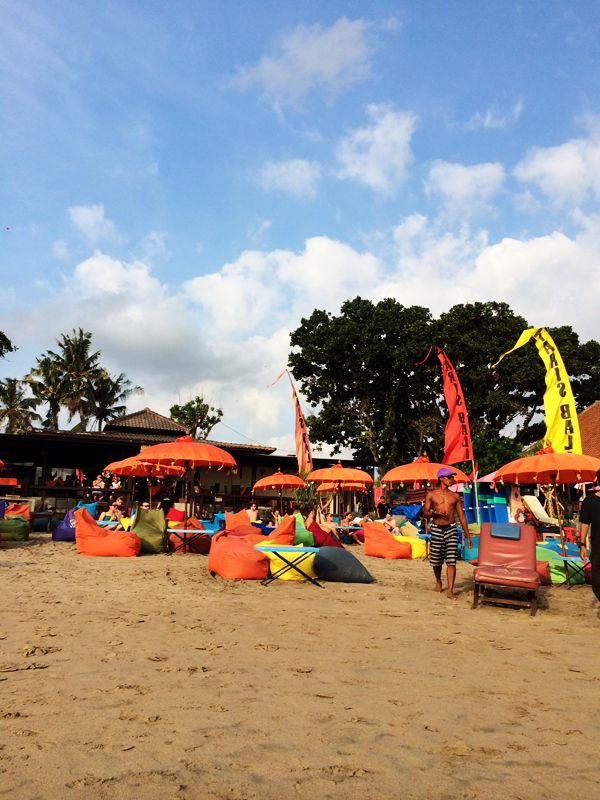 3:40pm: Arrive at the beach!
Our villa is not placed right at the beach, but the bonus is that it is of a walking distance to a nearby beach strip. When I went to Bali early this early this year with my sisters, our villa was really far away from the beach (at least 20 minutes by foot), so I really, really appreciate having a beach nearby this time! :)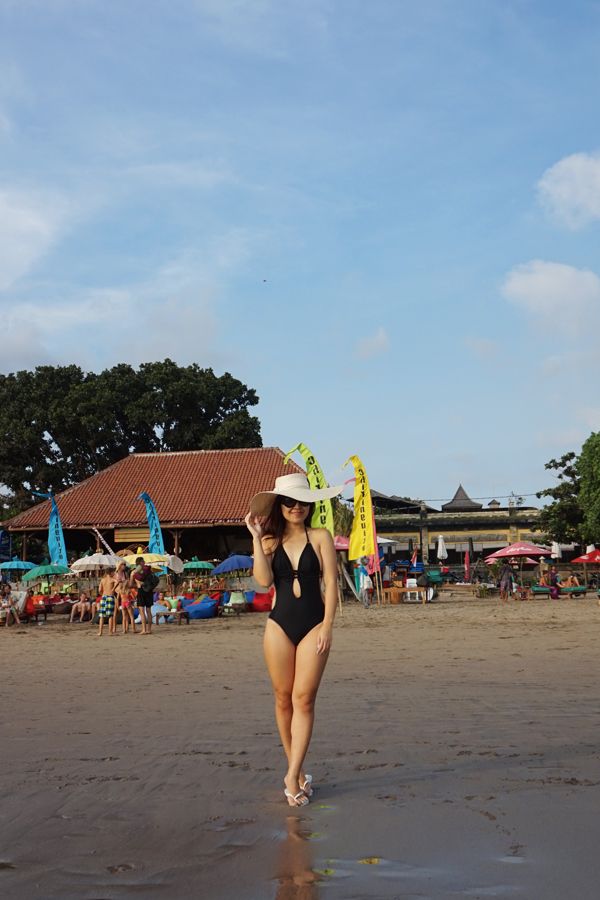 4pm: Strolling to find a perfect lounge spot!
Black one-piece swimsuit: Bardot, Australia
As this is a public beach, you will find bars by the side who lay out beach chairs, bean bags etc. Initially we thought that we will be given a seat as long as you patron the bar, but to our surprise, you actually have to pay extra for the seats! A lounge chair will cost you around 50,000 rupiah (about RM15). That being said, it's worth it if you plan to chill by the beach for a few hours, as the drinks and food aren't very expensive.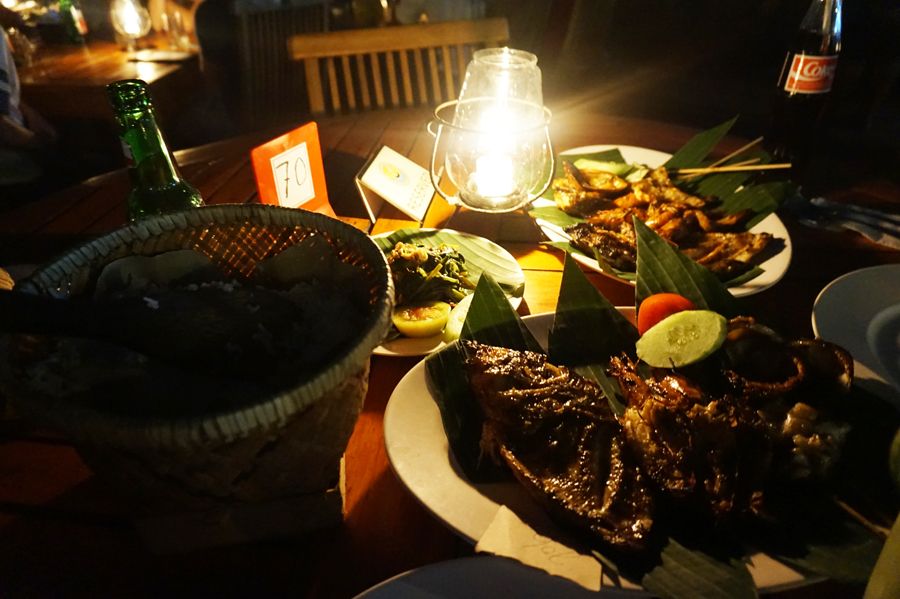 7pm: Dinner time-- our choice is always local Balinese food, heh. This was at Menaga Cafe at Jimbaran, one of my favorite places for a Bali sunset.
10pm: You will find us being couch potatos in front of the TV, half-watching documentaries/ music videos, and half-chatting and catching up. :)
This is also when I adopted the nickname of Binne-- inspired by this polar bear on Animal Planet. The reason? We found out that a polar bear spends 92% of its life looking for food, which pretty much describes me to a T wtf.
**************************************************
Hope you guys enjoy this post! I also plan to do up a Where-to-eat post for Bali (and possibly Osaka?), hopefully it will be helpful for those of you are planning to visit these countries soon. :)
And phew, talking about my honeymoon is making me reminisce over our wedding, and wedding-planning in general. For you girls who just got engaged (a few of my friends got proposed to recently, yay!) or are currently in the midst of wedding-planning-- LUCKY YOU! You girls should definitely check out
Wedding.com.my
, one of the largest wedding directory in Malaysia. To navigate through the site, you can go to
Get Started
, where you can start an account and start pinning images that inspire you, as well as shortlist your vendors. There will be detailed instructions to guide you through the signing-up process, as well as the how-tos on saving images to your account.
I also like going to the "
Discover
" tab to find new inspiration and vendors! Here you can find inspiration sorted by various wedding aspects (dress, photography, venue...), wedding themes, wedding colors etc.
Also, I heard that
Wedding.com.my
will be launching an e-store soon, so be sure to check back in the next few weeks! ;)